Julian Gorospe
Date of Birth: March 22, 1960
Place of Birth: Mañaria (Bizkaia)
Turned pro: 1982
Retired: 1994
Teams: Reynolds (1982-89), Banesto (1990-94)
Notable Results
1982
Stage win, Vuelta País Vasco
Stage win, Vuelta Aragón
46th Vuelta España
1983
Stage win, Setmana Catalana
Stage win and overall, Vuelta País Vasco
Stage win, Volta Catalunya
Stage win, Vuelta Burgos
1st, Trofeo Masferrer
12th Vuelta España
1984
1st overall, Ruta del Sol
Two stage wins, Midi Pyrenees
Two stage wins, Vuelta España
Stage win and overall, Valles Mineros
Stage win, Vuelta Pais Vasco
33rd, Vuelta España
1986
Stage win, Vuelta Asturias
Stage win, Tour de France
79th Tour de France
1987
Stage win, Vuelta Galicia
1st, GP Primavera
30th, Vuelta España
83th, Tour de France
1988
Stage win, Vuelta Cantabria
3rd, Paris-Nice
39th, Vuelta España
60th, Tour de France
1989
Stage win, Vuelta Asturias
62th Tour de France
1990
Stage win and overall Vuelta País Vasco
4th, Criterium International
21st, Vuelta España
1991
56th, Giro d'Italia
1992
1st, Trofeo Navarra
12th, Campeonato España
47th, Tour de France
1993
1st overall, Vuelta a Andalucia
Stage win and overall Vuelta Comunidad Valenciana
24th, Vuelta España
74th, Tour de France
1994
11th, Spanish championships

An interview with Julian Gorospe
Euskaltel-Euskadi's directeur sportif
As a part of our ongoing look at the Basque attack on the Tour Martin Hardie and Eloi Corres bring us the views of the Euskaltel-Euskadi director Julian Gorospe in English and Spanish.
"Haimar has taken on the general classification like a personal obligation."
A few days before the start of the Tour de France we spoke with Julian Gorospe about the most outstanding aspects of Euskaltel leading up to the "Grande Boucle". Julian told us that his hopeful outlook centres on Haimar Zubeldia, that David and Unai Etxebarria, and Roberto Laiseka are centred on fighting for the stages and that Iban Mayo will be the "free man" of the team. We started speaking soon after the announcement of Euskaltel's Tour team last Sunday which is: Laiseka, Mayo, Zubeldia, David and Unai Etxebarria, Igor Flores, Arrizabalaga, Samuel Sánchez and Gorka Gonzalez.
Laiseka
Photo: © Sirotti
Cyclingnews: Are you satisfied with the nine that will go to take on the Tour or is this the only squad you are able to take due to injuries of lack of form?
Julian Gorospe: Well, in the end, from the team I picked, there has only been Landaluze who could not go because of the fall he suffered on Sunday in the Spanish Championships. It is a pain because he has been working well and he had won his place. In the end he has not broken anything, but he has an arm that was immobilised for a time. If not he would be riding The tour.
CN: What form are they in. Is it the optimum?
JG: Well, that we will see later. We intended to take an important team, with Laiseka, Mayo and Haimar. Many times nobody knows, but we will go with a lot of confidence. Besides the general classification we also take men like Unai or David Etxebarria and they look pretty well guaranteed to get in some escape and they could win any stage.
CN: The work in the mountains does not arrive until the last week, in the 11th stage. Can this benefit the riders who have just made it, who have not had very good form, like Laiseka and Mayo?
JG: It is better that they just reach their form, because the last week is very hard with all of the Alps. They will go with much desire to overcome the first week with its breaks and falls, because they always give 100 percent; and later the riders can find themselves better as the Tour goes on.
CN: The major handicap for the team is during the first week of the race, the team time trial. This discipline doesn't really benefit the team, does it?
JG: Well no, but nor do we seek to win the Tour. In this stage we will try to lose the minimum so we can try and place a rider in the general classification. Of course, we will have to go day to day, to see if the riders respond. I believe that if we lose some time in this stage, there is some very hard terrain [later] where we can recover some time.
CN: Have they worked on their team time trial?
JG: They have worked a lot, [but] if [we] don't have the riders ... [there is] little that they can do ... If we had nine time trialists they could try and do something, but in the team we have climbers, and sprinters that can work in the race but not in the team time trial.
CN: The other great problem could be the breakaways. Last year all the team except Chaurreau dropped 15 minutes in one of these. Have you spoken with them to stop this from happening?
JG: Well, we also had another break in which all of the favourites dropped 20 minutes and later had Simon as the leader for many days. It is clear that you can lose time and nobody likes it, but there are circumstances in which things happen. That day there was a lot of coastal wind and it remained broken up. These things can happen, other times it can be the crashes.
E-E fans keep the riders busy in the Pyrenees
Photo: © Sirotti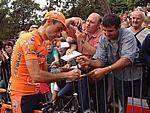 CN: After the first week is over the race comes to the natural terrain of Euskaltel, the mountains. How do you rate the mountain route of this edition?
JG: Like always. The Tour is always similar. This year the Pyrenees are not that hard, nevertheless the Alps will do a lot of damage. We would have liked more and much harder stages in the Pyrenees because our supporters go there. But well, the Tour is always similar and yes, it has sufficient mountains.
CN: Do you see in Roberto Laiseka the condition to repeat his triumph of last year in Luz Ardiden?
JG: I hope so. Last year we went to do things and we managed a victory. This year we are under pressure and we have to overcome that. It is certain that Roberto has not demonstrated his level this season, but he has sufficient quality to be there.
CN: The outlook for the general classification, Haimar and Mayo they both seem to have the potential for a good position. What do you hope of them both?
Igor Flores (& Richard Virenque)
Photo: © AFP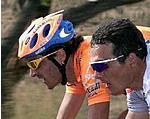 JG: Well, to Mayo, there I don't have to push him. It is his first tour and we don't have to put pressure him. To Haimar yes, he can and he wants.
Besides he has taken on a personal obligation, he can be there. Mayo will have total liberty to see what he can do, including seeing if he can pick up any escapes and fight for a stage.
CN: David Etxebarria said after the Euskal Bizikleta that he thought he had actually been actually "too good". Have you the feeling that this year a victory will not escape him?
JG: I don't know. We all like to win, but in the Tour a few win, only 22. I hope that David is in the 22. He is mentally prepared and he will go and search, various times, in various stages. He will search and when you search ...
David Etxebarria
Photo: © AFP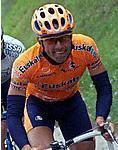 CN: Do you have any stage marked in red for David?
JG: About that, we will see how they go. The first week is not good because the sprinters will mostly be in control. After that and in the middle mountain stages of the Tour David will have his opportunity.
CN: The worst point of last year was without doubt the positive test of Txema del Olmo. [After testing positive for EPO in last year's Tour, Del Olmo was declared 'not guilty' by the Spanish cycling authorities who claimed that the urine test was not reliable. He was subsequently banned for three years in France - Ed] Do you think this year the French authorities will watch excessively Euskaltel, including making searches?
JG: I don't know, I hope that nothing happens. They have the right, but I really can't say. About Txema I still do not know the basis of the understanding, [between] the UCI and the French judiciary. There are products that the UCI permits that are not permitted by the French justice system, and this misunderstanding prejudiced Txema because the analysis suggested a result which caused the medicos to think that he had taken some substance.
CN: What is the personal opinion of Julian Gorospe about these searches?
JG: I believe they are actually pretty hard for the cyclists in particular. I don't see the controls as bad, but they should be for all sports in general. And it is true that cycling is feeling a little, well, more than a little, persecuted. These searches and police operations are happening a little too much. Yes it is certain that in cycling we professional cyclists and others who play a little with doping; that is something that day by day we can't stop.
CN: Finally, we spoke a little about the rest of the cyclists, and it is impossible to forget Lance Armstrong. Do you think that the American is unbeatable? Will Igor Gonzalez and Joseba Beloki be on the podium?
JG: Some year he will turn out to be beatable. This year? It is difficult to know. In the races that he has participated in he has demonstrated great form, especially in the Dauphine. But there are other riders like Igor, Beloki and Moreau. Armstrong has a great team, but it could be difficult. This year the Spanish teams like ONCE or Banesto did not go to the Giro and have been able to prepare for the race. As for Joseba and Igor, I think it is difficult for them to surround the podium, but they have quality and a good team and it could be within their reach.
CN: Finally, who do you believe could be the revelation of the Tour?
JG: (Laughs) ... no idea. I hope that it can be one of ours. That Haimar or Mayo can be there.
Castellano version
Entrevista con Julian Gorospe
El director deportivo de Euskaltel-Euskadi
Como parte de nuestra contínua mirada dentro del ataque vasco en el Tour, Martin Hardie y Eloi Corres (del sitio web no official de ee) nos traen el punto de vista del Director Julian Gorospe. Versión inglesa
"Haimar ha asumido la general como un compromiso personal."
A falta de solo 5 días para el comienzo del Tour de Francia, charlamos con Julián Gorospe sobre los aspectos más destacados del Euskaltel en referencia a la "Grande Boucle". Julián nos contó que sus esperanzas de cara a la general se centran en Haimar Zubeldia, que David y Unai Etxebarria, así como Roberto Laiseka se centrarán en la lucha por las etapas y que Iban Mayo será un poco el "hombre libre" del equipo. Comenzamos hablando con el acerca del equipo que anunció este domingo para la carrera francesa, que estará compuesto por Laiseka, Mayo, Zubeldia, David y Unai Etxebarria, Igor Flores, Arrizabalaga, Samuel Sánchez y Gorka Gonzalez.
Cyclingnews: ¿Esta satisfecho con el "nueve" que va a llevar al Tour o es el que se ha podido dadas las lesiones y la baja forma de algunos de sus ciclistas?
Julian Gorospe: Bueno, al final solo ha sido el caso de Landaluze el que no podrá ir con respecto al equipo pensado, por la caída que sufrió ayer en los campeonatos de España. Es una pena porque había trabajado bien y se había ganado el puesto. Al final no se ha roto nada, pero ha de tener el brazo un tiempo inmovilizado y o podrá correr el Tour.
CN: Y el estado de forma en el que van, ¿es el óptimo?
JG: Bueno, esto luego se verá. Hemos intentado llevar un equipo importante, con Laiseka, Mayo y Haimar. Muchas veces no se sabe, pero nosotros acudimos con bastante confianza. Además de para la general, tambien llevamos hombres como Unai o David Etxebarria que son bastante garantía de cara a coger alguna escapada y poder ganar alguna etapa.
CN: El hecho de que la montaña no llegue hasta casi la ultima semana, en la 11a etapa, ¿puede beneficiar a corredores que llegan un poco justos como Mayo o Laiseka?
JG: Mejor que lleguen más justos, porque la última semana es muy dura con todos los Alpes. Acuden con muchas ganas y a ver si superamos la primera semana con los cortes y caídas, porque siempre se disputa al 100%; y luego los corredores pueden ir encontrándose mejor a lo largo del Tour.
CN: El mayor hándicap para este equipo suele ser la primera semana de carrera. En ese sentido, ahí esta la crono por equipos. Esta disciplina no nos beneficia en absoluto, ¿verdad?
JG: Pues no, pero tampoco pretendemos ganar el Tour. En esta etapa intentaremos perder lo mínimo para intentar colocar a algún corredor de cara a la general. Eso si, tendremos que ir día a día, a ver si los corredores responden. Yo creo que aunque pierdan algo de tiempo en esta etapa, existe terreno muy duro donde se puede recuperar.
CN: ¿Han trabajado esta disciplina de la crono por equipos?
JG: Por mucho que se trabaje, si no hay corredores... poco se puede hacer. Si tuviera nueve contrarrelojistas se podría intentar hacer algo, pero en el equipo hay escaladores, sprinters, que tienen su función en la carrera y no es la contrarreloj.
CN: El otro gran problema pueden ser los cortes. En ese aspecto el año pasado, todo el equipo excepto Chaurreau se dejaron 15 minutos en uno de ellos. ¿Ha hablado con ellos para evitar que esto ocurra?
JG: Bueno, tambien hubo otro corte en el que todos los favoritos se dejaron mas de 20 minutos, y luego estuvo Simon muchos días de lider. Esta claro que perder tiempo a nadie le gusta, pero son circunstancias, son cosas que pasan. Aquel día hubo mucho viento de costado y se quedaron cortados. Son cosas que pasan, otras veces pueden ser las caídas...
CN: Una vez superada al primera semana, llega el terreno natural del Euskaltel, la montaña. ¿Como valora el recorrido montañoso de esta edición?
JG: Como siempre. El Tour es siempre parecido. Eso si, este año los Pirineos no serán tan duros, sin embargo los Alpes harán mucho daño. Nosotros por nuestra parte hubiéramos querido mas etapas pirenaicas y más duras porque tenemos ahí a nuestra afición. Pero bueno, el Tour es siempre parecido y sí que hay montaña suficiente.
CN: ¿Ve a Roberto Laiseka en condiciones de repetir el triunfo que logró el año pasado en Luz Ardiden?
JG: Eso espero. El año pasado fuimos a hacer cosas y logramos esa victoria. Este año tenemos esa presión que es la que hay que intentar superar. Es cierto que Roberto no ha demostrado su nivel esta temporada, pero tiene la calidad suficiente para estar ahí.
CN: De cara a la general, tanto Haimar como Mayo parecen tener posibilidades de hacer un buen puesto. ¿Que espera de ambos?
JG: Bueno, yo a Mayo ahí no le metería. Es su primer Tour y no hay que ponerle esa presión. A Haimar sí, él puede y quiere. Además se lo ha tomado como un compromiso personal, y puede estar ahí. Mayo tendrá toda la libertad para ver qué puede hacer, incluso para ver si puede coger alguna escapada buena y luchar por alguna etapa.
CN: David Etxebarria dijo tras la Euskal Bizikleta que se encontraba incluso "demasiado bien". ¿Tiene la sensación de que este año no se le escapará la victoria?
JG: No lo sé. Ganar a todos nos gusta, pero en el Tour pocos ganan, solo 22. Ojalá David esté entre estos 22. Él está mentalizado y lo va a buscar, varias veces, en varias etapas. Él va a buscar y cuando se busca...
CN: ¿Ya tiene alguna etapa marcada en rojo para David?
JG: Eso se verá sobre la marcha. La primera semana no es muy buena porque los sprinters controlarán mucho. Es a partir de ahí cuando en las etapas de media montaña David tendrá su oportunidad.
CN: Lo peor del año pasado fue sin duda el positivo de Txema del Olmo. ¿Cree que este año las autoridades francesas pueden vigilar excesivamente al Euskaltel, incluso realizando registros?
JG: No lo se, ojalá no pase. Ellos tienen el derecho, pero no te puedo decir. Sobre el tema de Txema todavía no se han puesto de acuerdo la UCI y la Justicia Francesa. y el chaval no ha sido sancionado. Hay productos que para la UCI están permitidos y no lo están para la Justicia Francesa, y en ese malentendido el perjudicado fue Txema, ya que dio unos niveles que hicieron pensar a los médicos que había tomado alguna sustancia.
CN: ¿Cual es la opinión personal de Julián Gorospe ante estos registros?
JG: Creo que están actuando con demasiada dureza contra el ciclismo en particular. No veo mal el control, pero que sea a todo el deporte en general. Y la verdad es que el ciclismo está siendo un poco, bueno, más que un poco, perseguido. Estos registros y operaciones policiales ya se están dando demasiado a menudo. Sí que es cierto que en el ciclismo hay de todo: ciclistas profesionales y otros que juegan un poco con el doping; esto es una cosa que hoy por hoy no se puede evitar.
CN: Por ultimo, hablemos un poco sobre el resto de ciclistas, y es imposible obviar a Lance Armstrong. ¿Cree que el americano es imbatible? ¿Estarán Igor Gonzalez de Galdeano y Joseba Beloki estarán en el podium?
JG: Algún año dejará de ser imbatible. ¿Este año? Es difícil saberlo. En las carreras que ha participado ha demostrado un gran momento de forma, sobre todo en Dauphiné. Pero ahí estarán otros corredores como Igor, Beloki o Moreau. Armstrong tiene un gran equipo, pero se lo pondrán difícil. Este año los equipos españoles como ONCE o Banesto no han acudido al Giro y han podido preparar la carrera. Sobre Joseba e Igor, pensar que podrán copar el podium es difícil, pero tienen calidad y un buen equipo y puede estar al alcance de ellos.
CN: Por último, ¿cual cree que puede ser la revelación del Tour?
JG: Buff... ni idea. Espero que pueda ser uno de los nuestros. Haimar o Mayo pueden estar ahí.
Other Talking Cycling Interviews