An Interview with Igor Gonzalez de Galdeano
ONCE's crono-man
ONCE's time trial specialist Igor Gonzalez de Galdeano is one of the few riders who is tipped as a possible threat to Lance Armstrong in the American's strongest discipline. But despite being a strong podium chance in Tour 2002, this modest Basque doesn't even think he should be ONCE's team leader, as he told Eloi Corres. English translation by Martin Hardie.
[This interview is available in both English and Spanish. The English version follows, with the Spanish words here - Ed]
Photo: © AFP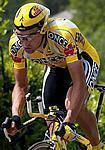 Igor Gonzalez de Galdeano
Date of Birth: January 11, 1973
Place of Birth: Gasteiz (Vizcaya)
Turned pro: 1995

Teams
1995-8: Euskaltel-Euskadi
1999-2000: Vitalicio Seguros
2001-2: ONCE
Results
1995
11th, Spanish Chrono Championship
7th, G.P. Llodio
1996
1st, stage G.P. Sport Noticias
7th, Chrono des Herbiers
1997
1st, stage Valles Mineros
21st, Setmana Catalana
6th, Trofeo Foral de Navarra
23rd, Vuelta a Pais Vasco
9th, Vuelta a la Rioja
11th, Bicicleta Vasca
14th, Vuelta a Burgos
10th, Subida al Naranco
1998
1st, Clasica de Sabiñanigo
1st, stage Volta a la Communidad Galega
4th, Vuelta a la Comunidad Murciana
17th, Setmana Catalana
12th, Trofeo Foral de Navarra
21st, Vuelta al Pais Vasco
20th, Vuelta a la Rioja
26th, Clasica Alcobendas
1999
1st, stage Tirreno-Adriatico
1st, 2 stages Vuelta a España
2nd overall, Vuelta a España
8th, G.P. Port de Soller (Vuelta a Mallorca)
12th, G.P. Palmanova (Vuelta a Mallorca)
6th, Vuelta a Mallorca
14th, Vuelta a Andalucia/Ruta del Sol
19th, Vuelta a la Comunidad Valenciana
5th, Tirreno-Adriatico
17th, Criterium International
10th, G.P. Miguel Indurain
12th, Vuelta al Pais Vasco
13th, G.P. Primavera
5th, Vuelta a Aragon
3rd, Vuelta a la Rioja
4th, Volta a la Communidad Galega
6th, Vuelta a Burgos
2000
16th, Vuelta a la Comunidad Murciana
13th, Setmana Catalana
17th, Vuelta al Pais Vasco
4th, Vuelta a Aragon
9th, Giro del Trentino
2nd, Bicicleta Vasca
7th, Vuelta Castilla y Leon
5th, Vuelta a Burgos
8th, Subida a Urkiola
2001
1st, G.P. dos Mosqueteiros + stage
1st, stage Vuelta a Asturias
1st, stage Vuelta a Espa–a
5th overall, Tour de France
28th, Clasica de Almeria
3rd, Bicicleta Vasca
2nd, Volta a Catalunya
16th, Spanish Road Championship
26th, Subida al Naranco
2002
1st, Spanish time trial championships
1st, stage GP du Midi Libre
3rd overall, GP du Midi Libre ~
Palmares courtesy www.cyclingteams.com
We spoke to Igor Gonzalez de Galdeano just before he left his home in Vitoria for the start of the Tour in Luxembourg. He has come into unsurpassable form in recent weeks following a successful campaign were he has achieved three victories. The most important of these was the last, the Spanish Time Trial Championship. We started by talking to Igor about his season.
Cyclingnews: Despite starting the campaign with an injury, during the second part of this season you have achieved some important victories. How do you measure the season so far?
Igor Gonzalez de Galdeano: Well, the results of June have been good, with the victory in the Tour of Germany, the good impression in the Midi Libre and the Spanish Time Trial Championships. We will arrive at the Tour at a good time.
CN: How do you rate the form that you will take to the start in Luxembourg? You have had 42 days of competition, much more that the other aspirants for the victory like Armstrong or your own Beloki.
"The natural leader of ONCE is Beloki."
IG: It is not about the days of competition, that's is not an excessive number; it might even be too few. Well, later we will see how the form goes during the race. I hope that the last week is not too hard so that I can even go harder then.
CN: After your fifth of last year, what do you aspire to this year?
IG: To improve. The intention is always to improve, to do better than the year before. From there on whatever you can do is unknown, but everything that is an improvement is good and that is our intention.
CN: This year you have beaten Armstrong in the time trial at the Midi Libre. Later Santi Botero did the same in the time trial of the Dauphine. Do you think these results are significant?
IG: No, Armstrong is going well at the moment. Both Botero and myself have been capable of beating him, but the Tour is always different. The Tour is very different to any other race, there is nothing like it. Anyway, I think that at the previous tours Armstrong was in better form than we were at these races.
CN: How do you value Amstrong's comments where he said that Manolo Saiz didn't have the ability to win a Tour as a director?
IG: Positively. I think they are positive. This means that Armstrong is worried about us, he is concerned with ONCE, so we have some chance. It is positive that he pays attention to us.
CN: Do you think that Armstrong might have lost the nice guy image that had before, among the fans and even among his partners? It seems clear that statements like these do not help to sustain that image.
Caption
Photo: © Credit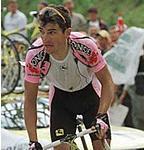 IG: No, it doesn't have to be so. He has said what he thinks, has been honest and I think that just showing honesty won't stop him being seen in a good light, and there is nothing in what he said to criticise.
CN: One thing that everybody will talk about concerning ONCE during this Tour is that the team has two clear leaders: Beloki and yourself. Do you have any idea about who will be the leader of the team, or do you think that the race will dictate it?
IG: The natural leader of ONCE is Beloki. He has been third twice. I have only done the Tour once and I think that it is so difficult, that he has to be the leader of the team. And this is also Manolo's idea, that Beloki is the clear leader. Me, I will have to find my options in the time trial, and try to hold on later in the mountains.
CN: Will strategy be an important thing for ONCE in this Tour?
IG: Yes. It is clear that is one of our assets. Last year the entire ONCE team rode a great Tour, even in mountain stages we even had four men at the front in certain moments, so the strategy will be important. But well, if Armstrong is as tough as last year, the strategy is useless.
CN: Let's talk a little bit about the route. The first week favours you. Do you picture yourself as a leader the first week?
IG: Yes, it is clear that the route in the first week favours me, but also for Armstrong and the rest of the time trialists, like Moreau. The first time trial is quite dangerous and very technical. We cannot bank on the future of the Tour just because we spend all our energies at the beginning.
Yellow peril
Photo: © Sirotti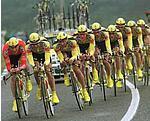 CN: But you will not deny that if ONCE wins the team time trial, something that looks very feasible, you have many options to wear the yellow.
IG: Yes, I won't deny that. The terrain is good, there is no mountain time trial, and I can have more options. We will fight and if we get it, OK, and if not we will work hard day by day. But it is clear that if the leadership comes, it will be very important for us.
CN: During the first week, will ONCE control the road more than in last year's edition so there is no "fuga-bidon" like the one that stopped you from finishing fourth in 2001?
IG: Yes, ONCE has prepared itself all the season for the Tour, but the responsibility is on Armstrong and it is his team that has to control the race. We were third last year and we have our responsibility, but it is not only for us to control the race.
CN: What is your evaluation of the individual time trials of this tour?
IG: The first one, 50km will make more difference than people think. From the route book it looks less hard than it is but it has many climbs and there will be differences. It is even possible that Armstrong will make his first strike of the Tour here. The second, I have seen the route. There is a third category climb as soon as you start and then the road becomes smoother and it is easier. But it is not like the first one, which many racers can fight for, the second will be fought between the first 10 or 15 of the general.
CN: And finally the mountains. How do you evaluate the mountain route of this edition? Do you think that the Pyrenees are not as hard this time as in other times?
IG: Well, I haven't done the Pyrenees first and then the Alps, but what I have heard is that after having done the Pyrenees, the Alps become much harder. About the Pyrenees, I think that they will do more harm than expected, and especially the Plateau de Beille stage. It is a very long and hard stage, and there might be considerable differences.
CN: Considering that the first week favours you and that all the Basque fans will be in the Pyrenees, and maybe they are not as hard as other years, do you think that there is a possibility that you try to win the race in the Alps?
IG: Yes, but if you look at last year's results, Armstrong had 13 minutes on me, which is a lot of time, so I would have to improve a lot to do it. I am better this year, I have a year more so I have more experience, before I didn't know the Tour, ... but Armstrong has always been better and he deserves the stripes and all our respect.
CN: Do you often dream about winning the Tour?
IG: Not particularly. Man, we all would like to win it but it is not a dream I've ever had. It is a possibility that I now have and I am very lucky that I can go for it. I don't see it as a dream but as a possibility that we all fancy, but anyway, it doesn't stop me from sleeping.
CN: Who do you think will be your strongest rivals other than Armstrong?
IG: The usual ones. There are always some surprises, and this year I am sure that there will be surprises again, but the favourites will be the usual ones: Moreau, Rumsas, who is usually good in three week races, Leipheimer, Sevilla, Botero, and then some surprises, that I am sure there will be, like Kivilev or myself last year.
CN: Finally, you started your pro racing for Euskaltel-Euskadi. How do you see them this year? Do you think that Mayo or Zubeldia can be in the top of the classification?
IG: I think that this Tour, they have a year's more experience that could be a strong point in their favour to do good things. Why shouldn't they be at the top? They have demonstrated their capacity for three week races, they recover well and therefore they can be there.
*"fuga bidon" is the Spanish expression for an escape of a large group of cyclists who gain a considerable amount of time on the peloton, such as the one in which O'Grady,Kivilev and Simon got away in during the Tour 2001.
Other Talking Cycling Interviews