An interview with David Etxebarria - Part 2
Euskaltel-Euskadi's hard man
In the second part of this special interview, David Etxebarria explains to Cyclingnews correspondent Martin Hardie who in Euskatel's hot and who's not, his predictions for the TdF, memories from his time at ONCE under the direction of Manolo Saiz and some unfulfilled cycling dreams. Thanks to Maria Retegi from Orbea for helping out with this story.
The first part of the interview with David Etxebarria
[This interview is available in both English and Spanish. The English version follows, with the Spanish words here - Ed]
David Etxebarria
Photo: © Sirotti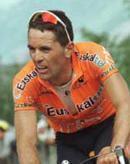 Cyclingnews: What are the objectives for EE as a team in this year's Tour de France?
David Etxebarria: The objectives of the team, although ambitious, are to get a rider into the top ten of the general classification and to repeat a stage victory.
CN: Who is the team captain? Yourself, with Haimar [Zubeldia] riding for the GC classification?
DE: Haimar will ride only thinking about the top ten; on the other hand, [Roberto] Laiseka and I will go and try to win stages. Iban Mayo is here to gain experience, and nothing more is expected of him.
CN: In the team there are two riders who we have not heard much from this year: Iban Mayo and Roberto Laiseka. Laiseka climbed well the day after the Huelga in Catalunya but so far they haven't been outstanding. What was Roberto's injury and how is he coming along?
DE: Laiseka is recovering very well from his injury; I hope that he doesn't have any problems in the Tour. Roberto is a rider for the Grand Tours, and although in he has stood out in a few others, he is always better in the grand ones.
CN: Can we expect another Laiseka victory in the Pyrennees?
DE: Yes we can hope so, because he almost never fails, although it depends on luck - but on these days Roberto aims to have perfect legs.
CN: Is it true (as I read on Jon Odriozola's website) that Roberto has very bad moods?
DE: Not so much bad moods - he is just little bit grumpy; after all, with a few more years we all get grumpy - but a bad mood or nature he does not have.
CN: Iban [Mayo] gained a lot of press coverage last year after his big victory. Many Cyclingnews readers were disappointed when he did not ride the Tour last year. Others thought it was because he was still so young. He said in January this year that he wanted to meet Osama Bin Laden! - now what is the real reason for Iban not racing much this year? Again what can we expect from Iban in the tour?
DE: Iban Mayo had a knee injury and now is fresh, but he will be seen more in the second and third week of the Tour. And yes, the reason (he did not ride last year's Tour) was that he is young and it is always better in the Vuelta de Espana than the Tour - it is the first TdF for Iban and we cannot expect too much.
CN: Samuel Sanchez has been riding very well in the early part of the season. He has been a little quiet lately, but appears to be another of the young guys in EE with a lot of potential. What will Samuel's role be in the tour team?
DE: Yes it is true that Samuel had a very good early season and that later he was a little bit below that form. His function in the Tour will be to try and help his team-mates and to gain experience for other years.
CN: And Haimar, he did well in the Dauphine a few weeks ago just misssing out on the podium. Last year he suffered from an injury in the Tour. Is it realistic for EE to aim to get Hainar onto the podium in Paris or is the teams role simply to pick up stages?
DE: It is realistic for him to be in the top ten. I consider that for him to make the podium, first we must get him into the top ten, unlike others such as Ullrich (who could aim straight for the podium).
CN: On the subject of stage victories and your "home ground" in the Tour, the Pyrenees, the traditional gathering place for the Basque cycling fans. What is it like for you and the team to ride through the crazy EE fans last year with their orange clothes and even orange hair?
DE: It is a great sensation; it gives you goose bumps. The truth is that last year we were not expecting it until we passed them; it is like a grand fiesta of Basque cycling.
Full of "indarra"
Photo: © AFP

CN: David Etxebarria the cyclist gives of the impression of being full of "indarra" (strength, "fuerte" in Euskera) - you seem to be a hard man on the bike. What is David Etxebarria the person like?
DE: It shouldn't be me who answers this, but my friends - but if I have to say something, I am extroverted, a joker, I like to take the mickey - all the time! Also I understand that this doesn't suit everyone and I accept that.
CN: What do you do when you are not on the bike or associated with cycling?
DE: I am with my girlfriend, and in winter I have dinner with my friends, go out and have a good time.
CN: I have only seen you once in the Goienkale (a popular street with many bars) - so how do you relax?
DE: It is strange that you have only seen me once! In the winter I go out there a lot with my friends. Anyway I also play a lot of other sport, especially football, "front tenis" [tennis played against the wall of a fronton, the traditional Basque pelota court found in nearly every Basque town and village] and swimming. I like sport a lot.
CN: You turned pro in 1995 with ONCE and then came over to EE in 2001. You had a number of successes for ONCE, in particular in the 1999 TdF, where you won two stages. What were your ONCE years like?
DE: Very good, I valued them - to learn and gain experience and to know how to endure the pressure of the race. Now I value all of this experience a lot.
CN: What memories did you take from ONCE?
DE: I took memories of good friends how it was the time I learnt the profession, the trade of being a cyclist and I saw how hard professional sport is.
CN: Why the change of teams?
DE: I had differences with Manolo [Saiz, ONCE DS] and I needed a breath of fresh air.
CN: I have read that your contract (along with some other top EE riders) finishes at the end of the year. I can tell you there would be alot of angry people if EE did not offer you a new contract. Would you consider moving to another team or do you think you will ride out your career with EE?
DE: If you like a team I don't see any reason to change to another, and for now I am very happy in Euskaltel. There is a 95% chance of me remaining here.
CN: In your career you have often been a rider who can pick up a stage victory by winning a sprint within a breakaway. It also seems you are able to take advantage of bad weather and prosper in these conditions. Furthermore, you have picked up a time trial victory this year and we also seen you up the front on the climbs - all of this would appear to give you the ability to be a contender for the GC in major stage races - but you remain a rider who seems to be more capable of winning stages. What do you credit this all round ability of yours to?
DE: I am a "buen marchista" (a goer, worker, escaper), a good sprinter and a good climber - but I am not excellent in anything. Because of this I can go very well in one week races, but not so much in those three weeks in length.
"Buen marchista"
Photo: © Sirotti

CN: Do you think you could still grow into a recognised GC rider?
DE: In the one week races for sure, but I give more importance to a stage victory in a Grand Tour.
CN: It is said that you are obsessed with Liège-Bastogne-Liège - you have certainly shown you have the ability to win this Classic. This year you seemed to be unlucky along with a number of other contenders when you missed the break. Does LBL remain one of your unfulfilled objectives?
DE: Yes, it is the only dream along with the World's that I have failed to complete; we could say that it is the objective of my professional career - twice I have been at the verge of winning, but next year I will I win.
CN: LBL is a hilly roller coaster type of race. Is it similar in some ways to the courses that you find in Euskadi? Is this part of your fascination with the race?
DE: Yes. The Belgian fans in the classics are very much like the Basque fans and the terrain is as well. The atmosphere of the fans is very high. LBL has a special aura.
CN: I have noticed that you and Zarra like to go downhill fast. In some ways Zarra's advantage in the Euskal Bizikleta and your stage victory was a result of some fast downhill racing - do you always like going downhill so fast?
DE: Yes, but I only risk it when I can benefit from it. You don't only win races climbing, but also descending.
CN: What is your secret to fast descending?
DE: Confidence. It is important that you don't fall for a long period of time!
CN: Do you compete against each other when you train sometimes?
DE: No never - 98% of the time we descend slowly when we train.
CN: I believe that you once won a stage of the Bay Cycling Classic in Melbourne, Australia. I imagine that you travelled to Australia with Neil Stephens during the summer holidays - is that correct?
DE: I didn't win a stage but Neil won the overall. I remember it very well because it was my first professional race in Australia.
CN: What were your impressions of Stevo when you rode with him? I understand he lives in Guipuzcoa and speaks Euskera well.
DE: Stevo is a veteran rider who is very famous. He was very agreeable and when myself and three other riders went with him to Australia we were very well accepted.
CN: Is there any chance we will see Euskaltel travel to Australia and ride the Town Down Under?
DE: Yes there exists the possibility, I have rode the Tour Down Under two years and it was a very positive experience. For me, I would love to go but it depends on the decision of the Euskaltel directors.
CN: Finally, there has been lots of talk about Beloki, Galdeano and others putting the pressure on The Gringo [Armstrong] in the Tour. Do you think Armstrong is beatable and by whom?
DE: Everybody can be beaten; the problem is to know in which year they will be overcome. Miguel Indurain didn't win a sixth time but he appeared insurmountable and so it was a surprise. I believe that Lance still has another year - but the year he loses it will also be a surprise.
CN: Is it possible that we may see some inter-team collaboration to defeat Armstrong?
DE: No, not at all. I believe that there could be collaboration for those people who want to benefit their career, but not to ride against him.
CN: Thank you and good luck for the tour and the season. Give all the team best wishes form everyone at Cyclingnews and let them know that there are many fans in Australia, England and the USA that will be watching and cheering for EE in the tour; EE have many many fans in the English speaking world.
Other Talking Cycling Interviews