89th Tour de France - Grand Tour
France, July 6-28, 2002
Interview with Erik Dekker
Getting hip to Mr Congeniality
It's a tribute to his remarkable recuperative powers that Erik Dekker is riding this year's Tour de France at all after a broken hip sustained in a crash at Milan-San Remo looked likely to wipe out his entire season. His upbeat outlook and all-round Mr Nice Guy attitude likely helped him keep going through an arduous recovery, as Gabriella Ekström found out when she spoke to the Dutch star just before this year's Tour.
Podium celebrations at Tirreno-Adriatico
Photo: © Sirotti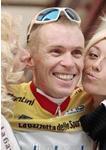 "Ah, big ploeg, small journalists!" commented Erik Dekker when he learnt that he and his Rabobank team would share hotel with the gathered forces of the Swedish and Dutch cycling press. Despite the smart remark, Dekker has no problems with the press whatsoever. He was recently awarded a Dutch prize for being the most co-operative Dutch athlete.
"Yes, that is right, and I was also the best rider, and the nicest person and the smartest, and not to mention the most attractive!"
Despite still suffering from the hip he broke in Milan-San Remo, Erik Dekker was as spirited as ever when we sat down for a quick chat a few days before the Tour. He walks with a little limp and it becomes unavoidable for me not to ask about his recovery.
"It was a really hard time for me. Just after I got out of the hospital I had to see a physiotherapist five days a week. I was there from ten in the morning to three in the afternoon. I did that for about a month and it was a new experience for me, that's the least I can say. To learn how to walk again! That was really hard."
He stops, and for a moment he looks all serious.
"I thought a lot. I had a lot of bad moments. Not that it kept on for long periods, but still, bad moments. Indeed it was a terrible accident for me, but it could have been so much worse. Cycling wise it affected my spring season cause I missed the Classics, but it didn't affect my life. After cycling I will go on, and this injury will not affect the rest of my life."
Cyclingnews: "Has it been hard getting back to racing?"
Erik Dekker: "I did a race in Belgium. It was my first race and I got 12th and… actually that was too hard. That placing is much better than what I was. After that I went to Luxembourg. I mean, I had a number on my back, but it wasn't racing. I was afraid in every corner and on every climb that I would be dropped."
CN: "The Tour is coming up…"
Determined
Photo: © Sirotti
ED: "Yea, I know. I'm still not a 100 percent. I'm not sure if I will ride the Tour. I do think that I will be on the start, but nowadays, that is not enough for me. I want to go the Tour with a certain form, in order to perform. But, ah. I'll go to the start, and then we will see from there."
CN: "Your team has a new star, a man for the Tour."
ED: "Yeah, Levi. He took a chance to put everything on the Tour. That's why the team took him on. Compared to the other favourites he is riding an easy program, with Tour of Luxembourg and Route du Sud. But I get the impression that he knows what he is doing. He is a good guy. I rode with him in March. He was not at a 100 percent then of course, but it is clear that he wants to be a part of the team. He does what is necessary, and he wishes to fit in."
CN: "What are you hoping for after the Tour then?"
ED: "I hope that I will arrive in Paris with a good form, and after that I'll race every race I can find, trying to win. There's the national TT champs, and the World Cup races of course. I want to prepare during Tour de France, and during the rest of the season, I'll ride like hell! However, the problem I have had is so serious that I cannot predict how my body will react in five or six months time."
CN: "Isn't there a great risk you'll hurt your other leg, while compensating for the damaged leg?"
ED: "Walking is really the worst part. I had to learn how to walk again, five days a week in the gym. I do lack some stability, but I'm already better than I was a week ago. It's true I might get problems with my other leg, but I don't suffer from that right now. I did hurt my back in Tour of Luxembourg though, but it is OK now. As I said, walking is really the biggest problem, but walking was never my strong side anyway!"
CN: "You are over thirty now, for how long are you planning to continue your career?"
ED: "I'm not planning anything. I am almost 32. I won't continue for another ten years. Ask me again in five years, and I might tell you that the end is near. Heck, maybe then the end has already been, but right now I enjoy what I do too much. I am happy on the bike."
CN: "Now tell me, I hear that Cyclingnews.com is your favourite site. Is that true?
ED: "Yea, I'm always looking for results and Cyclingnews is always up to date with all that stuff.