89th Tour de France - Grand Tour
France, July 6-28, 2002
Interview with Baden Cooke - Part 1
Cookie Monster
Preface by Anthony Tan, interview by Gerard Knapp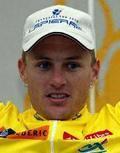 Ravenous for a win
Photo: © AFP
23 year-old FDJeux.com revelation Baden Cooke is yet another successful product of an Aussie upbringing, and directeur-sportif Marc Madiot just can't get enough of them. Compatriot and fellow FdJ team-mate Bradley McGee started the Aussie-Froggie connection rolling three years ago; then along came "Cookie" and Matt Wilson on Macca's wheel, with a bunch of development riders currently in the making.
So what's so good about them? It appears that Australian riders take a much shorter time for their bodies and minds to mature to enable them to handle grand tours such as the TdF and Giro d'Italia, and they can comfortably handle a gruelling three-week event after two years on the road rather than the five or six years it takes most of ze frogs. As DS Marc Madiot says: "When I saw Cooke arriving from Australia with hardly anything to last him a whole season, I knew this guy hadn't come to Europe to be a tourist."
Madiot sure got that right. Cooke and his FdJ flatmate Matt Wilson set themselves a task two years ago to get a pro contract. They both achieved their initial ambition, and signed for Mercury on the advice of fellow Aussie and Mercury man Henk Vogels. It was a great season for Cookie, where he won 10 races in the last six months of 2000 - but it turned out to be not the greatest decision, as the mercury rose in line with the team's ongoing sponsorship difficulties. And if things could get any worse, they did: his friend and team-mate Wilson contracted glandular fever and had to return back home, giving up his dream of professional cycling, and Cookie had to do everything he could to attract the attention of another team - when no-one even knew his name. What most people didn't realise however, was that Baden Cooke's a fighter, and when it all started looking gloomy, Cookie had his best season ever with 12 wins, including an amazing ride in the 2001 Tour L'Avenir, where he resurrected both his career and that of Mercury's with two stage wins and the overall points classification.
After the success of fellow trackies-turned-road heroes Stuart O'Grady and Bradley McGee, it's Cookie's turn now. With three big wins this season, most recently in the first stage of the Midi-Libre, coupled with his fine second place in the prologue of TdF warm-up race, the Critérium du Dauphiné Libéré behind compatriot McGee, you could say Cookie's developing quite an appetite for wins in French stage races. Which brings us to young Cookie and his ravenous yearning for a stage win the Tour de France.
Cyclingnews: So how's it all going on your first TdF after one stage and the prologue? [writing this before stage 1 finishes]
Baden Cooke: Well I could never have imagined how big this bloody race is. The prologue was fairly successful for me, being only 20 secs behind Armstrong; it gave me confidence beating all the other sprinters and gave me (or so I thought) a good launchpad for an attack on the jersey today. This plan was quickly aborted today, after a pinched nerve in my lower back cut most of the power to my left leg for most of the day, and put me through hell. I managed to stay with the leaders, but couldn't really sprint. I have had all sorts of treatment since then, and am hoping to better in the next few days.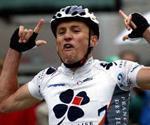 Cookie's salute
Photo: © AFP
CN: Were you expecting to be riding the TdF at the beginning of the year? If someone had told you this time last year that you would be lining up in the start-house of the 2002 TdF, what would you have said (printable, please)?
BC: Actually, one of the main reasons that I came to the team this year was that I had a good chance of riding the Tour. I felt I was ready, and while setting up the contract last year, I made it clear to Marc Madiot that I wanted to ride the Tour.
CN: This may seem like a sweeping question, but what are your personal goals for the TdF? Are you looking to get in a break, or get involved in the big bunch finishes? I imagine you're aiming to finish - but if you don't, will you be disappointed?
BC: All of the above really. I will be involved in all the bunch sprints, but I will always be looking to get into a good breakaway to improve my odds of a win. I would definitely be disappointed if I don't finsih - I think only illness or injury will stop me.
CN: How has the season gone so far? Wasn't there an accident a couple of months back?
BC: I've had an incredible seaon so far with four wins, three of them being very important. Yes there was a scooter accident, where I woke up in hospital having no idea what had happened (I won my first race for the year about six days later).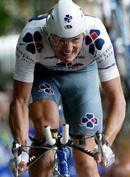 Handy in the crono
Photo: © AFP
CN: Are you enjoying living in France, learning French, the food, etc? Are you missing anything in particular about home?
BC: Yeah, I am really enjoying living in France. I am sharing an appartment in Nice with Matt Wilson and our girlfriends, so we are all set up and happy in our home away from home. Yes, you always miss home, but with a steady stream of friends and family from Australia passing through, it makes it easier.
CN: How do you relax on the TdF, or do you get time for such?
BC: I sleep.
And on that note, off went Cookie to snuggle under his doona, with dreams of a stage win in the world's greatest cycling race.