First Union Invitational - 1.3
Lancaster, PA, USA, June 4, 2002
First Union series main page 2001 Results Past winners
Clinger comes home a winner in Lancaster
By Tim Maloney, Cyclingnews European editor
Clinger gets it
Photo: © Rob Karman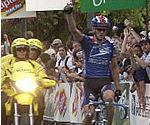 David Clinger (USPS) of Thousand Oaks, CA. hasn't spent much time racing in the USA recently. In fact, Clinger's last American race was the USPRO Championships in 2000 when he rode for Festina. "It's my first race in America in two years so it's nice to comeback and win something," Clinger told Cyclingnews after his solid solo win at the 2002 First Union Invitational in Lancaster, PA. Clinger dumped break partner Chris Wherry (Mercury) with a strong attack three miles to the finish for a solitary win, 16 seconds ahead of the Mercury rider.
On a cool, windy afternoon in Lancaster, the hard-fought race of 13 laps on the 7 mile Belgian-style kermesse circuit kicked off when Prime Alliance strongman Chris Horner decided to test his legs in a solo move early on. After Horner had dangled out front for a lap or so, five other riders took the bait and bridged up to him. Tony Cruz and David Zabriskie (USPS) Trent Klasna and Eric Wohlberg (Saturn) and David O'Loughlin (Ofoto) joined Horner and the sextet powered along in front of the Mercury and Navigators-led peloton, both of which had missed the break.
With the wind gusting and 10 laps to go, Cruz broke a bike and had to make a change at a bad time and was out of the break for good. The break's lead never exceeded a minute and with only five away, Mercury and Navigators simply chased harder. When 7UP joined the chase with seven laps to go, the quintet was absorbed in another lap so with six laps to go, the serious action could commence.
With four and a half laps to go, Soren Petersen (Saturn) made a slick solo move and all hell broke lose behind him. As he hit the start/finish line with five to go, Petersen had 15 seconds and the peloton had split up in the tough crosswind stretch along Manor Street. Eventually a chase group of 28 riders swallowed up Petersen and there were 29 riders up the road, while the remainder of the field practically sat up once this group quickly gained a minute.
Clinger and Wherry countered from the front group with two and a half laps to go and timed their move to perfection; they gained ground fast and coming through the start/finish with two laps to race, the USPS/Mercury tandem had 30 seconds on the chase group. Australian Tom Leaper (Navigators) then took off in solo pursuit of Clinger and Wherry and powered to a good lead on the rest of the chasers with one lap to go.
As the wind gusted and the evening shadows grew longer, Clinger took the initiative and decided to bring it home for the win, with Wherry struggling in his wake. Leaper leaped in for third, ahead of the hard sprinting group led in by his Navigators teammate Grishkine.
Photography
First Union Invitational, Lancaster, PA, June 4, 2002
Images by Rob Karman/www.roadbikephotos.com
Results - 147 km
1 David Clinger (USA) U.S. Postal Service         3.18.52 (44.35 km/h)
2 Chris Wherry (USA) Mercury                         0.16
3 Tom Leaper (Aus) Navigators                        1.40
4 Oleg Grichkine (Rus) Navigators                    1.59
5 Zbigniew Piatek (Pol) Mroz
6 Michael Barry (Can) U.S. Postal Service
7 Sebastien Mattozza (Bel) Landbouwkrediet-Colnago
8 Henk Vogels (Aus) Mecury
9 George Hincapie (USA) U.S. Postal Service
10 Greg Henderson (NZl) 7UP-Nutra Fig
11 Charles Dionne (Can) 7UP-Nutra Fig
12 Chris Horner (USA) Prime Alliance
13 David McKenzie (Aus) iTeamnova.com
14 Aurelien Clerc (Swi) Mapei-Quick Step
15 Frank McCormack (USA) Saturn
16 Max Van Heeswijk (Ned) Domo-Farm Frites
17 John Lieswyn (USA) 7UP-Nutra Fig
18 Chad Gerlach (USA) Sierra Nevada
19 Kirk O'Bee (USA) Navigators
20 Mark Walters (Can) Navigators
21 Erik Saunders (USA) Ofoto-Lombardi Sports
22 Kirk Albers (USA) Jelly Belly
23 Tomas Gronqvist (Swe) Amore & Vita
24 Matt DeCanio (USA) Prime Alliance
25 Tim Johnson (USA) Saturn
26 Doug Ziewacz (USA) 7UP-Nutra Fig
27 Mark McCormack (USA) Saturn
28 Glenn D'Hollander (Bel) Lotto-Adecco
29 David O'Loughlin (Irl) Ofoto-Lombardi Sports
30 Danny Pate (USA) Prime Alliance                   2.28
31 Viktar Rapinski (Blr) Saturn                      8.44
32 Leonardo Zanotti (Ita) Mapei-Quick Step           9.03
33 Zbigniew Wyrzykowski (Pol) Mroz
34 Jacob Erker (USA) Schroeder Iron
35 Andrew Crater (USA) Ofoto-Lombardi Sports
36 Jon Van Heel (USA) Ofoto-Lombardi Sports
37 Pete Knudsen (USA) Schroeder Iron
38 John Hunt (USA) Sierra Nevada
39 Colby Pierce (USA) Ofoto-Lombardi Sports          9.10
40 Tim Larkin (USA) Ofoto-Lombardi Sports
41 Michael Creed (USA) Prime Alliance               12.09
42 Mike Sayers (USA) Mercury
43 Phil Zajicek (USA) Mercury
44 Chann Mcrae (USA) US Postal
45 Adam Wadecki (Pol) Mroz
46 Chris Fisher (USA) Saturn
47 Eric Wohlberg (Can) Saturn
48 Justin Spinelli (USA) Saeco-Longoni Sport
49 Cristian Pepoli (Ita) Saeco-Longoni Sport
50 Mariano Friedick (USA) Jelly Belly
51 Alex Candelario (USA) Prime Alliance
52 Oscar Pineda (Gua) 7UP/NutraFig
53 Ciaran Power (Ire) Navigators
54 Siro Camponogara (Ita) Navigators
55 Jason Mccartney (USA) Jelly Belly
56 Jesus Zarate Estrada (Mex) Mercury
57 Svein Tuft (Can) Prime Alliance
58 Luke Stockwell (Aus) Jittery Joe's
59 Michael Rogers (Aus) Mapei-Quick Step
60 Damon Kluck (USA) Saturn
61 Soren Petersen (Den) Saturn
62 Gorik Gardeyn (Bel) Lotto-Adecco
63 Hans De Clercq (Bel) Lotto-Adecco
64 Sven Vanthourenhout (Bel) Domo-Farm Frites
65 Plamen Stoianov (Bul) Mercury

Past Winners
2001 Leon Van Bon (Ned) Mercury Viatel       147.5 kms in 3.20.13
2000 Trent Klasna (USA) Saturn Cycling Team  147.5 kms in 3.21.04
1999 Jacob Piil (Den) Acceptcard             147.5 kms in 3.19.42
1998 Frankie Andreu (USA) US Postal Service  147.5 kms in 3.23.17
1997 Chan McCrae (USA)                       147.5 kms in 3.22.15
1996 Chris Horner (USA)
1995 Fred Rodriguez (USA)
1994 Andrea Peron (Ita)
1993 Arvis Piziks (Lat)
1992 Roberto Pelliconi (Ita)