85th Giro d'Italia (GT)
Italy, May 11-June 2, 2002
News for May 17, 2002
Dario Cioni interview - Guerriero del ombra: Shadow warrior
By Anthony Tan
Which one is he? (Dario's third from the left, standing on the top step)
Photo: © Sirotti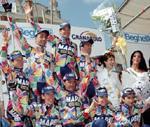 When you have a successful, stable career as a pro mountain biker, what possesses someone to make the change? And what makes that person think they can make a successful switch from riding for yourself to working your tush off for riders like Tonkov, Beltran and Garzelli in three week tours?
Well it's a big help when you've spent the majority of your fat-tyre career with a team that has the largest budget in the cycling world, and who have their talent scouts floating around races all over the globe.
This is basically how it happened for Dario Cioni. He's not a big-hitter, nor is he a superstar climber - he's just a level- headed guy who works bloody hard at what he does.
And as much as we like to hear or read stories of "so and so" that has a VO2 of 90 plus, a resting heart rate in the mid 20s and can pump out 400 watts non-stop for hours on end, there's also a large group of people that aren't blessed with these genes, but possess incredible fortitude. Dario Cioni falls into the latter group.
Dario's no dummy either. His crystal ball forecast the decline in popularity (read: salaries) in MTB racing - and the simultaneous resurgence in road cycling after the Société du Tour de France's garbagemen cleaned up most of the trash following the 1998 Festina debacle - and decided to jump ship. With Cadel Evans also deciding to bunny-hop his way to Mapei 12 months later, it appears his decision to walk the road plank was an intelligent one. Both Evans and Cioni are most likely laughing all the way to the bank (Cadel may be laughing just a tad harder), and now have the opportunity to reminisce for hours on end about the good ol' days, since they're "roomies" at most races these days.
Cioni also knows there's plenty of life after cycling, and those who aren't multiple Grand Tour or Classics winners don't land jobs as TV hosts or radio personalities. And contrary to what Frances Mayes writes (author of "Bella Tuscany"), most Tuscans don't grow old on their olive groves, drinking their chianti vini out on the front porch of their sandstone casa, while big Mama tends to the sugo di pomodoro and husband Salvatore's off hunting cinghiale (translation: Tuscan pig on steroids). But Cioni still wants to stay in the sport - good thing then he's about to graduate with a degree in sport management at the European School of Economics.
Now this is not to say the Cioni isn't a talented bike rider. Cioni won his fair share of MTB races, mainly in Italy, accumulated seven top ten places in World Cup events, including a ninth place in the '98 MTB Worlds, and has been a member of the MTB "gli azzurri" since 1992.
Winning TTT. Difficult to see anyone beyond Tafi's legs!
Photo: © Sirotti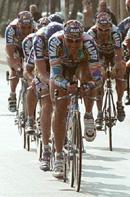 And let's face it, to turn pro on the road these days is no mean feat in itself, especially in Italy, and in particolare for Mapei-Quick Step.
Interestingly, Cioni was born in Reading, England (not too many olive groves there), but now lives in Empoli, a medium-sized Tuscan town a stone's throw away from the mystical town of Florence. Dario Cioni's relaxed, broad-minded attitude to life, people, food and music may well be attributed to his non-European birthplace - after all, this guy has a Labrador for a pet, listens to Alanis Morrisette and the Doors, loves to travel and enjoys eating absolutely any type of cake - not your typical Tuscan lad.
Cyclingnews: How do you feel your season has gone so far this year?
Dario Cioni: My season has been quite good up till now. My only result this year was winning the team time trial in Settimana Ciclistica Internazionale Coppi e Bartali, where I was first across the line and wore the leader's jersey for one stage. Other than this I have been doing quite a lot of work for the team captains.
CN: What are your team's goals for the Giro d'Italia?
DC: We have an extremely good team for the Giro d'Italia and our aim is to win the Giro with Stefano Garzelli.
CN: How important is the Giro to you?
DC: This Giro is very important for myself - it will be my first Giro after two Vuelta Espana, and the Giro is the most important race for Italian riders.
CN: What are your personal goals for the Giro - are there any stages in particular you would like to win?
DC: My main aim for this season is to have a solid ride during the Giro and to be able to help Stefano to win the overall. I would like to get in a couple of breaks during the race and try and win one stage.
CN: Who will be your directeur-sportif for the Giro?
DC: The directeur will be Roberto Damiani; in fact Roberto has been my directeur since I was in Mapei's development team.
CN: Do you know who your room-mate will be for the Giro - is it the same for all races?
DC: I have been sharing the room with Cadel Evans in most races during this season, and he is also my room-mate for the whole of the Giro.
CN: What do you do to relax during a race as big as the Giro d'Italia?
DC: The best way to relax during big stage races is to have fun with my teammates and make jokes about each other! (not really that different to your average Saturday morning coffee ride really - Ed.)
Likes breaks and cakes
Photo: © AFP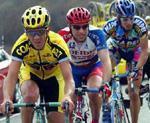 CN: What are your favourite foods to eat during the Giro?
DC: Cakes whenever I get the chance and panini (bread rolls) with Nutella during the long stages.
CN: Are you superstitious? - Do you have or wear a good-luck charm to bring you success?
DC: No, not at all.
CN: Will you be riding the Tour de France or the Vuelta after the Giro?
DC: I might be riding the Vuelta but I cannot say at this stage, as it depends on many factors. My concern at present is to do a good Giro, and then we will see.
CN: What are your objectives for the rest of the 2002 season?
DC: I don't know yet - a lot depends on my results in the Giro.
Latest newsflashes
May 25 - Mathew Hayman interview: Making hay while the sun shines
May 25 - Stage 12 wrap up, Post stage comments, Lunghi wins 12th stage, Simoni out, Saeco cancels journos' football game, Perfetto denies doping
May 24 - Stage 11 wrap up, Post stage comments, Simoni not in the clear yet, Cadel Evans re-launches website, Garzelli case to be heard on June 3, Frigo taken for a ride, Saeco pulls Simoni before B sample announced, Mercatone flicks Sgambelluri
May 23 - Stage 10 wrap up, Post stage comments, Simoni allowed to continue, regardless of B test, Mapei to continue in the Giro
May 22 - Stage 9 wrap up, Garzelli's B sample positive, Post stage comments, Gutted Garzelli to take a break from cycling, Cipollini comments, Castellano comments, Why probenecid?, Policeman admits to supplying Varriale and co. with doping products, Simoni non-negative for cocaine
May 21 - Stage 8 wrap up, Post stage comments, Santi Perez hospitalised with cranial trauma, Garzelli's counter-analysis due on Tuesday, Varriale and the wicked fridge
Complete story index