85th Giro d'Italia (GT)
Italy, May 11-June 2, 2002
News for May 17, 2002
Francesco Casagrande interview: Headstrong and head-on
By Anthony Tan
"Poi vivrò alla giornata" - I live for the day
Photo: © AFP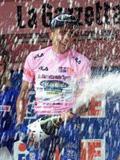 With wins ranging from major classics to major tours, the question begs: "What kind of rider is Francesco Casagrande?"
The 31 year old from Firenze says he is a "passista scalatore" - a climber who can also hold his own in a one day classic. The climbing part is something you can't argue with when the needle on the scales stops at 60 kilograms.
As well as winning major stage races such as Tirreno-Adriatico, the Tour Méditerranéen and the Tour of Switzerland however, Casagrande has also won some very significant one-day classics, including Milano-Torino, the Coppa Placci and twice the San Sebastian Classic.
And when he's not going for the GC, Casagrande has won stages that pure classics riders practically kill themselves to win - such as his victory in the 1998 Paris-Nice to Mont Faron, used as a litmus test by so many Classics specialists in the lead up to races such as Milan-San Remo, Fleche Wallone, Amstel Gold and Liege-Bastogne-Liege.
So the question then becomes: "Does Francesco Casagrande actually know himself?"
Maybe not, because it appears the Florentine can do both well. And it's really not that unusual. After all, this was how most great cyclists opted to race until the mid to late 1980's - until riders like Greg Lemond, Pedro Delgado and Laurent Fignon placed practically all their focus on a certain three-week race in July - sadly when all three had the ability to win so much more.
At least for this year, Casagrande is going to follow this trend. His narrow defeat to countryman Stefano Garzelli in the Giro two years prior is still an open wound - not only for himself, but also for his tifosi.
After eleven magical days in the maglia rosa, the top step of the podium in Milano appeared a formality. However Signore Garzelli blew all away in the penultimate day's ITT to Sestriere, an almost mirror image of Greg Lemond's eight second victory over Laurent Fignon in the 1989 Tour de France. The look of disbelief on Fignon's face that day was simultaneously priceless yet devastatingly painful to watch. And although Casagrande attributes his defeat in the time-trial to knee problems, many site his mental fragility as the cause.
Mirror image of 1989 TDF
Photo: © AFP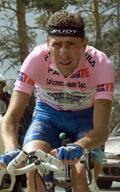 Laurent Fignon was never the same on the bike since that day in July, and most likely Casagrande hasn't been same man either. However, unlike Fignon, Casagrande has a chance to "girare i tavoli" - to turn the tables - and for this reason, he has chosen to focus (or risk, if you're a pessimist) his whole season on "parto per vincere il Giro" - starting with the aim to win the Giro.
Casagrande's victory in the Settimana Ciclistica Internazionale Coppi e Bartali in March, his top-ten in LBL and victory in the 2.2 Giro del Trentino less than one week ago, ahead of none other than Simoni and Garzelli, his main adversaries in the Giro, indicate he's on track for at least a podium finish in three weeks time.
However for Francesco Casagrande, there's only one step on the podium that matters, and the headstrong Tuscan is going to fight his battle head-on.
Cyclingnews: How do you feel your season has gone so far this year?
Francesco Casagrande: Up until now, my season has gone very well. I have planned everything around the Giro d'Italia; my condition is almost the same as last year and I have already won two stage races this year - the Coppi e Bartali and the Giro del Trentino. For these reasons I am very satisfied and confident.
CN: What are your team's goals for the Giro d'Italia?
Alberto Volpi, Assistant DS: The team is complete and ready. We have two main goals for this Giro: the general classification with Francesco Casagrande, and stage victories... perhaps with Bartoli, Petacchi and Konychev; the latter obtains good results at the Giro. We cannot forget Honchar, who could ride ahead in the time trials. Also, nice surprises are obviously welcome, for example Matteo Tosatto's victory last year on the stage to Montebelluna!
This year Casagrande is very good; he is very relaxed and calm. As far as his physical condition goes, I think he is about the same as last year - we hope to be lucky this year. The team is highly motivated. Belli, Honchar and Stangelj will help him on the mountains and stay with him in the crucial moments.
CN: How important is the Giro to you?
FC: For me it is without doubt the most important time of the whole year.
Friendly rivals, but it won't be all fun and games
Photo: © AFP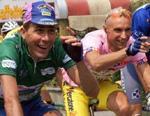 CN: What are your personal goals for the Giro - are there any stages in particular you would like to win?
FC: I'm starting with the aim to win the Giro. There are three mountain top finishes quite well suited to my characteristics, and there are also stages with medium-sized mountains that will probably finish with a small group - I hope I can say that these stages are also good for me! Obviously the Giro is three weeks long and is very difficult; I hope to get off to a great start and have lots of good luck. Now I live for the day.
CN: Who will be your directeur-sportif for the Giro?
FC: Giancarlo Ferretti
CN: Do you know who your room-mate will be for the Giro - is it the same for all races?
FC: Usually I share a room with Rinaldo Nocentini; however he is not riding the Giro this year, so I will be on my own for at least the first few days in Holland. Then we'll see… there are nine of us in the team and we will probably take turns to for the single room.
CN: What do you do to relax during a race as big as the Giro d'Italia?
FC: There is not a lot of time for relaxation during the Giro, in between each stage, massages and dinner.
CN: What are your favourite foods to eat during the Giro?
FC: Generally speaking, my favourite dish is pizza (shock horror! - Ed.); unfortunately I do not have many opportunities to have this during the Giro. However I really enjoy eating pasta and rice.
CN: Are you superstitious? - Do you have or wear a good-luck charm to bring you success?
FC: I am not very superstitious, but I always carry a soft toy my daughter gave to me - it is fixed to my suitcase and it is with me whenever I go away to a race.
So far so good
Photo: © Sirotti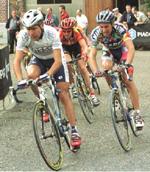 CN: Will you be riding the Tour de France or the Vuelta after the Giro?
FC: After the Giro I would like to do the Tour of Switzerland, then I will speak to my directeur sportif about the rest of my race program. However I do not feel I want to do two Grand Tours in succession (i.e. in the same year - Ed.), even though both the Tour de France and the Vuelta are two very beautiful races.
CN: What are your objectives for the rest of the 2002 season?
FC: The Tour of Switzerland and the one day classics, particularly the World Cup events like San Sabastian and the GP Zurich.
A big thankyou to Myriam Nordemann from Fassa Bortolo Public Relations.
Latest newsflashes
May 25 - Mathew Hayman interview: Making hay while the sun shines
May 25 - Stage 12 wrap up, Post stage comments, Lunghi wins 12th stage, Simoni out, Saeco cancels journos' football game, Perfetto denies doping
May 24 - Stage 11 wrap up, Post stage comments, Simoni not in the clear yet, Cadel Evans re-launches website, Garzelli case to be heard on June 3, Frigo taken for a ride, Saeco pulls Simoni before B sample announced, Mercatone flicks Sgambelluri
May 23 - Stage 10 wrap up, Post stage comments, Simoni allowed to continue, regardless of B test, Mapei to continue in the Giro
May 22 - Stage 9 wrap up, Garzelli's B sample positive, Post stage comments, Gutted Garzelli to take a break from cycling, Cipollini comments, Castellano comments, Why probenecid?, Policeman admits to supplying Varriale and co. with doping products, Simoni non-negative for cocaine
May 21 - Stage 8 wrap up, Post stage comments, Santi Perez hospitalised with cranial trauma, Garzelli's counter-analysis due on Tuesday, Varriale and the wicked fridge
Complete story index