85th Giro d'Italia (GT)
Italy, May 11-June 2, 2002
Una grande entrata for Brownie
Not long after finishing second in his first ever Giro d'Italia field sprint in Munster [stage 1], Australian speedster Graeme Brown spoke to Karen Forman about life as a pro with his Italian team, Ceramiche Panaria-Fiordo, his sudden rise to his role as the team's main sprinter and his experiences in the Giro so far.
By Karen Forman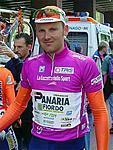 At the Giro
Photo: © Miwako Sasaki
When famously fast but brash Sydney sprinter Graeme Brown announced he had secured a berth with a European pro team and was off to race "the big ones" in 2002, nobody was too surprised.
The 23 year old, had, after all, shown he had the talent and the right kind of speed in his legs. His results included a gold medal in the teams pursuit at the Cape Town world junior championships in 1997, wins in the Cali, Colombia and Dallas World Cup teams pursuits in 1999 and then, a win in the last stage of the final Commonwealth Bank Cycling Classic in 2000.
It would seem natural that the youngster who had started out on a BMX bike at the age of three (and collected a ninth, fourth and second in the World Championships for his efforts), would turn to track cycling at the age of 16. He was also keen to show his form on the road as well, seeking an international pro career.
What nobody expected, however, was that he would do so well, quite so quickly. And, given his reputation in Australia for what he dubs his "typically sprinter" demeanour - but other riders and officials also see as disrespect for the rules and a "hot head" - it was generally expected that "Brownie" would be absorbed into the pro peloton and serve his time before producing any noteworthy results.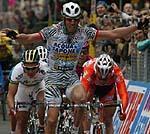 Second in stage 1. How long will Brown remain under the shadow of Cipo?
Photo: © Sirotti
But Brownie had other ideas. Just a couple of weeks after winning the sprint ace competition in the five-day 2002 Skilled Geelong Bay Classic near Melbourne - and being relegated from first to 11th in the second stage for illegally changing his line in the sprint and causing Robbie McEwen to almost crash - the rider was staking his claim at the Tour of Langkawi in Malaysia.
In his first official ride with his new team, Ceramiche Panaria-Fiordo, he won two stages - the sixth and the final criterium - and was second in the third. Graeme Brown might have come under criticism for his single-minded determination, but he certainly was showing that he could put that aggression to good use in the finishing straight.
Perhaps all he needed to do was learn to harness it?
In Geelong in January this year, he made news headlines when he openly criticised Robbie McEwen and other riders during the Bay series. In fact, Brown's antics gave the event more publicity than usual.
This week, he was making news headlines for a different reason. Brown, the boy with the super fast legs and the big mouth, finished second behind Mario Cipollini in the first stage of the Giro d'Italia.
Interestingly, it was choosing to follow Cipo in the sprint, rather than country-man McEwen, that netted him the second place. It was an impressive result for a neo-pro, one so new to the elite peloton.
The next day, Brown struggled across the line in 184th spot, with Stefano Garzelli the winner. But Brown wasn't intending to be just a flash in the pan. In stage three he came home sixth after making contact track-style with Phonak's Massimo Strazzer in the final straight, again with Cipo taking the win. And then in stage four, he was fourth behind McEwen, who took the stage win.
"It was a LONG, COLD, very WET, WINDY and PAINFUL day," he said via SMS of that third-stage.
"210km up and down all day. I pulled a sprint out of somewhere and came sixth."

New team
Photo: © Daniel Schamps
Not surprisingly, he's pretty happy with himself, but Brownie is fully aware that he has another 16 stages of the 3,334km race to ride. It's a long way to the finish line in Milano on June 2 . . . and if his interview with Cyclingnews.com this week is any indication, "brash Brownie" - at least away from the road - could have been given a break.
It was, however, kind of ironic that four months after their war of words in Australia, Brown and McEwen were sharing the limelight in Italy - and while McEwen was upset at losing what could have been a stage win, this time, it had nothing to do with Brownie.
"It was Cipo, Robbie, me, in that order, at the last corner, with give or take 3-400 metres to go," Brown said.
"Then, Robbie got stuffed up with Cipo's team mate."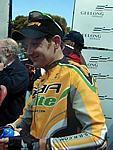 Interviewee
Photo: © Karen Forman
The official report was that McEwen jumped early from behind, trying to surprise Cipollini, but Cipo's last lead-out rider Lombardi pulled off to the right and kept drifting across, forcing an overtaking McEwen wide. McEwen later said "He went right up on me, he should have been DQ'ed."
Brown said he saw Lombardi swing over from left to right and "push Robbie to go the long way around.
"I was on Robbie's wheel, but when he kicked I didn't go. I went with Cipo. It was Cipo, Robbie, me. I got the run-up on Cipo . . . I needed another few metres."
Brown said he had pretty good legs on the day. "We had a sprint out on the road and I felt really good. It was a good circuit for me, I was always at the front. "
Where were his team-mates? "Err. Well, I dunno. I didn't have any team-mates up there. I just tried to jump up between the trains ... Mapei, the next one, the next one, until I was on the front. Then I found myself on third wheel with 2km to go and that was perfect. Cipo's team came past and I just went too. (Danilo) Hondo (Telekom) was trying to fight me for the wheel a bit, but it was the easiest fight of my life. I just gave one tiny push, then another and then it was Cipo, me, Robbie, Hondo, across the line in that order."
So, second in the first stage of his first Giro in his first pro season. How's he finding riding with the likes of Mario Cipollini?
"It's not too bad," he said. "Cipo's not as fast as I thought he was ... it might have just been he had the kick out of the corner. Robbie also said he didn't think he was fast. But definitely he has an awesome team... unbelievable, actually, they are so strong, so perfect for the sprint."
In Italy, Brown seems a little quieter than the Brownie of Geelong, the Brownie of Sydney, the Brownie so well known in Australia for his attitude. What's happening?
"I think my character has changed here a little," he said. "I can't be ross and toss here, I get put in my place. I've calmed down a fair bit.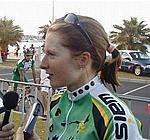 Hayley Rutherford
Photo: © Karen Forman
"I am still aggressive towards winning a bike race, but not toward other people. I have a new girlfriend, Hayley Rutherford, since December, and she has helped me a lot. She is a rider (Australian criterium champion) who is in Italy, too, at the moment, training with the national team.
"It is more relaxing, you're with your girlfriend; there's someone there. Plus mum and dad been really good, they are the best supporting parents you could ever find."
He concedes, however, that life as a pro isn't all that easy. And the Giro would have to be the toughest road race he has been part of.
"Yeah, it's hard! I didn't really ever think about it being the Giro, that much. I don't like to think of races as being huge. When I did the Olympics, I was just thinking. 'it's just another race, it's just another race, it's just another race'. I didn't want to psyche myself out of it."
He said he knew the Giro would be hard and fast, but "I've been going alright. The first stage finished on a 5km circuit, which we did three to four times. It was perfect for an Australian. And it was all done to perfection."
With his results in Malaysia and his Giro performance, the newest member of the team has quickly found himself taking on the role of lead sprinter.
"They seem pretty happy with me," he said. "I got a good result for them, they seem really happy. We've got three sprinters here but I've basically taken the role as lead sprinter."
He has signed for two years. "I don't mind this team, it's only small, it's like a big family I guess. The team manager and the director are father and son. "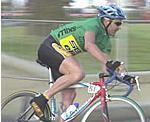 Going hard
Photo: © Brett Barnard
So that second place hasn't gone to his head? "This is my first year as a pro. I thought I'd come in and ride basically for experience. But now I've been given tasks to do. Because I've performed straight away, I am now the team sprinter and have got responsibilities. I don't mind it, I love it. But there is pressure there, now."
When he spoke to Cyclingnews, Brown was in Liege, Belgium, two hours before the start of stage three.
"We leave in 10 minutes, it's a 206km stage. Not a climbing day, but not flat. Tomorrow will be hard, it's 232km. I am a bit tired today. Yesterday was a real hard day, hopefully I can pull up ok."
He says he is - and isn't - looking forward to what is yet to come. "The hill stages are going to be hard, massive, the big bad boy mountains," he said. "I guess if I could finish the tour, I'd be really happy."
Previous Cyclingnews Stories about Graeme Brown
Brown vs McEwen at the Bay Series - stage 2
Brown vs McEwen at the Bay Series - stage 3
Related stories
Hayley Rutherford wins national criterium championships
Panaria-Fiordo '02: Fast, Fizzy and Orange!
Latest newsflashes
May 25 - Mathew Hayman interview: Making hay while the sun shines
May 25 - Stage 12 wrap up, Post stage comments, Lunghi wins 12th stage, Simoni out, Saeco cancels journos' football game, Perfetto denies doping
May 24 - Stage 11 wrap up, Post stage comments, Simoni not in the clear yet, Cadel Evans re-launches website, Garzelli case to be heard on June 3, Frigo taken for a ride, Saeco pulls Simoni before B sample announced, Mercatone flicks Sgambelluri
May 23 - Stage 10 wrap up, Post stage comments, Simoni allowed to continue, regardless of B test, Mapei to continue in the Giro
May 22 - Stage 9 wrap up, Garzelli's B sample positive, Post stage comments, Gutted Garzelli to take a break from cycling, Cipollini comments, Castellano comments, Why probenecid?, Policeman admits to supplying Varriale and co. with doping products, Simoni non-negative for cocaine
May 21 - Stage 8 wrap up, Post stage comments, Santi Perez hospitalised with cranial trauma, Garzelli's counter-analysis due on Tuesday, Varriale and the wicked fridge
Complete story index