85th Giro d'Italia (GT)
Italy, May 11-June 2, 2002
News for May 11, 2002
Latest newsflashes
May 25 - Mathew Hayman interview: Making hay while the sun shines
May 25 - Stage 12 wrap up, Post stage comments, Lunghi wins 12th stage, Simoni out, Saeco cancels journos' football game, Perfetto denies doping
May 24 - Stage 11 wrap up, Post stage comments, Simoni not in the clear yet, Cadel Evans re-launches website, Garzelli case to be heard on June 3, Frigo taken for a ride, Saeco pulls Simoni before B sample announced, Mercatone flicks Sgambelluri
May 23 - Stage 10 wrap up, Post stage comments, Simoni allowed to continue, regardless of B test, Mapei to continue in the Giro
May 22 - Stage 9 wrap up, Garzelli's B sample positive, Post stage comments, Gutted Garzelli to take a break from cycling, Cipollini comments, Castellano comments, Why probenecid?, Policeman admits to supplying Varriale and co. with doping products, Simoni non-negative for cocaine
May 21 - Stage 8 wrap up, Post stage comments, Santi Perez hospitalised with cranial trauma, Garzelli's counter-analysis due on Tuesday, Varriale and the wicked fridge
Complete story index
Daniele Nardello: Friendly aggressor
By Anthony Tan
Dani likes Australia, and Australia likes Dani
Photo: © Tom Balks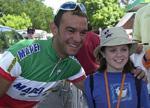 If you're going for the GC in a Grand Tour, not only do you need super legs for three weeks, you also need super-domestiques. It's lucky for Stefano Garzelli that Daniele Nardello happens to be one of these men.
In fact, the gregarious 29 year-old Italian from Varese can play both roles exceptionally well, which is what makes "Dani" so special.
The historical proof: Current Italian champion, three top-ten places the Tour de France, and three stage wins on mountain stages in both the TDF and the Vuelta. He da man.
However in the sport of cycling, you're only as good as your last race, so the question then becomes what has Nardello done this year to "earn" his place as one of Stefano Garzelli's right-hand men. Let's do a brief analysis.
January 19 at the Tour Down Under: it's 44ºC (111ºF) in Adelaide on the toughest stage of the race; however Aussie neo-pro Michael Rogers is in spitting distance of the yellow jersey, and knows today's the decider.
No problemo - Mapei-Quick Step have got this one sorted. As the peloton approaches the climb of Mengler's Hill (known as Mongrel Hill to the locals), Dani Nardello and Cadel Evans snap the legs of all but three riders - one of those three is Michael Rogers, and all Fabio Sacchi and his squadra from Team Saeco can do is look on despairingly as his lead slips through his sweat-soaked jersey.
Not even a trashed Colnago could ruin Michael Rogers that day - someone high above must have a fondness for the Rubik's-cubed colours of Team Mapei, because when the incident occurred, there just happened to be a spectator on the side of the road with a brand-spanking new C-40 in Rogers' size. And with three out of five Mapei riders in the break, Rogers couldn't possibly lose. He didn't - the team from Mapei grabbed the overall and three out of the first five places on the general classification.
Roadblocked Museeuw in Flanders
Photo: © Sirotti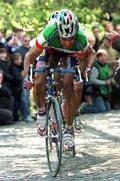 Daniele Nardello must have a penchant for breaks of five, because a similar situation happened again at the Ronde van Vlaanderen on an unusually sunny day in Flanders.
15.37 CEST: At 50 kilometres to go, a group of five break away, containing Missaglia, Sørensen, Cassani, Hincapie and Tafi. The Lion of Flanders, Johan Museeuw, and pre-race favourite, Peter van Petegem, sense the danger and pool their efforts to bridge across. Nardello follows - not the easiest thing to do when two of the toughest guys in the sport are swapping off at 60 clicks an hour.
On the ridiculously tough cobbled ascent of the Muur de Geraardsbergen, Museeuw attacks. It shatters the group, but faithful lieutenant Daniele Nardello brings Tafi back up to the leaders while Sorensen, Cassani and Massaglia drift away.
Museeuw attacks again on the final climb of the Bosberg, but it's fruitless - at 10k to go the dynamic duo from Mapei-Quick Step aren't going anywhere in a hurry.
I think you all know the story from here: Tafi-Turbo kicks in, and the rest is history.
Combine that with two solid rides in Gent-Wevelgem and Amstel Gold, and you've built an infallible case for Nardello's inclusion in the Giro.
Dani's ability to assume a dual-role within the Mapei squadra is both a blessing and a frustration. The brief interview that ensues on the eve of the race reveals a glimpse of that frustration, but Dani won't let it get the better of him - he's as level-headed as you get, and his day will come.
CN: How do you feel your season has gone so far this year?
DN: I think my season has been OK until now, but I wanna win - that's what I miss! I also didn't have enough luck.
CN: What are your team's goals for the Giro d'Italia?
DN: Mapei wants to win the Giro d'Italia. The team is very focused, with our leader Stefano Garzelli in good form. The last time Mapei won was with Tony Rominger in 1995 - a long time ago!
Hard to crack
Photo: © AFP

CN: How important is the Giro to you?
DN: The Giro is very important for all of us, but we are very calm and don't feel any pressure - that's very important.
CN: What are your personal goals for the Giro - are there any stages in particular you would like to win?
DN: Personally I'd like to win a stage and then help Garzelli. I want to play a big support role for him. Of course I hope to have a excellent physical condition to enable me to do the best I can.
CN: Who will be your directeur-sportif for the Giro?
DN: Roberto Damiani
CN: Do you know who your room-mate will be for the Giro - is it the same for all races?
DN: I think will be Robert Hunter, although I'm usually with Zanini.
CN: What do you do to relax during a race as big as the Giro d'Italia?
DN: During the free time (not much!) I listen to music, watch TV, talk alot to my wife on the phone (unless she comes), and read some magazines about houses - I love them! And of course I try to sleep well and for as long as I can, because it's very important to rest.
CN: What are your favourite foods to eat during the Giro?
DN: During the races I like small rolls filled with potatoes or chocolate; at dinner I like pasta and jam tarts. (We like chocolate rolls and jam tarts anytime Dani - Ed)
Wants a WC win
Photo: © Bert Geerts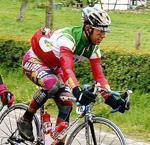 CN: Are you superstitious? - Do you have or wear a good-luck charm to bring you success?
DN: I just believe in God and in myself.
CN: Will you be riding the Tour de France or the Vuelta after the Giro?
DN: I know for sure that I'm not going to do TDF although I love it - I'll probably do the Vuelta instead, but for now it's too early to think about it.
CN: What are your objectives for the rest of the 2002 season?
DN: My biggest goal and dream for this season is to win one of the World Cup races.