Results and Reports from Australia
Promoters wishing to submit results should send them to Cyclingnews
Bathurst CC Team Tour
November 6-7, 2004
By Mark Windsor
Tasmin Lee, Sam Gray and Kerryn Windsor
Photo ©: Paula Taunton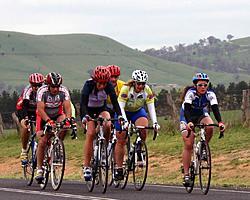 The Bathurst Cycling Club Team Tour continues to attract record numbers, with a top field coming together for the unique event on the weekend. The race involves working for an allocated team leader whose result in the stage will score points for their team. The tours stages vary in terrain and in the points allocated, with a penalty system in place for the stage placegetters.
Hence the tour is very much a strategy event, and as expected experience and race craft were the telling factors with strong Orange veteran team "Electrolux" winning the tour for the second time with 43points.
The team consisted of recently crowned NSW masters champions Mark Chapman and Mal Haigh with current Orange to Bathurst winner Charlie Gascoyne calling the shots. The trio to smart for the opposition with another Orange based team in Lovicks Engineering 2nd (John Lovick, Dougal Parsons and climber Mark Tobin) and Fitness Perfection (Pete Reid, Glen Mcgill, Mick Hoult and Richard Hobson) finishing in third.
Stage 1 had a tough climb only 3kms from the finish, Windsor Automotives rider Jerry Stieda first onto the hill, only to see Mick Foran (MPE/Carrolls Plumbing) jump away with Tamsin Lee (Subaru/Silver fox), to win the stage. Tony Hogan (Elies) winning the bunch sprint for 3rd, from BP Australia and Ovington Cycles.
Stage 2 was convincingly won by the Blue Mountains team with Blackheath rider Mike Stacy impressive on the final climb, however it was Rob Whitmill second placing that gave the Elies Team the Yellow jersey going into the final stage. Rounding out the top three in stage 2 was NSW Masters Champ Mal Haigh of Electrolux, beating Dennis Martin (BP) and Owen McPhillamey (Ovington Cycles).
With plenty of points up for grads in stage 3, the overall tour winner could go to any of the 14 teams. Current leaders Elies opted to keep an eye on second placed Blue Mountains and the other fancied team such as Electrolux, BP and Ovington. However this gave a number of the other teams an opportunity to make their move, Luvick Engineering attacking Windsor Automotives and MPE young guns in search of a solo win. While behind the leaders Pete Reid (Fitness Perfection) had successfully got clear of Bakers Delight, Goddards Construction and Multi Tool and was quickly reeling in the leaders. With Big Dugal Parson (Luvick's) hanging on for great win, and Reid (Fitness Perfection) in second, it became clear the points for third place would decide the tour as the leading teams had came through the field to fight for the minor placing. Charlie Gascoyne and Electrolux simply to smart taking third place and the overall victory in the 2004 event.
Photography
Images by Paula Taunton
Results

Stage 1
 
1 M. Foran (MPE/Carroll Plumbing)                            
2 T Lee (Suberu/Silver Fox)                                  
3 T Hogan (Elies)                                            
 
Stage 2
 
1 M. Stacy (Blue Mountains)                                  
2 R. Whitmill (Elies)                                        
3 M. Haigh (Electrolux)                                      
 
Stage 3
 
1 D Parsons (Luvicks)                                        
2 P Reid (Fitness Perfection)                                
3 C Gascoyne (Electrolux)                                    
 
Overall
 
1 Electrolux - C Gascoyne/M Chapman/M. Haigh               43 pts
2 Luvick's - D Parsons/J Luvick/M Tobin                    40
3 Fitness Perfection - P Reid/G McGill/M Hoult/R Hobson    39
4 Ovington Cycles - Brennan/MacPhillamy/Chapman            38
4 Elies - Hogan/Whittmill/L Bingham                        38
4 Blue Mountains - Stacy/Moon/Beggs                        38
4 BP Australia - Coates/Windsor/Martin                     38
8 MPE/Carroll plumbing - Foran/Goddard                     33
9 Suberu/Silver fox - Ryan/Gray/Lee/Howard                 32
10 Multi Tool - Ryan/Swan/Gallegher/Cunygham               29

Local results 2004