Results and Reports from Australia
Promoters wishing to submit results should send them to Cyclingnews
Randwick Botany CC
Heffron Park, Maroubra, July 5, 2003
Liam Kelly toughs it out at Heffron Park
By Tony Horneman
Liam Kelly checking-out
Photo: © Tony Horneman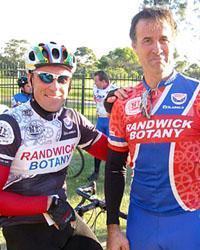 Over 70 senior riders registered for racing at Heffron Park, on Saturday 5 July 2003 for the weekly Randwick Botany Cycling Club criterium races. Junior racing was cancelled due to most junior riders competing in the Tour of Canberra over the weekend.
Randwick Botany rider Liam Kelly won A-Grade in a tough sprint to the line, finishing just ahead of John Kenny (Eastern Suburbs) and Nick Wood (St George) riding in FRF Couriers team colours. Kelly recently won the 17th annual Rosemount Estate Open Classic over 95km at Muswellbrook. He backed up for the second day to take 7th place in the 165km Muswellbrook Explorer road race.
Randwick Botany riders did a clean sweep of B-Grade with Dominic Kennedy first in a time of 49min 42sec and average speed of a healthy 39kmh. Clive Hammerson was second and big Peter Lynch third. Club President John Buckton finished in his usual fourth place.
Brad Lane (Randwick Botany) rode strongly in C-Grade to claim first place. D-Grade was won by Peter Davison (Southern Cross).
Photos
Images by Tony Horneman
Results

A Grade, 36 km
 
1 Liam Kelly (Randwick Botany)           53.24 (41 km/h)
2 John Kenny (Eastern Suburbs)
3 Nick Wood (St George)
4 David McHugh (Sydney)
5 David Watkinson (Manly Warringah)
6 Mark Robertson (Randwick Botany)
7 George Pappas (Dulwich Hill)
 
B Grade, 32 km
 
1 Dominic Kennedy (Randwick Botany)      49.42 (39 km/h)
2 Clive Hammerson (Randwick Botany)
3 Peter Lynch (Randwick Botany)
4 John Buckton (Randwick Botany)
 
C Grade, 28 km
 
1 Brad Lane (Randwick Botany)            45.38 (37 km/h)
2 John Revesz (Sydney)
3 Kevin Black (Sydney)
4 James Dalton (Randwick Botany)
 
D Grade, 20 km
 
1 Peter Davison (Southern Cross)         34.44 (35 km/h)
2 Andrew Hourigan (Randwick Botany)
3 Peter Foulsham (Waratah Veterans)
 
E Grade, 14 km
 
1 Ross Fullerton (Randwick Botany)       36.11, 23.4kmh
2 Julia Guinan (Randwick Botany)