Results and Reports from Australia
Promoters wishing to submit results should send them to Cyclingnews
Randwick Botany CC
Heffron Park, Maroubra, June 28, 2003
Randwick Botany cycling club welcomes disabled athlete to Heffron Park
By Tony Horneman
Will Elrick
Photo: © Tony Horneman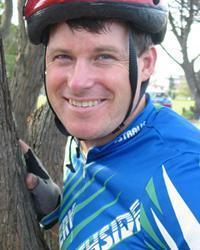 Randwick Botany Cycling Club welcomed disabled athlete Will Elrick to Heffron Park, on Saturday 28 June 2003. Elrick, who rides with one leg, lined up the C-Grade bunch for a 32km race around the park.
"I raced in B-Grade last week and the pace was high, so I thought I'd try C-Grade this week" he said prior to the starters gun. Elrick stayed with the C-Grade bunch for most of the race that averaged 35 km/h.
1000m-velodrome track racing is Elrick's specialty. He is aiming for selection in the 2004 Australian Paralympic Team. "It's great to see disabled athletes mixing it with able bodied riders at club events," Club Vice-President Tony Horneman commented after the race.
Randwick Botany riders Robert Cater and Chris Jenkins worked together and broke away in the A-Grade 40km event. Jenkins finishing first, with Cater rolling across the line in second place. Tom Brook (Parramatta) won the sprint for third followed by Alan Bozunovic (Eastern Suburbs) and Saxon Jones (Eastern Suburbs). The average speed for the race was over 40km/h.
Club President John Buckton claimed his usual fourth place in B-Grade. But Oliver Scott (Randwick Botany) put in a huge effort to just beat Dominic Kennedy (Randwick Botany) and Mark Felton (Central Coast).
C-Grade was won by Matthew Tabone (Marconi), followed by Jonathon Hogard Randwick Botany), Jim Eades (Southern Cross), Brian Funston (Randwick Botany), Brad Lane (Randwick Botany) and Fleur Jolley (Eastern Suburbs).
D-Grade was taken out by Peter Heywood (Randwick Botany) with Mike Axton (Hunter Valley) second and Peter Foulsham (Waratah Veterans) third.
Fourteen junior riders competed in a 4km Time Trial and Scratch races. See results at the end of the report.
Photos
Images by Tony Horneman
Results

Senior Results
 
A Grade, 40km
 
1 Chris Jenkins (Randwick Botany)         1.00.18 (40.2 km/h)
2 Robert Cater (Randwick Botany)
3 Tom Brook (Parramatta)
4 Alan Bozunovic (Eastern Suburbs)
5 Saxon Jones (Eastern Suburbs)
 
B Grade, 36km
 
1 Oliver Scott (Randwick Botany)            57.35 (38 km/h)
2 Dominic Kennedy (Randwick Botany)
3 Mark Felton (Central Coast)
4 John Buckton (Randwick Botany 4th place specialist)
 
C Grade, 32km
 
1 Matthew Tabone (Marconi)                  53.23 (36.3km/h)
2 Jonathon Hogard (Randwick Botany)
3 Jim Eades (Southern Cross)
4 Brian Funston (Randwick Botany)
5 Brad Lane (Randwick Botany)
6 Fleur Jolley (Eastern Suburbs)
 
D Grade, 24km
 
1 Peter Heywood (Randwick Botany)           41.31 (35 km/h)
2 Mike Axton (Hunter Valley)
3 Peter Foulsham (Waratah Veterans)
 
E Grade, 14km
 
1 Ross Fullerton (Randwick Botany)
2 Kevin Blanchfield (Randwick Botany)
 
Junior Results
 
U17 4km Time Trial
 
1 Tom Murdoch (Randwick Botany)              6.54
2 Andrew Young (Randwick Botany)             0.08
3 Nick Hall (Randwick Botany)                0.19
3 Belinda Angwin (Randwick Botany)           0.32
5 Daniel Dalrymple-Hay (Randwick Botany)     2.36
 
U15 4km Time Trial
 
1 Tamas Bykerk (Randwick Botany)             7.10
2 Tom Patton (Randwick Botany)               0.23
3 Matthew Fortuna (St George)                2.22
4 Patrick Jenner (Randwick Botany)           3.20
 
U13 4km Time Trial
 
1 Adriano Maradini (Randwick Botany)         8.08
2 Elliott Doughty (Randwick Botany)          0.18
3 Sam Buckland (Randwick Botany)             0.27
4 Spencer Bartlett (Randwick Botany)         0.49
 
Junior A Grade 10km
 
1 Tom Murdoch (Randwick Botany)
2 Andrew Young (Randwick Botany)
3 Nick Hall (Randwick Botany)
4 Tamas Bykerk (Randwick Botany)
 
Junior B Grade 10km
 
1 Tom Patton (Randwick Botany)
2 Belinda Angwin (Randwick Botany)
3 Adriano Maradini (Randwick Botany)
 
Junior C Grade 8km
 
1 Sam Buckland (Randwick Botany)
2 Daniel Dalrymple-Hay (Randwick Botany)
3 Matthew Fortuna (St George)
4 Elliott Doughty (Randwick Botany)
5 Patrick Jenner (Randwick Botany)