Results and Reports from Australia
Promoters wishing to submit results should send them to Cyclingnews
Northern Districts CC
Bishopsbourne, Tasmania, June 21, 2003
By Matthew Conn
The echelons form as the wind picks up
Photo: © Shane Goss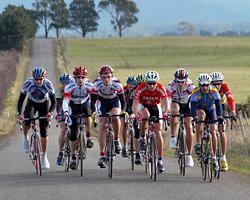 More than 35 cyclists took the opportunity to test their legs at Bishopsbourne as a lead up to next weekend's Beaconsfield round of the Tasmanian Road series.
In the 34km junior under 15 event, Tom Robinson beat Clay Murfet on a sealed handicap system. It was the second victory of the day for the Robinson clan after Ed won the 10km under 13 race.
Grace Sulzberger won the under 17 event which was also held over two laps of the 17km Armstrong's Lane circuit.
In the open B grade race, Launceston fireman Darren Cooke denied Will Robinson a family treble in a hard fought sprint to the line. The A grade event also ended in a bunch sprint despite the best efforts of Matt Goss, Wes Sulzberger, Kahrne Hammersley and Trev Innes who all tied their hand at breaking the bunch in the closing stages.
Despite a final kilometre breakaway by John Lewarn, Matt Conn was too quick at the finish with Goss and Sulzberger taking second and third.
Photos
Images by Shane Goss/www.licoricegallery.com
Results

Open A Grade, 51km
 
1 M. Conn (Cycle Torque/ Trek)          1.12.35
2 M. Goss (TIS/Avanti/Cyclingnews)
3 W. Sulzberger (West Tamar)
4 K. Hammersly (Dohertys LIC/Geards)
5 M. Bowden (Appleby Cycles)
6 T. Innes (LCCC).
 
Open B Grade
 
1 D. Cooke
2 W. Robinson
3 R. Gregory
 
Junior 13
 
1 E. Robinson
2 D. Lyon
 
Junior 15
 
1 T. Robinson
2 C. Murfet
 
Junior 17
 
1 G. Sulzberger
2 N. Jones