Mt. Hood Cycling Classic - NE
USA, June 3-7, 2009
Main Page Results Overall standings Previous Stage Next Stage
Stage 3 - June 6: Wy'East Road Race, 92 miles
Britton wins Wy'East ahead of classification face off
By Heidi Swift in Mt. Hood Meadows, Oregon
Rob Britton (Trek Red Truck)
Photo ©: Heidi Swift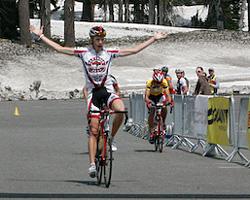 Rob Britton (Trek Red Truck) climbed his way to victory in Mt. Hood Meadows, Oregon, after a hard 148-kilometre stage in the wind Saturday. He finished ahead of classification leaders Chris Baldwin and Paul Mach by few bike lengths.
Mach leads Baldwin by 13 seconds with one day left to race.
"It was Baldwin's race to lose," said Britton of the classification duel. "I was in tenth place [overall] so I was obviously going for the stage win. The last one kilometre or so I just sat and tried to wait and play it smart."
Baldwin started his charge about 200 metres to the line, but he nor Mach could stop the charge of Britton.
Early escape
The men race with Mt. Hood in the background.
Photo ©: Heidi Swift

Brad Bingham (Rio Grande), Kevin Rowe (Bobs-Bicycles), Adam Switters (CalGiant/Specialized), Adrian Hegyvary (Hagens Berman) and James Wingert (ZteaM) went away in an early escape. It gained as much as three minutes on the field.
The composition of the break shifted throughout the race: Bingham was forced to abandon due to a mechanical and Switters eventually shot off the front, mashing his way up the road alone.
The escape's catch was inevitable, as most of them are. Even still, you had to feel for Switters as the Bissell army stormed around him with about 10 kilometres to go. He'd been out in the wind for the better part of 80 kilometres.
Bissell left Switters off the front while they bided their time to set their classification leader, Mach, up for a showdown with OUCH's Baldwin. Baldwin started the day 15 seconds down on Mach.
"Bissell – they're smart guys, they win a lot of races, right? So they just played it perfect – they set tempo just enough to keep the break in check," Britton told Cyclingnews.
When Switters was finally caught, attacks started in earnest as Baldwin's first lieutenant Roman Kilun accelerated. The group sorted itself out and four riders established an advantage ahead of the final few kilometres: Baldwin, Britton, Corey Collier (Rio Grande) and, of course, Mach.
"I just had to sit on Baldwin's wheel. I felt bad about doing it, but it was my job today," Mach told Cyclingnews.
"It just came down to me and him today and I couldn't ride away from him," said Baldwin smiled. "Paul and I are matched very closely physically – I could see that from the time trial yesterday."
Baldwin's second place gained him two seconds on Mach thanks to time bonuses. He would have to win tomorrow's criterium stage by a margin of more than three seconds in order to claim the overall victory.
"You never know what can happen," Baldwin said. "I think the advantage that I have is that I definitely have more experience than Paul and maybe something tactical like a crit could help me out."
Hometown favourite Butler wins Wy'East ahead of surging Pital
Sue Butler (MonavieCannondale.com) takes a solo win
Photo ©: Heidi Swift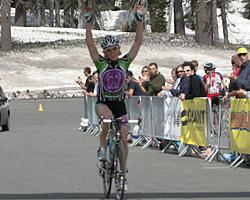 Portland-based Sue Butler stole the show Saturday in Mt. Hood Meadows, Oregon, ahead of a tight classification battle between Leah Goldstein (VAC) and Edwige Pitel (Sorella Forte). Butler, a professional mountain biker for Monavie/Cannondale, won the Wy'East stage and France's Pitel gained six seconds on her rival Goldstein.
"I didn't have any plans to attack when we started. It was just going slow and no one was pulling into the wind," said Butler. "It was kind of all or nothing – either I blow up spectacularly or I'm going to win the stage – so I went for it."
Butler's move started after she headed the group with Erin Ford (Veloforma) early in the stage. She eventually rode free to gain an advantage of up to two minutes. She had one minute ahead of the classification favourites in the final kilometre of the 56-kilometre climb to the Mt. Hood Meadows Ski Resort.
Butler's win moved her from 11th into eight place overall, nearly ensuring her a top ten finish for the stage race that finishes tomorrow.
Ford finished in 12th, at one minute and 43 seconds back.
Classification battle
Goldstein sent ValueAct teammate Martina Patella off the front of the group at 40 kilometres remaining. The move allowed Goldstein to sit back until the others caught Patella.
Pitel and Goldstein were together for the final five kilometres with Melissa McWhirter and Alice Pennington (both Veloforma), Gillian Moody (Total Restoration), Alisha Welsh (PCIM), Teri Sheasby (Bend Bike n Sport) and Robin Farina (VAC).
Pitel moved clear of the group the last 200-metre drag with Moody and Welsh.
"I decided to wait for the sprint, and so I more or less controlled the race." Pitel told Cyclingnews.
She claimed sixth and the six-second time bonus on offer. Goldstein finished in sixth with the rest of the group at three seconds back.
Pitel leads the race with 11 seconds over Goldstein with only tomorrow's criterium remaining..
"We messed up, there's no excuses," said Goldstein. "I think we should have attacked on the climb – we had too much left there at the end. We finished standing up where two years ago I collapsed when I got up here."
The eleven-second gap means that Goldstein would have to win the criterium with a gap of just over one second.
"I'm not a crit rider but I will be one tomorrow," she told Cyclingnews.
Photography
For a thumbnail gallery of these images, click here
Images by Heidi Swift /heidiswiftphotography.com
Results
Men Pro 1/2
 
1 Rob Britton (USA) Trek Red Truck Racing pb Mosaic Homes       4.07.31
2 Chris Baldwin (USA) OUCH Pro Cycling Team Presented by Maxxis    0.01
3 Paul Mach (USA) Bissell Pro Cycling                                  
4 Corey Collier (USA) Team Rio Grande                              0.18
5 Dave Vukets (CAN) Trek Red Truck Racing pb Mosaic Homes          0.43
6 Justin England (USA) California Giant -Specialized                   
7 Justin Laue (USA) ZteaM                                              
8 Morgan Schmitt (USA) Bissell Pro Cycling                             
9 Mike Olheiser (USA) warp9bikes.com/tristar                           
10 Nathaniel English (USA) ZteaM                                   0.51
11 Benjamin King (USA) Fly V Australia                                 
12 Jamie Sparling (CAN) Trek Red Truck Racing pb Mosaic Homes      0.54
13 Aaron Olson (USA) OAKLEY/SIDI                                       
14 Burke Swindlehurst (USA) Bissell Pro Cycling                    0.55
15 Nic Hamilton (CAN) Trek Red Truck Racing pb Mosaic Homes            
16 John Hunt (USA) California Giant -Specialized                       
17 Erik Slack (USA) Bobs-Bicycles.com                              1.17
18 David Glick (USA) RideClean p/b PatentIt.com                    1.20
19 Eddy Kwon (USA) ZteaM                                           1.35
20 Vince Owens (USA) HDR p/b Lombardi Sports                       1.38
21 Owen Harrison (CAN) Total Restoration Cycling Team              1.45
22 Eric Anderson (USA) Bobs-Bicycles.com                               
23 Barry Wicks (USA) Kona                                          1.46
24 Tim Sherstobitoff (CAN) Total Restoration Cycling Team              
25 Kevin Rowe (USA) Bobs-Bicycles.com                              1.48
26 Bradley Gehrig (USA) Cole Sport Racing                          1.51
27 Kenyon Campbell (CAN) Westwood Cycles / Cannondale                  
28 Andrew Boone (USA) Therapeutic Associates Cycling/GENR8             
29 James Mattis (USA) California Giant -Specialized                1.56
30 Trevor Connor (USA) Therapeutic Associates Cycling/GENR8            
31 Brandon Dyer (USA) Therapeutic Associates Cycling/GENR8         2.02
32 Kurt Wolfgang (USA) Canyon Bicycles/ Sienna Development             
33 Chris Hong (USA) Bobs-Bicycles.com                              2.05
34 Eric Fischer (USA) Safeway/Bicycles Plus                        2.15
35 Dan Bryant (USA) Safeway/Bicycles Plus                              
36 Kennett Peterson (USA) Team Oregon                                  
37 Rob English (USA) Midtown / Bike Friday                             
38 James Wingert (USA) ZteaM                                           
39 Shannon Morgan (USA) Clean Currents p/b Don Beyer Volvo         2.17
40 Andrew Rosette (USA) Second Ascent                              2.24
41 Scott Gray (USA) Therapeutic Associates Cycling/GENR8           2.26
42 Allen Krughoff (CAN) Team Rio Grande                            2.28
43 Tanner Putt (USA) Cole Sport Racing                             2.39
44 Dan Martin (USA) Safeway/Bicycles Plus                          2.41
45 Jonathan Eropkin (USA) Safeway/Bicycles Plus                        
46 Chris Swan (USA) Team Oregon                                        
47 Brandon Lynch (USA) Bobs-Bicycles.com                           2.44
48 Kai Applequist (USA) Bobs-Bicycles.com                          2.46
49 Joshua Liberles (USA) Ten Speed Drive Racing                    2.51
50 Brendan Sullivan (USA) Iron Data Racing                         2.56
51 Sean Passage (USA) Safeway/Bicycles Plus                        2.57
52 Albert Gonzales (USA) Mt. View Cycles                           3.18
53 Seth Patla (USA) River City Bicycles                            3.23
54 Jake Macarthur (USA) Hagens Berman Cycling                      3.24
55 Roman Kilun (USA) OUCH Pro Cycling Team Presented by Maxxis         
56 Jeff Sherstobitoff (CAN) Total Restoration Cycling Team             
57 Chris Parrish (USA) Hagens Berman Cycling                       3.43
58 Lucas Binder (USA) ZteaM                                        3.54
59 Kevin Noiles (CAN) Trek Red Truck Racing pb Mosaic Homes        4.00
60 Dan Macdonald (CAN) Total Restoration Cycling Team              4.11
61 Gabe Varela (USA) Vertical Earth                                4.13
62 Andrew Goessling (USA) HDR p/b Lombardi Sports                      
63 Evan Pickett (USA) Metromint Cycling                            4.17
64 Corey Carlson (CAN) Team Rio Grande                             4.23
65 Logan Garey (USA) Team Rio Grande                               4.28
66 Austin Arguello (USA) Hammer/CMG Racing Team                    4.30
67 Chris Stuart (USA) Bobs-Bicycles.com                            4.33
68 Ryan Iddings (USA) Lenovo                                       4.39
69 Aaron Sander (USA) Cyclepath Racing                             5.27
70 Christopher Wingfield (USA) Hagens Berman Cycling               6.02
71 Trevor Haaheim (CAN) Total Restoration Cycling Team             6.04
72 Tyler Riedesel (USA) Canyon Bicycles Draper                     6.08
73 Michael Wilcox (USA) Logan Race Club                            6.18
74 Ben Rhodes (USA) Second Ascent                                  7.16
75 Adam Switters (USA) California Giant -Specialized               7.22
76 Julian Martinez (USA) California Giant -Specialized                 
77 Adrian Hegyvary (USA) Hagens Berman Cycling                         
78 Jackson Beuhler (CAN) Total Restoration Cycling Team            8.10
79 Mark Santurbane (USA) California Giant -Specialized             9.48
80 Omer Kem (USA) Bissell Pro Cycling                             13.23
81 Graham Howard (USA) Bissell Pro Cycling                             
82 Christiaan Devries (CAN) Total Restoration Cycling Team        14.37
83 Travis Sherman (USA) warp9bikes.com/tristar                    17.19
84 Jonathan Tower (USA) Performance Driven                        17.52
85 Michael Lanham (USA) warp9bikes.com/tristar                    24.06
86 Luca Ortolani (USA) ZteaM                                      24.10
87 Darrell O'Quinn (USA) warp9bikes.com/tristar                   25.48
88 Tad Hamilton (USA) Bobs-Bicycles.com                           26.38
89 Sean Mcbride (USA) HDR p/b Lombardi Sports                     29.49
90 Derek Dixon (USA) HDR p/b Lombardi Sports                           
91 Matthew Scott (USA) ico                                        30.12
92 Hugh Trenchard (CAN) Schwalbe Cycling Club                          
93 Tyler Brandt (USA) HDR p/b Lombardi Sports                     31.01
94 Will Mcginnis (USA) warp9bikes.com/tristar                     31.07
95 Erik Edgar (USA) Pacific Power Blue Sky                        34.09
96 Wm. Colter Young (CAN) ERTC                                    37.38
DNF Adam Thuss (CAN) Trek Red Truck Racing pb Mosaic Homes             
DNF Brad Bingham (CAN) Team Rio Grande                                 
DNF Ryan Olson (CAN) Campione-Ratcliff                                 
DNF Phillip Gaimon (USA) Jelly Belly                                   
DNF Mark Gyulafia (USA) Guinness Cycling                               
DNF Cliff Heaberlin (USA) Guinness Cycling                             
DNF Shaun Adamson (CAN) Juventus                                       
DNF Trevor Johnson (USA)                                               
DNF Bruce Rahmig (USA) RMRC                                            
DNF John Chodroff (USA) OUCH Pro Cycling Team Presented by Maxxis      
DNF Emiliano Jordan (USA) Ten Speed Drive / BH Bicycles                
 
Teams
 
1 Trek Red Truck Racing pb Mosaic Homes                        12.24.10
2 Bissell Pro Cycling                                              0.02
3 ZteaM                                                            1.32
4 California Giant -Specialized                                    1.57
5 Bobs-Bicycles.com                                                3.13
6 Therapeutic Associates Cycling/GENR8                             4.12
7 Total Restoration Cycling Team                                   5.18
8 Team Rio Grande                                                  5.32
9 Safeway/Bicycles Plus                                            5.34
10 Hagens Berman Cycling                                          11.32
11 HDR p/b Lombardi Sports                                        34.03
12 warp9bikes.com/tristar                                         40.31
 
General classification after stage 3
 
1 Paul Mach (USA) Bissell Pro Cycling                           8.44.41
2 Chris Baldwin (USA) OUCH Pro Cycling Team Presented by Maxxis    0.13
3 Mike Olheiser (USA) warp9bikes.com/tristar                       2.08
4 Rob Britton (USA) Trek Red Truck Racing pb Mosaic Homes          2.09
5 Morgan Schmitt (USA) Bissell Pro Cycling                         2.28
6 Corey Collier (USA) Team Rio Grande                              2.33
7 Nathaniel English (USA) ZteaM                                    2.38
8 Justin England (USA) California Giant -Specialized               2.58
9 Burke Swindlehurst (USA) Bissell Pro Cycling                     3.22
10 Jamie Sparling (CAN) Trek Red Truck Racing pb Mosaic Homes      3.32
11 Benjamin King (USA) Fly V Australia                             3.42
12 Nic Hamilton (CAN) Trek Red Truck Racing pb Mosaic Homes        4.32
13 David Glick (USA) RideClean p/b PatentIt.com                    4.59
14 Kevin Rowe (USA) Bobs-Bicycles.com                              5.15
15 Aaron Olson (USA) OAKLEY/SIDI                                   5.27
16 James Mattis (USA) California Giant -Specialized                5.33
17 Eric Anderson (USA) Bobs-Bicycles.com                           5.35
18 Justin Laue (USA) ZteaM                                         5.45
19 Roman Kilun (USA) OUCH Pro Cycling Team Presented by Maxxis     5.58
20 Erik Slack (USA) Bobs-Bicycles.com                              6.01
21 John Hunt (USA) California Giant -Specialized                       
22 Vince Owens (USA) HDR p/b Lombardi Sports                       6.25
23 Dave Vukets (CAN) Trek Red Truck Racing pb Mosaic Homes         6.29
24 Andrew Boone (USA) Therapeutic Associates Cycling/GENR8         6.52
25 Rob English (USA) Midtown / Bike Friday                         7.26
26 Brandon Dyer (USA) Therapeutic Associates Cycling/GENR8         7.31
27 Joshua Liberles (USA) Ten Speed Drive Racing                    7.48
28 Kai Applequist (USA) Bobs-Bicycles.com                          8.03
29 Bradley Gehrig (USA) Cole Sport Racing                          8.26
30 Dan Bryant (USA) Safeway/Bicycles Plus                          8.46
31 Kurt Wolfgang (USA) Canyon Bicycles/ Sienna Development         9.33
32 Eddy Kwon (USA) ZteaM                                          10.01
33 Evan Pickett (USA) Metromint Cycling                           10.03
34 Trevor Connor (USA) Therapeutic Associates Cycling/GENR8       10.22
35 Brendan Sullivan (USA) Iron Data Racing                        10.39
36 Jonathan Eropkin (USA) Safeway/Bicycles Plus                   10.42
37 Tanner Putt (USA) Cole Sport Racing                            10.43
38 Dan Macdonald (CAN) Total Restoration Cycling Team             10.52
39 Barry Wicks (USA) Kona                                         11.03
40 Gabe Varela (USA) Vertical Earth                               11.07
41 Eric Fischer (USA) Safeway/Bicycles Plus                            
42 Tim Sherstobitoff (CAN) Total Restoration Cycling Team         11.10
43 Adam Switters (USA) California Giant -Specialized              11.14
44 Brandon Lynch (USA) Bobs-Bicycles.com                          11.26
45 Kennett Peterson (USA) Team Oregon                             11.32
46 Albert Gonzales (USA) Mt. View Cycles                          11.33
47 Kenyon Campbell (CAN) Westwood Cycles / Cannondale             11.36
48 Mark Santurbane (USA) California Giant -Specialized            11.50
49 Jeff Sherstobitoff (CAN) Total Restoration Cycling Team        11.53
50 Adrian Hegyvary (USA) Hagens Berman Cycling                    11.55
51 Chris Stuart (USA) Bobs-Bicycles.com                           11.58
52 Jake Macarthur (USA) Hagens Berman Cycling                     11.59
53 Lucas Binder (USA) ZteaM                                       12.02
54 Chris Parrish (USA) Hagens Berman Cycling                      12.18
55 Chris Hong (USA) Bobs-Bicycles.com                             12.31
56 Dan Martin (USA) Safeway/Bicycles Plus                         12.34
57 Scott Gray (USA) Therapeutic Associates Cycling/GENR8          12.40
58 Chris Swan (USA) Team Oregon                                   13.10
59 Owen Harrison (CAN) Total Restoration Cycling Team             13.15
60 Sean Passage (USA) Safeway/Bicycles Plus                       13.26
61 Aaron Sander (USA) Cyclepath Racing                            13.41
62 Austin Arguello (USA) Hammer/CMG Racing Team                   14.50
63 Corey Carlson (CAN) Team Rio Grande                            15.24
64 Kevin Noiles (CAN) Trek Red Truck Racing pb Mosaic Homes       16.33
65 Seth Patla (USA) River City Bicycles                           16.49
66 Logan Garey (USA) Team Rio Grande                              17.16
67 Trevor Haaheim (CAN) Total Restoration Cycling Team            19.37
68 Ben Rhodes (USA) Second Ascent                                 20.06
69 Michael Wilcox (USA) Logan Race Club                           20.15
70 Graham Howard (USA) Bissell Pro Cycling                        20.58
71 Jackson Beuhler (CAN) Total Restoration Cycling Team           21.18
72 Allen Krughoff (CAN) Team Rio Grande                           22.25
73 Ryan Iddings (USA) Lenovo                                      25.07
74 Christiaan Devries (CAN) Total Restoration Cycling Team        25.24
75 Omer Kem (USA) Bissell Pro Cycling                             25.38
76 Andrew Goessling (USA) HDR p/b Lombardi Sports                 28.20
77 Julian Martinez (USA) California Giant -Specialized            29.19
78 Christopher Wingfield (USA) Hagens Berman Cycling              29.49
79 James Wingert (USA) ZteaM                                      31.51
80 Tyler Riedesel (USA) Canyon Bicycles Draper                    31.54
81 Shannon Morgan (USA) Clean Currents p/b Don Beyer Volvo        32.29
82 Jonathan Tower (USA) Performance Driven                        33.58
83 Andrew Rosette (USA) Second Ascent                             37.24
84 Hugh Trenchard (CAN) Schwalbe Cycling Club                     41.52
85 Luca Ortolani (USA) ZteaM                                      43.09
86 Wm. Colter Young (CAN) ERTC                                    46.42
87 Derek Dixon (USA) HDR p/b Lombardi Sports                      47.22
88 Tad Hamilton (USA) Bobs-Bicycles.com                           51.12
89 Michael Lanham (USA) warp9bikes.com/tristar                    53.38
90 Tyler Brandt (USA) HDR p/b Lombardi Sports                     55.39
91 Darrell O'Quinn (USA) warp9bikes.com/tristar                 1.00.42
92 Travis Sherman (USA) warp9bikes.com/tristar                  1.03.29
93 Sean Mcbride (USA) HDR p/b Lombardi Sports                   1.03.57
94 Erik Edgar (USA) Pacific Power Blue Sky                      1.11.11
95 Will Mcginnis (USA) warp9bikes.com/tristar                   1.23.39
96 Matthew Scott (USA) ico                                      1.29.16
 
Teams classification
 
1 Bissell Pro Cycling                                          26.00.57
2 Trek Red Truck Racing pb Mosaic Homes                            3.44
3 California Giant -Specialized                                    4.30
4 Bobs-Bicycles.com                                                9.28
5 ZteaM                                                            9.53
6 Therapeutic Associates Cycling/GENR8                            16.49
7 Team Rio Grande                                                 17.24
8 Total Restoration Cycling Team                                  19.30
9 Safeway/Bicycles Plus                                           21.14
10 Hagens Berman Cycling                                          26.07
11 HDR p/b Lombardi Sports                                      1.11.14
12 warp9bikes.com/tristar                                       1.37.41
 
Women
 
1 Sue Butler (USA) MonavieCannondale.com                        5.03.49
2 Edwige Pitel (FRA) Sorella Forte                                 0.29
3 Gillian Moody (CAN) Total Restoration Cycling Team                   
4 Alisha Welsh (USA) PCIM                                              
5 Teri Sheasby (USA) Bend Bike N Sport                             0.32
6 Leah Goldstein (CAN) ValueAct Capital Cycling Team                   
7 Melissa Mcwhirter (USA) Veloforma                                    
8 Robin Farina (USA) ValueAct Capital Cycling Team                 0.40
9 Alice Pennington (USA) Veloforma                                 1.00
10 Marilyn Mcdonald (CAN) Specialized D4W/Bicycle Haus             1.16
11 Patricia Bailey (USA) Wines of Washington                           
12 Erin Ford (USA) Veloforma                                       1.43
13 Heather Pryor (USA) Touchstone Climbing                         1.57
14 Shari White (USA) Castelli                                      2.05
15 Jessica Hannah (CAN) Total Restoration Cycling Team             2.12
16 Sarah Barber (USA) Kristin Armstrong Cycling Academy            2.50
17 Heather Albert (USA) Riverstone Women's Racing Team             3.29
18 Kari Studley (USA) VeloBella                                    3.44
19 Kimberly Fong (USA) SugarCRM                                    4.10
20 Gabriela Ferrat (MEX) Mountain View Cycles                      4.32
21 Amy Herlinveaux (CAN) Trek Red Truck                            5.04
22 Julie Robertson Zivin (USA) Hagens Berman Cycling               5.42
23 Cara Bussell (USA)                                              6.04
24 Jennifer Slawta (USA) Landshark                                 6.20
25 Martina Patella (USA) ValueAct Capital Cycling Team             8.52
26 Alison Testroete (CAN) Total Restoration Cycling Team          10.19
27 Gillian Carleton (CAN) Total Restoration Cycling Team          26.07
28 Karey Miles (USA) Therapeutic Associates                            
29 Pamela Archer (USA) Therapeutic Associates                     26.13
30 Robyn Poulson (USA) Chinock Cycling                            36.48
31 Cary Steinman (USA) Bend Bike N Sport                          38.37
32 Libby Evans (USA) Sorella Forte                                49.43
33 Sirkit Valentin (USA) Gentle Lovers                            51.09
DNF Carolyn Eller (USA) Gregg's Elite                                  
 
General classification after stage 3
 
1 Edwige Pitel (FRA) Sorella Forte                             10.01.29
2 Leah Goldstein (CAN) ValueAct Capital Cycling Team               0.11
3 Melissa Mcwhirter (USA) Veloforma                                2.15
4 Robin Farina (USA) ValueAct Capital Cycling Team                 2.44
5 Patricia Bailey (USA) Wines of Washington                        3.15
6 Alice Pennington (USA) Veloforma                                 4.21
7 Marilyn Mcdonald (CAN) Specialized D4W/Bicycle Haus              4.46
8 Sue Butler (USA) MonavieCannondale.com                           4.55
9 Alisha Welsh (USA) PCIM                                          5.15
10 Gillian Moody (CAN) Total Restoration Cycling Team              5.33
11 Teri Sheasby (USA) Bend Bike N Sport                            5.53
12 Heather Pryor (USA) Touchstone Climbing                         6.50
13 Sarah Barber (USA) Kristin Armstrong Cycling Academy            7.19
14 Erin Ford (USA) Veloforma                                       7.44
15 Jessica Hannah (CAN) Total Restoration Cycling Team             7.46
16 Heather Albert (USA) Riverstone Women's Racing Team             9.15
17 Kari Studley (USA) VeloBella                                    9.52
18 Shari White (USA) Castelli                                     11.22
19 Gabriela Ferrat (MEX) Mountain View Cycles                     12.13
20 Amy Herlinveaux (CAN) Trek Red Truck                           15.03
21 Jennifer Slawta (USA) Landshark                                17.14
22 Cara Bussell (USA)                                             20.08
23 Martina Patella (USA) ValueAct Capital Cycling Team            20.21
24 Kimberly Fong (USA) SugarCRM                                   20.52
25 Alison Testroete (CAN) Total Restoration Cycling Team          22.26
26 Julie Robertson Zivin (USA) Hagens Berman Cycling              25.59
27 Pamela Archer (USA) Therapeutic Associates                     44.39
28 Karey Miles (USA) Therapeutic Associates                       49.40
29 Gillian Carleton (CAN) Total Restoration Cycling Team          51.41
30 Robyn Poulson (USA) Chinock Cycling                          1.07.26
31 Cary Steinman (USA) Bend Bike N Sport                        1.13.23
32 Libby Evans (USA) Sorella Forte                              1.13.32
33 Sirkit Valentin (USA) Gentle Lovers                          1.34.27