Mt. Hood Cycling Classic - NE
USA, June 3-7, 2009
2008 results Stage List Preview Start List Past winners
The Stages
Warm weather bodes well for Mt Hood Cycling Classic
By Heidi Swift
Mt. Hood off in the distance
Photo ©: Kurt Jambretz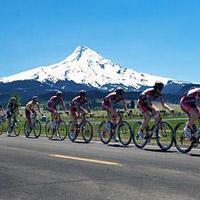 Coming off a week of seriously cycling-worthy warm weather, Oregon is gearing up for the 2009 Mt Hood Cycling Classic - a five-day, leg-breaking stage race renowned as much for its incredible difficulty as for its breath-taking beauty. The forecast is calling for the best conditions that MHCC has seen in its seven-year history and professional racers have flocked to Mt Hood from as far as France to get in on a piece of the action.
Presented by Pacific Power, the race will return to its roots in 2009, bringing back the popular 3.1 mile Panorama Point Prologue to kick things off in the small community of Pine Grove, Oregon. The remaining stages will take the peloton past the picturesque orchards of the Upper Hood River Valley, through the historic Mosier tunnels and along the cliffside Rowena Loops, up to the Mount Hood Meadows Ski Resort and finally into downtown Hood River for a challenging criterium course.
Indeed, it's one of Bissell's Burke Swindlehurst's favorite events, "The courses here are amazing - great terrain and terrific beauty."
But the beauty won't come without a price. The pro men's race will cover nearly 250 miles and climb almost 25,000 feet while the women will climb nearly 23,000 feet in just 200 miles. And if the weather forecast actually pans out (hey, it's Oregon, don't count on anything), competitors can expect temperatures between 75 and 80 degrees as they battle up the 10,500 feet elevation gain that Saturday's infamous Wy'East Road Race will throw at them.
With both the men's and women's defending champions (OUCH's Rory Sutherland and TIBCO's Julie Beveridge) racing in Philadelphia this week, the top spots are up for grabs and the battle for the podium should yield some top-notch racing.
Swindlehurst, England bring backup
Burke Swindlehurst (Bissell Pro Cycling)
Photo ©: Kurt Jambretz

Bissell Pro Cycling (currently sitting on top of the NRC team standings) will come out swinging, looking to have Burke Swindlehurst in the leader's jersey when the dust settles on Sunday afternoon. One of the strongest and most experienced climbers in the domestic scene, Swindlehurst (2nd at Gila, 3rd at Redlands and 4th at Tour of Utah in 2008) is well positioned to make a run at the GC. "The TT will be critical because it's so long [18.5 miles] and typically the winner of the TT ends up winning the overall, but I had an encouraging time trial at Gila this year and the course profile suits me since there is some significant climbing. I feel good about my chances to win."
With much of the Bissell crew racing on the east coast this week and only four teammates riding support, they'll have to play it smart and race strategically to make it happen. Luckily, Swindlehurst has some climbing power in teammates Morgan Schmitt and Paul Mach but, however you look at it, Bissell will have their work cut out for them as other top contenders set their sights on GC victory.
Justin England and a full eight-man California-Giant/Specialized squad will be among those on the hunt. After a solid 2008 season with Toyota-United (5th at Gila, 7th at San Dimas and 8th at Redlands in 2008) England's 2009 form appears to be coming around. If England is going well and the team plays its cards right, they could be well-positioned to give Swindlehurst and the Bissell boys a serious run for their money. Also watch for Cal-Giant's record-setting Ironman champion and TT powerhouse, Chris Lieto, to shake things up and make a run at the stage 2 win at the Scenic Gorge Time Trial.
Baldwin looking for a victory in OUCH debut
Roman Kilun will have Chris Baldwin for a teammate
Photo ©: Jon Devich

Finally, officials confirmed yesterday that Chris Baldwin is registered to race the event in his first race for Team OUCH after leaving Rock Racing. Despite having only two teammates in town to ride support (Roman Kilun and John Chodroff), Baldwin presents a significant threat for the GC. With a 2006 win at Tour of the Gila and six podium-worthy overall finishes at major domestic stage races in the past two years (including Gila, Joe Martin, Tour de Toona, and Redlands), he's sure to be in contention for the glory this week in Hood River.
Others to keep an eye on include the top returning finisher (11th at MTCC in 2008), Mike Olheiser (Warp9bikes.com/TriStar), who won the Masters World Time Trial Championship and Masters National Road Racing Championship in 2006. Don't discount Team Rio Grande's Corey Collier, who is coming with a squad of five and has a few major top-10 finishes to his name and has been climbing well this year. Adrian Hegyvary (Hagens Berman) will have three teammates along to help him and is also looking solid after taking the time trial at the Cherry Blossom Stage Race earlier in April. Nathaniel English (ZteaM) and Benjamin King (Fly V Australia) have also both shown they're capable of dropping the hurt and will likely be looking to light things up for a stage win.
Goldstein ready to reclaim title, former French national champion could make things interesting
Leah Goldstein won in 2007
Photo ©: Kurt Jambretz

On the women's side, Leah Goldstein (ValueAct Capital) is back and looking to claim her 4th title. Goldstein took the overall at Mt Hood for three consecutive years (2005-2007) but was forced to settle for 3rd last year behind Julie Beveridge and Jeanne Longo-Ciprelli. After a slow start this year with an injury just before Redlands, Goldstein is feeling good and ready to make a run at the GC. "It will be different this year. We're going to race hard and have some fun," said Goldstein.
The 18.5-mile Scenic Gorge Time Trial, which features almost 2,000 feet of elevation gain, is perfectly suited to Goldstein's strengths and you can bet she's looking to repeat last year's stage win on that course. "That is the crucial stage for me - that and the Cooper Spur Circuit Race [stage 1]."
With strong local riders like Boise's Sarah Barber (Kristin Armstrong Cycling), Seattle's Tricia Bailey (Wines of Washington), Portland's Alice Pennington (Veloforma) and Coeur D'Alene's Heather Albert (Riverstone) in attendance, she'll have her work cut out for her. "Everyone is a threat to me - even if I don't know the name - I have to watch out for everyone."
She'll have to keep a particularly close eye on Edwige Pitel, who will be guest riding in Sorella Forte colors. Pitel, who boasts four national French championships (time trial in 2004 and 2005, road race in 2007 and track scratch in 2008) and two elite world championships in duathlon (long distance in 2000 and short distance 2003), presents a great unknown as things kickoff with tomorrow's lung-busting 3.1-mile prologue.
Luckily, Goldstein has the advantage of some serious firepower in teammate Robin Farina. Farina, who won the overall classification at Joe Martin Stage Race in 2008 is an aggressive racer, superb climber and talented time trialist. Sprinting and criterium specialist Martina Patella will also be on hand to work for Goldstein during the final criterium stage.
Start list
Coming!
Past winners
Men                                           Women
 
2008 Rory Sutherland (Aus) Health Net/Maxxis  Julie Beveridge (Can) Aaron's Professional Women's Cycling Team
2007 Nathan O'Neill (Aus) Health Net          Leah Goldstein (Can) Symmetrics
2006 Nathan O'Neill (Aus) Health Net          Leah Goldstein (Isr) Symmetrics Cycling 
2005 Svein Tuft (Can) Symmetrics              Leah Goldstein (Can) Trek/Red Truck Beer Racing Team