Mt. Hood Cycling Classic - NE
USA, June 3-7, 2009
Main Page Results Overall standings Previous Stage
Stage 4 - June 7: Full Sail Downtown Criterium, 60/45 minutes
Sparling wins final Mt. Hood stage head of Mach overall victory
By Heidi Swift in Hood River, Oregon
Paul Mach (Bissell) defends and wins the race overall lead
Photo ©: Heidi Swift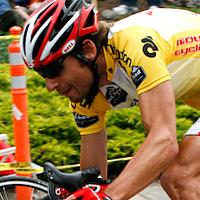 Canada's Jamie Sparling bettered his escape companions to win the final stage of Mt. Hood Cycling Classic Sunday in Hood River, Oregon. Paul Mach finished 34 seconds back in the main field to safely defend the overall race lead he took on Thursday.
Mach's Bissell team rode the stage safe to keep the s 13-second classification lead over Chris Baldwin (OUCH). After a series of attacks, a group of ten got away from the field. Bissell's Omer Kem, Burke Swindlehurst, and Morgan Schmitt rode on the front of the peloton for most of the race and Graham Howard watched over his teammate in the yellow leader's jersey.
"Graham took great care of me today and with those guys on the front I felt really comfortable." Mach told Cyclingnews.
"We wanted to let a group go – it was a little bigger than we wanted, and neither one of the OUCH riders was in it so they were pretty active trying to go across," Kem said. "It was a little more work than we wanted to do, but it worked out."
Baldwin raced aggressively, but couldn't manage to escape. "Obviously, I'm a little disappointed, but Bissell did a great job today."
Up the road, the 10-man break was pared down to eight with Jamie Sparling (Truck Red Truck), Justin England (CalGiant-Specialized), Aaron Olson (Oakley/Sidi), Corey Collier (Rio Grande), Adrian Hegyvary (Hagens-Berman), Allen Krughoff (Rio Grande), Adam Switters (CalGiant-Specialized) and Erik Slack (Bobs Bicycles).
The group rode well together and stayed away for more than half of the 75-minute race, gapping the field by as much as 30 seconds. Olson, who claimed most of the primes on the day, instigated a final split in the break that eventually sent him into the sprint finish with Sparling, England and Collier.
Collier's fourth place finish was good enough to move him from sixth to third in the general classification, bumping Mike Olheiser (warp9bikes.com/tristar) out of the final podium spot.
Pitel puts stamp of domination on Mt. Hood with stage and overall win
Edwige Pitel (Sorella Forte)
Photo ©: Heidi Swift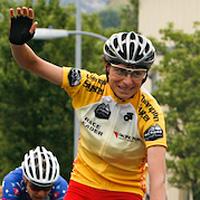 Edwige Pitel dominated the technical Full Sail Downtown Criterium sprint finish Sunday to take victory in the final Mt. Hood Cycling Classic stage and defend her classification lead over Leah Goldstein.
The victory by team Sorella Forte's Frenchwoman in the 50-minute race increased her lead over ValueAct's Goldstein to 18 seconds.
Despite a lively race with frequent attacks from ValueAct's Robin Farina, among others, the field was together going into the final lap. Pitel, who had stayed behind Goldstein's wheel, prepared for the sprint.
"I decided to not take any risk of losing the jersey stupidly by leaving a gap or making silly attacks," said Pitel. "In the last corner, I just went around all the girls, down the hill and then took the corner in first position. Even though there was a headwind, I just went flat out for the last 20 meters."
Robina Farina took second, beating Alison Testroete (Total Restoration) at the line.
Veloforma's Melissa McWhirter finished in the group and maintained her third place position in the general classification. She finished the race 2:22 behind Pitel.
Photography
For a thumbnail gallery of these images, click here
Images by Heidi Swift /heidiswiftphotography.com
Results
Men
 
1 Jamie Sparling (CAN) Trek Red Truck Racing pb Mosaic Homes    1.09.19
2 Justin England (USA) California Giant -Specialized                   
3 Aaron Olson (USA) OAKLEY/SIDI                                        
4 Corey Collier (USA) Team Rio Grande                                  
5 Adrian Hegyvary (USA) Hagens Berman Cycling                      0.12
6 Allen Krughoff (CAN) Team Rio Grande                             0.22
7 Adam Switters (USA) California Giant -Specialized                    
8 Erik Slack (USA) Bobs-Bicycles.com                                   
9 Tim Sherstobitoff (CAN) Total Restoration Cycling Team           0.34
10 Logan Garey (USA) Team Rio Grande                                   
11 Kennett Peterson (USA) Team Oregon                                  
12 Albert Gonzales (USA) Mt. View Cycles                               
13 Lucas Binder (USA) ZteaM                                            
14 Trevor Haaheim (CAN) Total Restoration Cycling Team                 
15 Chris Stuart (USA) Bobs-Bicycles.com                                
16 Jake Macarthur (USA) Hagens Berman Cycling                          
17 Tyler Brandt (USA) HDR p/b Lombardi Sports                          
18 Brandon Lynch (USA) Bobs-Bicycles.com                               
19 Ryan Iddings (USA) Lenovo                                           
20 Andrew Boone (USA) Therapeutic Associates Cycling/GENR8             
21 Joshua Liberles (USA) Ten Speed Drive Racing                        
22 Kurt Wolfgang (USA) Canyon Bicycles/ Sienna Development             
23 Nic Hamilton (CAN) Trek Red Truck Racing pb Mosaic Homes            
24 Jackson Beuhler (CAN) Total Restoration Cycling Team                
25 Justin Laue (USA) ZteaM                                             
26 Benjamin King (USA) Fly V Australia                                 
27 Paul Mach (USA) Bissell Pro Cycling                                 
28 Eddy Kwon (USA) ZteaM                                               
29 Owen Harrison (CAN) Total Restoration Cycling Team                  
30 Sean Passage (USA) Safeway/Bicycles Plus                            
31 Tyler Riedesel (USA) Canyon Bicycles Draper                         
32 Chris Baldwin (USA) OUCH Pro Cycling Team Presented by Maxxis       
33 Mike Olheiser (USA) warp9bikes.com/tristar                          
34 Bradley Gehrig (USA) Cole Sport Racing                              
35 Jonathan Tower (USA) Performance Driven                             
36 Gabe Varela (USA) Vertical Earth                                    
37 John Hunt (USA) California Giant -Specialized                       
38 Kenyon Campbell (CAN) Westwood Cycles / Cannondale                  
39 Tanner Putt (USA) Cole Sport Racing                                 
40 Rob Britton (USA) Trek Red Truck Racing pb Mosaic Homes             
41 Christiaan Devries (CAN) Total Restoration Cycling Team             
42 Roman Kilun (USA) OUCH Pro Cycling Team Presented by Maxxis         
43 Burke Swindlehurst (USA) Bissell Pro Cycling                        
44 Trevor Connor (USA) Therapeutic Associates Cycling/GENR8            
45 Evan Pickett (USA) Metromint Cycling                                
46 Chris Hong (USA) Bobs-Bicycles.com                                  
47 David Glick (USA) RideClean p/b PatentIt.com                        
48 Andrew Goessling (USA) HDR p/b Lombardi Sports                      
49 Michael Lanham (USA) warp9bikes.com/tristar                         
50 Eric Fischer (USA) Safeway/Bicycles Plus                            
51 James Mattis (USA) California Giant -Specialized                    
52 Kai Applequist (USA) Bobs-Bicycles.com                              
53 Barry Wicks (USA) Kona                                              
54 Aaron Sander (USA) Cyclepath Racing                                 
55 Jeff Sherstobitoff (CAN) Total Restoration Cycling Team             
56 Dave Vukets (CAN) Trek Red Truck Racing pb Mosaic Homes             
57 Nathaniel English (USA) ZteaM                                       
58 Vince Owens (USA) HDR p/b Lombardi Sports                           
59 Seth Patla (USA) River City Bicycles                                
60 Corey Carlson (CAN) Team Rio Grande                                 
61 Shannon Morgan (USA) Clean Currents p/b Don Beyer Volvo             
62 James Wingert (USA) ZteaM                                           
63 Andrew Rosette (USA) Second Ascent                                  
64 Darrell O'Quinn (USA) warp9bikes.com/tristar                        
65 Kevin Rowe (USA) Bobs-Bicycles.com                                  
66 Dan Bryant (USA) Safeway/Bicycles Plus                              
67 Julian Martinez (USA) California Giant -Specialized                 
68 Brendan Sullivan (USA) Iron Data Racing                             
69 Tad Hamilton (USA) Bobs-Bicycles.com                                
70 Ben Rhodes (USA) Second Ascent                                      
71 Morgan Schmitt (USA) Bissell Pro Cycling                        1.17
72 Dan Martin (USA) Safeway/Bicycles Plus                          1.29
73 Omer Kem (USA) Bissell Pro Cycling                              1.35
74 Derek Dixon (USA) HDR p/b Lombardi Sports                           
75 Graham Howard (USA) Bissell Pro Cycling                         0.34
76 Chris Parrish (USA) Hagens Berman Cycling                       2.37
77 Christopher Wingfield (USA) Hagens Berman Cycling               3.10
78 Brandon Dyer (USA) Therapeutic Associates Cycling/GENR8             
79 Scott Gray (USA) Therapeutic Associates Cycling/GENR8           3.40
80 Chris Swan (USA) Team Oregon                                        
81 Wm. Colter Young (CAN) ERTC                                     3.53
82 Jonathan Eropkin (USA) Safeway/Bicycles Plus                    4.01
83 Austin Arguello (USA) Hammer/CMG Racing Team                        
84 Will Mcginnis (USA) warp9bikes.com/tristar                      4.06
85 Eric Anderson (USA) Bobs-Bicycles.com                           4.09
86 Hugh Trenchard (CAN) Schwalbe Cycling Club                      4.18
87 Travis Sherman (USA) warp9bikes.com/tristar                     5.20
88 Sean Mcbride (USA) HDR p/b Lombardi Sports                      6.20
DNF Luca Ortolani (USA) ZteaM                                          
DNF Dan Macdonald (CAN) Total Restoration Cycling Team                 
DNF Matthew Scott (USA) ico                                            
DNF Michael Wilcox (USA) Logan Race Club                               
DNS Mark Santurbane (USA) California Giant -Specialized                
DNS Kevin Noiles (CAN) Trek Red Truck Racing pb Mosaic Homes           
DNS Rob English (USA) Midtown / Bike Friday                            
DNS Erik Edgar (USA) Pacific Power Blue Sky                            
 
Teams
 
1 Team Rio Grande                                               3.28.53
2 California Giant -Specialized                                        
3 Trek Red Truck Racing pb Mosaic Homes                            0.12
4 Bobs-Bicycles.com                                                0.34
5 Total Restoration Cycling Team                                   0.46
6 ZteaM                                                                
7 HDR p/b Lombardi Sports                                              
8 Bissell Pro Cycling                                                  
9 Safeway/Bicycles Plus                                                
10 warp9bikes.com/tristar                                              
11 Hagens Berman Cycling                                           2.27
12 Therapeutic Associates Cycling/GENR8                            3.22
 
Final general classification
 
1 Paul Mach (USA) Bissell Pro Cycling                           9.54.34
2 Chris Baldwin (USA) OUCH Pro Cycling Team Presented by Maxxis    0.13
3 Corey Collier (USA) Team Rio Grande                              1.59
4 Mike Olheiser (USA) warp9bikes.com/tristar                       2.08
5 Rob Britton (USA) Trek Red Truck Racing pb Mosaic Homes          2.09
6 Justin England (USA) California Giant -Specialized               2.18
7 Nathaniel English (USA) ZteaM                                    2.38
8 Jamie Sparling (CAN) Trek Red Truck Racing pb Mosaic Homes       2.48
9 Morgan Schmitt (USA) Bissell Pro Cycling                         3.11
10 Burke Swindlehurst (USA) Bissell Pro Cycling                    3.22
11 Benjamin King (USA) Fly V Australia                             3.42
12 Nic Hamilton (CAN) Trek Red Truck Racing pb Mosaic Homes        4.32
13 Aaron Olson (USA) OAKLEY/SIDI                                   4.49
14 David Glick (USA) RideClean p/b PatentIt.com                    4.59
15 Kevin Rowe (USA) Bobs-Bicycles.com                              5.15
16 James Mattis (USA) California Giant -Specialized                5.33
17 Justin Laue (USA) ZteaM                                         5.45
18 Erik Slack (USA) Bobs-Bicycles.com                              5.49
19 Roman Kilun (USA) OUCH Pro Cycling Team Presented by Maxxis     5.58
20 John Hunt (USA) California Giant -Specialized                   6.01
21 Vince Owens (USA) HDR p/b Lombardi Sports                       6.25
22 Dave Vukets (CAN) Trek Red Truck Racing pb Mosaic Homes         6.29
23 Andrew Boone (USA) Therapeutic Associates Cycling/GENR8         6.52
24 Joshua Liberles (USA) Ten Speed Drive Racing                    7.48
25 Kai Applequist (USA) Bobs-Bicycles.com                          8.03
26 Bradley Gehrig (USA) Cole Sport Racing                          8.26
27 Dan Bryant (USA) Safeway/Bicycles Plus                          8.46
28 Eric Anderson (USA) Bobs-Bicycles.com                           9.10
29 Kurt Wolfgang (USA) Canyon Bicycles/ Sienna Development         9.33
30 Eddy Kwon (USA) ZteaM                                          10.01
31 Evan Pickett (USA) Metromint Cycling                           10.03
32 Brandon Dyer (USA) Therapeutic Associates Cycling/GENR8        10.07
33 Trevor Connor (USA) Therapeutic Associates Cycling/GENR8       10.22
34 Brendan Sullivan (USA) Iron Data Racing                        10.39
35 Tanner Putt (USA) Cole Sport Racing                            10.43
36 Adam Switters (USA) California Giant -Specialized              11.02
37 Barry Wicks (USA) Kona                                         11.03
38 Gabe Varela (USA) Vertical Earth                               11.07
39 Eric Fischer (USA) Safeway/Bicycles Plus                            
40 Tim Sherstobitoff (CAN) Total Restoration Cycling Team         11.10
41 Brandon Lynch (USA) Bobs-Bicycles.com                          11.26
42 Kennett Peterson (USA) Team Oregon                             11.32
43 Adrian Hegyvary (USA) Hagens Berman Cycling                    11.33
44 Albert Gonzales (USA) Mt. View Cycles                               
45 Kenyon Campbell (CAN) Westwood Cycles / Cannondale             11.36
46 Jeff Sherstobitoff (CAN) Total Restoration Cycling Team        11.53
47 Chris Stuart (USA) Bobs-Bicycles.com                           11.58
48 Jake Macarthur (USA) Hagens Berman Cycling                     11.59
49 Lucas Binder (USA) ZteaM                                       12.02
50 Chris Hong (USA) Bobs-Bicycles.com                             12.31
51 Owen Harrison (CAN) Total Restoration Cycling Team             13.15
52 Sean Passage (USA) Safeway/Bicycles Plus                       13.26
53 Dan Martin (USA) Safeway/Bicycles Plus                         13.29
54 Aaron Sander (USA) Cyclepath Racing                            13.41
55 Jonathan Eropkin (USA) Safeway/Bicycles Plus                   14.09
56 Chris Parrish (USA) Hagens Berman Cycling                      14.21
57 Corey Carlson (CAN) Team Rio Grande                            15.24
58 Scott Gray (USA) Therapeutic Associates Cycling/GENR8          15.46
59 Chris Swan (USA) Team Oregon                                   16.16
60 Seth Patla (USA) River City Bicycles                           16.49
61 Logan Garey (USA) Team Rio Grande                              17.16
62 Austin Arguello (USA) Hammer/CMG Racing Team                   18.17
63 Trevor Haaheim (CAN) Total Restoration Cycling Team            19.37
64 Ben Rhodes (USA) Second Ascent                                 20.06
65 Graham Howard (USA) Bissell Pro Cycling                        20.58
66 Jackson Beuhler (CAN) Total Restoration Cycling Team           21.18
67 Allen Krughoff (CAN) Team Rio Grande                           22.13
68 Ryan Iddings (USA) Lenovo                                      25.07
69 Christiaan Devries (CAN) Total Restoration Cycling Team        25.24
70 Omer Kem (USA) Bissell Pro Cycling                             26.39
71 Andrew Goessling (USA) HDR p/b Lombardi Sports                 28.20
72 Julian Martinez (USA) California Giant -Specialized            29.19
73 James Wingert (USA) ZteaM                                      31.51
74 Tyler Riedesel (USA) Canyon Bicycles Draper                    31.54
75 Christopher Wingfield (USA) Hagens Berman Cycling              32.25
76 Shannon Morgan (USA) Clean Currents p/b Don Beyer Volvo        32.29
77 Jonathan Tower (USA) Performance Driven                        33.58
78 Andrew Rosette (USA) Second Ascent                             37.24
79 Hugh Trenchard (CAN) Schwalbe Cycling Club                     45.36
80 Derek Dixon (USA) HDR p/b Lombardi Sports                      48.23
81 Wm. Colter Young (CAN) ERTC                                    50.01
82 Tad Hamilton (USA) Bobs-Bicycles.com                           51.12
83 Michael Lanham (USA) warp9bikes.com/tristar                    53.38
84 Tyler Brandt (USA) HDR p/b Lombardi Sports                     55.39
85 Darrell O'Quinn (USA) warp9bikes.com/tristar                 1.00.42
86 Travis Sherman (USA) warp9bikes.com/tristar                  1.08.15
87 Sean Mcbride (USA) HDR p/b Lombardi Sports                   1.09.43
88 Will Mcginnis (USA) warp9bikes.com/tristar                   1.27.11
 
Teams classification
 
1 Bissell Pro Cycling                                          29.30.36
2 Trek Red Truck Racing pb Mosaic Homes                            3.10
3 California Giant -Specialized                                    3.44
4 Bobs-Bicycles.com                                                9.16
5 ZteaM                                                            9.53
6 Team Rio Grande                                                 16.38
7 Therapeutic Associates Cycling/GENR8                            19.25
8 Total Restoration Cycling Team                                  19.30
9 Safeway/Bicycles Plus                                           21.14
10 Hagens Berman Cycling                                          27.48
11 HDR p/b Lombardi Sports                                      1.11.14
12 warp9bikes.com/tristar                                       1.37.41
 
Women
 
1 Edwige Pitel (FRA) Sorella Forte                                49.43
2 Robin Farina (USA) ValueAct Capital Cycling Team                     
3 Alison Testroete (CAN) Total Restoration Cycling Team                
4 Patricia Bailey (USA) Wines of Washington                            
5 Martina Patella (USA) ValueAct Capital Cycling Team                  
6 Gillian Moody (CAN) Total Restoration Cycling Team                   
7 Sue Butler (USA) MonavieCannondale.com                               
8 Leah Goldstein (CAN) ValueAct Capital Cycling Team                   
9 Amy Herlinveaux (CAN) Trek Red Truck                                 
10 Alisha Welsh (USA) PCIM                                             
11 Alice Pennington (USA) Veloforma                                    
12 Heather Albert (USA) Riverstone Women's Racing Team                 
13 Jessica Hannah (CAN) Total Restoration Cycling Team                 
14 Melissa Mcwhirter (USA) Veloforma                                   
15 Teri Sheasby (USA) Bend Bike N Sport                                
16 Heather Pryor (USA) Touchstone Climbing                             
17 Shari White (USA) Castelli                                          
18 Erin Ford (USA) Veloforma                                       0.20
19 Marilyn Mcdonald (CAN) Specialized D4W/Bicycle Haus                 
20 Karey Miles (USA) Therapeutic Associates                        1.55
21 Kari Studley (USA) VeloBella                                        
22 Pamela Archer (USA) Therapeutic Associates                      4.09
23 Robyn Poulson (USA) Chinock Cycling                             4.58
24 Gillian Carleton (CAN) Total Restoration Cycling Team               
DNF Cary Steinman (USA) Bend Bike N Sport                              
DNF Sirkit Valentin (USA) Gentle Lovers                                
DNF Julie Robertson Zivin (USA) Hagens Berman Cycling                  
DNF Cara Bussell (USA)                                                 
DNF Kimberly Fong (USA) SugarCRM                                       
DNF Gabriela Ferrat (MEX) Mountain View Cycles                         
DNS Sarah Barber (USA) Kristin Armstrong Cycling Academy               
DNS Jennifer Slawta (USA) Landshark                                    
DNS Libby Evans (USA) Sorella Forte                                    
 
Final general classification
 
1 Edwige Pitel (FRA) Sorella Forte                             10.51.02
2 Leah Goldstein (CAN) ValueAct Capital Cycling Team               0.18
3 Melissa Mcwhirter (USA) Veloforma                                2.22
4 Robin Farina (USA) ValueAct Capital Cycling Team                 2.48
5 Patricia Bailey (USA) Wines of Washington                        3.25
6 Alice Pennington (USA) Veloforma                                 4.31
7 Marilyn Mcdonald (CAN) Specialized D4W/Bicycle Haus              4.56
8 Sue Butler (USA) MonavieCannondale.com                           5.05
9 Alisha Welsh (USA) PCIM                                          5.25
10 Gillian Moody (CAN) Total Restoration Cycling Team              5.43
11 Teri Sheasby (USA) Bend Bike N Sport                            6.00
12 Heather Pryor (USA) Touchstone Climbing                         7.00
13 Jessica Hannah (CAN) Total Restoration Cycling Team             7.56
14 Erin Ford (USA) Veloforma                                       8.14
15 Heather Albert (USA) Riverstone Women's Racing Team             9.25
16 Shari White (USA) Castelli                                     11.32
17 Kari Studley (USA) VeloBella                                   11.57
18 Amy Herlinveaux (CAN) Trek Red Truck                           15.13
19 Martina Patella (USA) ValueAct Capital Cycling Team            20.31
20 Alison Testroete (CAN) Total Restoration Cycling Team          22.32
21 Pamela Archer (USA) Therapeutic Associates                     48.58
22 Karey Miles (USA) Therapeutic Associates                       51.45
23 Gillian Carleton (CAN) Total Restoration Cycling Team          56.49
24 Robyn Poulson (USA) Chinock Cycling                          1.12.34