Cascade Cycling Classic - NE
Bend Oregon, USA, July 11-15, 2007
Main Page Results Overall standings Previous Stage
Stage 6 - July 15: Deschutes Brewery-Awbrey Butte Circuit Race, 81/63 miles (M/W)
Zajicek tops at Cascade, O'Bee gets stage payback
By Mark Zalewski, North American Editor
A hard earned celebration
Photo ©: Cascade Event Photography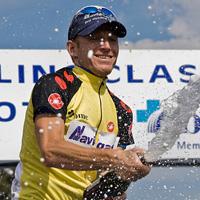 Phil Zajicek (Navigators Insurance Cycling Team) earned an overall race victory on Sunday as he and his team successfully defended his race lead in the final circuit race of the Cascade Classic, giving the American a good win after finishing second in his previous stage race attempt in Oregon.
On paper it looked like Toyota-United would be the biggest threat, with Chris Baldwin sitting second at only 13 seconds and four 15 second time bonus sprints available on the road. But after Zajicek won the first sprint to increase his lead by 15 seconds, it was Health Net-Maxxis taking over the challenge.
"We thought it would be us against Phil – which is good for a guy like me," Baldwin said. "It's simpler and safer and cleaner. Instead, it seemed like everyone in the race wanted a piece of that first time bonus sprint. Health Net was lining it up, along with every other team. We got swarmed and I was never in front of anyone."
The Navigators team controls the front
Photo ©: Cascade Event Photography

Later in the race it was the previous day's stage winner and fourth overall Jeff Louder (Health Net-Maxxis) animating the race while Ben Jacques-Maynes (Priority Health), sitting third on GC, followed.
"We weren't going to go down without a fight," Louder said. "I got a good gap, then Jacques-Maynes bridged up to me and got my wheel. I accelerated again and got a couple hundred meters. Next thing I know, Kirk was with me."
Louder referred to teammate Kirk O'Bee, who was pipped at the line in the criterium a few days earlier by a recently healed Ivan Dominguez (Toyota-United). "I did the math," Louder said. "We could either work together for a bit and probably have gotten caught, or I could drop back and let Kirk go and try for the stage win."
Louder decided to choose the latter while Baldwin had marshaled his troops to chase Louder and Jacques-Maynes as expected. O'Bee and Jacques-Maynes lasted to the line, just barely holding off the field led by Ricardo Escuela (Successful Living) and coming around Jacques-Maynes to take the win.
"We tried to get the overall lead, but coming out with second, fifth and 10th on the GC and the team win was great," Toyota-United director Willett said. "The biggest goal for the entire week was to come in and get the NRC team lead back, and the guys delivered." And unofficially Toyota-United does regain the lead in the NRC team standings.
Photography
For a thumbnail gallery of these images, click here
Images by Cascade Event Photography
Results
1 Kirk O'Bee (Health Net presented by Maxxis)              3.05.55 (42.069 km/h)
2 Ricardo Escuela (Successful Living.com P/B Park)                
3 Benjamin Jacques-Maynes (Priority Health Bissell)               
4 Darren Lill (Navigators Insurance)                              
5 Jeff Louder (Health Net presented by Maxxis)                0.03
6 Michael Grabinger (Successful Living.com P/B Park)              
7 Phil Zajicek (Navigators Insurance)                             
8 Chris Baldwin (Toyota-United)                                   
9 Chris Wherry (Toyota-United)                                    
10 Scott Moninger (BMC Pro Cycling Team)                          
11 David Vitoria (BMC Pro Cycling Team)                           
12 Glen Chadwick (Navigators Insurance)                           
13 Justin England (Toyota-United)                             0.18
14 Ryder Hesjedal (Health Net presented by Maxxis)            0.32
15 Corey Collier (Team Einstein's Cycling)                        
16 Ian McKissick (BMC Pro Cycling Team)                           
17 Ben Day (Navigators Insurance)                                 
18 Burke Swindlehurst (Toyota-United)                             
19 Brian Sheedy (Priority Health Bissell)                         
20 Doug Ollerenshaw (Health Net presented by Maxxis)              
21 Christian Valenzuela (Successful Living.com P/B Park)          
22 Heath Blackgrove (Toyota-United)                           0.38
23 Frank Pipp (Health Net presented by Maxxis)                0.43
24 Jonathan Garcia (BMC Pro Cycling Team)                     0.44
25 Ryan Hamity (Team Einstein's Cycling)                      1.36
26 Jarred Berger (Team Einstein's Cycling)                        
27 Stefano Barberi (Toyota-United)                                
28 Jackson Stewart (BMC Pro Cycling Team)                         
29 Ben Kneller (Rocky Mountain Chocolate Fact)                    
30 Roman Kilun (Health Net presented by Maxxis)                   
31 Ivan Domiguez (Toyota-United)                              1.48
32 Ian Gray (Nebraska Medical Center/Tea)                     2.06
33 Aaron Olson (T-Mobile Pro Team)                                
34 Joseph Saperstein (Team Einstein's Cycling)                2.27
35 Aaron Tuckerman (Team Rubicon)                                 
36 Scott Nydam (BMC Pro Cycling Team)                             
37 Alessandro Bazzana (Successful Living.com P/B Park)            
38 Edward King (Priority Health Bissell)                      3.32
39 Matt Cooke (Navigators Insurance)                          4.49
40 BEn Brooks (Navigators Insurance)                              
41 Michael Sayers (BMC Pro Cycling Team)                      5.33
42 Christopher Jones (Nerac Pro Cycling)                      7.18
43 Bernard VanUlden (Navigators Insurance)                   11.28
44 Chuck Coyle (Successful Living.com P/B Park)                   
45 Garett Peltonen (Priority Health Bissell)                      
46 Robbie King (Priority Health Bissell)                     15.02
47 Shawn Howard (WAR)                                        20.26
48 Adam Jensen (Hagens Berman)                                    
49 Dan Bryant (Specialized/Sierra Nevada)                         
50 Jonathan Eropkin (Central Valley Cycling)                      
51 David Rodriguez (Navigators Insurance)                         
52 Matt Lieto (Therapeutic Associates)                       23.52
53 Mitchell Trux (DBC Elite)                                      
54 Justin Rose (Team Bobs-Bicycles.com)                           
55 Matt Landen (Nebraska Medical Center/Tea)                      
56 Ben Thompson (Bend Elite)                                 30.31
57 Ben Rhodes (Recycled Cycles/Raleigh)                      39.10
58 Chris Swan (Lombardi Sports)                                   
DNF Jose-Manuel Garcia (Toyota-United)                            
DNF Dan Schmatz (BMC Pro Cycling Team)                            
DNF Omer Kem (Priority Health Bissell)                            
DNF Daniel Ramsay (Successful Living.com P/B Park)                
DNF Matt Cianciulli (Team Einstein's Cycling)                     
DNF Patrick McGlynn (Team Einstein's Cycling)                     
DNF Josh Tack (Hagens Berman)                                     
DNF Joseph King (Hagens Berman)                                   
DNF Logan Hunn (Team Rubicon)                                     
DNF Lang Reynolds (AxleyUSA.com/Seigler Sports)                   
DNF Frank Zoldak (Echelon Slopes & Spokes Raci)                   
DNF Todd Yezefski (Nerac Pro Cycling)                             
DNF Quinn Keogh (Paul's Bicycle Way of Life)                      
DNF Remi McManus (Razzignators)                                   
DNF Patrick Caro (Schroeder Iron/Incycle)                         
DNF Anthony Aker (Team One Racing)                                
DNF Thomas Githens (Fast Friday)                                  
DNF Ryan Trebon (Kodak Gallery / Sierra Nevada)                   
 
Mountains
 
Climb1
1 Ryder Hesjedal (Health Net presented by Maxxis)                5 pts
2 Scott Nydam (BMC Pro Cycling Team)                             7
3 Christopher Jones (Nerac Pro Cycling)                          3
4 Ricardo Escuela (Successful Living.com P/B Park)               2
5 Jonathan Garcia (BMC Pro Cycling Team)                         1
 
Climb 2
1 Scott Nydam (BMC Pro Cycling Team)                             7 pts
2 Ryder Hesjedal (Health Net presented by Maxxis)                5
3 Jonathan Garcia (BMC Pro Cycling Team)                         3
4 Aaron Tuckerman (Team Rubicon)                                 2
5 Burke Swindlehurst (Toyota-United)                             1
 
Climb 3
1 Ryder Hesjedal (Health Net presented by Maxxis)                7 pts
2 Jonathan Garcia (BMC Pro Cycling Team)                         5
3 Burke Swindlehurst (Toyota-United)                             3
4 Christopher Jones (Nerac Pro Cycling)                          2
5 Scott Nydam (BMC Pro Cycling Team)                             1
 
Climb 4
1 Jeff Louder (Health Net presented by Maxxis)                   7 pts
2 Darren Lill (Navigators Insurance)                             5
3 Benjamin Jacques-Maynes (Priority Health Bissell)              3
4 Phil Zajicek (Navigators Insurance)                            2
5 Chris Baldwin (Toyota-United)                                  1
 
Teams
 
1 Navigators Insurance                                     9.17.51
2 Toyota-United                                               0.18
3 Health Net presented by Maxxis                              0.29
4 Successful Living.com P/B Parkpre                               
5 BMC Pro Cycling Team                                        0.32
6 Team Einstein's Cycling                                     3.38
7 Priority Health Bissell                                     3.58
 
Final General Classification
 
1 Phil Zajicek (Navigators Insurance)                     15.33.08
2 Chris Baldwin (Toyota-United)                               0.28
3 Benjamin Jacques-Maynes (Priority Health Bissell)           0.51
4 Jeff Louder (Health Net presented by Maxxis)                1.26
5 Chris Wherry (Toyota-United)                                1.42
6 Scott Moninger (BMC Pro Cycling Team)                       2.10
7 Jonathan Garcia (BMC Pro Cycling Team)                      2.50
8 Ryder Hesjedal (Health Net presented by Maxxis)             2.55
9 David Vitoria (BMC Pro Cycling Team)                            
10 Burke Swindlehurst (Toyota-United)                         3.07
11 Ricardo Escuela (Successful Living.com P/B Park)           3.37
12 Ian McKissick (BMC Pro Cycling Team)                       3.41
13 Justin England (Toyota-United)                             4.09
14 Michael Grabinger (Successful Living.com P/B Park)         4.29
15 Corey Collier (Team Einstein's Cycling)                    5.07
16 Darren Lill (Navigators Insurance)                         5.28
17 Ben Day (Navigators Insurance)                             6.06
18 Scott Nydam (BMC Pro Cycling Team)                         6.48
19 Glen Chadwick (Navigators Insurance)                       7.13
20 Roman Kilun (Health Net presented by Maxxis)               8.22
21 Jarred Berger (Team Einstein's Cycling)                    8.45
22 Doug Ollerenshaw (Health Net presented by Maxxis)          9.02
23 Aaron Tuckerman (Team Rubicon)                             9.24
24 Brian Sheedy (Priority Health Bissell)                     9.56
25 Ben Kneller (Rocky Mountain Chocolate Fact)               10.37
26 Heath Blackgrove (Toyota-United)                          10.51
27 Ryan Hamity (Team Einstein's Cycling)                     10.54
28 Jackson Stewart (BMC Pro Cycling Team)                    11.01
29 Ian Gray (Nebraska Medical Center/Tea)                    11.41
30 Kirk O'Bee (Health Net presented by Maxxis)               12.18
31 Stefano Barberi (Toyota-United)                           12.47
32 Christian Valenzuela (Successful Living.com P/B Park)     14.03
33 Michael Sayers (BMC Pro Cycling Team)                     14.28
34 Christopher Jones (Nerac Pro Cycling)                     15.58
35 Frank Pipp (Health Net presented by Maxxis)               16.25
36 Matt Cooke (Navigators Insurance)                         17.09
37 Edward King (Priority Health Bissell)                     17.49
38 Joseph Saperstein (Team Einstein's Cycling)               18.14
39 BEn Brooks (Navigators Insurance)                         21.11
40 Alessandro Bazzana (Successful Living.com P/B Park)       25.44
41 Aaron Olson (T-Mobile Pro Team)                           26.24
42 Ivan Domiguez (Toyota-United)                             28.04
43 Bernard VanUlden (Navigators Insurance)                   32.15
44 Dan Bryant (Specialized/Sierra Nevada)                    33.55
45 David Rodriguez (Navigators Insurance)                    34.12
46 Adam Jensen (Hagens Berman)                               35.42
47 Garett Peltonen (Priority Health Bissell)                 35.56
48 Jonathan Eropkin (Central Valley Cycling)                 36.57
49 Justin Rose (Team Bobs-Bicycles.com)                      37.21
50 Matt Lieto (Therapeutic Associates)                       38.13
51 Matt Landen (Nebraska Medical Center/Tea)                 38.33
52 Chuck Coyle (Successful Living.com P/B Park)              40.26
53 Mitchell Trux (DBC Elite)                                 40.45
54 Ben Thompson (Bend Elite)                                 46.06
55 Shawn Howard (WAR)                                        46.09
56 Robbie King (Priority Health Bissell)                     52.25
57 Ben Rhodes (Recycled Cycles/Raleigh)                      56.05
58 Chris Swan (Lombardi Sports)                            1.10.26
 
Mountains classification
 
1 Scott Nydam (BMC Pro Cycling Team)                            32 pts
2 Ryder Hesjedal (Health Net presented by Maxxis)               17
3 Jeff Louder (Health Net presented by Maxxis)                  15
4 Ricardo Escuela (Successful Living.com P/B Park)              15
5 Benjamin Jacques-Maynes (Priority Health Bissell)             12
6 Chris Baldwin (Toyota-United)                                 11
7 Jonathan Garcia (BMC Pro Cycling Team)                        11
8 Glen Chadwick (Navigators Insurance)                           7
9 Roman Kilun (Health Net presented by Maxxis)                   7
10 Phil Zajicek (Navigators Insurance)                           6
11 Darren Lill (Navigators Insurance)                            6
12 Ben Day (Navigators Insurance)                                5
13 Brian Sheedy (Priority Health Bissell)                        5
14 Christopher Jones (Nerac Pro Cycling)                         5
15 Burke Swindlehurst (Toyota-United)                            4
16 David Vitoria (BMC Pro Cycling Team)                          3
17 Frank Pipp (Health Net presented by Maxxis)                   3
18 Aaron Tuckerman (Team Rubicon)                                2
19 Heath Blackgrove (Toyota-United)                              2
20 Doug Ollerenshaw (Health Net presented by Maxxis)             1
21 Matt Cooke (Navigators Insurance)                             1
 
Teams classification
 
1 Toyota-United                                           46.43.58
2 BMC Pro Cycling Team                                        2.22
3 Navigators Insurance                                        2.33
4 Health Net presented by Maxxis                              5.28
5 Successful Living.com P/B Parkpre                          14.27
6 Team Einstein's Cycling                                    17.20
7 Priority Health Bissell                                    21.14