Cascade Cycling Classic - NE
Bend Oregon, USA, July 11-15, 2007
Main Page Results Overall standings Previous Stage Next Stage
Stage 4 - July 13: Desert Orthopedics/Rebound Physical Therapy-Downtown Criterium
Dominguez back to winning speed
By Mark Zalewski, North American Editor
O'Bee can't believe
Photo ©: Cascade Event Photography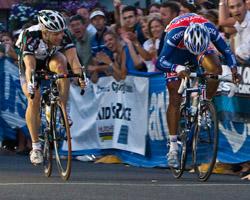 The second race of the day, the Stage 4 criterium of the Cascade Cycling Classic, sponsored by Desert Orthopedics/Rebound Physical Therapy, was appropriately won by Toyota-United's Ivan Dominguez, who returned from a crash a few weeks ago after eight weeks off the bike.
"It feels good to be winning again," Dominguez said. "There were so many people here tonight that you can see a lot of people love cycling here. It was cool."
In front of a huge crowd stacked two- and three-people deep around the course, Dominguez held off Kirk O'Bee (HealthNet presented by Maxxis) while Dan Schmatz (BMC) was third in the 90-minute race that left no changes on the overall standings.
"You never know until you cross the finish line, but the way I was riding today, I knew it was mine to lose," Dominguez said. "We had the last corner and I started giving chase. I passed him (O'Bee) very quickly."
Former race leader and teammate Chris Baldwin, who was sitting second on GC, joined his teammates in working to set-up Dominguez. "Usually how it works out is that guys who are going good are the guys who go to the front at the end who can turn up the heat the most," Willett said. "The real only plan we had was that Wherry was going to be the last guy."
Baldwin chuckled when asked about his turn at the front that caused huge gaps to open in the peloton as speeds reached more than 35 miles an hour. "I used to win criteriums," he said, smiling.
Photography
For a thumbnail gallery of these images, click here
Images by Cascade Event Photography
Results
1 Ivan Domiguez (Toyota-United)                            1.29.31
2 Kirk O'Bee (Health Net presented by Maxxis)                     
3 Dan Schmatz (BMC Pro Cycling Team)                              
4 Ricardo Escuela (Successful Living.com P/B Park)                
5 Frank Pipp (Health Net presented by Maxxis)                     
6 Benjamin Jacques-Maynes (Priority Health Bissell)               
7 Alessandro Bazzana (Successful Living.com P/B Park)             
8 Remi McManus (Razzignators)                                     
9 Chris Wherry (Toyota-United)                                    
10 Phil Zajicek (Navigators Insurance)                            
11 Chris Baldwin (Toyota-United)                                  
12 Bernard VanUlden (Navigators Insurance)                        
13 BEn Brooks (Navigators Insurance)                              
14 Ryder Hesjedal (Health Net presented by Maxxis)                
15 Ben Day (Navigators Insurance)                                 
16 Jackson Stewart (BMC Pro Cycling Team)                         
17 Adam Curry (Hagens Berman)                                     
18 Jeff Louder (Health Net presented by Maxxis)                   
19 Donald Reeb (CMG Racing)                                       
20 Garett Peltonen (Priority Health Bissell)                      
21 David Vitoria (BMC Pro Cycling Team)                           
22 Roman Kilun (Health Net presented by Maxxis)                   
23 Edward King (Priority Health Bissell)                          
24 Robbie King (Priority Health Bissell)                          
25 Christopher Jones (Nerac Pro Cycling)                          
26 Glen Chadwick (Navigators Insurance)                           
27 Todd Yezefski (Nerac Pro Cycling)                              
28 Brian Sheedy (Priority Health Bissell)                         
29 Michael Sayers (BMC Pro Cycling Team)                          
30 Carl Decker (Hagens Berman)                                0.10
31 Burke Swindlehurst (Toyota-United)                             
32 Aaron Tuckerman (Team Rubicon)                             0.12
33 Scott Moninger (BMC Pro Cycling Team)                          
34 Justin England (Toyota-United)                             0.15
35 Ben Kneller (Rocky Mountain Chocolate Fact)                    
36 Corey Collier (Team Einstein's Cycling)                        
37 Sloane Anderson (Bend Bike N Sport)                            
38 Chuck Coyle (Successful Living.com P/B Park)                   
39 Doug Ollerenshaw (Health Net presented by Maxxis)              
40 Ryan Trebon (Kodak Gallery / Sierra Nevada)                    
41 Aaron Olson (T-Mobile Pro Team)                                
42 Ian McKissick (BMC Pro Cycling Team)                           
43 Michael Grabinger (Successful Living.com P/B Park)             
44 Stefano Barberi (Toyota-United)                                
45 Jonathan Garcia (BMC Pro Cycling Team)                         
46 Mitchell Trux (DBC Elite)                                  0.19
47 Shawn Howard (WAR)                                             
48 Chris Stuart (Team Bobs-Bicycles.com)                          
49 Joseph King (Hagens Berman)                                    
50 Scott Nydam (BMC Pro Cycling Team)                             
51 Lang Reynolds (AxleyUSA.com/Seigler Sports)                    
52 Jonathan Eropkin (Central Valley Cycling)                  0.25
53 Matt Cooke (Navigators Insurance)                              
54 Christian Valenzuela (Successful Living.com P/B Park)          
55 Jarred Berger (Team Einstein's Cycling)                        
56 Ryan Hamity (Team Einstein's Cycling)                          
57 Josh Tack (Hagens Berman)                                      
58 Chris Swan (Lombardi Sports)                                   
59 Seth Hosmer (CMG Racing)                                       
60 Matt Cianciulli (Team Einstein's Cycling)                  0.32
61 Shane Peltonen (Eclipse Racing)                            0.34
62 Tom Zirbel (Priority Health Bissell)                       0.35
63 Heath Blackgrove (Toyota-United)                           0.40
64 Jose-Manuel Garcia (Toyota-United)                             
65 Omer Kem (Priority Health Bissell)                             
66 Justin Rose (Team Bobs-Bicycles.com)                       0.42
67 Dan Bryant (Specialized/Sierra Nevada)                     0.46
68 Adam Jensen (Hagens Berman)                                    
69 Ben Rhodes (Recycled Cycles/Raleigh)                           
70 Carson Miller (Hagens Berman)                                  
71 Ian Gray (Nebraska Medical Center/Tea)                         
72 Jon Mullen (Team Einstein's Cycling)                           
73 Thomas Githens (Fast Friday)                                   
74 Frank Zoldak (Echelon Slopes & Spokes Raci)                    
75 Joseph Saperstein (Team Einstein's Cycling)                0.53
76 Matt Lieto (Therapeutic Associates)                        1.02
77 Matt Landen (Nebraska Medical Center/Tea)                      
78 Zac Coolman (Waste Management)                                 
79 Patrick McGlynn (Team Einstein's Cycling)                      
80 Eric Schuman (Byrne Invent)                                1.08
81 Logan Hunn (Team Rubicon)                                      
82 Shawn Ongers (AxleyUSA.com/Seigler Sports)                 1.13
83 Ryan McKean (Bend Bike N Sport)                            1.15
84 Jared Pitroski (Rocky Mountain Chocolate Fact)             1.16
85 Ben Thompson (Bend Elite)                                  1.17
86 Scott Zwizanski (Priority Health Bissell)                  1.18
87 Nathan Rouse (Hagens Berman)                                   
88 Darren Lill (Navigators Insurance)                         1.20
89 Kyle Colavito (Rideclean)                                  1.29
90 Jared Gilyard (Eclipse Racing)                                 
91 Anthony Aker (Team One Racing)                             1.36
92 Brian Kendall                                              2.28
93 Daniel Ramsay (Successful Living.com P/B Park)             2.35
93 Brad Payne (Team Rubicon)                                      
DNF David Rodriguez (Navigators Insurance)                        
DNF Curtis Gunn (Successful Living.com P/B Park)                  
DNF Dan Harm (Team Rubicon)                                       
DNS Justin Mayfield (Team Bobs-Bicycles.com)                      
DNS Evan Plews (Capitol Subaru Cycling)                           
DNF Andrew Boone (Kenda/Raleigh Racing)                           
DNF Quinn Keogh (Paul's Bicycle Way of Life)                      
DNF Patrick Caro (Schroeder Iron/Incycle)                         
 
Teams
 
1 Toyota-United                                            4.28.33
2 Health Net presented by Maxxis                                  
3 Navigators Insurance                                            
4 BMC Pro Cycling Team                                            
5 Priority Health Bissell                                         
6 Successful Living.com P/B Parkpre                           0.15
7 Hagens Berman                                               0.29
8 Team Einstein's Cycling                                     1.05
9 Team Rubicon                                                3.55
 
General Classification after Stage 4
 
1 Phil Zajicek (Navigators Insurance)                      8.47.48
2 Chris Baldwin (Toyota-United)                               0.13
3 Benjamin Jacques-Maynes (Priority Health Bissell)           0.44
4 Chris Wherry (Toyota-United)                                1.12
5 Jeff Louder (Health Net presented by Maxxis)                1.16
6 Scott Moninger (BMC Pro Cycling Team)                       1.55
7 Jonathan Garcia (BMC Pro Cycling Team)                      2.09
8 Ryder Hesjedal (Health Net presented by Maxxis)             2.11
9 David Vitoria (BMC Pro Cycling Team)                        2.35
10 Burke Swindlehurst (Toyota-United)                         2.43
11 Ian McKissick (BMC Pro Cycling Team)                           
12 Ricardo Escuela (Successful Living.com P/B Park)           2.46
13 Scott Nydam (BMC Pro Cycling Team)                         3.02
14 Michael Grabinger (Successful Living.com P/B Park)         3.22
15 Corey Collier (Team Einstein's Cycling)                    3.23
16 Justin England (Toyota-United)                             3.34
17 Aaron Tuckerman (Team Rubicon)                             4.25
18 Ben Day (Navigators Insurance)                             4.35
19 Darren Lill (Navigators Insurance)                         4.47
20 Roman Kilun (Health Net presented by Maxxis)               5.27
21 Jarred Berger (Team Einstein's Cycling)                    5.50
22 Doug Ollerenshaw (Health Net presented by Maxxis)          5.53
23 Glen Chadwick (Navigators Insurance)                       5.58
24 Michael Sayers (BMC Pro Cycling Team)                      6.18
25 Ben Kneller (Rocky Mountain Chocolate Fact)                6.52
26 Jackson Stewart (BMC Pro Cycling Team)                     7.16
27 Patrick McGlynn (Team Einstein's Cycling)                  7.19
28 Christopher Jones (Nerac Pro Cycling)                      7.21
29 Ian Gray (Nebraska Medical Center/Tea)                     7.26
30 Heath Blackgrove (Toyota-United)                           7.36
31 Ryan Hamity (Team Einstein's Cycling)                      7.59
32 Carl Decker (Hagens Berman)                                8.07
33 Edward King (Priority Health Bissell)                      8.09
34 BEn Brooks (Navigators Insurance)                          8.22
35 Brian Sheedy (Priority Health Bissell)                     8.25
36 Todd Yezefski (Nerac Pro Cycling)                          8.52
37 Kyle Colavito (Rideclean)                                  9.09
38 Ryan Trebon (Kodak Gallery / Sierra Nevada)                9.12
39 Lang Reynolds (AxleyUSA.com/Seigler Sports)                9.21
40 Seth Hosmer (CMG Racing)                                   9.28
41 Matt Cooke (Navigators Insurance)                          9.43
42 Logan Hunn (Team Rubicon)                                  9.50
43 Stefano Barberi (Toyota-United)                            9.52
44 Matt Landen (Nebraska Medical Center/Tea)                 10.24
45 Mitchell Trux (DBC Elite)                                 10.45
46 Justin Rose (Team Bobs-Bicycles.com)                      10.52
47 Dan Bryant (Specialized/Sierra Nevada)                         
48 Jon Mullen (Team Einstein's Cycling)                      10.53
49 Kirk O'Bee (Health Net presented by Maxxis)               10.59
50 Matt Cianciulli (Team Einstein's Cycling)                 11.18
51 Frank Zoldak (Echelon Slopes & Spokes Raci)               11.21
52 Christian Valenzuela (Successful Living.com P/B Park)     11.22
53 Matt Lieto (Therapeutic Associates)                       11.43
54 Jonathan Eropkin (Central Valley Cycling)                 11.50
55 Anthony Aker (Team One Racing)                            12.00
56 Ben Thompson (Bend Elite)                                 12.04
57 Chris Stuart (Team Bobs-Bicycles.com)                     12.05
58 Brian Kendall                                             12.16
59 Adam Jensen (Hagens Berman)                               12.38
60 Bernard VanUlden (Navigators Insurance)                   12.47
61 Joseph Saperstein (Team Einstein's Cycling)               13.10
62 Ben Rhodes (Recycled Cycles/Raleigh)                      13.19
63 Sloane Anderson (Bend Bike N Sport)                       13.40
64 Josh Tack (Hagens Berman)                                 14.34
65 Frank Pipp (Health Net presented by Maxxis)               14.43
66 Zac Coolman (Waste Management)                            15.36
67 Remi McManus (Razzignators)                               16.00
68 Chuck Coyle (Successful Living.com P/B Park)              16.48
69 Carson Miller (Hagens Berman)                             16.55
70 Joseph King (Hagens Berman)                               17.51
71 Ivan Domiguez (Toyota-United)                             18.07
72 Alessandro Bazzana (Successful Living.com P/B Park)       18.39
73 Jared Pitroski (Rocky Mountain Chocolate Fact)            19.21
74 Garett Peltonen (Priority Health Bissell)                 19.44
75 Scott Zwizanski (Priority Health Bissell)                 20.05
76 Shawn Howard (WAR)                                        21.26
77 Thomas Githens (Fast Friday)                              21.30
78 Aaron Olson (T-Mobile Pro Team)                           21.41
79 Omer Kem (Priority Health Bissell)                        21.45
80 Dan Schmatz (BMC Pro Cycling Team)                        21.53
81 Donald Reeb (CMG Racing)                                  22.31
82 Jared Gilyard (Eclipse Racing)                            23.23
83 Daniel Ramsay (Successful Living.com P/B Park)            25.40
84 Chris Swan (Lombardi Sports)                              27.45
85 Shawn Ongers (AxleyUSA.com/Seigler Sports)                28.05
86 Jose-Manuel Garcia (Toyota-United)                        28.23
87 Tom Zirbel (Priority Health Bissell)                      29.17
88 Robbie King (Priority Health Bissell)                     31.15
89 Brad Payne (Team Rubicon)                                 32.04
90 Nathan Rouse (Hagens Berman)                              34.17
91 Adam Curry (Hagens Berman)                                34.20
92 Shane Peltonen (Eclipse Racing)                           35.57
93 Ryan McKean (Bend Bike N Sport)                           36.41
94 Eric Schuman (Byrne Invent)                               39.09
 
Mountains classification
 
1 Ricardo Escuela (Successful Living.com P/B Park)              10 pts
2 Scott Nydam (BMC Pro Cycling Team)                            10
3 Chris Baldwin (Toyota-United)                                 10
4 Benjamin Jacques-Maynes (Priority Health Bissell)              9
5 Glen Chadwick (Navigators Insurance)                           7
6 Scott Zwizanski (Priority Health Bissell)                      5
7 Daniel Ramsay (Successful Living.com P/B Park)                 5
8 Phil Zajicek (Navigators Insurance)                            4
9 Jeff Louder (Health Net presented by Maxxis)                   3
10 Ben Day (Navigators Insurance)                                3
11 David Vitoria (BMC Pro Cycling Team)                          2
12 Heath Blackgrove (Toyota-United)                              2
13 Doug Ollerenshaw (Health Net presented by Maxxis)             1
14 Matt Cooke (Navigators Insurance)                             1
 
Teams classification
 
1 Toyota-United                                           26.26.48
2 BMC Pro Cycling Team                                        1.44
3 Navigators Insurance                                        1.45
4 Health Net presented by Maxxis                              4.25
5 Team Einstein's Cycling                                    10.56
6 Successful Living.com P/B Parkpre                          10.58
7 Priority Health Bissell                                    12.10
8 Team Rubicon                                               27.18
9 Hagens Berman                                              30.04