Mount Hood Classic - NE
USA, May 29-June 3, 2007
Main Page Results Overall standings Previous Stage Next Stage
Stage 4 - June 1: Scenic Gorge Time Trial, 18.5 miles
O'Neill and Goldstein top the clock
By Mark Zalewski, North American Editor
A solid nine second victory claimed the yellow jersey back from Australia's Nathan O' Neill (Health Net-Maxxis).
Photo ©: Kurt Jambretz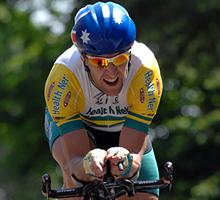 As predicted by most of the peloton in Mt. Hood, Nathan O'Neill (Heath Net-Maxxis) won the up and down 18 mile individual time trial through the scenic Columbia River gorge. But it was not an easy win, thanks to the surprising ride by Phil Zajicek (Navigators Insurance) who chased O'Neill over the entire course, finishing only nine seconds slower than him, putting Zajicek only five seconds down Zajicek on the overall.
"I was feeling pretty super," Zajicek told Cyclingnews. "Up until today I had done less work that the other guys and maybe was the freshest. I went out really fast and figured I'll either maintain it or crack and lose two minutes!"
"Phil had a good ride today, he was a big surprise," said O'Neill who was teammates with Zajicek on Navigators Insurance a few years ago. "He always fancied himself as a TT guy but I had never seen a ride like that from him."
"I was chasing O'Neill which was nice," said Zajicek. "The first half of the course was wide open and I could see him. I had put ten seconds into him over the first climb, but he definitely went faster over the second half. I've been working a lot on my position -- I went to the wind tunnel before Tour of California. Plus this course just suited me well, with all the undulations and a headwind today."
American Phil Zajicek (Navigators) was the only
Photo ©: Kurt Jambretz

Former race leader Ben Jacques-Maynes finished third, but enough behind Zajicek and O'Neill that could limit his chances at the top step but ensured his third place overall. For O'Neill, the current and long-standing Australian time trial champion, the win was another on a long list. However, the close margin sets up a battle royale on the final road stage Saturday. And with no more time bonuses available, Zajicek will have to beat O'Neill straight-up with each other's teams protecting them as long as possible.
"No doubt it's going to come down to who has the strongest team," said O'Neill. "But it is up to him to lose me, essentially. There are no more time bonuses left in the race, so it's going to be difficult for him."
"The five seconds will have to come out of the climb where it gets steep," said Zajicek. "He does have a strong team and he is riding real well right now, but we are riding strong too. I'm definitely going to attack -- you have to in order to win."
On the women's side, two-time defending champion Leah Goldstein (Symmetrics) showed why she holds that title, laying the smack-down on the entire field by nearly a minute on the next competitor Beverley Harper (Webcor Builders), and taking over the race lead by a minute and-a-half.
"She blew everyone out of the water today," said the former race leader Katharine Carroll (Aaron's Pro Cycling). "It was a tough time trial. When you weren't going uphill you were going downhill into a headwind, so you didn't get any recovery."
Prologue winner Katie Mactier (ValueAct Capital) finished third on the day, and sits third overall behind Goldstein and Harper, while Carroll moves down to fourth overall with a sixth place finish in today's TT. Though it looks like Goldstein has a comfortable lead, Carroll said that all is not over, with the team aspect playing an important role in tomorrow's stage.
"[Goldstein] only has one teammate with her on the climb yesterday and all of the girls in the top three were pretty isolated too," she added, "so we hope to be firing on all guns tomorrow to make it back."
Photography
For a thumbnail gallery of these images, click here
Images by Kurt Jambretz/www.actionimages.cc
Results
Pro men
 
1 Nathan O'Neill (Aus) Health Net presented by Maxxis                      40.25 (44.198 km/h)
2 Phil Zajicek (USA) Navigators Insurance Cycling Team                      0.09
3 Ben Jacques-Maynes (USA) Priority Health/Bissell                          0.43
4 Cameron Wurf (Aus) Priority Health/Bissell                                1.28
5 Chris Lieto (USA) California Giant/Specialized                            1.47
6 Glen Chadwick (NZl) Navigators Insurance Cycling Team                     1.55
7 Ben Kneller (USA) Rocky Mountain Chocolate Factory                        2.11
8 Ryder Hesjedal (Can) Health Net presented by Maxxis                       2.25
9 Chris Baldwin (USA) Toyota-United Pro Cycling                             2.28
10 Michael Olheiser (USA) Memphis Motor Works                               2.35
11 Justin England (USA) Toyota-United Pro Cycling                           2.36
12 Heath Blackgrove (USA) Toyota-United Pro Cycling                         2.43
13 Darren Lill (RSA) Navigators Insurance Cycling Team                      2.55
14 Aaron Tuckerman (USA) Team Rubicon                                           
15 Christopher Jones (USA) Nerac Pro Cycling                                3.07
16 Josh Dillon (USA) Fiordifrutta Elite Cycling Team                        3.19
17 Mark Santurbane (USA) Team Bobs-Bicycles.com                             3.22
18 Jeff Louder (USA) Health Net presented by Maxxis                             
19 James Mattis (USA) California Giant/Specialized                          3.28
20 Matt Weyen (USA) Team Bobs-Bicycles.com                                  3.29
21 Ryan Trebon (USA) Kodak Gallery Sierra Nevada                            3.34
22 Cory Burns (USA) Fiordifrutta Elite Cycling Team                         3.37
23 Bernard VanUlden (USA) Navigators Insurance Cycling Team                 3.49
24 Bruce Copeland (Can) Juventus/River Valley Cycle/Kona                    3.56
25 Michael Hutchinson (USA) Team Spine                                      4.01
26 Matthew Johnson (USA) Team 5 Star Fish                                   4.03
27 Kyle Barbary (USA) Team Spine                                                
28 Brian Buchholz (USA) BPG/ Montano Velo                                   4.04
29 Joey Thompson (USA) Rocky Mountain Chocolate Factory                     4.08
30 Sam Johnson (USA) Hagens Berman, LLP                                     4.20
31 Jesse Moore (USA) California Giant/Specialized                           4.25
32 Patrick McGlynn (USA) Team Einstein's                                    4.49
33 Trevor Connor (Can) La-Z-Boy Cycling                                     4.50
34 Logan Hunn (USA) Team Rubicon                                            4.58
35 John Eisinger (USA) Rocky Mountain Chocolate Factory                     4.59
36 Burke Swindlehurst (USA) Toyota-United Pro Cycling                       5.02
37 Jesse/Andy Mendonca (USA) BPG/ Montano Velo                              5.06
38 Chris Rozdilsky (USA) Fiordifrutta Elite Cycling Team                    5.08
39 Doug Ollerenshaw (USA) Health Net presented by Maxxis                    5.10
40 Omer Kem (USA) Priority Health/Bissell                                   5.11
41 Roman Kilun (USA) Health Net presented by Maxxis                         5.16
42 Steven (Sandy) Perrins (USA) Sienna Development - Goble Knee Clinic      5.18
43 Justin Mayfield (USA) Team Bobs-Bicycles.com                             5.39
44 Erik Tonkin (USA) Kona                                                   5.40
45 Bobby Lea (USA) Toyota-United Pro Cycling                                5.42
46 Morgan Schmitt (USA) Priority Health/Bissell                             5.49
47 Carl Decker (USA) Giant Bicycles                                         6.03
48 Hayden Brooks (Aus) Fiordifrutta Elite Cycling Team                      6.04
49 Uthman Ray IV (USA) BPG/ Montano Velo                                    6.05
50 Lang Reynolds (USA) Axley USA.com                                        6.07
51 Matthew Willinger (USA) BPG/ Montano Velo                                6.08
52 Osvaldo Olmos (USA) California Giant/Specialized                         6.10
53 Jamey Driscoll (USA) Fiordifrutta Elite Cycling Team                     6.14
54 Christian Kearney (USA) BPG/ Montano Velo                                6.20
55 David Rodriguez (USA) Navigators Insurance Cycling Team                      
56 Adrian Hegyvery (USA) Hagens Berman, LLP                                 6.25
57 Stefano Barberi (USA) Toyota-United Pro Cycling                          6.27
58 Nate Page (USA) Contender Bicycles                                       6.44
59 Jakob MacArthur (USA) Hagens Berman, LLP                                 6.45
60 Brad Cole (USA) Team Rio Grande                                          6.49
61 Stephen Dey (USA) DBC Elite                                                  
62 Sean McBride (USA) BPG/ Montano Velo                                     7.03
63 Thorben Wieditz (Can) Ital Pasta - Transport Belmire                     7.05
64 Todd Nordblom (USA) Fiordifrutta Elite Cycling Team                      7.07
65 Andrew Kulmatiski (USA) Logan Race Club                                  7.21
66 Chris Daifuku (USA) First Rate Mortgage                                  7.23
67 Mitchell Trux (USA) DBC Elite                                            7.36
68 Matt Crane (USA) Health Net presented by Maxxis                          7.40
69 Chris Swan (USA) Lombardi Sports                                         7.52
70 Max Jenkins (USA) California Giant/Specialized                           7.56
71 Alex Rock (USA) Contender Bicycles                                           
72 Grant Berry (USA) Rocky Mountain Chocolate Factory                       8.03
73 Andy Schultz (USA) Rocky Mountain Chocolate Factory                          
74 Brad Payne (USA) Team Rubicon                                            8.13
75 Jarred Gilker (USA) Mercy Cycling                                        8.18
76 David Richter (USA) Ital Pasta - Transport Belmire                       8.23
77 Trevor Mays (USA) Axley USA.com                                          8.26
78 Ben Rhodes (USA) Recycled Cycles                                         8.28
79 Shawn Ongers (USA) Axley USA.com                                         8.32
80 Ryan Barthel (USA) Rocky Mountain Chocolate Factory                      8.37
81 Johnny Rondash (USA) NOW MS-Society                                      8.47
82 Adrien Niyonshuti (USA) Team Rwanda                                      8.48
83 Brock Curry (USA) NOW MS-Society                                         9.24
84 Jason Thompson (Can) Escape Velocity                                     9.36
85 Philippe Abbott (Can) Ital Pasta - Transport Belmire                     9.38
86 Eric Barlevav (USA) NOW MS-Society                                       9.40
87 Michael Wolf (USA) Navigators Insurance Cycling Team                     9.51
88 Eric Schuman (USA) Bryne Invent                                          9.52
89 Matt Cooke (USA) Navigators Insurance Cycling Team                       9.59
90 Rolando Gonzalez (CRc) Priority Health/Bissell                          10.19
91 Devon Vigus (USA) California Giant/Specialized                          10.27
92 Tyler Stetson (USA) First Rate Mortgage                                 10.41
93 Stephen Ferris (Can) ERTC/Red bike                                      10.52
94 Jimmy Lingwood (USA) Recycled Cycles                                    10.55
95 Andrew Fischer (USA) Hagens Berman, LLP                                 11.19
96 Aren Timmel (USA) Team Chico                                            11.22
97 Nathan Byukusenge (USA) Team Rwanda                                     11.36
98 Luke Pennington (USA) Desalvo Custom Cycles                             11.51
99 Quinn Keogh (USA) Paul's Bicycle Way of Life                            12.45
100 Patrick Dunaway (USA) California Giant/Specialized                     12.46
101 Erik Slack (USA) BYRDS                                                 15.04
102 Barry Wicks (USA) Kona                                                 16.37
103 Dan Workman (USA) Team Rio Grande                                      19.23
DNF Ian McKissick (USA) BMC Racing                                              
DNF Taylor Kneuven (USA) Team Rio Grande                                        
DNF Ulrich DeYoung (USA) Hagens Berman, LLP                                     
DNS Will Riffelmacher (USA) Fiordifrutta Elite Cycling Team                     
 
Pro women
 
1 Leah Goldstein (Can) Symmetrics                                          48.07 (37.125 km/h)
2 Beverley Harper (GBr) Webcor Builders                                     0.59
3 Katie Mactier (Aus) ValueAct Capital Cycling Team                         1.44
4 Julie Beveridge (Can) Bicisport                                           2.01
5 Kristin Sanders (USA) Aaron's Pro Cycling Team                            2.31
6 Katharine Carroll (USA) Aaron's Pro Cycling Team                          2.38
7 Suz Weldon (USA) Wines of Washington                                      2.41
8 Allison Beall (USA) Ti Cycles/Avanti Racing                               2.44
9 Jill McLaughlin (USA) Touchstone Climbing                                 2.53
10 Felicia Gomez (USA) Aaron's Pro Cycling Team                             3.04
11 Tricia Bailey (USA) Wines of Washington                                  3.32
12 Abby Lyn Cooper (USA) PROMAN/paradigm                                    4.04
13 Sarah Barber (USA) Team Bobs-Bicycles.com                                4.09
14 Lise Grace (USA) Wines of Washington                                     4.11
15 Laura Brown (Can) Team Integrale                                         4.12
16 Carmen McNellis (USA) Aaron's Pro Cycling Team                           4.18
17 Maria Monica (USA) Touchstone Climbing                                   4.21
18 Emily Van Meter (USA) Wachovia/IBC                                       5.06
19 Marg Fedyna (Can) Bicycle John's Serious Cycling                         5.26
20 Kristina Seley (USA) PROMAN/paradigm                                     5.39
21 Flavia Oliveira (USA) Team TIBCO                                         5.41
22 Gabriela Gonzalez-Ferrat (Mex) Bicycle John's Serious Cycling            5.54
23 Courtenay Brown (USA) ValueAct Capital Cycling Team                      6.15
24 Sue Butler (USA) River City Bicycles                                     6.36
25 Kate Ligler (USA) PROMAN/paradigm                                        6.46
26 Chellie Terry (USA) Fitzgerald's Bicycles                                6.47
27 Teri Sheasby (USA) Bend Bike N Sport                                     6.52
28 Lea Stralka (USA) Wines of Washington                                    6.58
29 Jeanne Rumps (USA) Team Bobs-Bicycles.com                                7.09
30 Amy McGuire (USA) Wachovia/IBC                                           7.45
31 Martina Patella (USA) ValueAct Capital Cycling Team                      7.49
32 Michelle Kiesanowski (NZl) Aaron's Pro Cycling Team                      7.53
33 Carine Bester (USA) Bicycle John's Serious Cycling                       7.59
34 Sharon Allpress (USA) ValueAct Capital Cycling Team                      8.02
35 Yukie Nakamura (USA) Team TIBCO                                          8.25
36 Monique Hein (USA) Lees-McRae College                                        
37 Hannah Banks (Aus) ValueAct Capital Cycling Team                         8.55
38 Alice Pennington (USA) Desalvo Custom Cycles                             9.06
39 Marni Hambleton (Can) Symmetrics                                             
40 Hilary Billington (USA) Nike                                             9.51
41 Holly Borowski (USA) Touchstone Climbing                                10.09
42 Heather Clark (USA) Bend Bike N Sport                                   10.27
43 Jill Waskom (USA) Bend Bike N Sport                                     10.51
44 Rebecca Gross (USA) Velo Bella-Kona                                     11.17
45 Carrie Eller (USA) Ti Cycles/Avanti Racing                              11.26
46 Nicole S Evans (USA) Team Liption                                       11.40
47 Jeanie Bihlmaier (USA) Wines of Washington                              11.53
48 Ally Stacher (USA) Etna Brewing Co./DeSalvo Cycles                      14.26
49 Jen Joynt (USA) Metromint Cycling                                       15.47
50 Dana Robertson-Halter (USA) Wines of Washington                         15.58
51 Katie London (USA) Team TIBCO                                           16.00
DNS Irene Beyerlein (USA) Colavita Sutter Homes                                 
 
Teams
 
Pro men
 
1 Navigators Insurance Cycling Team                                      2.06.14
2 Health Net presented by Maxxis                                            0.48
3 Priority Health/Bissell                                                   2.23
4 Toyota-United Pro Cycling                                                 2.48
5 California Giant/Specialized                                              4.40
6 Rocky Mountain Chocolate Factory                                          6.19
7 Fiordifrutta Elite Cycling Team                                           7.05
8 Team Bobs-Bicycles.com                                                    7.31
9 BPG/ Montano Velo                                                        10.16
10 Team Rubicon                                                            11.07
11 Hagens Berman, LLP                                                      12.31
 
Pro women
 
1 Aaron's Pro Cycling Team                                               2.32.34
2 Wines of Washington                                                       2.11
3 ValueAct Capital Cycling Team                                             7.35
4 Touchstone Climbing                                                       9.10
5 Bicycle John's Serious Cycling                                           11.06
 
General classification after Stage 4
 
Pro men
 
1 Nathan O'Neill (Aus) Health Net presented by Maxxis                    9.00.44
2 Phil Zajicek (USA) Navigators Insurance Cycling Team                      0.05
3 Ben Jacques-Maynes (USA) Priority Health/Bissell                          0.26
4 Glen Chadwick (NZl) Navigators Insurance Cycling Team                     1.56
5 Cameron Wurf (Aus) Priority Health/Bissell                                2.08
6 Chris Lieto (USA) California Giant/Specialized                            2.27
7 Ryder Hesjedal (Can) Health Net presented by Maxxis                       2.57
8 Ben Kneller (USA) Rocky Mountain Chocolate Factory                            
9 Chris Baldwin (USA) Toyota-United Pro Cycling                             3.00
10 Justin England (USA) Toyota-United Pro Cycling                           3.03
11 Michael Olheiser (USA) Memphis Motor Works                               3.12
12 Aaron Tuckerman (USA) Team Rubicon                                       3.19
13 Jeff Louder (USA) Health Net presented by Maxxis                         3.46
14 Christopher Jones (USA) Nerac Pro Cycling                                    
15 Josh Dillon (USA) Fiordifrutta Elite Cycling Team                        3.50
16 Mark Santurbane (USA) Team Bobs-Bicycles.com                             4.03
17 Darren Lill (RSA) Navigators Insurance Cycling Team                      4.10
18 James Mattis (USA) California Giant/Specialized                          4.13
19 Kyle Barbary (USA) Team Spine                                            4.46
20 Matthew Johnson (USA) Team 5 Star Fish                                   4.52
21 Jesse Moore (USA) California Giant/Specialized                           5.18
22 Trevor Connor (Can) La-Z-Boy Cycling                                     5.58
23 Ryan Trebon (USA) Kodak Gallery Sierra Nevada                            6.27
24 Matt Weyen (USA) Team Bobs-Bicycles.com                                  6.57
25 John Eisinger (USA) Rocky Mountain Chocolate Factory                     7.21
26 Stephen Dey (USA) DBC Elite                                              7.39
27 Joey Thompson (USA) Rocky Mountain Chocolate Factory                     7.54
28 Burke Swindlehurst (USA) Toyota-United Pro Cycling                       8.35
29 Logan Hunn (USA) Team Rubicon                                            8.46
30 Doug Ollerenshaw (USA) Health Net presented by Maxxis                    8.47
31 Bobby Lea (USA) Toyota-United Pro Cycling                                9.15
32 Erik Tonkin (USA) Kona                                                   9.31
33 Hayden Brooks (Aus) Fiordifrutta Elite Cycling Team                      9.49
34 Lang Reynolds (USA) Axley USA.com                                       10.02
35 Carl Decker (USA) Giant Bicycles                                        10.25
36 Patrick McGlynn (USA) Team Einstein's                                   11.11
37 Chris Daifuku (USA) First Rate Mortgage                                 11.21
38 Heath Blackgrove (USA) Toyota-United Pro Cycling                        12.20
39 Brad Cole (USA) Team Rio Grande                                         12.58
40 Michael Hutchinson (USA) Team Spine                                     13.12
41 Philippe Abbott (Can) Ital Pasta - Transport Belmire                    13.55
42 Sam Johnson (USA) Hagens Berman, LLP                                    14.12
43 Morgan Schmitt (USA) Priority Health/Bissell                            15.19
44 Stefano Barberi (USA) Toyota-United Pro Cycling                         17.25
45 Matt Cooke (USA) Navigators Insurance Cycling Team                      18.08
46 Max Jenkins (USA) California Giant/Specialized                          20.09
47 Andy Schultz (USA) Rocky Mountain Chocolate Factory                     21.04
48 Matthew Willinger (USA) BPG/ Montano Velo                               22.10
49 Bernard VanUlden (USA) Navigators Insurance Cycling Team                24.50
50 Chris Rozdilsky (USA) Fiordifrutta Elite Cycling Team                   24.58
51 Omer Kem (USA) Priority Health/Bissell                                  25.05
52 Barry Wicks (USA) Kona                                                  26.36
53 Justin Mayfield (USA) Team Bobs-Bicycles.com                            26.53
54 Uthman Ray IV (USA) BPG/ Montano Velo                                   27.51
55 Christian Kearney (USA) BPG/ Montano Velo                               27.52
56 Chris Swan (USA) Lombardi Sports                                        27.54
57 Eric Schuman (USA) Bryne Invent                                         28.13
58 Osvaldo Olmos (USA) California Giant/Specialized                        28.51
59 Steven (Sandy) Perrins (USA) Sienna Development - Goble Knee Clinic     29.16
60 Mitchell Trux (USA) DBC Elite                                           30.11
61 Jamey Driscoll (USA) Fiordifrutta Elite Cycling Team                    30.14
62 Rolando Gonzalez (CRc) Priority Health/Bissell                          30.22
63 Michael Wolf (USA) Navigators Insurance Cycling Team                    31.18
64 David Rodriguez (USA) Navigators Insurance Cycling Team                 31.30
65 Brad Payne (USA) Team Rubicon                                           31.57
66 Grant Berry (USA) Rocky Mountain Chocolate Factory                      33.51
67 Andrew Fischer (USA) Hagens Berman, LLP                                 34.33
68 Andrew Kulmatiski (USA) Logan Race Club                                 34.42
69 Matt Crane (USA) Health Net presented by Maxxis                         35.40
70 Quinn Keogh (USA) Paul's Bicycle Way of Life                            35.55
71 Patrick Dunaway (USA) California Giant/Specialized                      37.24
72 Roman Kilun (USA) Health Net presented by Maxxis                        39.01
73 Trevor Mays (USA) Axley USA.com                                         42.26
74 Dan Workman (USA) Team Rio Grande                                       42.58
75 Thorben Wieditz (Can) Ital Pasta - Transport Belmire                    44.11
76 Bruce Copeland (Can) Juventus/River Valley Cycle/Kona                   45.27
77 Jakob MacArthur (USA) Hagens Berman, LLP                                45.59
78 Jason Thompson (Can) Escape Velocity                                    46.29
79 Brian Buchholz (USA) BPG/ Montano Velo                                  47.21
80 Nate Page (USA) Contender Bicycles                                           
81 Adrian Hegyvery (USA) Hagens Berman, LLP                                47.33
82 Cory Burns (USA) Fiordifrutta Elite Cycling Team                        47.47
83 Aren Timmel (USA) Team Chico                                            48.27
84 David Richter (USA) Ital Pasta - Transport Belmire                      49.17
85 Johnny Rondash (USA) NOW MS-Society                                     49.37
86 Eric Barlevav (USA) NOW MS-Society                                      50.16
87 Sean McBride (USA) BPG/ Montano Velo                                    50.41
88 Alex Rock (USA) Contender Bicycles                                      51.38
89 Stephen Ferris (Can) ERTC/Red bike                                      52.08
90 Ben Rhodes (USA) Recycled Cycles                                        52.17
91 Shawn Ongers (USA) Axley USA.com                                        52.33
92 Adrien Niyonshuti (USA) Team Rwanda                                     53.03
93 Luke Pennington (USA) Desalvo Custom Cycles                             53.32
94 Nathan Byukusenge (USA) Team Rwanda                                     56.10
95 Ryan Barthel (USA) Rocky Mountain Chocolate Factory                     59.09
96 Jesse/Andy Mendonca (USA) BPG/ Montano Velo                             59.23
97 Jimmy Lingwood (USA) Recycled Cycles                                  1.00.32
98 Brock Curry (USA) NOW MS-Society                                      1.04.56
99 Todd Nordblom (USA) Fiordifrutta Elite Cycling Team                   1.05.10
100 Devon Vigus (USA) California Giant/Specialized                       1.05.42
101 Erik Slack (USA) BYRDS                                               1.13.27
102 Tyler Stetson (USA) First Rate Mortgage                              1.13.46
103 Jarred Gilker (USA) Mercy Cycling                                    1.18.58
 
Pro women
 
1 Leah Goldstein (Can) Symmetrics                                        8.31.42
2 Beverley Harper (GBr) Webcor Builders                                     1.32
3 Katie Mactier (Aus) ValueAct Capital Cycling Team                         1.39
4 Katharine Carroll (USA) Aaron's Pro Cycling Team                          1.55
5 Julie Beveridge (Can) Bicisport                                           2.09
6 Felicia Gomez (USA) Aaron's Pro Cycling Team                              2.47
7 Kristin Sanders (USA) Aaron's Pro Cycling Team                            2.50
8 Suz Weldon (USA) Wines of Washington                                      3.05
9 Jill McLaughlin (USA) Touchstone Climbing                                 3.25
10 Allison Beall (USA) Ti Cycles/Avanti Racing                              3.27
11 Maria Monica (USA) Touchstone Climbing                                   5.03
12 Carmen McNellis (USA) Aaron's Pro Cycling Team                           5.04
13 Sarah Barber (USA) Team Bobs-Bicycles.com                                5.17
14 Lise Grace (USA) Wines of Washington                                     5.54
15 Flavia Oliveira (USA) Team TIBCO                                         6.03
16 Marg Fedyna (Can) Bicycle John's Serious Cycling                         6.18
17 Kristina Seley (USA) PROMAN/paradigm                                     7.28
18 Michelle Kiesanowski (NZl) Aaron's Pro Cycling Team                      9.40
19 Alice Pennington (USA) Desalvo Custom Cycles                            10.24
20 Yukie Nakamura (USA) Team TIBCO                                              
21 Hilary Billington (USA) Nike                                            12.39
22 Marni Hambleton (Can) Symmetrics                                        13.00
23 Emily Van Meter (USA) Wachovia/IBC                                      13.52
24 Sue Butler (USA) River City Bicycles                                    14.01
25 Abby Lyn Cooper (USA) PROMAN/paradigm                                   16.31
26 Lea Stralka (USA) Wines of Washington                                   16.48
27 Teri Sheasby (USA) Bend Bike N Sport                                    16.54
28 Kate Ligler (USA) PROMAN/paradigm                                       19.37
29 Tricia Bailey (USA) Wines of Washington                                 20.34
30 Jen Joynt (USA) Metromint Cycling                                       20.53
31 Gabriela Gonzalez-Ferrat (Mex) Bicycle John's Serious Cycling           22.10
32 Carine Bester (USA) Bicycle John's Serious Cycling                      23.03
33 Sharon Allpress (USA) ValueAct Capital Cycling Team                     25.22
34 Amy McGuire (USA) Wachovia/IBC                                          25.33
35 Chellie Terry (USA) Fitzgerald's Bicycles                               27.22
36 Martina Patella (USA) ValueAct Capital Cycling Team                     28.58
37 Holly Borowski (USA) Touchstone Climbing                                29.44
38 Hannah Banks (Aus) ValueAct Capital Cycling Team                        30.20
39 Courtenay Brown (USA) ValueAct Capital Cycling Team                     31.07
40 Nicole S Evans (USA) Team Liption                                       31.25
41 Jeanne Rumps (USA) Team Bobs-Bicycles.com                               31.39
42 Heather Clark (USA) Bend Bike N Sport                                   32.12
43 Ally Stacher (USA) Etna Brewing Co./DeSalvo Cycles                      36.16
44 Dana Robertson-Halter (USA) Wines of Washington                         36.44
45 Laura Brown (Can) Team Integrale                                        40.37
46 Katie London (USA) Team TIBCO                                           42.55
47 Jeanie Bihlmaier (USA) Wines of Washington                              47.45
48 Jill Waskom (USA) Bend Bike N Sport                                   1.00.08
49 Monique Hein (USA) Lees-McRae College                                 1.05.02
50 Carrie Eller (USA) Ti Cycles/Avanti Racing                            1.09.11
51 Rebecca Gross (USA) Velo Bella-Kona                                   2.04.40
 
Teams
 
Pro men
 
1 Team Rio Grande                                                       25.42.26
2 Navigators Insurance Cycling Team                                      1.26.00
3 Health Net presented by Maxxis                                         1.26.34
4 California Giant/Specialized                                           1.31.44
5 Toyota-United Pro Cycling                                              1.31.59
6 Rocky Mountain Chocolate Factory                                       1.36.49
7 Priority Health/Bissell                                                1.37.11
8 Fiordifrutta Elite Cycling Team                                        1.55.30
9 Team Bobs-Bicycles.com                                                 1.57.39
10 Team Rubicon                                                          2.03.09
11 Hagens Berman, LLP                                                    2.10.18
12 BPG/ Montano Velo                                                     2.31.33
 
Pro women
 
1 Aaron's Pro Cycling Team                                              25.43.03
2 Wines of Washington                                                      13.20
3 Touchstone Climbing                                                      30.15
4 ValueAct Capital Cycling Team                                            42.31
5 Bicycle John's Serious Cycling                                           43.34