Mount Hood Classic - NE
USA, May 29-June 3, 2007
Main Page Results Overall standings Previous Stage Next Stage
Stage 3 - May 31: Cooper Spur Circuit Race, 87/66 miles
Chadwick makes it to the line, Carroll takes win and lead
By Mark Zalewski, North American Editor
Jacques-Maynes holds lead into time trial
A breakaway formed early
Photo ©: Kurt Jambretz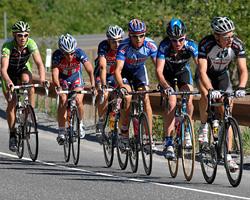 Glen Chadwick (Navigators Insurance) is one of those riders that always seems to be in the break -- but not the ones that make it to the line. In the Tour de Georgia he was rewarded with the most aggressive riders of the race award, and nearly made it a win on the second stage into Rome. Today's second road stage in Mt. Hood was shaping up to be the same, with Chadwick attacking multiple times and going solo in the closing kilometers. But this time, he had enough to make it stick, with the peloton catching his back wheel as he posted-up for the win.
"I zipped the jersey up with 200 to go and wondered if that was a wise thing to do!" joked Chadwick about the final meters. "I had only a minute with 15km to go. So I rode as hard as I could up the long drags. The last 1500 meters it kicked up but once I got over the crest I knew I could make it."
Jeff Louder (Health Net) navigates
Photo ©: Kurt Jambretz

Closing in on Chadwick was the peloton led by his teammate Phil Zajicek and race leader Ben Jacques-Maynes (Priority Health). "We came up to Chadwick's back wheel on the line, but he had time to give a double thumbs up" said Zajicek who finished third and moved ahead of Nathan O'Neill (Health Net-Maxxis) into second on the overall with the time bonus.
The double podium by Navigators was making lemonade out of early stage lemons. "There were a lot early moves that we ended up missing," said Zajicek. "Toyota had a few guys up there and Louder was there. So we had to have four of our guys working early."
Podium (L-R): Ben Jaques-Maynes (Priority Health), Glen Chadwick
Photo ©: Kurt Jambretz

Then Chadwick did one of his patented moves, going solo across to the break. This in turn brought it all back together. Not to sit around trading recipes, Chadwick attacked again. This time Bobby Lea (Toyota-United) went with him, but on the final two miles of the steeper pitches Chadwick was able to get away alone" said Zajicek "Toyota had a few guys up there and Louder was there. So we had to have four of our guys working early."
Back in the peloton, no one was too worried until Jeff Louder (Health Net-Maxxis) tried to bridge to Chadwick, which caused Zajicek to respond. Being high-up on the overall, both Jacques-Maynes and O'Neill were forced to also respond. "Louder tried to go across and I went with him which forced O'Neill to have to chase us down," said Zajicek. "With a kilometer to go O'Neill went to the front and rode incredibly fast -- up hill in his twelve!"
The pace set by O'Neill was almost enough to wipe-out Chadwick's advantage, but the Kiwi-Aussie showed why he is the New Zealand time trial champion. "I made it to the finish line this time," he said. "The young guys worked hard for us today to make it happen."
However, everyone is being realistic about the real time trial tomorrow -- an eighteen mile roller coaster. "All of us are just trying to limit our losses to O'Neill," said Zajicek. "But I am feeling really good so I am hoping to have a special ride tomorrow."
Aaron's team puts enough pressure on Mactier
Katharine Carroll (Aaron's Pro Cycling)
Photo ©: Kurt Jambretz

The women's race saw a big change in the overall, with the Aaron's team playing their large team advantage to the fullest. Their well-executed tactics put their leader, Katharine Carroll, across the line first and into the leader's jersey.
"We wanted to put Katie [Mactier] under a lot of pressure so we attacked a lot the second time up the climb," said Carroll. "Kristin Sanders countered one of the moves -- she stayed away for the next forty-five miles! We caught her with two kilometers to go, so it was exactly what we wanted to have happen, to make Katie work. It was a super-solid ride -- it totally set us up for the win."
The yellow jersey of Katie Mactier (ValueAct Capital)
Photo ©: Kurt Jambretz

"The team has been so diligent this week," said Mactier. "We came out again today to defend the jersey, but it got to a situation where Aaron's attacked and my girl covered it, but another countered and it went away. I was then isolated and it became apparant that none of the other GC contenders wanted to work much. So I spent a lap-and-a-half chasing. I finally had to approach some of the other girls and say that it wasn't coming back. I then got a little help and it came back."
The last time up the climb Carroll attacked with her teammate Felcia Gomez and held it to the line. "We didn't sprint because we knew it made more sense for me to get the bonus -- she stayed in the QOM jersey."
"I lost contact in the last kilometers and was totally fried," said Mactier. Mactier was realistic about her young ValueAct Capital team this week but is still hopeful that she limited her losses enough to pull it back in the time trial. "We didn't come out here with too many expectations and this is my first road race since Superweek last year. But we drove the TT course and we'll see what I can do tomorrow."
About the time trial tomorrow, Carroll is confident regardless of how well it goes. "We don't get to do too many 18 mile time trials in the middle of a race like this, but I feel confident. And we have several different weapons with three in the top six."
Photography
For a thumbnail gallery of these images, click here
Images by Kurt Jambretz/www.actionimages.cc
Results

Pro men

1 Glen Chadwick (NZl) Navigators Insurance Cycling Team           3.35.54 (38.910 km/h)
2 Ben Jacques-Maynes (USA) Priority Health/Bissell                   0.01
3 Phil Zajicek (USA) Navigators Insurance Cycling Team                   
4 Nathan O'Neill (Aus) Health Net presented by Maxxis                    
5 Justin England (USA) Toyota-United Pro Cycling                     0.03
6 Josh Dillon (USA) Fiordifrutta Elite Cycling Team                  0.06
7 Ryder Hesjedal (Can) Health Net presented by Maxxis                0.07
8 Aaron Tuckerman (USA) Team Rubicon                                     
9 Matthew Johnson (USA) Team 5 Star Fish                                 
10 Mark Santurbane (USA) Team Bobs-Bicycles.com                          
11 James Mattis (USA) California Giant/Specialized                       
12 Kyle Barbary (USA) Team Spine                                         
13 Stephen Dey (USA) DBC Elite                                           
14 Christopher Jones (USA) Nerac Pro Cycling                             
15 Jeff Louder (USA) Health Net presented by Maxxis                      
16 Chris Lieto (USA) California Giant/Specialized                    0.14
17 Ben Kneller (USA) Rocky Mountain Chocolate Factory                0.19
18 Jesse Moore (USA) California Giant/Specialized                    0.20
19 Cameron Wurf (Aus) Priority Health/Bissell                        0.22
20 John Eisinger (USA) Rocky Mountain Chocolate Factory                  
21 Trevor Connor (Can) La-Z-Boy Cycling                                  
22 Darren Lill (RSA) Navigators Insurance Cycling Team                   
23 Chris Baldwin (USA) Toyota-United Pro Cycling                         
24 Carl Decker (USA) Giant Bicycles                                  0.47
25 Michael Olheiser (USA) Memphis Motor Works                        0.22
26 Brad Cole (USA) Team Rio Grande                                   1.13
27 Ryan Trebon (USA) Kodak Gallery Sierra Nevada                     2.32
28 Hayden Brooks (Aus) Fiordifrutta Elite Cycling Team               3.01
29 Doug Ollerenshaw (USA) Health Net presented by Maxxis                 
30 Joey Thompson (USA) Fort Lewis College                                
31 Logan Hunn (USA) Team Rubicon                                         
32 Matt Weyen (USA) Team Bobs-Bicycles.com                               
33 Philippe Abbott (Can) Ital Pasta - Transport Belmire                  
34 Lang Reynolds (USA) Axley USA.com                                     
35 Burke Swindlehurst (USA) Toyota-United Pro Cycling                    
36 Bobby Lea (USA) Toyota-United Pro Cycling                             
37 Matt Cooke (USA) Navigators Insurance Cycling Team                    
38 Erik Tonkin (USA) Kona                                                
39 Ulrich Deyoung (USA) Hagens Berman, LLP                           3.27
40 Eric Schuman (USA)                                                3.32
41 Chris Daifuku (USA) First Rate Mortgage                           4.24
42 Patrick Mcglynn (USA) Team Einstein's                             5.36
43 Michael Hutchinson (USA) Team Spine                               8.25
44 Taylor Kneuven (USA) Team Rio Grande                              8.47
45 Max Jenkins (USA) California Giant/Specialized                        
46 Morgan Schmitt (USA) Priority Health/Bissell                          
47 Ian Mckissick (USA) BMC Racing                                        
48 Heath Blackgrove (USA) Toyota-United Pro Cycling                  9.11
49 Sam Johnson (USA) Hagens Berman, LLP                              9.14
50 Barry Wicks (USA) Kona                                            9.25
51 Stefano Barberi (USA) Toyota-United Pro Cycling                  10.31
52 Matthew Willinger (USA) BPG/ Montano Velo                        11.07
53 Andy Schultz (USA) Bear Naked/Cannondale                         11.48
54 Uthman Ray Iv (USA) BPG/ Montano Velo                                 
55 Matt Crane (USA) Health Net presented by Maxxis                  13.54
56 Andrew Fischer (USA) Hagens Berman, LLP                          15.47
57 Patrick Dunaway (USA) California Giant/Specialized               19.02
58 Steven Perrins (USA) Sienna Development - Goble Knee Clinic      19.07
59 Jamey Driscoll (USA) Fiordifrutta Elite Cycling Team                  
60 Chris Rozdilsky (USA) Fiordifrutta Elite Cycling Team                 
61 Mitchell Trux (USA) DBC Elite                                         
62 Chris Swan (USA) Lombardi Sports                                      
63 Quinn Keogh (USA) Paul's Bicycle Way of Life                          
64 Osvaldo Olmos (USA) California Giant/Specialized                      
65 Omer Kem (USA) Priority Health/Bissell                                
66 Dan Workman (USA) Team Rio Grande                                     
67 Rolando Gonzalez(Crc) Priority Health/Bissell                         
68 Brad Payne (USA) Team Rubicon                                         
69 Michael Wolf (USA) Navigators Insurance Cycling Team             20.33
70 Christian Kearney (USA) BPG/ Montano Velo                        20.35
71 Justin Mayfield (USA) Team Bobs-Bicycles.com                          
72 Roman Kilun (USA) Health Net presented by Maxxis                      
73 Bernard Vanulden (USA) Navigators Insurance Cycling Team              
74 David Rodriguez (USA) Navigators Insurance Cycling Team               
75 Andrew Kulmatiski (USA) Logan Race Club                          21.42
76 Grant Berry (USA) Rocky Mountain Chocolate Factory               22.22
77 Trevor Mays (USA) Axley USA.com                                  28.49
78 Jason Thompson (Can) Escape Velocity                             32.11
79 Luke Pennington (USA) Desalvo Custom Cycles                      35.47
80 Thorben Wieditz (Can) Ital Pasta - Transport Belmire             35.54
80 Devon Vigus (USA) California Giant/Specialized                        
82 David Richter (USA) Ital Pasta - Transport Belmire                    
83 Johnny Rondash (USA) NOW MS-Society                                   
84 Eric Barlevav (USA) VRC-MSVRC-MS Society                              
85 Jakob Macarthur (USA) Hagens Berman, LLP                              
86 Brian Buchholz (USA) BPG/ Montano Velo                                
87 Cory Burns (USA) Fiordifrutta Elite Cycling Team                      
88 Will Rieffelmacher (USA) Fiordifrutta Elite Cycling Team              
89 Sean Mcbride (USA) BPG/ Montano Velo                                  
90 Jesse/Andy Mendonca (USA) BPG/ Montano Velo                           
91 Shawn Ongers (USA) Axley USA.com                                      
92 Adrian Hegyvery (USA) Hagens Berman, LLP                              
93 Alex Rock (USA) Contender Bicycles                                    
94 Aren Timmel (USA) Team Chico                                          
95 Nate Page (USA) Contender Bicycles                                    
96 Nathan Byukusenge (USA) TEAM RWANDA                                   
97 Adrien Niyonshuti (USA) TEAM RWANDA                                   
98 Ben Rohdes (USA) Recycled Cycles                                      
99 Stephen Ferris (Can) ERTC/Red bike                                    
100 Tyler Stetson (USA) First Rate Mortgage                              
101 Kirk Carlsen (USA) Team Rubicon                                      
102 Bruce Copeland (Can) Juventus/River Valley Cycle/Kona           36.40
103 Jimmy Lingwood (USA) Recycled Cycles                            41.18
104 Brock Curry (USA) NOW MS-Society                                47.37
105 Erik Slack (USA) BYRDS                                               
106 Bill Reuss (USA) Owens Healthcare                               55.05
107 Todd Nordblom (USA) Fiordifrutta Elite Cycling Team             57.05
108 Galen Erickson (USA) Recycled Cycles                          1.08.42
109 Nick Weighall (USA) Hagens Berman, LLP                               
110 Ian Burnett (USA) Fort Lewis College                          1.11.45
111 Jesăs Ilundăin (USA)                                                 
DNF John Hunt (USA) California Giant/Specialized                         
DNF Collin Becker (USA) Team Rio Grande                                  
DNF Brad Bingham (USA) Team Rio Grande                                   
DNS Allen Krughoff (USA) Team Rio Grande                                 
DNF Ryan Morris (Can) Team Rio Grande                                    
DNF Justin Rose (USA) Team Bobs-Bicycles.com                             
DNF Eric Rumps (USA) Team Bobs-Bicycles.com                              
DNF Derik Archibald (USA) Team Bobs-Bicycles.com                         
DNF Michael Gallagher (USA) Team Bobs-Bicycles.com                       
DNS Robert Campbell (USA) Team Bobs-Bicycles.com                         
DNF Adam Curry (NZl) Hagens Berman, LLP                                  
DNF Owen Gue (USA) Hagens Berman, LLP                                    
DNF Evan Lawrence (USA) BPG/ Montano Velo                                
DNF Garett Peltonen (USA) Priority Health/Bissell                        
DNF Dan Harm (USA) Team Rubicon                                          
DNF Matt Brandt (USA) Team Rubicon                                       
DNF Kenny Williams (USA) First Rate Mortgage                             
DNS Daniel Stevens (USA) NOW MS-Society                                  
DNF Patrick Zahn (USA) Recycled Cycles                                   
DNS Zach Winter (USA) Capitol Subaru Cycling                             
DNF Shaun Adamson (Can) Juventus/River Valley Cycle/Kona                 
DNF Jarred Gilker (USA) Mercy Cycling                                    
DNF Daniel Vinson (USA) Team 5 Star Fish                                 
DNF Jason Williams (USA) Team Zoka                                       
DNF Ryan Barthel (USA)                                                   
 
Pro women
 
1 Katharine Carroll (USA) Aaron's Pro Cycling Team                3.28.45 (30.529 km/h)
2 Felicia Gomez (USA) Aaron's Pro Cycling Team                       0.06
3 Julie Beveridge (Can) Bicisport                                    0.24
4 Flavia Oliveira (USA) Team TIBCO                                       
5 Leah Goldstein (Can) Symmetrics                                        
6 Marg Fedyna (Can) Bicycle John's Serious Cycling                       
7 Jill McLaughlin (USA) Touchstone Climbing                          0.42
8 Beverley Harper (USA) Webcor Builders                                  
9 Katie Mactier (Aus) ValueAct Capital Cycling Team                      
10 Maria Monica (USA) Touchstone Climbing                                
11 Kristin Sanders (USA) Aaron's Pro Cycling Team                        
12 Carmen McNellis (USA) Aaron's Pro Cycling Team                    0.52
13 Suz Weldon (USA) Wines of Washington                                  
14 Lise Grace (USA) Wines of Washington                                  
15 Alice Pennington (USA) Desalvo Custom Cycles                      0.55
16 Allison Beall (USA) Ti Cycles/Avanti Racing                           
17 Sarah Barber (USA) Team-BobsBicycles.com                          1.03
18 Yukie Nakamura (USA) Team TIBCO                                   1.20
19 Kristina Seley (USA) PROMAN/paradigm                              1.34
20 Michelle Kiesanowski (NZl) Aaron's Pro Cycling Team                   
21 Hilary Billington (USA) Nike                                      1.42
22 Marni Hambleton (Can) Symmetrics                                  3.40
23 Jen Joynt (USA) Metromint Cycling                                     
24 Sue Butler (USA) River City Bicycles                              7.14
25 Emily Van Meter (USA) Wachovia/IBC                                8.44
26 Lea Stralka (USA) Wines of Washington                             9.44
27 Teri Sheasby (USA) Bend Bike N Sport                              9.46
28 Kate Ligler (USA) PROMAN/Paradigm                                12.33
29 Abby Lyn Cooper (USA) PROMAN/Paradigm                                 
30 Carine Bester (USA) Bicycle John's Serious Cycling               14.48
31 Gabriela Gonzalez-Ferrat (USA) Bicycle John's Serious Cycling    16.01
32 Tricia Bailey (USA) Wines of Washington                          17.15
33 Courtenay Brown (USA) ValueAct Capital Cycling Team                   
34 Amy McGuire (USA) Wachovia/IBC                                   17.19
35 Sharon Allpress (USA) ValueAct Capital Cycling Team              17.21
36 Ally Stacher (USA) Etna Brewing Co./DeSalvo Cycles               17.47
37 Heather Clark (USA) Bend Bike N Sport                            18.03
38 Holly Borowski (USA) Touchstone Climbing                         19.10
39 Nicole S Evans (USA) Team Lipton                                 20.05
40 Dana Robertson-Halter (USA) Wines of Washington                  20.25
41 Chellie Terry (USA) Fitzgerald's Bicycles                        20.30
42 Irene Beyerlein (USA) Colavita Sutter Homes                      20.34
43 Jeanne Rumps (USA) Team Bobs-Bicycles.com                        21.10
44 Martina Patella (USA) ValueAct Capital Cycling Team                   
45 Hannah Banks (Aus) ValueAct Capital Cycling Team                 21.18
46 Katie London (USA) Team TIBCO                                    22.56
47 Jeanie Bihlmaier (USA) Wines of Washington                       23.56
48 Laura Brown (Can) Team Integrale                                 36.42
49 Jill Waskom (USA) Bend Bike N Sport                              37.40
50 Carrie Eller (USA) Ti Cycles/Avanti Racing                       46.39
51 Monique Hein (USA) Monstr Healthcare                             48.31
52 Rebecca Gross (USA) Velo Bella-Kona                            1.11.00
DNF Megan Elliott (USA) Bicycle John's Serious Cycling                   
DNF Tracie Nelson (USA) Touchstone Climbing                              
DNF Elizabeth Nettles (USA) Ti Cycles/Avanti Racing                      
 
Points
 
Pro men
1 Stefano Barberi (USA) Toyota-United Pro Cycling                      20 pts
2 Burke Swindlehurst (USA) Toyota-United Pro Cycling                   13
3 Jeff Louder (USA) Health Net presented by Maxxis                     10
4 Glen Chadwick (NZl) Navigators Insurance Cycling Team                 6
5 Barry Wicks (USA) Kona                                                6
6 Chris Baldwin (USA) Toyota-United Pro Cycling                         4
7 Ben Jacques-Maynes (USA) Priority Health/Bissell                      4
8 Phil Zajicek (USA) Navigators Insurance Cycling Team                  3
9 Heath Blackgrove (USA) Toyota-United Pro Cycling                      3
10 Cameron Wurf (Aus) Priority Health/Bissell                           3
11 Nathan O'Neill (Aus) Health Net presented by Maxxis                  2
12 Justin England (USA) Toyota-United Pro Cycling                       1
 
Pro women
 
1 Felicia Gomez (USA) Aaron's Pro Cycling Team                         13 pts
2 Kristin Sanders (USA) Aaron's Pro Cycling Team                       12
3 Katharine Carroll (USA) Aaron's Pro Cycling Team                      9
4 Marg Fedyna (Can) Bicycle John's Serious Cycling                      7
5 Julie Beveridge (Can) Bicisport                                       7
6 Leah Goldstein (Can) Symmetrics                                       6
7 Katie Mactier (Aus) ValueAct Capital Cycling Team                     3
8 Flavia Oliveira (USA) Team TIBCO                                      2
9 Alice Pennington (USA) Desalvo Custom Cycles                          1
10 Felicia Gomez (USA) Aaron's Pro Cycling Team                        13
11 Kristin Sanders (USA) Aaron's Pro Cycling Team                      12
12 Katharine Carroll (USA) Aaron's Pro Cycling Team                     9
13 Marg Fedyna (Can) Bicycle John's Serious Cycling                     7
14 Julie Beveridge (Can) Bicisport                                      7
15 Leah Goldstein (Can) Symmetrics                                      6
16 Katie Mactier (Aus) ValueAct Capital Cycling Team                    3
17 Flavia Oliveira (USA) Team TIBCO                                     2
18 Alice Pennington (USA) Desalvo Custom Cycles                         1
 
Teams
 
Pro men
 
1 Health Net presented by Maxxis                                 10.47.57
2 Navigators Insurance Cycling Team                                  0.08
3 California Giant/Specialized                                       0.26
4 Toyota-United Pro Cycling                                          3.11
5 Rocky Mountain Chocolate Factory                                   3.27
6 Priority Health/Bissell                                            8.55
7 Fiordifrutta Elite Cycling Team                                   21.59
8 Team Rubicon                                                      22.00
9 Team Bobs-Bicycles.com                                            23.28
10 Hagens Berman, LLP                                               28.13
11 Team Rio Grande                                                  28.52
12 BPG/ Montano Velo                                                43.15
 
Pro women
 
1 Aaron's Pro Cycling Team                                       10.27.03
2 Wines of Washington                                               10.40
3 Touchstone Climbing                                               19.46
4 Bicycle John's Serious Cycling                                    30.25
5 ValueAct Capital Cycling Team                                     34.30
 
General classification after stage 3
 
Pro men
 
1 Ben Jacques-Maynes (USA) Priority Health/Bissell                8.20.02
2 Phil Zajicek (USA) Navigators Insurance Cycling Team               0.13
3 Nathan O'Neill (Aus) Health Net presented by Maxxis                0.17
4 Glen Chadwick (NZl) Navigators Insurance Cycling Team              0.18
5 Jeff Louder (USA) Health Net presented by Maxxis                   0.41
6 Aaron Tuckerman (USA) Team Rubicon                                     
7 Justin England (USA) Toyota-United Pro Cycling                     0.44
8 Josh Dillon (USA) Fiordifrutta Elite Cycling Team                  0.48
9 Ryder Hesjedal (Can) Health Net presented by Maxxis                0.49
10 Chris Baldwin (USA) Toyota-United Pro Cycling                         
11 Michael Olheiser (USA) Memphis Motor Works                        0.54
12 Christopher Jones (USA) Nerac Pro Cycling                         0.56
13 Cameron Wurf (Aus) Priority Health/Bissell                        0.57
14 Chris Lieto (USA) California Giant/Specialized                        
15 Mark Santurbane (USA) Team Bobs-Bicycles.com                      0.58
16 Kyle Barbary (USA) Team Spine                                     1.00
17 James Mattis (USA) California Giant/Specialized                   1.02
18 Ben Kneller (USA) Rocky Mountain Chocolate Factory                1.03
19 Matthew Johnson (USA) Team 5 Star Fish                            1.06
20 Stephen Dey (USA) DBC Elite                                       1.07
21 Jesse Moore (USA) California Giant/Specialized                    1.11
22 Trevor Connor (Can) La-Z-Boy Cycling                              1.25
23 Darren Lill (RSA) Navigators Insurance Cycling Team               1.32
24 John Eisinger (USA) Rocky Mountain Chocolate Factory              2.39
25 Ryan Trebon (USA) Kodak Gallery Sierra Nevada                     3.10
26 Matt Weyen (USA) Team Bobs-Bicycles.com                           3.45
27 Bobby Lea (USA) Toyota-United Pro Cycling                         3.50
28 Burke Swindlehurst (USA) Toyota-United Pro Cycling                    
29 Doug Ollerenshaw (USA) Health Net presented by Maxxis             3.54
30 Joey Thompson (USA) Fort Lewis College                            4.03
31 Hayden Brooks (Aus) Fiordifrutta Elite Cycling Team                   
32 Logan Hunn (USA) Team Rubicon                                     4.05
33 Erik Tonkin (USA) Kona                                            4.08
34 Lang Reynolds (USA) Axley USA.com                                 4.12
35 Philippe Abbott (Can) Ital Pasta - Transport Belmire              4.34
36 Carl Decker (USA) Giant Bicycles                                  4.39
37 Ulrich Deyoung (USA) Hagens Berman, LLP                           5.17
38 Chris Daifuku (USA) First Rate Mortgage                           5.38
39 Brad Cole (USA) Team Rio Grande                                   6.27
40 Patrick Mcglynn (USA) Team Einstein's                             6.39
41 Matt Cooke (USA) Navigators Insurance Cycling Team                8.26
42 Ian Mckissick (USA) BMC Racing                                    9.17
43 Michael Hutchinson (USA) Team Spine                               9.28
44 Morgan Schmitt (USA) Priority Health/Bissell                      9.47
45 Heath Blackgrove (USA) Toyota-United Pro Cycling                  9.54
46 Sam Johnson (USA) Hagens Berman, LLP                             10.09
47 Barry Wicks (USA) Kona                                           10.16
48 Stefano Barberi (USA) Toyota-United Pro Cycling                  11.15
49 Max Jenkins (USA) California Giant/Specialized                   12.30
50 Taylor Kneuven (USA) Team Rio Grande                             12.35
51 Andy Schultz (USA) Bear Naked/Cannondale                         13.18
52 Matthew Willinger (USA) BPG/ Montano Velo                        16.19
53 Eric Schuman (USA)                                               18.38
54 Chris Rozdilsky (USA) Fiordifrutta Elite Cycling Team            20.07
55 Omer Kem (USA) Priority Health/Bissell                           20.11
56 Chris Swan (USA) Lombardi Sports                                 20.19
57 Rolando Gonzalez(Crc) Priority Health/Bissell                    20.20
58 Bernard Vanulden (USA) Navigators Insurance Cycling Team         21.18
59 Justin Mayfield (USA) Team Bobs-Bicycles.com                     21.31
60 Michael Wolf (USA) Navigators Insurance Cycling Team             21.44
61 Christian Kearney (USA) BPG/ Montano Velo                        21.49
62 Uthman Ray Iv (USA) BPG/ Montano Velo                            22.03
63 Mitchell Trux (USA) DBC Elite                                    22.52
64 Osvaldo Olmos (USA) California Giant/Specialized                 22.58
65 Quinn Keogh (USA) Paul's Bicycle Way of Life                     23.27
66 Andrew Fischer (USA) Hagens Berman, LLP                          23.32
67 Dan Workman (USA) Team Rio Grande                                23.52
68 Brad Payne (USA) Team Rubicon                                    24.01
69 Steven Perrins (USA) Sienna Development - Goble Knee Clinic      24.15
70 Jamey Driscoll (USA) Fiordifrutta Elite Cycling Team             24.17
71 Patrick Dunaway (USA) California Giant/Specialized               24.55
72 David Rodriguez (USA) Navigators Insurance Cycling Team          25.27
73 Grant Berry (USA) Rocky Mountain Chocolate Factory               26.05
74 Andrew Kulmatiski (USA) Logan Race Club                          27.38
75 Matt Crane (USA) Health Net presented by Maxxis                  28.17
76 Roman Kilun (USA) Health Net presented by Maxxis                 34.02
77 Trevor Mays (USA) Axley USA.com                                  34.17
78 Jason Thompson (Can) Escape Velocity                             37.10
79 Aren Timmel (USA) Team Chico                                     37.22
80 Thorben Wieditz (Can) Ital Pasta - Transport Belmire             37.23
81 Jakob Macarthur (USA) Hagens Berman, LLP                         39.31
82 Eric Barlevav (USA) VRC-MSVRC-MS Society                         40.53
83 Nate Page (USA) Contender Bicycles                               40.54
84 Johnny Rondash (USA) NOW MS-Society                              41.07
85 David Richter (USA) Ital Pasta - Transport Belmire               41.11
86 Adrian Hegyvery (USA) Hagens Berman, LLP                         41.25
87 Stephen Ferris (Can) ERTC/Red bike                               41.33
88 Bruce Copeland (Can) Juventus/River Valley Cycle/Kona            41.48
89 Luke Pennington (USA) Desalvo Custom Cycles                      41.59
90 Brian Buchholz (USA) BPG/ Montano Velo                           43.34
91 Sean Mcbride (USA) BPG/ Montano Velo                             43.55
92 Alex Rock (USA) Contender Bicycles                               43.59
93 Ben Rohdes (USA) Recycled Cycles                                 44.06
94 Shawn Ongers (USA) Axley USA.com                                 44.18
95 Cory Burns (USA) Fiordifrutta Elite Cycling Team                 44.27
96 Adrien Niyonshuti (USA) TEAM RWANDA                              44.32
97 Nathan Byukusenge (USA) TEAM RWANDA                              44.51
98 Jimmy Lingwood (USA) Recycled Cycles                             49.54
99 Jesse/Andy Mendonca (USA) BPG/ Montano Velo                      54.34
100 Kirk Carlsen (USA) Team Rubicon                                 54.42
101 Devon Vigus (USA) California Giant/Specialized                  55.32
102 Brock Curry (USA) NOW MS-Society                                55.49
103 Todd Nordblom (USA) Fiordifrutta Elite Cycling Team             58.20
104 Erik Slack (USA) BYRDS                                          58.40
105 Tyler Stetson (USA) First Rate Mortgage                       1.03.22
106 Bill Reuss (USA) Owens Healthcare                             1.03.41
107 Will Rieffelmacher (USA) Fiordifrutta Elite Cycling Team      1.10.19
108 Galen Erickson (USA) Recycled Cycles                          1.14.09
109 Nick Weighall (USA) Hagens Berman, LLP                        1.22.25
110 Ian Burnett (USA) Fort Lewis College                          1.22.54
111 Jesăs Ilundăin (USA)                                          2.04.15
 
Pro women
 
1 Katharine Carroll (USA) Aaron's Pro Cycling Team                7.42.52
2 Felicia Gomez (USA) Aaron's Pro Cycling Team                       0.26
3 Katie Mactier (Aus) ValueAct Capital Cycling Team                  0.38
4 Leah Goldstein (Can) Symmetrics                                    0.43
5 Julie Beveridge (Can) Bicisport                                    0.51
6 Kristin Sanders (USA) Aaron's Pro Cycling Team                     1.02
7 Flavia Oliveira (USA) Team TIBCO                                   1.05
8 Suz Weldon (USA) Wines of Washington                               1.07
9 Jill McLaughlin (USA) Touchstone Climbing                          1.15
10 Beverley Harper (USA) Webcor Builders                             1.16
11 Maria Monica (USA) Touchstone Climbing                            1.25
12 Allison Beall (USA) Ti Cycles/Avanti Racing                       1.26
13 Carmen McNellis (USA) Aaron's Pro Cycling Team                    1.29
14 Marg Fedyna (Can) Bicycle John's Serious Cycling                  1.35
15 Sarah Barber (USA) Team-BobsBicycles.com                          1.51
16 Alice Pennington (USA) Desalvo Custom Cycles                      2.01
17 Lise Grace (USA) Wines of Washington                              2.26
18 Michelle Kiesanowski (NZl) Aaron's Pro Cycling Team               2.30
19 Kristina Seley (USA) PROMAN/paradigm                              2.32
20 Yukie Nakamura (USA) Team TIBCO                                   2.42
21 Hilary Billington (USA) Nike                                      3.31
22 Marni Hambleton (Can) Symmetrics                                  4.37
23 Jen Joynt (USA) Metromint Cycling                                 5.49
24 Sue Butler (USA) River City Bicycles                              8.09
25 Emily Van Meter (USA) Wachovia/IBC                                9.29
26 Lea Stralka (USA) Wines of Washington                            10.33
27 Teri Sheasby (USA) Bend Bike N Sport                             10.45
28 Abby Lyn Cooper (USA) PROMAN/Paradigm                            13.10
29 Kate Ligler (USA) PROMAN/Paradigm                                13.34
30 Carine Bester (USA) Bicycle John's Serious Cycling               15.47
31 Gabriela Gonzalez-Ferrat (USA) Bicycle John's Serious Cycling    16.59
32 Tricia Bailey (USA) Wines of Washington                          17.45
33 Sharon Allpress (USA) ValueAct Capital Cycling Team              18.03
34 Amy McGuire (USA) Wachovia/IBC                                   18.31
35 Holly Borowski (USA) Touchstone Climbing                         20.18
36 Nicole S Evans (USA) Team Lipton                                 20.28
37 Chellie Terry (USA) Fitzgerald's Bicycles                        21.18
38 Dana Robertson-Halter (USA) Wines of Washington                  21.29
39 Irene Beyerlein (USA) Colavita Sutter Homes                      21.42
40 Martina Patella (USA) ValueAct Capital Cycling Team              21.52
41 Hannah Banks (Aus) ValueAct Capital Cycling Team                 22.08
42 Heather Clark (USA) Bend Bike N Sport                            22.28
43 Ally Stacher (USA) Etna Brewing Co./DeSalvo Cycles               22.33
44 Jeanne Rumps (USA) Team Bobs-Bicycles.com                        25.13
45 Courtenay Brown (USA) ValueAct Capital Cycling Team              25.35
46 Katie London (USA) Team TIBCO                                    27.38
47 Jeanie Bihlmaier (USA) Wines of Washington                       35.36
48 Laura Brown (Can) Team Integrale                                 37.08
49 Jill Waskom (USA) Bend Bike N Sport                              50.00
50 Monique Hein (USA) Monstr Healthcare                             57.20
51 Carrie Eller (USA) Ti Cycles/Avanti Racing                       58.28
52 Rebecca Gross (USA) Velo Bella-Kona                            1.54.06
 
Points classification
 
Pro men
 
1 Stefano Barberi (USA) Toyota-United Pro Cycling                      20 pts
2 Burke Swindlehurst (USA) Toyota-United Pro Cycling                   13
3 Jeff Louder (USA) Health Net presented by Maxxis                     10
4 Matthew Johnson (USA) Team 5 Star Fish                                9
5 Glen Chadwick (NZl) Navigators Insurance Cycling Team                 6
6 Barry Wicks (USA) Kona                                                6
7 Ben Jacques-Maynes (USA) Priority Health/Bissell                      4
8 Chris Baldwin (USA) Toyota-United Pro Cycling                         4
9 Max Jenkins (USA) California Giant/Specialized                        4
10 Phil Zajicek (USA) Navigators Insurance Cycling Team                 3
11 Cameron Wurf (Aus) Priority Health/Bissell                           3
12 Heath Blackgrove (USA) Toyota-United Pro Cycling                     3
13 Nathan O'Neill (Aus) Health Net presented by Maxxis                  2
14 Justin England (USA) Toyota-United Pro Cycling                       1
 
Pro women
 
1 Felicia Gomez (USA) Aaron's Pro Cycling Team                         21 pts
2 Kristin Sanders (USA) Aaron's Pro Cycling Team                       12
3 Marg Fedyna (Can) Bicycle John's Serious Cycling                     10
4 Katharine Carroll (USA) Aaron's Pro Cycling Team                      9
5 Leah Goldstein (Can) Symmetrics                                       9
6 Julie Beveridge (Can) Bicisport                                       7
7 Katie Mactier (Aus) ValueAct Capital Cycling Team                     5
8 Flavia Oliveira (USA) Team TIBCO                                      3
9 Alice Pennington (USA) Desalvo Custom Cycles                          2
 
Teams classification
 
Pro men 
 
1 Health Net presented by Maxxis                                 25.01.58
2 Navigators Insurance Cycling Team                                  0.14
3 California Giant/Specialized                                       1.18
4 Toyota-United Pro Cycling                                          3.25
5 Rocky Mountain Chocolate Factory                                   4.44
6 Priority Health/Bissell                                            9.02
7 Fiordifrutta Elite Cycling Team                                   22.39
8 Team Bobs-Bicycles.com                                            24.22
9 Team Rubicon                                                      26.16
10 Hagens Berman, LLP                                               32.01
11 Team Rio Grande                                                  40.28
12 BPG/ Montano Velo                                                55.31
 
Pro women
 
1 Aaron's Pro Cycling Team                                       23.10.29
2 Wines of Washington                                               11.09
3 Touchstone Climbing                                               21.05
4 Bicycle John's Serious Cycling                                    32.28
5 ValueAct Capital Cycling Team                                     34.56