Recently on Cyclingnews.com
17th Tour du Faso - 2.5
Burkina Faso, October 29-November 9, 2003
2002 results Stage List Map Start List Past winners
Preview
Back to Burkina Faso
Photo: © ASO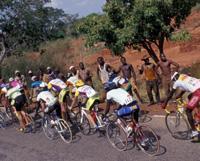 The 17th edition of the Tour du Faso (UCI 2.5) begins October 29, once again bringing serious stage racing back to Burkina Faso in Africa. In its third year under the auspices of Amaury Sport Organisation (ASO), organisers of the Tour de France, the Tour du Faso attracts an international field from Africa and Europe. Sixteen teams of six riders will contest the 2003 edition, which begins Wednesday in Ouagadougou and returns to the capital eleven stages and 1,244 kilometres later.
Morocco's Abdelati Saadoune won the 2002 Tour du Faso after leading the race from start to finish. Saadoune built his winning margin on a solo break on the first stage, and his Moroccan team ably defended the leader's jersey.
This year's edition also introduces several new elements to the race, including bonus seconds on offer for the intermediate sprints and stage finishes. Five of the stages will conclude with finishing circuits, while stages 7 and 10 will feature sections of unpaved roads up to 4.4 kilometres long. The final stage into Ouagadougou will wrap up the event after 10 laps of a 7.6km circuit.
Photography
A rider's eye view of the Tour du Faso by Francis Cerny/www.marcopolocycling.com. For a thumbnail gallery of these images click here.
The Stages
Stage 1 - October 29: Ouagadougou - Kaya, 111.5 km
Stage 2 - October 30: Kaya - Ziniaré, 70 km
Stage 3 - October 31: Kokologo - Boromo, 132.5 km
Stage 4 - November 1: Boromo - Houndé, 74 km
Stage 5 - November 2: Orodara - Bobo Dioulasso, 133 km
Rest Day - November 3: Ouagadougou
Stage 6 - November 4: Ouagadougou - Yako, 103.5 km
Stage 7 - November 5: Yako - Ouahigouya, 80 km
Stage 8 - November 6: Ouahigouya - Boussé, 128.5 km
Stage 9 - November 7: Koulbila - Tenkodogo, 149 km
Stage 10 - November 8: Tenkodogo - Fada N'Gourma, 139.5 km
Stage 11 - November 9: Kombissiri - Ouagadougou, 123 km
Start list
A.S.Fadoul                            Marco Polo Cycling Team
 
1 Saidou Rouamba (Bur)                11 Lionel Syne (Bel)
2 Karim Kabore (Bur)                  12 Kay Kermer (Ger)
3 Abdoulaye Ouedraogo (Bur)           13 Remko Kramer (Ned)
4 Saidou Tall (Bur)                   14 Kock Rutger (Ned)
5 Laurent Zongo (Bur)                 15 Maarten Tjallingii (Ned)
6 Lucien Zongo (Bur)                  16 David Washburn (USA)
 
Sifa - Peugeot                        Senegal
 
21 R-Geremie Ouedraogo (Bur)          31 Papa Amadou Diouf (Sen)
22 L-Jean Ilboudo (Bur)               32 Olivier Keita (Sen)
23 Tidiane Ouedraogo (Bur)            33 Jean Lopez (Sen)
24 Seydou Sanfo (Bur)                 34 Abdoulaye Thiam (Sen)
25 Gweswende Sawadogo (Bur)           35 Ali Sidi Thiam (Sen)
26 Ablasse Tapsoba (Bur)              36 Elhadji Malick Thiam (Sen)
 
GMCI 38                               Sofitex
 
41 Alexandre Lecocq (Fra)             51 Mahamadi Sawadogo (Bur)
42 Brice Bouniot (Fra)                52 Michel Bilgo (Bur)
43 Jordane Chazal (Fra)               53 Issaka Kabore (Bur)
44 Thierry David (Fra)                54 T-Desire Kabore (Bur)
45 Stephane Paol (Fra)                55 Houdo Sawadogo (Bur)
46 Thibault Richard (Fra)             56 Jean Tonde (Bur)
 
Mali                                  Aliplast
 
61 Adama Bagayoko (Mli)               71 Gunther Cuylits (Bel)
62 Siaka Diallo (Mli)                 72 Joost Declerk (Bel)
63 Hamidou Diarra (Mli)               73 Karel Pattyn (Bel)
64 Siaka Diarra (Mli)                 74 Peter Schoepen (Bel)
65 Adama Togola (Mli)                 75 Steven Thys (Bel)
66 Salia Togola (Mli)                 76 Peter Van Agtmaal (Ned)
 
Cameroon                              Alsace
 
81 Pascal Bouba (Cam)                 91 Thomas Dietsch (Fra)
82 Joseph Sanda (Cam)                 92 Jerome Amann (Fra)
83 Martin Som (Cam)                   93 Fabrice Bretel (Fra)
84 Martinien Tega (Cam)               94 Michel Kauffmann (Fra)
85 Sadrac Teguimaha (Cam)             95 Jonathan Kern (Fra)
86 Damien Tekou (Cam)
 
Normandie                             Benin
 
111 Guillaume Boisgontier (Fra)       121 Eric Ahouandjinou (Ben)
112 Cyrille Cosnefroy (Fra)           122 Augustin Amoussouvi (Ben)
113 Ludovic Lemarechal (Fra)          123 Jean Claude Badjagoume (Ben)
114 Gabriel Margrit (Fra)             124 Paul Dona (Ben)
115 Jerome Pamart (Fra)               125 Eugène Hansinon (Ben)
116 Arnaud Vettier (Fra)              126 Aldo Kpanti (Ben)
 
Niger                                 Togo
 
131 Ibrahim Abdoulaye Soumma (Nig)    141 Didier Agbefu (Tog)
132 Idrissa Ouedraogo (Bur)           142 Attivi Egue (Tog)
133 Adamou Gabo (Nig)                 143 Kowouvi Dossouvi (Tog)
134 Amadou Harouna (Nig)              144 Komi Kondoh (Tog)
135 Zakaria Dia Abdoulsalam (Nig)     145 Kossi Nossi (Tog)
136 Yahaya Gado (Nig)

Past winners
2002 Abdelati Saadoune (Mar) Morrocan National Team
2001 Joost Legtenberg (Ned) Marco Polo Cycling Team
2000 Mikhaylo Khalilov (Ukr)
1999 Saïd Mosry Said (Egy)
1998 Jacques Castan (Fra)
1997 Ernest Zongo (Bfa)
1996 Guido Fulst (Ger)
1995 Ernest Zongo (Bfa)
1994 Karim Yameogo (Bfa)
1993 Maurice Sawadogo (Bfa)
1992 Philippe Lepeurien (Fra)
1991 Saidou Rouamba (Bfa)
1990 Aimé Zongo (Bfa)
1989 Maxime Ouedraogo (Bfa)
1988 Mady Kaboré (Bfa)
1987 Igor Luchinko (Rus)

Past winners by Mario Stiehl, www.world-of-cycling.com