17th Tour du Faso - 2.5
Burkina Faso, October 29-November 9, 2003
Main Page Results Previous Stage Next Stage
Stage 7 - November 5: Yako - Ouahigouya, 80 km
Tjallingii opens the gap
By Chris Henry
Sandy finishing circuits new this year
Photo ©: A.S.O.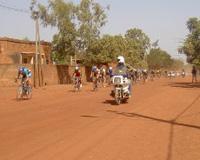 On what should have been a fairly straight-forward stage today, yellow jersey wearer Maarten Tjallingii (Marco Polo Cycling Team) extended his lead in the general classification ahead of Frenchman Thierry David (GMCI 38). Another short stage of just 80km, stage 7 took the peloton from Yako to Ouahigouya, and introduced the Europeans to a typically African finishing circuit featuring an unpaved dirt track. Jonathan Kern, third the day before, was the winner of the day, but Tjallingii showed that he is determined to claim the overall victory.
Tjallingii was clearly on another good day Wednesday, and spent the majority of the stage on the attack. He naturally was marked by his closest rival, Thierry David, who at daybreak sat just 1'24 down in the general classification. The two were joined by several others, but they were the focus of attention as they sped towards Ouahigouya.
With valuable bonus seconds on offer at three intermediate sprints, their aggressive riding came as no surprise. David took the first sprint, but Tjallingii took his own revenge shortly after, rewarding himself on his 26th birthday with the consolidation of his overall lead and taking over once again in the pink jersey competition. His Marco Polo teammate Kay Kermer would hold on to the green jersey by day's end.
King Kern
Photo ©: A.S.O.

Into the 3.5km finishing circuit in Ouahigouya, Tjallingii kept the pressure on and attacked once more, this time catching David unaware. Somewhat inexplicably, second place overall David was caught out at the back of the leading group, and was unable to follow the acceleration sparked by the Dutchman. Tjallingii pulled three riders with him: Jonathan Kern (Alsace), Olivier Keita (Senegal), and Saidou Tall (A.S. Fadoul). David was trapped behind, and although he initially thought Tjallingii's last attack couldn't last, he soon realized his mistake.
From then on until the finish, the riding was fast but steady, and the lead group of four led a pursuit match against David's chasing group of six. Kern took the stage win ahead of Tjallingii, who moved to nearly three minutes clear on David in the general classification.
The sandy track in Ouahigouya provided an exotic finish for the Europeans, and caused neither crashes nor punctures, giving the riders a pleasant memory of the unusual finish. Saturday's penultimate stage finish in Fada N'Gourma will give the peloton another chance to test speed and traction with a final 3.6km section of track.
Photography
Images by Denis Descamps/A.S.O.
Results
1 Jonathan Kern (Fra) Alsace                              1.50.47
2 Maarten Tjallingii (Ned) Marco Polo Cycling Team
3 Olivier Keita (Sen) Senegal                                0.02
4 Saidou Tall (Bur) A.S.Fadoul                               0.03
5 Kay Kermer (Ger) Marco Polo Cycling Team                   1.26
6 Seydou Sanfo (Bur) Sifa - Peugeot
7 R-Geremie Ouedraogo (Bur) Sifa - Peugeot
8 Brice Bouniot (Fra) GMCI 38
9 Gunther Cuylits (Bel) Aliplast
10 Thierry David (Fra) GMCI 38
11 Thomas Dietsch (Fra) Alsace
12 Saidou Rouamba (Bur) A.S.Fadoul
13 Alexandre Lecocq (Fra) GMCI 38
14 Peter Van Agtmaal (Ned) Aliplast
15 Elhadji Malick Thiam (Sen) Senegal
16 Martinien Tega (Cam) Cameroon
17 Mahamadi Sawadogo (Bur) Sofitex
18 Remko Kramer (Ned) Marco Polo Cycling Team                3.35
19 Michel Kauffmann (Fra) Alsace
20 Laurent Zongo (Bur) A.S.Fadoul
21 Karim Kabore (Bur) A.S.Fadoul
22 Sadrac Teguimaha (Cam) Cameroon
23 L-Jean Ilboudo (Bur) Sifa - Peugeot
24 Martin Som (Cam) Cameroon
25 Tidiane Ouedraogo (Bur) Sifa - Peugeot
26 Cyrille Cosnefroy (Fra) Normandie
27 Guillaume Boisgontier (Fra) Normandie
28 Joost Declerk (Bel) Aliplast
29 Joseph Sanda (Cam) Cameroon
30 Karel Pattyn (Bel) Aliplast
31 Jordane Chazal (Fra) GMCI 38
32 Ibrahim Abdoulaye Soumma (Nig) Niger
33 Kossi Nossi (Tog) Togo
34 Pascal Bouba (Cam) Cameroon
35 Abdoulaye Ouedraogo (Bur) A.S.Fadoul
36 Gweswende Sawadogo (Bur) Sifa - Peugeot
37 Thibault Richard (Fra) GMCI 38
38 Kock Rutger (Ned) Marco Polo Cycling Team
39 Peter Schoepen (Bel) Aliplast
40 Michel Bilgo (Bur) Sofitex
41 Ali Sidi Thiam (Sen) Senegal
42 Jean Tonde (Bur) Sofitex
43 Lucien Zongo (Bur) A.S.Fadoul
44 Jerome Pamart (Fra) Normandie
45 Damien Tekou (Cam) Cameroon
46 David Washburn (USA) Marco Polo Cycling Team
47 Ablasse Tapsoba (Bur) Sifa - Peugeot
48 Zakaria Dia Abdoulsalam (Nig) Niger
49 T-Desire Kabore (Bur) Sofitex
50 Stephane Paol (Fra) GMCI 38
51 Issaka Kabore (Bur) Sofitex                               3.55
52 Idrissa Ouedraogo (Bur) Niger                             6.18
53 Steven Thys (Bel) Aliplast                                7.19
54 Attivi Egue (Tog) Togo
55 Didier Agbefu (Tog) Togo
56 Komi Kondoh (Tog) Togo
57 Jean Claude Badjagoume (Ben) Benin
58 Adamou Gabo (Nig) Niger
59 Houdo Sawadogo (Bur) Sofitex
60 Jean Lopez (Sen) Senegal                                  8.37
61 Hamidou Diarra (Mli) Mali
62 EugËne Hansinon (Ben) Benin                               9.49
63 Papa Amadou Diouf (Sen) Senegal                          11.06
64 Adama Bagayoko (Mli) Mali                                12.07
65 Paul Dona (Ben) Benin                                    14.43
66 Abdoulaye Thiam (Sen) Senegal                            17.34
67 Adama Togola (Mli) Mali                                  17.35
68 Augustin Amoussouvi (Ben) Benin                          21.26
69 Kowouvi Dossouvi (Tog) Togo
70 Eric Ahouandjinou (Ben) Benin
71 Siaka Diallo (Mli) Mali                                  30.47
72 Siaka Diarra (Mli) Mali
73 Salia Togola (Mli) Mali
DNF Jerome Amann (Fra) Alsace
 
Points
 
1 Jonathan Kern (Fra) Alsace                                   30 Pts
2 Maarten Tjallingii (Ned) Marco Polo Cycling Team             27
3 Olivier Keita (Sen) Senegal                                  25
4 Saidou Tall (Bur) A.S.Fadoul                                 23
5 Kay Kermer (Ger) Marco Polo Cycling Team                     21
6 Seydou Sanfo (Bur) Sifa - Peugeot                            19
7 R-Geremie Ouedraogo (Bur) Sifa - Peugeot                     17
8 Brice Bouniot (Fra) GMCI 38                                  15
9 Gunther Cuylits (Bel) Aliplast                               13
10 Thierry David (Fra) GMCI 38                                 11
11 Thomas Dietsch (Fra) Alsace                                 10
12 Saidou Rouamba (Bur) A.S.Fadoul                              9
13 Alexandre Lecocq (Fra) GMCI 38                               8
14 Peter Van Agtmaal (Ned) Aliplast                             7
15 Elhadji Malick Thiam (Sen) Senegal                           6
16 Martinien Tega (Cam) Cameroon                                5
17 Mahamadi Sawadogo (Bur) Sofitex                              4
18 Remko Kramer (Ned) Marco Polo Cycling Team                   3
19 Michel Kauffmann (Fra) Alsace                                2
20 Laurent Zongo (Bur) A.S.Fadoul                               1
 
Sprints
 
Gourcy, km 29.5
 
1 Thierry David (Fra) GMCI 38                                   3 Pts
2 Maarten Tjallingii (Ned) Marco Polo Cycling Team              2 
3 Kay Kermer (Ger) Marco Polo Cycling Team                      1 
 
Billiga, km 53.9
 
1 Gunther Cuylits (Bel) Aliplast                                3 Pts
2 Maarten Tjallingii (Ned) Marco Polo Cycling Team              2 
3 Thierry David (Fra) GMCI 38                                   1 
 
First passage of circuit, km 73.0
 
1 Maarten Tjallingii (Ned) Marco Polo Cycling Team              3 Pts
2 Saidou Tall (Bur) A.S.Fadoul                                  2 
3 Olivier Keita (Sen) Senegal                                   1 
 
Teams
 
1 Marco Polo Cycling Team                                 5.37.22
2 GMCI 38
3 Alsace
4 Senegal                                                    0.02
5 A.S.Fadoul                                                 0.03
6 Sifa - Peugeot                                             1.26
7 Aliplast
8 Cameroon                                                   3.35
9 Sofitex
10 Normandie                                                 5.44
11 Niger                                                     8.27
12 Togo                                                     13.12
13 Benin                                                    26.50
14 Mali                                                     33.18
 
General classification after stage 7
 
1 Maarten Tjallingii (Ned) Marco Polo Cycling Team       17.18.32
2 Thierry David (Fra) GMCI 38                                2.59
3 Gunther Cuylits (Bel) Aliplast                             3.30
4 Kay Kermer (Ger) Marco Polo Cycling Team                   3.41
5 Alexandre Lecocq (Fra) GMCI 38                             3.53
6 Seydou Sanfo (Bur) Sifa - Peugeot                          4.27
7 Mahamadi Sawadogo (Bur) Sofitex                            4.36
8 Jonathan Kern (Fra) Alsace                                 5.09
9 Martinien Tega (Cam) Cameroon                              5.13
10 Saidou Rouamba (Bur) A.S.Fadoul                           5.32
11 Karel Pattyn (Bel) Aliplast                               5.34
12 Olivier Keita (Sen) Senegal                               5.42
13 Brice Bouniot (Fra) GMCI 38                               6.00
14 Gweswende Sawadogo (Bur) Sifa - Peugeot                   6.14
15 Thomas Dietsch (Fra) Alsace                               6.17
16 Elhadji Malick Thiam (Sen) Senegal                        6.44
17 Laurent Zongo (Bur) A.S.Fadoul                            6.45
18 Jordane Chazal (Fra) GMCI 38                              6.51
19 Kossi Nossi (Tog) Togo                                    6.55
20 R-Geremie Ouedraogo (Bur) Sifa - Peugeot                  6.58
21 Saidou Tall (Bur) A.S.Fadoul                              7.14
22 Pascal Bouba (Cam) Cameroon                               7.39
23 L-Jean Ilboudo (Bur) Sifa - Peugeot                       7.43
24 Lucien Zongo (Bur) A.S.Fadoul                             7.53
25 Jerome Pamart (Fra) Normandie                             8.43
26 Cyrille Cosnefroy (Fra) Normandie                         8.46
27 Joost Declerk (Bel) Aliplast                              9.00
28 Stephane Paol (Fra) GMCI 38                               9.15
29 Steven Thys (Bel) Aliplast                                9.18
30 Remko Kramer (Ned) Marco Polo Cycling Team                9.22
31 Sadrac Teguimaha (Cam) Cameroon                           9.28
32 Karim Kabore (Bur) A.S.Fadoul                             9.33
33 Thibault Richard (Fra) GMCI 38                           10.53
34 Damien Tekou (Cam) Cameroon                              11.11
35 David Washburn (USA) Marco Polo Cycling Team             12.01
36 Jean Tonde (Bur) Sofitex                                 14.32
37 Joseph Sanda (Cam) Cameroon                              14.33
38 Ibrahim Abdoulaye Soumma (Nig) Niger                     14.42
39 Abdoulaye Ouedraogo (Bur) A.S.Fadoul                     14.56
40 Peter Schoepen (Bel) Aliplast                            15.22
41 Martin Som (Cam) Cameroon                                16.02
42 T-Desire Kabore (Bur) Sofitex                            16.34
43 Michel Kauffmann (Fra) Alsace                            19.01
44 Tidiane Ouedraogo (Bur) Sifa - Peugeot                   20.19
45 Michel Bilgo (Bur) Sofitex                               21.21
46 Peter Van Agtmaal (Ned) Aliplast                         22.24
47 Komi Kondoh (Tog) Togo                                   23.27
48 Ablasse Tapsoba (Bur) Sifa - Peugeot                     24.37
49 Guillaume Boisgontier (Fra) Normandie                    25.21
50 Idrissa Ouedraogo (Bur) Niger                            25.38
51 Kowouvi Dossouvi (Tog) Togo                              34.27
52 Papa Amadou Diouf (Sen) Senegal                          35.54
53 Kock Rutger (Ned) Marco Polo Cycling Team                37.56
54 Attivi Egue (Tog) Togo                                   48.20
55 Adamou Gabo (Nig) Niger                                  49.16
56 Issaka Kabore (Bur) Sofitex                              54.14
57 Adama Togola (Mli) Mali                                  55.41
58 Zakaria Dia Abdoulsalam (Nig) Niger                      56.05
59 Eric Ahouandjinou (Ben) Benin                          1.02.26
60 Siaka Diarra (Mli) Mali                                1.03.14
61 EugËne Hansinon (Ben) Benin                            1.03.57
62 Salia Togola (Mli) Mali                                1.10.45
63 Jean Claude Badjagoume (Ben) Benin                     1.18.31
64 Didier Agbefu (Tog) Togo                               1.20.55
65 Paul Dona (Ben) Benin                                  1.23.55
66 Houdo Sawadogo (Bur) Sofitex                           1.36.19
67 Ali Sidi Thiam (Sen) Senegal                           1.40.15
68 Abdoulaye Thiam (Sen) Senegal                          1.42.02
69 Siaka Diallo (Mli) Mali                                1.45.19
70 Augustin Amoussouvi (Ben) Benin                        1.46.11
71 Adama Bagayoko (Mli) Mali                              1.46.24
72 Hamidou Diarra (Mli) Mali                              1.47.15
73 Jean Lopez (Sen) Senegal                               1.47.16
 
Points classification
 
1 Kay Kermer (Ger) Marco Polo Cycling Team                    133 Pts
2 Maarten Tjallingii (Ned) Marco Polo Cycling Team             97
3 Seydou Sanfo (Bur) Sifa - Peugeot                            97
4 Brice Bouniot (Fra) GMCI 38                                  93
5 Thierry David (Fra) GMCI 38                                  91
6 Karel Pattyn (Bel) Aliplast                                  80
7 Jonathan Kern (Fra) Alsace                                   77
8 Laurent Zongo (Bur) A.S.Fadoul                               75
9 Gunther Cuylits (Bel) Aliplast                               70
10 Gweswende Sawadogo (Bur) Sifa - Peugeot                     65
11 Olivier Keita (Sen) Senegal                                 58
12 Saidou Rouamba (Bur) A.S.Fadoul                             55
13 Alexandre Lecocq (Fra) GMCI 38                              46
14 Martinien Tega (Cam) Cameroon                               45
15 Steven Thys (Bel) Aliplast                                  44
16 R-Geremie Ouedraogo (Bur) Sifa - Peugeot                    41
17 Peter Van Agtmaal (Ned) Aliplast                            37
18 Mahamadi Sawadogo (Bur) Sofitex                             36
19 L-Jean Ilboudo (Bur) Sifa - Peugeot                         36
20 Cyrille Cosnefroy (Fra) Normandie                           30
21 Karim Kabore (Bur) A.S.Fadoul                               29
22 Michel Kauffmann (Fra) Alsace                               29
23 Elhadji Malick Thiam (Sen) Senegal                          28
24 Sadrac Teguimaha (Cam) Cameroon                             27
25 Kossi Nossi (Tog) Togo                                      24
26 Thomas Dietsch (Fra) Alsace                                 24
27 Saidou Tall (Bur) A.S.Fadoul                                23
28 T-Desire Kabore (Bur) Sofitex                               21
29 Lucien Zongo (Bur) A.S.Fadoul                               21
30 Joseph Sanda (Cam) Cameroon                                 19
31 Pascal Bouba (Cam) Cameroon                                 19
32 Jordane Chazal (Fra) GMCI 38                                19
33 Guillaume Boisgontier (Fra) Normandie                       16
34 Michel Bilgo (Bur) Sofitex                                  15
35 Remko Kramer (Ned) Marco Polo Cycling Team                  15
36 Eric Ahouandjinou (Ben) Benin                               13
37 Joost Declerk (Bel) Aliplast                                11
38 Kock Rutger (Ned) Marco Polo Cycling Team                   11
39 Peter Schoepen (Bel) Aliplast                               10
40 Stephane Paol (Fra) GMCI 38                                 10
41 Abdoulaye Thiam (Sen) Senegal                                6
42 Damien Tekou (Cam) Cameroon                                  5
43 Martin Som (Cam) Cameroon                                    5
44 Komi Kondoh (Tog) Togo                                       3
45 Jerome Pamart (Fra) Normandie                                3
 
Teams classification
 
1 GMCI 38                                                52.01.54
2 Aliplast                                                   1.53
3 Marco Polo Cycling Team                                    5.36
4 A.S.Fadoul                                                 8.14
5 Sifa - Peugeot                                             9.20
6 Alsace                                                     9.53
7 Cameroon                                                  13.05
8 Senegal                                                   17.21
9 Normandie                                                 21.07
10 Sofitex                                                  24.19
11 Togo                                                     35.24
12 Niger                                                    46.41
13 Mali                                                   1.38.50
14 Benin                                                  1.52.45