Recently on Cyclingnews.com
17th Tour du Faso - 2.5
Burkina Faso, October 29-November 9, 2003
Main Page Results Previous Stage Next Stage
Stage 9 - November 7: Koulbila - Tenkodogo, 149 km
Twice is nice for Van Agtmaal
By Chris Henry
The fourteen that got away
Photo ©: A.S.O.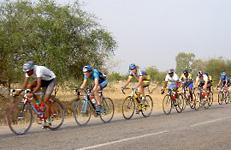 Stage 5 winner Peter Van Agtmaal (Aliplast) found new success on the road today, claiming the day's victory in the ninth stage of the Tour du Faso. Stage wins are the name of the game, as no rider has shown himself capable of mounting a serious threat to the yellow jersey of Maarten Tjallingii (Marco Polo Cycling Team). The longest stage of the 11 stage tour, Friday's race took the peloton 149 kilometres from Koulbila to Tenkodogo. Sixty nine riders took the start, a sign of relatively modest attrition since the first stage began with 82 starters a week and a half ago.
Today's stage was marked by a day-long break that went the distance, as fourteen riders broke clear in the early kilometres and never looked back. In the move were many of the race's usual suspects, including Van Agtmaal, Saidou Tall, Laurent and Lucien Zongo (A.S. Fadoul), Remko Kramer (Marco Polo), Guillaume Boisgontier (Normandie), Michel Kauffmann (Alsace), Ali Sidi Thiam (Senegal), Stéphane Paol (GMCI 38), R. Geremie Ouedraogo and Gweswende Sawadogo (Sifa-Peugeot), and the Cameroon trio of Martinien Tega, Joseph Sanda, and Pascal Bouba.
Eyes on the road...
Photo ©: A.S.O.

With three riders each from A.S. Fadoul and Cameroon, not to mention Sifa-Peugeot's Sawadogo and Ouedraogo, the break was a well-oiled machine and perfectly capable to keeping the peloton at bay. Race leader Tjallingii had his teammate Kramer in the move, though any sign of danger would have left him more vulnerable having lost three of his teammates from the race.
So it went, as the leaders steadily built an advantage which reached its height (3'30) late in the stage with only 35km to race. The intermediate sprints were won by Kramer, Boisgontier and Laurent Zongo, indicating that no one rider was the dominant sprinter of the group. Despite the presence of his teammate Kramer in the lead group, Marco Polo's yellow jersey Tjallingii nonetheless took his usual responsibilities in setting the pace in the main field to keep the break's advantage in check.
All smiles, Aliplast
Photo ©: A.S.O.

Still hungry for more success, Marco Polo made another bid for a stage win as Kramer attacked out of the final corner in Tenkodogo. The rest of the break was disorganized behind as riders began to tire from the day's efforts, and Kramer forged ahead with his bold move. He had one chance, and it almost worked, but a flying Van Agtmaal blew by his compatriot Kramer in the final metres to take the win with stage 6 winner Laurent Zongo hot on his heels but unable to pass the Dutchman. France's Boisgontier rounded out the day's podium in third.
Photography
Images by Nana Aboubacar/A.S.O.
Results
1 Peter Van Agtmaal (Ned) Aliplast                        3.26.17
2 Laurent Zongo (Bur) A.S.Fadoul
3 Guillaume Boisgontier (Fra) Normandie
4 Remko Kramer (Ned) Marco Polo Cycling Team
5 Michel Kauffmann (Fra) Alsace
6 R-Geremie Ouedraogo (Bur) Sifa - Peugeot                   0.06
7 Martinien Tega (Cam) Cameroon
8 Joseph Sanda (Cam) Cameroon
9 Lucien Zongo (Bur) A.S.Fadoul                              0.09
10 Stephane Paol (Fra) GMCI 38
11 Gweswende Sawadogo (Bur) Sifa - Peugeot                   0.11
12 Ali Sidi Thiam (Sen) Senegal                              0.15
13 Saidou Tall (Bur) A.S.Fadoul
14 Pascal Bouba (Cam) Cameroon                               0.24
15 Seydou Sanfo (Bur) Sifa - Peugeot                         1.38
16 Kay Kermer (Ger) Marco Polo Cycling Team
17 Saidou Rouamba (Bur) A.S.Fadoul
18 Olivier Keita (Sen) Senegal
19 Brice Bouniot (Fra) GMCI 38
20 Tidiane Ouedraogo (Bur) Sifa - Peugeot
21 Thomas Dietsch (Fra) Alsace
22 Cyrille Cosnefroy (Fra) Normandie
23 Joost Declerk (Bel) Aliplast
24 Karim Kabore (Bur) A.S.Fadoul
25 Mahamadi Sawadogo (Bur) Sofitex
26 Sadrac Teguimaha (Cam) Cameroon
27 Komi Kondoh (Tog) Togo
28 Attivi Egue (Tog) Togo
29 Gunther Cuylits (Bel) Aliplast
30 Maarten Tjallingii (Ned) Marco Polo Cycling Team
31 Damien Tekou (Cam) Cameroon
32 Kossi Nossi (Tog) Togo
33 Adama Bagayoko (Mli) Mali
34 Adama Togola (Mli) Mali
35 Elhadji Malick Thiam (Sen) Senegal
36 Kowouvi Dossouvi (Tog) Togo
37 Adamou Gabo (Nig) Niger
38 Idrissa Ouedraogo (Bur) Niger
39 Salia Togola (Mli) Mali
40 Martin Som (Cam) Cameroon
41 Thierry David (Fra) GMCI 38
42 Peter Schoepen (Bel) Aliplast
43 Jonathan Kern (Fra) Alsace
44 T-Desire Kabore (Bur) Sofitex
45 Jordane Chazal (Fra) GMCI 38
46 EugĖne Hansinon (Ben) Benin
47 Jerome Pamart (Fra) Normandie
48 Michel Bilgo (Bur) Sofitex
49 Ibrahim Abdoulaye Soumma (Nig) Niger
50 Abdoulaye Ouedraogo (Bur) A.S.Fadoul
51 Eric Ahouandjinou (Ben) Benin
52 Siaka Diallo (Mli) Mali
53 Hamidou Diarra (Mli) Mali
54 Alexandre Lecocq (Fra) GMCI 38
55 L-Jean Ilboudo (Bur) Sifa - Peugeot
56 Zakaria Dia Abdoulsalam (Nig) Niger
57 Houdo Sawadogo (Bur) Sofitex
58 Ablasse Tapsoba (Bur) Sifa - Peugeot
59 Jean Claude Badjagoume (Ben) Benin
60 Paul Dona (Ben) Benin                                     2.27
61 Jean Tonde (Bur) Sofitex                                  1.38
62 Karel Pattyn (Bel) Aliplast
63 Issaka Kabore (Bur) Sofitex                               6.12
64 Augustin Amoussouvi (Ben) Benin                          26.46
65 Siaka Diarra (Mli) Mali
66 Didier Agbefu (Tog) Togo                                 29.02
67 Papa Amadou Diouf (Sen) Senegal
DNF Jean Lopez (Sen) Senegal
DNF Steven Thys (Bel) Aliplast
 
Points
 
1 Peter Van Agtmaal (Ned) Aliplast                             30 Pts
2 Laurent Zongo (Bur) A.S.Fadoul                               27
3 Guillaume Boisgontier (Fra) Normandie                        25
4 Remko Kramer (Ned) Marco Polo Cycling Team                   23
5 Michel Kauffmann (Fra) Alsace                                21
6 R-Geremie Ouedraogo (Bur) Sifa - Peugeot                     19
7 Martinien Tega (Cam) Cameroon                                17
8 Joseph Sanda (Cam) Cameroon                                  15
9 Lucien Zongo (Bur) A.S.Fadoul                                13
10 Stephane Paol (Fra) GMCI 38                                 11
11 Gweswende Sawadogo (Bur) Sifa - Peugeot                     10
12 Ali Sidi Thiam (Sen) Senegal                                 9
13 Saidou Tall (Bur) A.S.Fadoul                                 8
14 Pascal Bouba (Cam) Cameroon                                  7
15 Seydou Sanfo (Bur) Sifa - Peugeot                            6
16 Kay Kermer (Ger) Marco Polo Cycling Team                     5
17 Saidou Rouamba (Bur) A.S.Fadoul                              4
18 Olivier Keita (Sen) Senegal                                  3
19 Brice Bouniot (Fra) GMCI 38                                  2
20 Tidiane Ouedraogo (Bur) Sifa - Peugeot                       1
 
Sprints
 
Mogtedo, km 39.70
 
1 Remko Kramer (Ned) Marco Polo Cycling Team                    3 Pts
2 Guillaume Boisgontier (Fra) Normandie                         2
3 Martinien Tega (Cam) Cameroon                                 1
 
Zorgho, km 65.00
 
1 Guillaume Boisgontier (Fra) Normandie                         3 Pts
2 R-Geremie Ouedraogo (Bur) Sifa - Peugeot                      2
3 Martinien Tega (Cam) Cameroon                                 1
 
Koupela, km 98.40
 
1 Laurent Zongo (Bur) A.S.Fadoul                                3 Pts
2 Guillaume Boisgontier (Fra) Normandie                         2
3 Michel Kauffmann (Fra) Alsace                                 1
 
Teams
 
1 A.S.Fadoul                                             10.19.15
2 Cameroon                                                   0.12
3 Sifa - Peugeot                                             1.31
4 Marco Polo Cycling Team                                    2.52
5 Aliplast
6 Alsace
7 Normandie
8 GMCI 38                                                    3.01
9 Senegal                                                    3.07
10 Togo                                                      4.30
11 Mali
12 Sofitex
13 Niger
14 Benin
 
General classification after stage 9
 
1 Maarten Tjallingii (Ned) Marco Polo Cycling Team       24.06.46
2 Thierry David (Fra) GMCI 38                                2.59
3 Gunther Cuylits (Bel) Aliplast                             3.12
4 Kay Kermer (Ger) Marco Polo Cycling Team                   3.16
5 Martinien Tega (Cam) Cameroon                              3.39
6 Alexandre Lecocq (Fra) GMCI 38                             3.53
7 Mahamadi Sawadogo (Bur) Sofitex                            4.19
8 Seydou Sanfo (Bur) Sifa - Peugeot                          4.27
9 Gweswende Sawadogo (Bur) Sifa - Peugeot                    4.47
10 Laurent Zongo (Bur) A.S.Fadoul                            4.58
11 Jonathan Kern (Fra) Alsace                                5.09
12 R-Geremie Ouedraogo (Bur) Sifa - Peugeot                  5.24
13 Brice Bouniot (Fra) GMCI 38                               5.32
14 Saidou Rouamba (Bur) A.S.Fadoul
15 Olivier Keita (Sen) Senegal                               5.42
16 Saidou Tall (Bur) A.S.Fadoul                              5.51
17 Thomas Dietsch (Fra) Alsace                               6.17
18 Lucien Zongo (Bur) A.S.Fadoul                             6.18
19 Pascal Bouba (Cam) Cameroon                               6.25
20 Elhadji Malick Thiam (Sen) Senegal                        6.44
21 Jordane Chazal (Fra) GMCI 38                              6.51
22 Remko Kramer (Ned) Marco Polo Cycling Team                7.41
23 L-Jean Ilboudo (Bur) Sifa - Peugeot                       7.43
24 Stephane Paol (Fra) GMCI 38                               7.46
25 Cyrille Cosnefroy (Fra) Normandie                         8.46
26 Joost Declerk (Bel) Aliplast                              9.00
27 Sadrac Teguimaha (Cam) Cameroon                           9.22
28 Karim Kabore (Bur) A.S.Fadoul                             9.33
29 Kossi Nossi (Tog) Togo                                   10.36
30 Damien Tekou (Cam) Cameroon                              11.17
31 Karel Pattyn (Bel) Aliplast                              11.43
32 Joseph Sanda (Cam) Cameroon                              13.01
33 Jerome Pamart (Fra) Normandie                            13.41
34 Jean Tonde (Bur) Sofitex                                 14.32
35 Abdoulaye Ouedraogo (Bur) A.S.Fadoul                     14.56
36 Peter Schoepen (Bel) Aliplast                            15.22
37 Ibrahim Abdoulaye Soumma (Nig) Niger                     15.23
38 Martin Som (Cam) Cameroon                                16.02
39 T-Desire Kabore (Bur) Sofitex                            16.34
40 Michel Kauffmann (Fra) Alsace                            17.22
41 Tidiane Ouedraogo (Bur) Sifa - Peugeot                   20.19
42 Peter Van Agtmaal (Ned) Aliplast                         20.36
43 Michel Bilgo (Bur) Sofitex                               21.21
44 Komi Kondoh (Tog) Togo                                   23.27
45 Guillaume Boisgontier (Fra) Normandie                    23.32
46 Ablasse Tapsoba (Bur) Sifa - Peugeot                     24.37
47 Idrissa Ouedraogo (Bur) Niger                            25.38
48 Kowouvi Dossouvi (Tog) Togo                              34.27
49 Adamou Gabo (Nig) Niger                                  49.16
50 Adama Togola (Mli) Mali                                  55.41
51 Zakaria Dia Abdoulsalam (Nig) Niger                      56.05
52 Issaka Kabore (Bur) Sofitex                              58.48
53 Siaka Diarra (Mli) Mali                                1.03.14
54 Eric Ahouandjinou (Ben) Benin                          1.03.34
55 EugĖne Hansinon (Ben) Benin                            1.03.57
56 Salia Togola (Mli) Mali                                1.10.45
57 Jean Claude Badjagoume (Ben) Benin                     1.19.39
58 Papa Amadou Diouf (Sen) Senegal                        1.31.10
59 Ali Sidi Thiam (Sen) Senegal                           1.38.52
60 Attivi Egue (Tog) Togo                                 1.40.15
61 Houdo Sawadogo (Bur) Sofitex                           1.40.42
62 Adama Bagayoko (Mli) Mali                              1.46.24
63 Hamidou Diarra (Mli) Mali                              1.47.15
64 Didier Agbefu (Tog) Togo                               1.49.27
65 Siaka Diallo (Mli) Mali                                2.13.07
66 Paul Dona (Ben) Benin                                  2.15.48
67 Augustin Amoussouvi (Ben) Benin                        2.39.07
 
Points classification
 
1 Kay Kermer (Ger) Marco Polo Cycling Team                    165 Pts
2 Brice Bouniot (Fra) GMCI 38                                 125
3 Seydou Sanfo (Bur) Sifa - Peugeot                           118
4 Laurent Zongo (Bur) A.S.Fadoul                              113
5 Maarten Tjallingii (Ned) Marco Polo Cycling Team             97
6 Gunther Cuylits (Bel) Aliplast                               95
7 Thierry David (Fra) GMCI 38                                  91
8 Jonathan Kern (Fra) Alsace                                   90
9 Karel Pattyn (Bel) Aliplast                                  80
10 Gweswende Sawadogo (Bur) Sifa - Peugeot                     75
11 Olivier Keita (Sen) Senegal                                 70
12 R-Geremie Ouedraogo (Bur) Sifa - Peugeot                    68
13 Peter Van Agtmaal (Ned) Aliplast                            67
14 Martinien Tega (Cam) Cameroon                               62
15 Mahamadi Sawadogo (Bur) Sofitex                             59
16 Saidou Rouamba (Bur) A.S.Fadoul                             59
17 Guillaume Boisgontier (Fra) Normandie                       58
18 Michel Kauffmann (Fra) Alsace                               57
19 Lucien Zongo (Bur) A.S.Fadoul                               55
20 Alexandre Lecocq (Fra) GMCI 38                              46
21 Sadrac Teguimaha (Cam) Cameroon                             46
22 Remko Kramer (Ned) Marco Polo Cycling Team                  38
23 L-Jean Ilboudo (Bur) Sifa - Peugeot                         36
24 Karim Kabore (Bur) A.S.Fadoul                               34
25 Joseph Sanda (Cam) Cameroon                                 34
26 Cyrille Cosnefroy (Fra) Normandie                           34
27 Saidou Tall (Bur) A.S.Fadoul                                31
28 Elhadji Malick Thiam (Sen) Senegal                          28
29 Pascal Bouba (Cam) Cameroon                                 26
30 Kossi Nossi (Tog) Togo                                      24
31 Thomas Dietsch (Fra) Alsace                                 24
32 T-Desire Kabore (Bur) Sofitex                               21
33 Joost Declerk (Bel) Aliplast                                21
34 Stephane Paol (Fra) GMCI 38                                 21
35 Jordane Chazal (Fra) GMCI 38                                19
36 Michel Bilgo (Bur) Sofitex                                  15
37 Eric Ahouandjinou (Ben) Benin                               13
38 Martin Som (Cam) Cameroon                                   11
39 Peter Schoepen (Bel) Aliplast                               10
40 Ali Sidi Thiam (Sen) Senegal                                 9
41 Damien Tekou (Cam) Cameroon                                  5
42 Komi Kondoh (Tog) Togo                                       5
43 Abdoulaye Ouedraogo (Bur) A.S.Fadoul                         3
44 Jerome Pamart (Fra) Normandie                                3
45 Tidiane Ouedraogo (Bur) Sifa - Peugeot                       2
 
Teams classification
 
1 GMCI 38                                                72.24.53
2 Aliplast                                                   1.45
3 A.S.Fadoul                                                 5.21
4 Marco Polo Cycling Team                                    5.28
5 Sifa - Peugeot                                             8.04
6 Alsace                                                     9.58
7 Cameroon                                                  10.24
8 Senegal                                                   17.41
9 Sofitex                                                   25.52
10 Normandie                                                 26.1
11 Togo                                                     38.15
12 Niger                                                    48.24
13 Mali                                                   1.40.33
14 Benin                                                  1.56.44