Recently on Cyclingnews.com
17th Tour du Faso - 2.5
Burkina Faso, October 29-November 9, 2003
Main Page Results Previous Stage Next Stage
Stage 3 - October 31: Kokologo - Boromo, 132.5 km
Maarten Tjallingii holds all the cards
Stage win for Cuylits
By Chris Henry
Stage winner Gunther Cuylits (Aliplast)
Photo ©: A.S.O.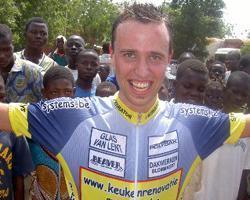 After another fast, hot stage on the roads of Burkina Faso, Marco Polo's Maarten Tjallingii continues to hold all of the cards in the early days of this year's race. Race leader since the first stage, Tjallingii put in another strong performance to open up a more dangerous gap on his rivals in the general classification. The Dutchman finished second today behind Belgian Gunther Cuylits of the Aliplast team.
Friday began with a morning temperature of 28 degrees, and the heat only got worse as the afternoon sun pushed the mercury to 37. Despite a headwind, the peloton averaged a brisk 41 km/h over the 132 kilometres from Kokologo to Boromo. Once again, the attacks were constant in the first half of the stage, and a four man break emerged featuring Laurent Zongo (A.S. Fadoul), Stéphane Paol (GMCI 38), Joseph Sanda (Cameroon), and yesterday's stage winner Kay Kermer of Marco Polo. The group held an advantage of 30" but never pulled far enough clear of the peloton to go the distance.
After the second intermediate sprint in Tita (km 80) it was Burkina Faso rider Gweswende Sawadogo (Sifa - Peugeot), sitting in second place overall, who put in the serious move of the day. Sawadogo was eager to test his rivals from Marco Polo and challenge for the leader's yellow jersey, but he was quickly marked by Tjallingii and two other riders. Not interested in towing Tjallingii to the finish, Sawadogo sat up and stopped working in the break. The move was quickly caught, but Tjallingii decided he had more fight in him, and launched his own attack with 50km to go.
The yellow jersey proved that he was still the strongest in the race, opening up a gap of 1'30 on the field. With 20km still to race, however, the Dutchman began to tire, and his lead slowly dropped. As Tjallingii slowed, 18 riders lept from the pack in pursuit of the jersey. The chase group was closing in with 5km to go, but for all but one man it was not enough.
Gunther Cuylits escaped from this group and in no time at all bridged the gap to Tjallingii. The two rode together to the finish in Boromo, but the sprint was no contest. Cuylits easily took the day's honours, but Tjallingii had plenty of reasons to smile. He not only maintained his overall lead, extending his advantage in the general classification, but he now holds every jersey in the race: yellow (race lead), pink (sprints), and green (points).
Photos
Images by Denis Descamps/A.S.O.
Results

1 Gunther Cuylits (Bel) Aliplast                     3.24.14
2 Maarten Tjallingii (Ned) Marco Polo Cycling Team
3 Kay Kermer (Ger) Marco Polo Cycling Team              1.30
4 Thierry David (Fra) GMCI 38                           1.32
5 Karel Pattyn (Bel) Aliplast
6 Steven Thys (Bel) Aliplast                            1.38
7 Lionel Syne (Bel) Marco Polo Cycling Team             1.40
8 Laurent Zongo (Bur) A.S.Fadoul
9 Saidou Rouamba (Bur) A.S.Fadoul
10 Jonathan Kern (Fra) Alsace
11 R-Geremie Ouedraogo (Bur) Sifa - Peugeot
12 Martinien Tega (Cam) Cameroon
13 Alexandre Lecocq (Fra) GMCI 38                       1.42
14 Jordane Chazal (Fra) GMCI 38                         1.43
15 Seydou Sanfo (Bur) Sifa - Peugeot                    2.15
16 Thomas Dietsch (Fra) Alsace
17 Michel Kauffmann (Fra) Alsace                        2.21
18 Remko Kramer (Ned) Marco Polo Cycling Team
19 Cyrille Cosnefroy (Fra) Normandie                    2.23
20 Kossi Nossi (Tog) Togo
21 Abdoulaye Ouedraogo (Bur) A.S.Fadoul
22 Pascal Bouba (Cam) Cameroon
23 Komi Kondoh (Tog) Togo
24 Sadrac Teguimaha (Cam) Cameroon
25 Saidou Tall (Bur) A.S.Fadoul
26 L-Jean Ilboudo (Bur) Sifa - Peugeot                  2.25
27 Elhadji Malick Thiam (Sen) Senegal
28 Kock Rutger (Ned) Marco Polo Cycling Team
29 Joost Declerk (Bel) Aliplast
30 Papa Amadou Diouf (Sen) Senegal
31 Jerome Pamart (Fra) Normandie
32 Gweswende Sawadogo (Bur) Sifa - Peugeot              2.28
33 Mahamadi Sawadogo (Bur) Sofitex
34 Michel Bilgo (Bur) Sofitex
35 Fabrice Bretel (Fra) Alsace
36 David Washburn (USA) Marco Polo Cycling Team
37 Thibault Richard (Fra) GMCI 38
38 Kowouvi Dossouvi (Tog) Togo
39 Brice Bouniot (Fra) GMCI 38
40 Peter Schoepen (Bel) Aliplast
41 Lucien Zongo (Bur) A.S.Fadoul
42 Guillaume Boisgontier (Fra) Normandie
43 Olivier Keita (Sen) Senegal
44 Karim Kabore (Bur) A.S.Fadoul
45 T-Desire Kabore (Bur) Sofitex                        2.35
46 Jerome Amann (Fra) Alsace                            2.39
47 Stephane Paol (Fra) GMCI 38                          4.48
48 Ablasse Tapsoba (Bur) Sifa - Peugeot                 4.52
49 Joseph Sanda (Cam) Cameroon                          5.06
50 Damien Tekou (Cam) Cameroon
51 Martin Som (Cam) Cameroon                            5.41
52 Jean Tonde (Bur) Sofitex                             5.50
53 Ibrahim Abdoulaye Soumma (Nig) Niger
54 Peter Van Agtmaal (Ned) Aliplast                     6.06
55 Issaka Kabore (Bur) Sofitex                          8.42
56 Adamou Gabo (Nig) Niger
57 Tidiane Ouedraogo (Bur) Sifa - Peugeot               8.44
58 Adama Bagayoko (Mli) Mali                            8.47
59 Idrissa Ouedraogo (Bur) Niger
60 Gabriel Margrit (Fra) Normandie                      9.17
61 Adama Togola (Mli) Mali                             14.18
62 Paul Dona (Ben) Benin                               15.19
63 Jean Claude Badjagoume (Ben) Benin                  17.26
64 Salia Togola (Mli) Mali                             17.33
65 Ludovic Lemarechal (Fra) Normandie                  20.42
66 Siaka Diallo (Mli) Mali
67 Siaka Diarra (Mli) Mali
68 Eugène Hansinon (Ben) Benin                         20.50
69 Arnaud Vettier (Fra) Normandie                      21.09
70 Eric Ahouandjinou (Ben) Benin                       30.53
71 Attivi Egue (Tog) Togo
72 Zakaria Dia Abdoulsalam (Nig) Niger
73 Jean Lopez (Sen) Senegal                            30.57
74 Houdo Sawadogo (Bur) Sofitex                        47.31
75 Hamidou Diarra (Mli) Mali                         1.00.01
76 Didier Agbefu (Tog) Togo
77 Augustin Amoussouvi (Ben) Benin
78 Abdoulaye Thiam (Sen) Senegal                     1.06.01
79 Ali Sidi Thiam (Sen) Senegal
DNF Amadou Harouna (Nig) Niger
DNF Aldo Kpanti (Ben) Benin
 
Sprints
 
Sabou, km 43.00
 
1 Kay Kermer (Ger) Marco Polo Cycling Team                 3 pts
2 Laurent Zongo (Bur) A.S.Fadoul                           2
3 Joseph Sanda (Cam) Cameroon                              1
 
Tita, km 80.50
 
1 Maarten Tjallingii (Ned) Marco Polo Cycling Team         3 pts
2 Jordane Chazal (Fra) GMCI 38                             2
3 Olivier Keita (Sen) Senegal                              1
 
Laba, km 102.40
 
1 Maarten Tjallingii (Ned) Marco Polo Cycling Team         3 pts
2 Gunther Cuylits (Bel) Aliplast                           2
3 Lionel Syne (Bel) Marco Polo Cycling Team                1
 
Boromo, km 136.00
 
1 Gunther Cuylits (Bel) Aliplast                          30 pts
2 Maarten Tjallingii (Ned) Marco Polo Cycling Team        27
3 Kay Kermer (Ger) Marco Polo Cycling Team                25
4 Thierry David (Fra) GMCI 38                             23
5 Karel Pattyn (Bel) Aliplast                             21
6 Steven Thys (Bel) Aliplast                              19
7 Lionel Syne (Bel) Marco Polo Cycling Team               17
8 Laurent Zongo (Bur) A.S.Fadoul                          15
9 Saidou Rouamba (Bur) A.S.Fadoul                         13
10 Jonathan Kern (Fra) Alsace                             11
11 R-Geremie Ouedraogo (Bur) Sifa - Peugeot               10
12 Martinien Tega (Cam) Cameroon                           9
13 Alexandre Lecocq (Fra) GMCI 38                          8
14 Jordane Chazal (Fra) GMCI 38                            7
15 Seydou Sanfo (Bur) Sifa - Peugeot                       6
16 Thomas Dietsch (Fra) Alsace                             5
17 Michel Kauffmann (Fra) Alsace                           4
18 Remko Kramer (Ned) Marco Polo Cycling Team              3
19 Cyrille Cosnefroy (Fra) Normandie                       2
20 Kossi Nossi (Tog) Togo                                  1
 
Teams
 
1 Aliplast                                          10.15.52
2 Marco Polo Cycling Team
3 GMCI 38                                               1.47
4 A.S.Fadoul                                            2.33
5 Alsace                                                3.06
6 Sifa - Peugeot                                        3.10
7 Cameroon                                              3.16
8 Togo                                                  4.04
9 Normandie                                             4.06
10 Senegal                                              4.08
11 Sofitex                                              4.21
12 Niger                                               20.09
13 Mali                                                37.28
14 Benin                                               50.25
 
General classification after stage 3
 
1 Maarten Tjallingii (Ned) Marco Polo Cycling Team   7.44.16
2 Thierry David (Fra) GMCI 38                           1.54
3 Gunther Cuylits (Bel) Aliplast
4 Karel Pattyn (Bel) Aliplast                           2.03
5 Alexandre Lecocq (Fra) GMCI 38                        2.17
6 Seydou Sanfo (Bur) Sifa - Peugeot                     2.48
7 Gweswende Sawadogo (Bur) Sifa - Peugeot               2.49
8 Mahamadi Sawadogo (Bur) Sofitex                       2.54
9 Kossi Nossi (Tog) Togo                                3.03
10 Steven Thys (Bel) Aliplast                           3.50
11 Lucien Zongo (Bur) A.S.Fadoul                        3.51
12 Saidou Rouamba (Bur) A.S.Fadoul                      3.53
13 Martinien Tega (Cam) Cameroon                        3.58
14 L-Jean Ilboudo (Bur) Sifa - Peugeot                  4.16
15 Thomas Dietsch (Fra) Alsace                          4.28
16 Kay Kermer (Ger) Marco Polo Cycling Team             4.31
17 Michel Kauffmann (Fra) Alsace                        4.34
18 Jerome Pamart (Fra) Normandie                        4.45
19 Jordane Chazal (Fra) GMCI 38                         5.14
20 Laurent Zongo (Bur) A.S.Fadoul                       5.17
21 R-Geremie Ouedraogo (Bur) Sifa - Peugeot             5.19
22 Michel Bilgo (Bur) Sofitex                           5.24
23 Remko Kramer (Ned) Marco Polo Cycling Team           5.30
24 Kock Rutger (Ned) Marco Polo Cycling Team            5.37
25 Sadrac Teguimaha (Cam) Cameroon                      5.40
26 Karim Kabore (Bur) A.S.Fadoul                        5.45
27 Pascal Bouba (Cam) Cameroon                          6.01
28 Abdoulaye Ouedraogo (Bur) A.S.Fadoul                 6.02
29 Olivier Keita (Sen) Senegal                          6.06
30 T-Desire Kabore (Bur) Sofitex                        6.17
31 Jerome Amann (Fra) Alsace                            6.21
32 Lionel Syne (Bel) Marco Polo Cycling Team            6.30
33 Jonathan Kern (Fra) Alsace                           6.34
34 Saidou Tall (Bur) A.S.Fadoul                         6.56
35 Fabrice Bretel (Fra) Alsace                          7.01
36 Thibault Richard (Fra) GMCI 38
37 Stephane Paol (Fra) GMCI 38                          7.11
38 Cyrille Cosnefroy (Fra) Normandie                    7.13
39 Papa Amadou Diouf (Sen) Senegal                      7.15
40 Komi Kondoh (Tog) Togo                               7.16
41 Damien Tekou (Cam) Cameroon                          7.19
42 Joost Declerk (Bel) Aliplast
43 Elhadji Malick Thiam (Sen) Senegal
44 Brice Bouniot (Fra) GMCI 38                          7.22
45 Kowouvi Dossouvi (Tog) Togo
46 David Washburn (USA) Marco Polo Cycling Team
47 Guillaume Boisgontier (Fra) Normandie                7.39
48 Ablasse Tapsoba (Bur) Sifa - Peugeot                 9.46
49 Joseph Sanda (Cam) Cameroon                          9.59
50 Jean Tonde (Bur) Sofitex                            10.40
51 Ibrahim Abdoulaye Soumma (Nig) Niger                10.44
52 Martin Som (Cam) Cameroon                           11.00
53 Peter Schoepen (Bel) Aliplast                       13.04
54 Issaka Kabore (Bur) Sofitex                         13.11
55 Idrissa Ouedraogo (Bur) Niger                       13.41
56 Tidiane Ouedraogo (Bur) Sifa - Peugeot              15.19
57 Peter Van Agtmaal (Ned) Aliplast                    16.36
58 Gabriel Margrit (Fra) Normandie                     20.04
59 Salia Togola (Mli) Mali                             22.44
60 Ludovic Lemarechal (Fra) Normandie                  24.21
61 Siaka Diarra (Mli) Mali                             27.13
62 Arnaud Vettier (Fra) Normandie                      27.24
63 Eugène Hansinon (Ben) Benin                         33.09
64 Adama Bagayoko (Mli) Mali                           34.12
65 Eric Ahouandjinou (Ben) Benin                       35.21
66 Attivi Egue (Tog) Togo                              35.47
67 Zakaria Dia Abdoulsalam (Nig) Niger                 36.06
68 Adama Togola (Mli) Mali                             37.49
69 Adamou Gabo (Nig) Niger                             40.49
70 Paul Dona (Ben) Benin                               47.26
71 Jean Claude Badjagoume (Ben) Benin                  49.30
72 Houdo Sawadogo (Bur) Sofitex                        52.34
73 Siaka Diallo (Mli) Mali                             54.09
74 Jean Lopez (Sen) Senegal                          1.02.54
75 Hamidou Diarra (Mli) Mali                         1.04.30
76 Augustin Amoussouvi (Ben) Benin                   1.06.00
77 Didier Agbefu (Tog) Togo                          1.07.57
78 Ali Sidi Thiam (Sen) Senegal                      1.10.55
79 Abdoulaye Thiam (Sen) Senegal                     1.10.55
 
Points
 
1 Maarten Tjallingii (Ned) Marco Polo Cycling Team        57 pts
2 Karel Pattyn (Bel) Aliplast                             57
3 Kay Kermer (Ger) Marco Polo Cycling Team                55
4 Thierry David (Fra) GMCI 38                             50
5 Seydou Sanfo (Bur) Sifa - Peugeot                       40
6 Gweswende Sawadogo (Bur) Sifa - Peugeot                 40
7 Gunther Cuylits (Bel) Aliplast                          38
8 Alexandre Lecocq (Fra) GMCI 38                          31
9 Steven Thys (Bel) Aliplast                              29
10 Lionel Syne (Bel) Marco Polo Cycling Team              27
11 Karim Kabore (Bur) A.S.Fadoul                          25
12 Mahamadi Sawadogo (Bur) Sofitex                        25
13 Kossi Nossi (Tog) Togo                                 24
14 Saidou Rouamba (Bur) A.S.Fadoul                        24
15 Laurent Zongo (Bur) A.S.Fadoul                         23
16 Michel Kauffmann (Fra) Alsace                          23
17 Lucien Zongo (Bur) A.S.Fadoul                          21
18 Sadrac Teguimaha (Cam) Cameroon                        19
19 L-Jean Ilboudo (Bur) Sifa - Peugeot                    19
20 Michel Bilgo (Bur) Sofitex                             15
21 Jonathan Kern (Fra) Alsace                             15
22 Thomas Dietsch (Fra) Alsace                            14
23 Eric Ahouandjinou (Ben) Benin                          13
24 R-Geremie Ouedraogo (Bur) Sifa - Peugeot               13
25 Martinien Tega (Cam) Cameroon                          13
26 Kock Rutger (Ned) Marco Polo Cycling Team              11
27 Brice Bouniot (Fra) GMCI 38                             9
28 Jordane Chazal (Fra) GMCI 38                            7
29 Guillaume Boisgontier (Fra) Normandie                   7
30 Remko Kramer (Ned) Marco Polo Cycling Team              6
31 Olivier Keita (Sen) Senegal                             5
32 Damien Tekou (Cam) Cameroon                             5
33 Jerome Pamart (Fra) Normandie                           3
34 Cyrille Cosnefroy (Fra) Normandie                       2
35 Stephane Paol (Fra) GMCI 38                             2
36 Jerome Amann (Fra) Alsace                               1
 
Teams
 
1 Aliplast                                          23.20.55
2 GMCI 38                                               0.18
3 Marco Polo Cycling Team                               0.21
4 Sifa - Peugeot                                        1.05
5 A.S.Fadoul                                            3.20
6 Cameroon                                              4.56
7 Alsace                                                6.17
8 Sofitex                                               6.35
9 Togo                                                  9.34
10 Normandie                                            9.58
11 Senegal                                             12.34
12 Niger                                               30.13
13 Mali                                                46.42
14 Benin                                             1.01.54