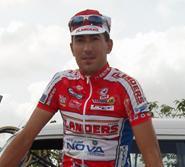 Photo: © Anthony Tan
Moving on up: The Trent Wilson Journal 2003
Welcome to the Trent Wilson Journal for 2003. The young iTeamNova rider was one of the six who made the cut when the Australian Div III team merged with RDM-Flanders to form Flanders-iTeamNova, and move into Division II.
A solid Sun Tour; moving on to Colombia Selle Italia
Australia, October 23-26
G'day,
I have been pretty busy since the end of the Sun Tour and this is the first real chance I have had to sit down and write something, at the Bundy [short for Bundaberg-Ed] internet cafe.
When I last wrote, Jamie Drew was in the yellow jersey in the Sun Tour as we approached the double stage day with two hill top finishes. In the first stage [Stage 9], Scotty Guyton rode an awesome ride to stay away for the last 40km, only to be caught with 200m to go. Jamie lost his yellow jersey but was still in contention. In the afternoon [Stage 10], which had its fair share of crashes, Dom Peras won from a breakaway of four, and once again Scotty was up there in the top half-dozen.
The next day was a one stage day [Stage 11] and I slipped into the break from km 0. 17 riders made the break but with a few GC riders there, not too many people wanted to work. Attacks started and we brought the group down to 12 riders. With a steep climb with 20km to go I thought this might have been my day, but we weren't working well together and the break got caught. It split on the final climb, with Jamie showing he still has it for the overall classification, finishing second behind Moninger.
Saturday [Stage 12] was a short stage but we had two long car transfer. It was a 34km criterium at Echuca. Tim Johnson once again got away in a break, won the stage and moved to third on GC. The last day [Stage 13] was the one everyone was concerned about: eight laps around Buningyong (80km around our Nationals circuit). For once my legs were good and I could help the boys. I couldn't help Scotty much though, as he attacked on lap two and went on to win the stage. Also with Scotty was Tim Johnson; he went on to win the tour in front of Luke Roberts. I felt sorry for Luke but Tim had a very good ride. Scotty was third on GC with Jamie ninth.
As a team, we had a pretty good Sun Tour with three stage wins and a week in yellow; it would've been hard to beat last year's effort. I headed back to Sydney for a few days to get a few things done and my Mum's birthday. After Ballarat's 10 degree weather, it was good to be back in a warmer climate. I had to rebuild my De Rosa from last year and dig my old race wheels out after I sold my Flanders bike and carbon cosmics. I did the Sydney bunch ride they call "Dawn Patrol" and enjoyed a nice coffee on the beach at Manly after an early start to the morning.
I left on Thursday to go to Queensland. I decided to drive this time cause after the tour a few of us are off to the Gold Coast for a well deserved holiday. Tomas Buchacek and I left after breakky and arrived in Brisbane 10 hours later. It wasn't that bad! I stayed the night in Brisbane and caught up with a mate of mine, Dave Harrigan.
The next day we only had a four hour drive to Bundaberg but it felt like it was double that from the heat. The last two years I have made the trip to Noosa for the Noosa crit, but this year we went straight past the turn-off towards Bundy.
Bundaberg's a nice country town and its only 10km from the beach. Most teams are actually on the beach but we missed the cut and are on the other side of town. Training has been interesting. We have been copping abuse from motorist and had the odd bottle thrown at us. Apart from that, with nice weather and good beaches, for the last race of the year, its a nice way to finish the season.
Jamie Drew, Dave Macca and I went for nine holes of golf the other day and we showed why we stick to cycling. Although, Drewy was a bit of a closet golfer, coming out with a few big shots every now and then. In the end, it was Macca that came though for a three shot victory with a prize to prove it. The tour starts today with a criterium around Bundaberg, so I'll be keeping you updated.
As for next year, I have signed with Columbia Selle Italia for one year. I would've loved to stay with iTeamNova for another year, but things don't look good for next year. I have gained a a lot of really close friends out of the team and it will be sad not to race with them anymore. I'd really like to thank Susan Stewart for hiring me for two years and the support Jayco has given us over the past 12 months. I can't stress enough how well this team operates and the morale that is always so high. Anyway, I'm back to Italy where it all started for me four years ago. I am looking forward to racing in Italy again and hopefully regain the climbing form I had. Thanks to John Trevorrow for his support over the past few weeks. I'll have another Aussie team-mate there to keep me company, Russell Van Hout, so that's good to know.
For now though, one more tour to go for the year 2003...
Cheers, Willo