Vic Roads Herald Sun Tour 2003 - 2.3
Australia, October 16-26, 2003
Main Page Results Previous Stage Next Stage
Stage 12 - October 25: Echuca, 34 kms
Johnson makes late challenge
By Rod Morris in Echuca
Tim Johnson
Photo ©: Shane Goss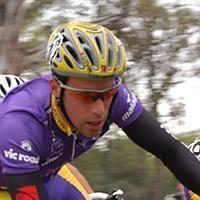 American rider Tim Johnson may have left his run too late, but he will certainly have leader Luke Roberts watching him closely on the final day of the $120,000 VicRoads Herald Sun Tour cycling classic. Johnson (26) threw his hat into the ring ytoday in an action-packed 34 km criterium in the Murray River township of Echuca in Victoria's North.
Riding for the Action For Life team, Johnson and his Uruguayian teammate Hector Morales - who he had only met at the start in Melbourne on October 16 - staged a daring breakaway on the 29th of 40 laps and were never headed. Johnson was able to gain valuable time into Roberts' overnight lead and the last stage on the Mt Buninyong Australian Open circuit near Ballarat offers all sorts of possibilities.
Johnson will enter the final stage of 81.6 km, 39 seconds behind Roberts, while former Australian Under 23 champion Simon Gerrans (Malaysia Airlines) also closed the gap between he and the leader from 33 seconds to 25. Finland's Kjell Carlstrom (Europcar - Pelaco), who will win the Sprint Championship, is the only other rider in the field under the one minute barrier, at 45 seconds behind Roberts.
Johnson, who hails from Boston scored his second stage win of the tour to prove his class. Earlier in the week he won the tough climb from Horsham to Mt William and now adds a criterium win to his credit.
Look mum no hands
Photo ©: Shane Goss

"I didn't come to Australia carrying real good form, but the atmosphere in this tour and the staff that run it are great and as the tour has progressed, my form has got better," Johnson said. "I still expect Luke Roberts to win the race, but now that I'm this close, I have to give it my best shot."
Johnson said he intended to attack from the start of the final stage. "I'm having a blast and although I didn't really know what to expect, the whole experience has been so wonderful for me," he added. "Winning today's criterium was actually in our team's original plans and I would like to thank all my teammates, particular Hector Morales, he was simply sensational out in front with me."
Johnson and Morales ran one-two respectively in the final four intermediate sprints, as well as the attack to the finish line. The sprinting bunch could not reel them in and it was Brett Aitken (Rio Coffee) who led the peloton over the line some 15 seconds behind the Active For Life quinella.
Roberts on the front
Photo ©: Shane Goss

Held around a tight 850 m circuit on the edge of the mighty Murray River, riders were subjected to 16 intermediate sprints every second lap from the sixth lap onward. Gerrand showed his hand early, picking up five sprint wins, while Roberts could only manage one before the "Johnson-Morales Show" was put on full display.
Roberts did however manage eighth place, which gave him an extra 2 seconds bonus, which may prove valuable when the race ends tomorrow.
The remaining 74 riders of the original field of 85, face a tough day in the office at Mt Buninyong. The course includes eight laps of a 10.2 km circuit, highlighted by a Category 3 hill climb, which rises to 550 m above sea level. Each of the eight hill climbs will carry bonuses of 5, 3 and 2 seconds for the first three riders, while there will also be seven intermediate sprints with a further 3-2-1 second time bonuses. Put simply, the 2003 Herald Sun Tour is far from over.
Down the home straight
Photo ©: Shane Goss

Roberts said he was not overly disappointed with his ride in the Echuca Criterium, but acknowledged that his lead was certainly not as significant as it had been 24 hours earlier. "I think the final day will be a game of cat and mouse and I'll have to watch more than one just rider, but obviously Simon Gerrans and Tim Johnson will be hard to beat," he said.
Johnson said he was flattered by Roberts' cautionary note. "I watched in awe when Luke and the rest of the Australian team smashed the world record in the pursuit in Germany and just to be in the same race as him is something special," he said. "To have him say he has to watch out for me is very flattering."
Johnson has another reason to perform well this week. Back home in America, his trade team - Saturn - has withdrawn funding for 2004. "I'm looking to break into a European team, so a good showing here certainly won't do my chances any harm, as the Herald Sun Tour has a good reputation around the world."
Roberts too will be looking to maintain his grip on the golden fleece. "My team in Germany is in Division Three and I would like to move up a notch if I can, so winning a UCI road race will be good, but I'm not over the line yet," Roberts said.
The podium
Photo ©: Shane Goss

Another incentive for Roberts will be to go one better than his father Wayne did in 1976, when he finished second to Peter Besanko, who this week is managing the Malaysia Airlines team. The last time Roberts had the pressure of going one better than his father was in the 2002 Tour of Tasmania, which he duly one, albeit by one second!
With the Herald Sun Tour finishing in Ballarat on Sunday, riders will enjoy a week's rest before heading to Bundaberg for the start of the $60,000 Jayco Tour of Queensland, which starts on November 3.
Photography
Images by Shane Goss/Cyclingnews.com/www.licoricegallery.com
Results

1 Tim Johnson (USA) Active For Life                   45.16
2 Hector Morales (Uru) Active For Life                     
3 Brett Aitken (Aus) Rio Coffee                        0.15
4 Alex Candelario (USA) Ballarat*Eureka!                   
5 Kjell Carlstrom (Fin) Pelaco                             
6 Peter Milostic (Aus) FRF Couriers                        
7 Kieran Page (GBr) Bendigo Building Industry              
8 Lubor Tesar (Cze) Team Warrnambool                       
9 Michael Sayers (USA) Ballarat*Eureka!                    
10 Luke Roberts (Aus) Emu Spirit-Apsco                     
11 Scott Guyton (NZl) Jayco                                
12 Jeremy Hunt (GBr) Malaysia Airlines                     
13 Robert McLachlan (Aus) Caravello                        
14 Simon Gerrans (Aus) Malaysia Airlines                   
15 Jonathan Cantwell (Aus) Vicroads                        
16 Sean Sullivan (Aus) Barloworld                          
17 Matt Wilson (Aus) Malaysia Airlines                     
18 Jamie Drew (Aus) Jayco                                  
19 Alvaro Tardaguila (Uru) Echuca-Moama                    
20 Cameron Jennings (Aus) Caravello                        
21 Rhys Pollock (Aus) Vicroads                             
22 Kristian House (GBr) Emu Spirit-Apsco                   
23 Michal Precechtel (Cze) Team Warrnambool                
24 Jaco de Witt (RSA) Barloworld                           
25 Gerado Castro (Uru) Echuca-Moama                        
26 Anthony Challinor (Aus) FRF Couriers                    
27 David McKenzie (Aus) Jayco                              
28 Tony Mann (Aus) Caravello                               
29 Eric Wohlberg (Can) Active For Life                     
30 Jorge Libonatti (Uru) Active For Life                   
31 Jonas Ljungblad (Swe) City Of Melbourne                 
32 Stephen Cummings (GBr) Bendigo Building Industry        
33 Andrew Graham (Aus) FRF Couriers                        
34 Chris Bradford (Aus) Subaru                             
35 Ivan Fanelli (Ita) Pelaco                               
36 Russell Van Hout (Aus) Emu Spirit-Apsco                 
37 Marek Wesoly (Pol) Pelaco                               
38 Alejandro Acton (Arg) Echuca-Moama                      
39 George Vallins (Aus) Vicroads                           
40 Tiaan Kannemeyer (RSA) Barloworld                       
41 Phillip Thuaux (Aus) Ballarat*Eureka!                   
42 Paul Manning (GBr) Bendigo Building Industry            
43 Mateusz Mroz (Pol) Pelaco                           0.27
44 Adrian Laidler (Aus) Rio Coffee                         
45 Matthew Goold (Aus) Malaysia Airlines                   
46 Ashley Baines (Aus) Subaru                              
47 Brian Steel (GBr) Bendigo Building Industry             
48 Scott Moninger (USA) Ballarat*Eureka!                   
49 Danny In't Ven (Bel) Carlton Midstrength                
50 Stephen Wooldridge (Aus) Carlton Midstrength            
51 Trent Wilson (Aus) Jayco                                
52 Luis Fernando Sepulveda (Chi) City Of Melbourne         
53 Jindrich Vana (Cze) Team Warrnambool                    
54 Jamie Burrow (GBr) Pelaco                               
55 James Perry (RSA) Barloworld                            
56 Shaun Higgerson (Aus) FRF Couriers                      
57 Troy Glennan (Aus) FRF Couriers                         
58 Trent Stevenson (Aus) Vicroads                          
59 Pavel Zerzan (Cze) Team Warrnambool                 0.58
60 Nigel Dunstone (Aus) Caravello                      2.08
61 Hilton Clarke (Aus) Barloworld                          
62 Milton Wynants (Uru) Echuca-Moama                       
63 Steve Cunningham (Aus) Rio Coffee                       
64 Bart Heirewegh (Bel) Carlton Midstrength            4.28
65 Joel Pearson (Aus) Subaru                               
66 Tomas Buchacek (Cze) Emu Spirit-Apsco               5.38
67 Colin Thornton (Aus) Emu Spirit-Apsco                   
68 Chris Newton (GBr) Bendigo Building Industry            
69 Jose Medina (Chi) City Of Melbourne                     
70 Tim Decker (Aus) Subaru                             6.48
71 Luke Weir (Aus) City Of Melbourne                       
72 Dominique Perras (Can) Active For Life              7.58
73 James Hannam (Aus) Rio Coffee                           
74 Domenic Gatto (Aus) Subaru                          9.08
 
Sprints
 
End of Lap 6
 
1 Kieran Page (GBr) Bendigo Building Industry             3 pts
2 Alex Candelario (USA) Ballarat*Eureka!                  2
3 Jeremy Hunt (GBr) Malaysia Airlines                     1
 
End of Lap 8
 
1 Scott Guyton (NZl) Jayco                                3 pts
2 Sean Sullivan (Aus) Barloworld                          2
3 Robert McLachlan (Aus) Caravello                        1
 
End of Lap 10
 
1 Simon Gerrans (Aus) Malaysia Airlines                   3 pts
2 Matt Wilson (Aus) Malaysia Airlines                     2
3 Hector Morales (Uru) Active For Life                    1
 
End of Lap 12
 
1 Simon Gerrans (Aus) Malaysia Airlines                   3 pts
2 Matt Wilson (Aus) Malaysia Airlines                     2
3 Sean Sullivan (Aus) Barloworld                          1
 
End of Lap 14
 
1 Luke Roberts (Aus) Emu Spirit-Apsco                     3 pts
2 Kjell Carlstrom (Fin) Pelaco                            2
3 Scott Guyton (NZl) Jayco                                1
 
End of Lap 16
 
1 David McKenzie (Aus) Jayco                              3 pts
2 Kristian House (GBr) Emu Spirit-Apsco                   2
3 Scott Guyton (NZl) Jayco                                1
 
 
1 Simon Gerrans (Aus) Malaysia Airlines                   3 pts
2 Matt Wilson (Aus) Malaysia Airlines                     2
3 Sean Sullivan (Aus) Barloworld                          1
 
End of Lap 20
 
1 Kjell Carlstrom (Fin) Pelaco                            3 pts
2 Hector Morales (Uru) Active For Life                    2
3 Kieran Page (GBr) Bendigo Building Industry             1
 
 
1 Matt Wilson (Aus) Malaysia Airlines                     3 pts
2 Tony Mann (Aus) Caravello                               2
3 Simon Gerrans (Aus) Malaysia Airlines                   1
 
End of Lap 24
 
1 Simon Gerrans (Aus) Malaysia Airlines                   3 pts
2 Matt Wilson (Aus) Malaysia Airlines                     2
3 Robert McLachlan (Aus) Caravello                        1
 
End of Lap 26
 
1 Ivan Fanelli (Ita) Pelaco                               3 pts
2 Hilton Clarke (Aus) Barloworld                          2
3 Tim Johnson (USA) Active For Life                       1
 
End of Lap 28
 
1 Kjell Carlstrom (Fin) Pelaco                            3 pts
2 Matt Wilson (Aus) Malaysia Airlines                     2
3 Sean Sullivan (Aus) Barloworld                          1
 
End of Lap 30
 
1 Tim Johnson (USA) Active For Life                       3 pts
2 Hector Morales (Uru) Active For Life                    2
3 Mateusz Mroz (Pol) Pelaco                               1
 
End of Lap 32
 
1 Tim Johnson (USA) Active For Life                       3 pts
2 Hector Morales (Uru) Active For Life                    2
3 Kieran Page (GBr) Bendigo Building Industry             1
 
End of Lap 34
 
1 Tim Johnson (USA) Active For Life                       3 pts
2 Hector Morales (Uru) Active For Life                    2
3 Kieran Page (GBr) Bendigo Building Industry             1
 
End of Lap 36
 
1 Tim Johnson (USA) Active For Life                       3 pts
2 Hector Morales (Uru) Active For Life                    2
3 Mateusz Mroz (Pol) Pelaco                               1
 
General Classification after stage 12
 
1 Luke Roberts (Aus) Emu Spirit-Apsco              26.51.44
2 Simon Gerrans (Aus) Malaysia Airlines                0.25
3 Tim Johnson (USA) Active For Life                    0.39
4 Kjell Carlstrom (Fin) Pelaco                         0.45
5 Matt Wilson (Aus) Malaysia Airlines                  1.06
6 Sean Sullivan (Aus) Barloworld                       1.30
7 Scott Guyton (NZl) Jayco                             1.39
8 Jamie Drew (Aus) Jayco                               2.11
9 Jonas Ljungblad (Swe) City Of Melbourne              2.16
10 Kristian House (GBr) Emu Spirit-Apsco               2.53
11 Tony Mann (Aus) Caravello                           3.30
12 Scott Moninger (USA) Ballarat*Eureka!               4.16
13 Jeremy Hunt (GBr) Malaysia Airlines                 4.29
14 Brett Aitken (Aus) Rio Coffee                       5.28
15 Robert McLachlan (Aus) Caravello                    5.38
16 Stephen Cummings (GBr) Bendigo Building Industry    5.40
17 Eric Wohlberg (Can) Active For Life                 5.56
18 Tiaan Kannemeyer (RSA) Barloworld                   6.11
19 Russell Van Hout (Aus) Emu Spirit-Apsco             7.55
20 Rhys Pollock (Aus) Vicroads                         9.30
21 Jorge Libonatti (Uru) Active For Life              10.59
22 Ivan Fanelli (Ita) Pelaco                          11.33
23 Phillip Thuaux (Aus) Ballarat*Eureka!              11.55
24 Michal Precechtel (Cze) Team Warrnambool           11.59
25 Milton Wynants (Uru) Echuca-Moama                  16.36
26 Adrian Laidler (Aus) Rio Coffee                    17.22
27 Matthew Goold (Aus) Malaysia Airlines              18.55
28 Peter Milostic (Aus) FRF Couriers                  20.42
29 Kieran Page (GBr) Bendigo Building Industry        21.11
30 Jonathan Cantwell (Aus) Vicroads                   22.03
31 Lubor Tesar (Cze) Team Warrnambool                 25.25
32 Hector Morales (Uru) Active For Life               25.34
33 Mateusz Mroz (Pol) Pelaco                          27.15
34 Paul Manning (GBr) Bendigo Building Industry       28.52
35 Chris Bradford (Aus) Subaru                        30.14
36 Tomas Buchacek (Cze) Emu Spirit-Apsco              31.38
37 Michael Sayers (USA) Ballarat*Eureka!              33.24
38 Danny In't Ven (Bel) Carlton Midstrength           36.05
39 David McKenzie (Aus) Jayco                         36.56
40 Hilton Clarke (Aus) Barloworld                     37.13
41 Jaco de Witt (RSA) Barloworld                      39.28
42 Cameron Jennings (Aus) Caravello                   42.12
43 Alex Candelario (USA) Ballarat*Eureka!             44.09
44 George Vallins (Aus) Vicroads                      44.34
45 Dominique Perras (Can) Active For Life             46.04
46 Andrew Graham (Aus) FRF Couriers                   49.48
47 Joel Pearson (Aus) Subaru                          50.05
48 Shaun Higgerson (Aus) FRF Couriers                 51.08
49 Luis Fernando Sepulveda (Chi) City Of Melbourne    52.13
50 Gerado Castro (Uru) Echuca-Moama                   58.07
51 Jose Medina (Chi) City Of Melbourne              1.01.29
52 Marek Wesoly (Pol) Pelaco                        1.04.21
53 Jindrich Vana (Cze) Team Warrnambool             1.05.21
54 Steve Cunningham (Aus) Rio Coffee                1.05.47
55 Chris Newton (GBr) Bendigo Building Industry     1.07.41
56 Jamie Burrow (GBr) Pelaco                        1.08.22
57 Bart Heirewegh (Bel) Carlton Midstrength         1.08.28
58 Trent Wilson (Aus) Jayco                         1.10.01
59 Brian Steel (GBr) Bendigo Building Industry      1.10.33
60 Nigel Dunstone (Aus) Caravello                   1.11.08
61 Anthony Challinor (Aus) FRF Couriers             1.13.07
62 Troy Glennan (Aus) FRF Couriers                  1.14.19
63 Trent Stevenson (Aus) Vicroads                   1.18.44
64 James Hannam (Aus) Rio Coffee                    1.19.06
65 Pavel Zerzan (Cze) Team Warrnambool              1.20.26
66 Domenic Gatto (Aus) Subaru                       1.26.03
67 Ashley Baines (Aus) Subaru                       1.27.50
68 Alvaro Tardaguila (Uru) Echuca-Moama             1.27.51
69 Luke Weir (Aus) City Of Melbourne                1.31.02
70 Colin Thornton (Aus) Emu Spirit-Apsco            1.32.16
71 James Perry (RSA) Barloworld                     1.37.41
72 Alejandro Acton (Arg) Echuca-Moama               1.49.47
73 Stephen Wooldridge (Aus) Carlton Midstrength     1.51.47
74 Tim Decker (Aus) Subaru                          2.15.36
 
Aggressive Rider Awards
 
1 Luke Roberts (Aus) Emu Spirit-Apsco                  $500
2 Robert McLachlan (Aus) Caravello                     $300
3 Russell Van Hout (Aus) Emu Spirit-Apsco              $300
4 Simon Gerrans (Aus) Malaysia Airlines                $200
5 Steve Cunningham (Aus) Rio Coffee                    $200
6 Kjell Carlstrom (Fin) Pelaco                         $200
7 Ivan Fanelli (Ita) Pelaco                            $200
8 Chris Newton (GBr) Bendigo Building Industry         $200
9 Paul Manning (GBr) Bendigo Building Industry         $200
10 Hector Morales (Uru) Active For Life                $200
11 Hilton Clarke (Aus) Barloworld                      $200
12 Sean Sullivan (Aus) Barloworld                      $200
13 Chris Bradford (Aus) Subaru                         $200
14 Bart Heirewegh (Bel) Carlton Midstrength            $100
15 Tim Johnson (USA) Active For Life                   $100
 
Team Classification
 
1 Malaysia Airlines                                80.41.07
2 Active For Life                                      1.09
3 Emu Spirit / Apsco                                   3.24
4 Jayco                                               20.36
5 Europcar / Pelaco                                   23.26
6 Barloworld                                          25.15
7 Ballarat Eureka                                     43.26
8 Caravello                                           46.29
9 Bendigo Building Industry                           47.00
10 Vic Roads                                        1.07.48
11 Team Warrnambool                                 1.11.00
12 Rio Coffee                                       1.14.51
13 City Of Melbourne                                1.30.20
14 Subaru                                           1.37.20
15 FRF Couriers                                     1.43.28
16 Echuca - Moama                                   2.17.30
17 Carlton Midstrength                              2.48.37
 
Sprint Championship
 
1 Kjell Carlstrom (Fin) Pelaco                           60 pts
2 Simon Gerrans (Aus) Malaysia Airlines                  35
3 Luke Roberts (Aus) Emu Spirit-Apsco                    34
4 Robert McLachlan (Aus) Caravello                       33
5 Jonas Ljungblad (Swe) City Of Melbourne                32
6 Ivan Fanelli (Ita) Pelaco                              28
7 Matt Wilson (Aus) Malaysia Airlines                    23
8 Brett Aitken (Aus) Rio Coffee                          22
9 Russell Van Hout (Aus) Emu Spirit-Apsco                21
10 Jeremy Hunt (GBr) Malaysia Airlines                   21
11 Hector Morales (Uru) Active For Life                  21
12 David McKenzie (Aus) Jayco                            18
13 Jamie Drew (Aus) Jayco                                18
14 Kieran Page (GBr) Bendigo Building Industry           17
15 Tim Johnson (USA) Active For Life                     14
16 Sean Sullivan (Aus) Barloworld                        14
17 Michal Precechtel (Cze) Team Warrnambool              13
18 Milton Wynants (Uru) Echuca-Moama                     12
19 Matthew Goold (Aus) Malaysia Airlines                 11
20 Tony Mann (Aus) Caravello                             11
21 Scott Moninger (USA) Ballarat*Eureka!                 11
22 Lubor Tesar (Cze) Team Warrnambool                    10
23 Scott Guyton (NZl) Jayco                               9
24 Luis Fernando Sepulveda (Chi) City Of Melbourne        9
25 Michael Sayers (USA) Ballarat*Eureka!                  9
26 Paul Manning (GBr) Bendigo Building Industry           8
27 Chris Newton (GBr) Bendigo Building Industry           8
28 Kristian House (GBr) Emu Spirit-Apsco                  8
29 Steve Cunningham (Aus) Rio Coffee                      7
30 Troy Glennan (Aus) FRF Couriers                        7
31 Hilton Clarke (Aus) Barloworld                         7
32 Marek Wesoly (Pol) Pelaco                              6
33 Anthony Challinor (Aus) FRF Couriers                   6
34 Eric Wohlberg (Can) Active For Life                    6
35 Mateusz Mroz (Pol) Pelaco                              5
36 Nigel Dunstone (Aus) Caravello                         5
37 Adrian Laidler (Aus) Rio Coffee                        4
38 Jaco de Witt (RSA) Barloworld                          4
39 Bart Heirewegh (Bel) Carlton Midstrength               4
40 Chris Bradford (Aus) Subaru                            4
41 Danny In't Ven (Bel) Carlton Midstrength               4
42 Alex Candelario (USA) Ballarat*Eureka!                 3
43 Jose Medina (Chi) City Of Melbourne                    3
44 Jamie Burrow (GBr) Pelaco                              2
45 Alejandro Acton (Arg) Echuca-Moama                     2
46 Stephen Cummings (GBr) Bendigo Building Industry       2
47 Jorge Libonatti (Uru) Active For Life                  2
48 Tomas Buchacek (Cze) Emu Spirit-Apsco                  2
49 Andrew Graham (Aus) FRF Couriers                       2
50 Trent Wilson (Aus) Jayco                               1
51 Dominique Perras (Can) Active For Life                 1
52 Domenic Gatto (Aus) Subaru                             1
 
Mountains classification
 
1 Ivan Fanelli (Ita) Pelaco                              58 pts
2 Luke Roberts (Aus) Emu Spirit-Apsco                    23
3 Lubor Tesar (Cze) Team Warrnambool                     19
4 Scott Guyton (NZl) Jayco                               15
5 Tim Johnson (USA) Active For Life                      15
6 Jonas Ljungblad (Swe) City Of Melbourne                15
7 Steve Cunningham (Aus) Rio Coffee                      13
8 Chris Newton (GBr) Bendigo Building Industry           13
9 Dominique Perras (Can) Active For Life                 13
10 Kjell Carlstrom (Fin) Pelaco                          11
11 Anthony Challinor (Aus) FRF Couriers                  10
12 Simon Gerrans (Aus) Malaysia Airlines                  9
13 Matt Wilson (Aus) Malaysia Airlines                    8
14 Michal Precechtel (Cze) Team Warrnambool               8
15 Chris Bradford (Aus) Subaru                            7
16 Jaco de Witt (RSA) Barloworld                          7
17 Jamie Drew (Aus) Jayco                                 6
18 Jorge Libonatti (Uru) Active For Life                  5
19 Kristian House (GBr) Emu Spirit-Apsco                  5
20 Brett Aitken (Aus) Rio Coffee                          4
21 Domenic Gatto (Aus) Subaru                             3
22 Sean Sullivan (Aus) Barloworld                         3
23 Hilton Clarke (Aus) Barloworld                         3
24 Danny In't Ven (Bel) Carlton Midstrength               2
25 Russell Van Hout (Aus) Emu Spirit-Apsco                2
26 Cameron Jennings (Aus) Caravello                       2
27 Kieran Page (GBr) Bendigo Building Industry            2
28 Phillip Thuaux (Aus) Ballarat*Eureka!                  1
29 Michael Sayers (USA) Ballarat*Eureka!                  1
30 Tomas Buchacek (Cze) Emu Spirit-Apsco                  1
 
Criterium Championship
 
1 Brett Aitken (Aus) Rio Coffee                          20 pts
2 Hector Morales (Uru) Active For Life                   18
3 Kieran Page (GBr) Bendigo Building Industry            14
4 Tim Johnson (USA) Active For Life                      14
5 Michael Sayers (USA) Ballarat*Eureka!                  12
6 Tony Mann (Aus) Caravello                              10
7 David McKenzie (Aus) Jayco                             10
8 Matthew Goold (Aus) Malaysia Airlines                   9
9 Jeremy Hunt (GBr) Malaysia Airlines                     9
10 Jamie Drew (Aus) Jayco                                 9
11 Ivan Fanelli (Ita) Pelaco                              9
12 Paul Manning (GBr) Bendigo Building Industry           8
13 Lubor Tesar (Cze) Team Warrnambool                     7
14 Hilton Clarke (Aus) Barloworld                         7
15 Alex Candelario (USA) Ballarat*Eureka!                 7
16 Simon Gerrans (Aus) Malaysia Airlines                  7
17 Marek Wesoly (Pol) Pelaco                              6
18 Milton Wynants (Uru) Echuca-Moama                      6
19 Kjell Carlstrom (Fin) Pelaco                           6
20 Sean Sullivan (Aus) Barloworld                         6
21 Peter Milostic (Aus) FRF Couriers                      5
22 Jorge Libonatti (Uru) Active For Life                  3
23 Jonas Ljungblad (Swe) City Of Melbourne                3
24 Michal Precechtel (Cze) Team Warrnambool               2
25 Luke Roberts (Aus) Emu Spirit-Apsco                    1
26 Matt Wilson (Aus) Malaysia Airlines                    1
27 Robert McLachlan (Aus) Caravello                       1
 
Leading Australian Based Rider
 
Tony Mann (Aus) Caravello