Vic Roads Herald Sun Tour 2003 - 2.3
Australia, October 16-26, 2003
Main Page Results Previous Stage
Stage 13 - October 26: Buningyong circuit, 81.6 kms
Johnson snatches eleventh-hour victory in tense last-day showdown
By Rod Morris
Tim Johnson waits
Photo ©: Shane Goss/CN
In one of the closest finishes to the Herald Sun Tour, American Tim Johnson stole victory out of the clutches of overnight leader Luke Roberts in Ballarat today. Roberts relinquished a 25 second lead to go down to Johnson by 33 seconds in one of the most dramatic closing days in the history of the race.
Johnson, riding for the Active For Life team, came from the clouds to win the tour. Johnson finished second to New Zealand's Scott Guyton (Jayco) in today's final stage on the tough Mt Buninyong course, the same route used for the Australian Open Road Championships, but pinched the tour from Roberts in sensational circumstances. With time bonuses on offer every eight minutes, the pressure was electrifying. A lot of guesswork was being relayed between team managers and their on-road charges and at one stage it was estimated that Johnson and Roberts were level on aggregate time.
On his first journey to Australia, the 26-year-old was hardly sighted early in the 1195 km tour, but came to the fore when he won the tough Horsham to Mt William stage on day 7. Earlier, Johnson had finished third to Englishman Paul Manning in the Dunkeld to Horsham stage and just to prove that the win was no fluke he backed up by winning the Echuca Criterium in Stage 12.
"This is unbelievable, this is by far the biggest thing that has ever happened to me," Johnson beamed after today's overall victory. "Not for one minute did I think I could win the whole tour at the start of the week, particularly when you look as the class of the field with riders like Luke Roberts and Matt Wilson and some of the Europeans."
Johnson picked up 18 seconds in time bonuses in the seven intermediate sprints and eight hill climbs and then received a further 18 seconds off his aggregate time for finishing second in the final stage.
Luke Roberts
Photo ©: Shane Goss/CN

Roberts finished in two of the intermediate sprints to earn 8 points but missed out any further spoils when he finished 14th and 46 seconds down on the stage winner. His Emu Spirit/Apsco teamm missed vital breaks and the 2003 Herald Sun Tour will go down on Roberts' resume as "the one that got away."
It was a different story for the Active For Life team, who protected every advantage that Johnson was earning further up the road. "I owe so much to my teammates for this win," Johnson said. "The ride by Hector Morales in the Echuca criterium on Saturday was nothing short of sensational and today they did everything we could've asked for."
Hailing from Boston, Johnson rides for the soon-to-be dismantled Saturn team and is currently looking for a new contract. Winning the Herald Sun Tour will do his chances no harm at all.
Early splits
Photo ©: Shane Goss/CN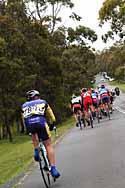 Tour promoter John Craven said it was only the second time since his involvement with the race, that the lead had changed on the last day. "I can remember in 1995 when Andy Bishop beat fellow American Scott Mercier in a wet stage," Craven explained. "But how good was this race, it was sensational."
More than 10,000 people flocked the Mt Buninyong course and they were treated to a great race. Guyton, Johnson and another American, Scott Moninger (Ballarat*eureka!) inched away from the peloton at the halfway mark of the race and despite many attempts from the chasing bunch to reel them back in, were never headed. At one point, the lead was out to 90 seconds and Roberts was in danger of missing a top five placing. He was at least able to peg some time back over the closing 20 km, but there had been an awful amount of damage in the middle section of the stage.
The bunch finished 46 seconds down on the tearaway trio, but Johnson still had a nervous wait before it was formally announced that he was the 2003 tour champion. "I knew I had to ride aggressively today to try and peg some time back on Luke (Roberts), but I didn't like the wait before they told me whether I had won or not," he said.
A philosophical Roberts said he was extremely disappointed to have the lost the tour when he had gone so close. "The final stage was on a very tough circuit," he said. "Tim (Johnson) has been riding very well over the last few days and he thoroughly deserves his victory, but I'll be back next year and try to win it."
Roberts' father Wayne, also has a second placing in a Herald Sun Tour alongside his career record, finishing runner-up to Peter "Bulldog" Besanko in 1976.
Guyton wins final
Photo ©: Shane Goss/CN

Kiwi Scott Guyton picked up an extremely handy 40 seconds in time bonuses and with the extra 20 seconds for winning the stage, leapt from 7th at 1.39 minutes behind the leader into third at just 34 seconds. Along the way he leapfrogged Simon Gerrans (Malaysia Airlines), Kjell Carlstom (Europcar - Pelaco), pre-race favourite Matt Wilson (Malaysia Airlines) and Tasmanian Sean Sullivan (Barloworld).
Carlstrom scored an easy win in the Sprint Championship while Italian Ivan Fanelli, had a comfortable win in the King of the Mountain title. For the second year in a row, former cyclist Ashley Sheard managed the winning team, the Active For Life unit, which comprised Canadians Eric Wohlberg and Dominique Perras, Uruguayians Hector Morales and Jorge Libonatti and tour champion, Tim Johnson.
Many of the Herald Sun Tour riders will remain in Australia, enjoying a week's rest before preparing for the $60,000 Jayco Tour of Queensland, which will be based in Bundaberg from November 3-8.
Photography
Images by Shane Goss/Cyclingnews.com/www.licoricegallery.com
Results

1 Scott Guyton (NZl) Jayco                            1.59.40
2 Tim Johnson (USA) Active For Life                      0.02
3 Scott Moninger (USA) Ballarat*Eureka!                      
4 Robert McLachlan (Aus) Caravello                       0.46
5 Sean Sullivan (Aus) Barloworld                             
6 Lubor Tesar (Cze) Team Warrnambool                         
7 Simon Gerrans (Aus) Malaysia Airlines                      
8 Hector Morales (Uru) Active For Life                       
9 Stephen Cummings (GBr) Bendigo Building Industry           
10 Kjell Carlstrom (Fin) Pelaco                              
11 Jonas Ljungblad (Swe) City Of Melbourne                   
12 Eric Wohlberg (Can) Active For Life                       
13 Phillip Thuaux (Aus) Ballarat*Eureka!                     
14 Luke Roberts (Aus) Emu Spirit-Apsco                       
15 Tony Mann (Aus) Caravello                                 
16 Jamie Drew (Aus) Jayco                                1.04
17 Jeremy Hunt (GBr) Malaysia Airlines                   1.05
18 Chris Bradford (Aus) Subaru                               
19 Matt Wilson (Aus) Malaysia Airlines                       
20 Cameron Jennings (Aus) Caravello                          
21 Rhys Pollock (Aus) Vicroads                               
22 Trent Wilson (Aus) Jayco                                  
23 Peter Milostic (Aus) FRF Couriers                         
24 Nigel Dunstone (Aus) Caravello                            
25 James Perry (RSA) Barloworld                              
26 Paul Manning (GBr) Bendigo Building Industry              
27 Kristian House (GBr) Emu Spirit-Apsco                 1.12
28 David McKenzie (Aus) Jayco                            1.28
29 Ashley Baines (Aus) Subaru                            1.48
30 Shaun Higgerson (Aus) FRF Couriers                    8.41
31 Chris Newton (GBr) Bendigo Building Industry              
32 Dominique Perras (Can) Active For Life                    
33 Alex Candelario (USA) Ballarat*Eureka!                    
34 Ivan Fanelli (Ita) Pelaco                                 
35 Luke Weir (Aus) City Of Melbourne                         
36 Matthew Goold (Aus) Malaysia Airlines                     
37 Michal Precechtel (Cze) Team Warrnambool                  
38 Luis Fernando Sepulveda (Chi) City Of Melbourne           
39 Jindrich Vana (Cze) Team Warrnambool                      
40 Jaco de Witt (RSA) Barloworld                             
41 Andrew Graham (Aus) FRF Couriers                          
42 Jose Medina (Chi) City Of Melbourne                       
43 Jamie Burrow (GBr) Pelaco                                 
44 Mateusz Mroz (Pol) Pelaco                                 
45 Russell Van Hout (Aus) Emu Spirit-Apsco                   
46 Tiaan Kannemeyer (RSA) Barloworld                         
47 Jorge Libonatti (Uru) Active For Life                 9.15
48 Milton Wynants (Uru) Echuca-Moama                     9.29
49 Brett Aitken (Aus) Rio Coffee                             
50 Domenic Gatto (Aus) Subaru                                
51 Tomas Buchacek (Cze) Emu Spirit-Apsco                     
52 Adrian Laidler (Aus) Rio Coffee                           
53 George Vallins (Aus) Vicroads                             
54 Kieran Page (GBr) Bendigo Building Industry               
55 Alejandro Acton (Arg) Echuca-Moama                        
56 Danny In't Ven (Bel) Carlton Midstrength                  
57 James Hannam (Aus) Rio Coffee                             
58 Pavel Zerzan (Cze) Team Warrnambool                   9.42
59 Troy Glennan (Aus) FRF Couriers                      14.17
60 Trent Stevenson (Aus) Vicroads                       15.08
61 Gerado Castro (Uru) Echuca-Moama                     18.14
62 Anthony Challinor (Aus) FRF Couriers                 33.14
63 Joel Pearson (Aus) Subaru                                 
64 Colin Thornton (Aus) Emu Spirit-Apsco                     
65 Brian Steel (GBr) Bendigo Building Industry               
66 Steve Cunningham (Aus) Rio Coffee                    34.12
67 Alvaro Tardaguila (Uru) Echuca-Moama                      
68 Stephen Wooldridge (Aus) Carlton Midstrength              
69 Tim Decker (Aus) Subaru                              38.42
 
Sprints
 
End of Lap 1
 
1 Tony Mann (Aus) Caravello                                 3 pts
2 Robert McLachlan (Aus) Caravello                          2
3 Ashley Baines (Aus) Subaru                                1
 
End of Lap 2
 
1 Phillip Thuaux (Aus) Ballarat*Eureka!                     3 pts
2 Andrew Graham (Aus) FRF Couriers                          2
3 Tony Mann (Aus) Caravello                                 1
 
End of Lap 3
 
1 Phillip Thuaux (Aus) Ballarat*Eureka!                     3 pts
2 Scott Guyton (NZl) Jayco                                  2
3 Andrew Graham (Aus) FRF Couriers                          1
 
End of Lap 4
 
1 Scott Guyton (NZl) Jayco                                  3 pts
2 Scott Moninger (USA) Ballarat*Eureka!                     2
3 Phillip Thuaux (Aus) Ballarat*Eureka!                     1
 
End of Lap 5
 
1 Scott Guyton (NZl) Jayco                                  3 pts
2 Scott Moninger (USA) Ballarat*Eureka!                     2
3 Tim Johnson (USA) Active For Life                         1
 
End of Lap 6
 
1 Scott Guyton (NZl) Jayco                                  3 pts
2 Tim Johnson (USA) Active For Life                         2
3 Scott Moninger (USA) Ballarat*Eureka!                     1
 
End of Lap 7
 
1 Scott Guyton (NZl) Jayco                                  3 pts
2 Tim Johnson (USA) Active For Life                         2
3 Scott Moninger (USA) Ballarat*Eureka!                     1
 
Hill Climbs
 
Hill Climb No. 1
 
1 Luke Roberts (Aus) Emu Spirit-Apsco                       5 pts
2 Simon Gerrans (Aus) Malaysia Airlines                     3
3 Chris Bradford (Aus) Subaru                               2
 
Hill Climb No. 2
 
1 Ivan Fanelli (Ita) Pelaco                                 5 pts
2 Luke Roberts (Aus) Emu Spirit-Apsco                       3
3 Simon Gerrans (Aus) Malaysia Airlines                     2
 
Hill Climb No. 3
 
1 Scott Guyton (NZl) Jayco                                  5 pts
2 Matt Wilson (Aus) Malaysia Airlines                       3
3 Andrew Graham (Aus) FRF Couriers                          2
 
Hill Climb No. 4
 
1 Scott Guyton (NZl) Jayco                                  5 pts
2 Matt Wilson (Aus) Malaysia Airlines                       3
3 Phillip Thuaux (Aus) Ballarat*Eureka!                     2
 
Hill Climb No. 5
 
1 Scott Guyton (NZl) Jayco                                  5 pts
2 Scott Moninger (USA) Ballarat*Eureka!                     3
3 Ashley Baines (Aus) Subaru                                2
 
Hill Climb No. 6
 
1 Tim Johnson (USA) Active For Life                         5 pts
2 Scott Guyton (NZl) Jayco                                  3
3 Scott Moninger (USA) Ballarat*Eureka!                     2
 
Hill Climb No. 7
 
1 Tim Johnson (USA) Active For Life                         5 pts
2 Scott Guyton (NZl) Jayco                                  3
3 Scott Moninger (USA) Ballarat*Eureka!                     2
 
Hill Climb No. 8
 
1 Scott Guyton (NZl) Jayco                                  5 pts
2 Tim Johnson (USA) Active For Life                         3
3 Scott Moninger (USA) Ballarat*Eureka!                     2
 
Final general classification
 
1 Tim Johnson (USA) Active For Life                  28.51.29
2 Luke Roberts (Aus) Emu Spirit-Apsco                    0.33
3 Scott Guyton (NZl) Jayco                               0.34
4 Simon Gerrans (Aus) Malaysia Airlines                  0.53
5 Kjell Carlstrom (Fin) Pelaco                           1.24
6 Sean Sullivan (Aus) Barloworld                         1.59
7 Matt Wilson (Aus) Malaysia Airlines                    2.00
8 Jonas Ljungblad (Swe) City Of Melbourne                2.57
9 Jamie Drew (Aus) Jayco                                 3.10
10 Scott Moninger (USA) Ballarat*Eureka!                 3.42
11 Kristian House (GBr) Emu Spirit-Apsco                 4.00
12 Tony Mann (Aus) Caravello                             4.07
13 Jeremy Hunt (GBr) Malaysia Airlines                   5.29
14 Robert McLachlan (Aus) Caravello                      6.03
15 Stephen Cummings (GBr) Bendigo Building Industry      6.17
16 Eric Wohlberg (Can) Active For Life                   6.37
17 Rhys Pollock (Aus) Vicroads                          10.30
18 Phillip Thuaux (Aus) Ballarat*Eureka!                12.27
19 Tiaan Kannemeyer (RSA) Barloworld                    14.47
20 Brett Aitken (Aus) Rio Coffee                        14.52
21 Russell Van Hout (Aus) Emu Spirit-Apsco              16.31
22 Ivan Fanelli (Ita) Pelaco                            20.04
23 Jorge Libonatti (Uru) Active For Life                20.09
24 Michal Precechtel (Cze) Team Warrnambool             20.35
25 Peter Milostic (Aus) FRF Couriers                    21.42
26 Lubor Tesar (Cze) Team Warrnambool                   25.56
27 Milton Wynants (Uru) Echuca-Moama                    26.00
28 Hector Morales (Uru) Active For Life                 26.09
29 Adrian Laidler (Aus) Rio Coffee                      26.46
30 Matthew Goold (Aus) Malaysia Airlines                27.31
31 Paul Manning (GBr) Bendigo Building Industry         29.52
32 Kieran Page (GBr) Bendigo Building Industry          30.35
33 Chris Bradford (Aus) Subaru                          31.12
34 Mateusz Mroz (Pol) Pelaco                            35.51
35 David McKenzie (Aus) Jayco                           38.19
36 Tomas Buchacek (Cze) Emu Spirit-Apsco                41.02
37 Cameron Jennings (Aus) Caravello                     43.12
38 Danny In't Ven (Bel) Carlton Midstrength             45.29
39 Jaco de Witt (RSA) Barloworld                        48.04
40 Alex Candelario (USA) Ballarat*Eureka!               52.45
41 George Vallins (Aus) Vicroads                        53.58
42 Dominique Perras (Can) Active For Life               54.40
43 Andrew Graham (Aus) FRF Couriers                     58.19
44 Shaun Higgerson (Aus) FRF Couriers                   59.44
45 Luis Fernando Sepulveda (Chi) City Of Melbourne    1.00.49
46 Jose Medina (Chi) City Of Melbourne                1.10.05
47 Trent Wilson (Aus) Jayco                           1.11.01
48 Nigel Dunstone (Aus) Caravello                     1.12.08
49 Jindrich Vana (Cze) Team Warrnambool               1.13.57
50 Gerado Castro (Uru) Echuca-Moama                   1.16.16
51 Chris Newton (GBr) Bendigo Building Industry       1.16.17
52 Jamie Burrow (GBr) Pelaco                          1.16.58
53 Joel Pearson (Aus) Subaru                          1.23.14
54 James Hannam (Aus) Rio Coffee                      1.28.30
55 Troy Glennan (Aus) FRF Couriers                    1.28.31
56 Ashley Baines (Aus) Subaru                         1.29.30
57 Pavel Zerzan (Cze) Team Warrnambool                1.30.03
58 Trent Stevenson (Aus) Vicroads                     1.33.47
59 Domenic Gatto (Aus) Subaru                         1.35.27
60 James Perry (RSA) Barloworld                       1.38.41
61 Luke Weir (Aus) City Of Melbourne                  1.39.38
62 Steve Cunningham (Aus) Rio Coffee                  1.39.54
63 Brian Steel (GBr) Bendigo Building Industry        1.43.42
64 Anthony Challinor (Aus) FRF Couriers               1.46.16
65 Alejandro Acton (Arg) Echuca-Moama                 1.59.11
66 Alvaro Tardaguila (Uru) Echuca-Moama               2.01.58
67 Colin Thornton (Aus) Emu Spirit-Apsco              2.05.25
68 Stephen Wooldridge (Aus) Carlton Midstrength       2.25.54
69 Tim Decker (Aus) Subaru                            2.54.13
 
Aggressive Rider Awards
 
1 Luke Roberts (Aus) Emu Spirit-Apsco                     700 pts
2 Robert McLachlan (Aus) Caravello                        300
3 Russell Van Hout (Aus) Emu Spirit-Apsco                 300
4 Simon Gerrans (Aus) Malaysia Airlines                   200
5 Steve Cunningham (Aus) Rio Coffee                       200
6 Kjell Carlstrom (Fin) Pelaco                            200
7 Ivan Fanelli (Ita) Pelaco                               200
8 Chris Newton (GBr) Bendigo Building Industry            200
9 Paul Manning (GBr) Bendigo Building Industry            200
10 Hector Morales (Uru) Active For Life                   200
11 Hilton Clarke (Aus) Barloworld                         200
12 Sean Sullivan (Aus) Barloworld                         200
13 Chris Bradford (Aus) Subaru                            200
14 Bart Heirewegh (Bel) Carlton Midstrength               100
15 Tim Johnson (USA) Active For Life                      100
 
Team classification
 
1 Active For Life                                    86.42.50
2 Malaysia Airlines                                      0.13
3 Emu Spirit / Apsco                                    11.20
4 Jayco                                                 20.02
5 Barloworld                                            33.04
6 Europcar / Pelaco                                     38.51
7 Caravello                                             46.42
8 Ballarat Eureka                                       50.12
9 Bendigo Building Industry                             54.49
10 Team Warrnambool                                   1.26.25
11 Vic Roads                                          1.30.47
12 Rio Coffee                                         1.40.35
13 City Of Melbourne                                  1.45.45
14 Subaru                                             1.46.59
15 FRF Couriers                                       1.59.12
16 Echuca - Moama                                     2.51.59
17 Carlton Midstrength                                1.29.55
 
Sprint classification
 
1 Kjell Carlstrom (Fin) Pelaco                             60 pts
2 Simon Gerrans (Aus) Malaysia Airlines                    35
3 Robert McLachlan (Aus) Caravello                         35
4 Luke Roberts (Aus) Emu Spirit-Apsco                      34
5 Jonas Ljungblad (Swe) City Of Melbourne                  32
6 Ivan Fanelli (Ita) Pelaco                                28
7 Scott Guyton (NZl) Jayco                                 23
8 Matt Wilson (Aus) Malaysia Airlines                      23
9 Brett Aitken (Aus) Rio Coffee                            22
10 Russell Van Hout (Aus) Emu Spirit-Apsco                 21
11 Jeremy Hunt (GBr) Malaysia Airlines                     21
12 Hector Morales (Uru) Active For Life                    21
13 Tim Johnson (USA) Active For Life                       19
14 David McKenzie (Aus) Jayco                              18
15 Jamie Drew (Aus) Jayco                                  18
16 Kieran Page (GBr) Bendigo Building Industry             17
17 Scott Moninger (USA) Ballarat*Eureka!                   17
18 Tony Mann (Aus) Caravello                               15
19 Sean Sullivan (Aus) Barloworld                          14
20 Michal Precechtel (Cze) Team Warrnambool                13
21 Milton Wynants (Uru) Echuca-Moama                       12
22 Matthew Goold (Aus) Malaysia Airlines                   11
23 Lubor Tesar (Cze) Team Warrnambool                      10
24 Luis Fernando Sepulveda (Chi) City Of Melbourne          9
25 Chris Newton (GBr) Bendigo Building Industry             8
26 Paul Manning (GBr) Bendigo Building Industry             8
27 Kristian House (GBr) Emu Spirit-Apsco                    8
28 Phillip Thuaux (Aus) Ballarat*Eureka!                    7
29 Steve Cunningham (Aus) Rio Coffee                        7
30 Troy Glennan (Aus) FRF Couriers                          7
31 Eric Wohlberg (Can) Active For Life                      6
32 Anthony Challinor (Aus) FRF Couriers                     6
33 Mateusz Mroz (Pol) Pelaco                                5
34 Andrew Graham (Aus) FRF Couriers                         5
35 Nigel Dunstone (Aus) Caravello                           5
36 Adrian Laidler (Aus) Rio Coffee                          4
37 Jaco de Witt (RSA) Barloworld                            4
38 Danny In't Ven (Bel) Carlton Midstrength                 4
39 Chris Bradford (Aus) Subaru                              4
40 Jose Medina (Chi) City Of Melbourne                      3
41 Alex Candelario (USA) Ballarat*Eureka!                   3
42 Alejandro Acton (Arg) Echuca-Moama                       2
43 Stephen Cummings (GBr) Bendigo Building Industry         2
44 Jamie Burrow (GBr) Pelaco                                2
45 Jorge Libonatti (Uru) Active For Life                    2
46 Tomas Buchacek (Cze) Emu Spirit-Apsco                    2
47 Trent Wilson (Aus) Jayco                                 1
48 Dominique Perras (Can) Active For Life                   1
49 Domenic Gatto (Aus) Subaru                               1
50 Ashley Baines (Aus) Subaru                               1
                                                             
Mountains classification                                     
 
1 Ivan Fanelli (Ita) Pelaco                                63 pts
2 Scott Guyton (NZl) Jayco                                 41
3 Luke Roberts (Aus) Emu Spirit-Apsco                      31
4 Tim Johnson (USA) Active For Life                        28
5 Lubor Tesar (Cze) Team Warrnambool                       19
6 Jonas Ljungblad (Swe) City Of Melbourne                  15
7 Simon Gerrans (Aus) Malaysia Airlines                    14
8 Matt Wilson (Aus) Malaysia Airlines                      14
9 Chris Newton (GBr) Bendigo Building Industry             13
10 Steve Cunningham (Aus) Rio Coffee                       13
11 Dominique Perras (Can) Active For Life                  13
12 Kjell Carlstrom (Fin) Pelaco                            11
13 Anthony Challinor (Aus) FRF Couriers                    10
14 Chris Bradford (Aus) Subaru                              9
15 Scott Moninger (USA) Ballarat*Eureka!                    9
16 Michal Precechtel (Cze) Team Warrnambool                 8
17 Jaco de Witt (RSA) Barloworld                            7
18 Jamie Drew (Aus) Jayco                                   6
19 Jorge Libonatti (Uru) Active For Life                    5
20 Kristian House (GBr) Emu Spirit-Apsco                    5
21 Brett Aitken (Aus) Rio Coffee                            4
22 Sean Sullivan (Aus) Barloworld                           3
23 Phillip Thuaux (Aus) Ballarat*Eureka!                    3
24 Domenic Gatto (Aus) Subaru                               3
25 Kieran Page (GBr) Bendigo Building Industry              2
26 Cameron Jennings (Aus) Caravello                         2
27 Andrew Graham (Aus) FRF Couriers                         2
28 Ashley Baines (Aus) Subaru                               2
29 Russell Van Hout (Aus) Emu Spirit-Apsco                  2
30 Danny In't Ven (Bel) Carlton Midstrength                 2
31 Tomas Buchacek (Cze) Emu Spirit-Apsco                    1
 
Criterium Championship
 
1 Brett Aitken (Aus) Rio Coffee                            20 pts
2 Hector Morales (Uru) Active For Life                     18
3 Tim Johnson (USA) Active For Life                        14
4 Kieran Page (GBr) Bendigo Building Industry              14
5 Tony Mann (Aus) Caravello                                10
6 David McKenzie (Aus) Jayco                               10
7 Matthew Goold (Aus) Malaysia Airlines                     9
8 Jeremy Hunt (GBr) Malaysia Airlines                       9
9 Jamie Drew (Aus) Jayco                                    9
10 Ivan Fanelli (Ita) Pelaco                                9
11 Paul Manning (GBr) Bendigo Building Industry             8
12 Lubor Tesar (Cze) Team Warrnambool                       7
13 Alex Candelario (USA) Ballarat*Eureka!                   7
14 Simon Gerrans (Aus) Malaysia Airlines                    7
15 Milton Wynants (Uru) Echuca-Moama                        6
16 Kjell Carlstrom (Fin) Pelaco                             6
17 Sean Sullivan (Aus) Barloworld                           6
18 Peter Milostic (Aus) FRF Couriers                        5
19 Jorge Libonatti (Uru) Active For Life                    3
20 Jonas Ljungblad (Swe) City Of Melbourne                  3
21 Michal Precechtel (Cze) Team Warrnambool                 2
22 Luke Roberts (Aus) Emu Spirit-Apsco                      1
23 Matt Wilson (Aus) Malaysia Airlines                      1
24 Robert McLachlan (Aus) Caravello                         1
 
Leading Australian Based Rider
 
1 Tony Mann (Aus) Caravello