Vic Roads Herald Sun Tour 2003 - 2.3
Australia, October 16-26, 2003
Main Page Results Previous Stage Next Stage
Stage 9 - October 23: Horsham To Mt. William, 99.4 kms
Johnson takes stage as Roberts moves into lead
By Rod Morris
Tim Johnson at last
Photo: © Shane Goss/CN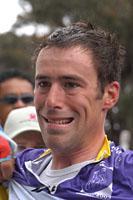 The first of today's two stages saw action on the road early with the 76 starters (there have been 9 withdrawals to date) putting the pedal down early. There were five distinctive groups all placed equally apart. That position remained for about 10 km before groups 1 and 2 merged and groups 4 and 5 did likewise.
The front bunch decided the best form of defense was attack and with all the big guns in General Classification well placed, action was aplenty. When the riders started the final 10 km, which just happened to coincide with the start of the Cat. 1 hill climb - the toughest section of the tour - some competitors were found wanting.
One of those was tour leader Jamie Drew, who lost more than just considerable time up the mountain, he also lost his grip on yellow. Drew was 20th across the line and almost 2 minutes behind the race winner, Tim Johnson, who had completed the 99.4 km trek in 2 hours 33 minutes.
Ace Swedish rider Jonas Ljungblad (City of Melbourne) claimed second place behind Johnson in Stage 9, with Finland's Kjell Carlstrom took third and in doing so, also retained his almost unassailable lead in the Sprint Championship.
Photography
Images by Shane Goss/Cyclingnews.com/www.licoricegallery.com
Results

1 Tim Johnson (USA) Active For Life                 2.33.00
2 Jonas Ljungblad (Swe) City Of Melbourne              0.15
3 Kjell Carlstrom (Fin) Pelaco                         0.17
4 Luke Roberts (Aus) Emu Spirit-Apsco
5 Sean Sullivan (Aus) Barloworld                       0.20
6 Scott Guyton (NZl) Jayco                             0.21
7 Jeremy Hunt (GBr) Malaysia Airlines                  0.22
8 Simon Gerrans (Aus) Malaysia Airlines                0.24
9 Matt Wilson (Aus) Malaysia Airlines                  0.26
10 Rhys Pollock (Aus) Vicroads                         0.29
11 Kristian House (GBr) Emu Spirit-Apsco               0.35
12 Eric Wohlberg (Can) Active For Life                 0.37
13 Scott Moninger (USA) Ballarat*Eureka!               0.41
14 Brett Aitken (Aus) Rio Coffee                       0.48
15 Stephen Cummings (GBr) Bendigo Building Industry
16 Tiaan Kannemeyer (RSA) Barloworld                   0.50
17 Tony Mann (Aus) Caravello                           1.13
18 Russell Van Hout (Aus) Emu Spirit-Apsco             1.46
19 Ivan Fanelli (Ita) Pelaco                           1.50
20 Jamie Drew (Aus) Jayco                              1.53
21 Adrian Laidler (Aus) Rio Coffee                     2.18
22 Jorge Libonatti (Uru) Active For Life               2.21
23 Robert McLachlan (Aus) Caravello                    2.26
24 Paul Manning (GBr) Bendigo Building Industry        2.45
25 Michal Precechtel (Cze) Team Warrnambool            3.13
26 Peter Milostic (Aus) FRF Couriers                   3.39
27 Jonathan Cantwell (Aus) Vicroads
28 Milton Wynants (Uru) Echuca-Moama                   4.02
29 Tomas Buchacek (Cze) Emu Spirit-Apsco               5.25
30 Kieran Page (GBr) Bendigo Building Industry
31 Garry Parsons (Aus) Malaysia Airlines               7.06
32 Matthew Goold (Aus) Malaysia Airlines
33 Phillip Thuaux (Aus) Ballarat*Eureka!               7.10
34 Lubor Tesar (Cze) Team Warrnambool                  8.39
35 Luis Fernando Sepulveda (Chi) City Of Melbourne     9.05
36 Cameron Jennings (Aus) Caravello                   11.21
37 Trent Wilson (Aus) Jayco                           14.42
38 Andrew Graham (Aus) FRF Couriers
39 James Hannam (Aus) Rio Coffee
40 Nigel Dunstone (Aus) Caravello
41 Steve Cunningham (Aus) Rio Coffee
42 Alvaro Tardaguila (Uru) Echuca-Moama
43 Chris Bradford (Aus) Subaru                        17.08
44 Colin Thornton (Aus) Emu Spirit-Apsco
45 Mateusz Mroz (Pol) Pelaco
46 Domenic Gatto (Aus) Subaru                         18.11
47 Bart Heirewegh (Bel) Carlton Midstrength           18.48
48 George Vallins (Aus) Vicroads
49 Michael Sayers (USA) Ballarat*Eureka!
50 Hilton Clarke (Aus) Barloworld
51 Jindrich Vana (Cze) Team Warrnambool
52 Hector Morales (Uru) Active For Life               21.41
53 Chris Newton (GBr) Bendigo Building Industry       22.47
54 Ashley Baines (Aus) Subaru                         24.30
55 Jose Medina (Chi) City Of Melbourne
56 Trent Stevenson (Aus) Vicroads                     25.52
57 Jamie Burrow (GBr) Pelaco                          27.20
58 Luke Weir (Aus) City Of Melbourne
59 Gerado Castro (Uru) Echuca-Moama
60 Marek Wesoly (Pol) Pelaco
61 Joel Pearson (Aus) Subaru
62 Brian Steel (GBr) Bendigo Building Industry
63 Anthony Challinor (Aus) FRF Couriers
64 Dominique Perras (Can) Active For Life
65 Shaun Higgerson (Aus) FRF Couriers
66 Pavel Zerzan (Cze) Team Warrnambool
67 Stephen Wooldridge (Aus) Carlton Midstrength
68 Alejandro Acton (Arg) Echuca-Moama
69 James Perry (RSA) Barloworld
70 Jaco de Witt (RSA) Barloworld
71 Alex Candelario (USA) Ballarat*Eureka!
72 David McKenzie (Aus) Jayco
73 Danny In't Ven (Bel) Carlton Midstrength
74 Troy Glennan (Aus) FRF Couriers                    30.34
75 Tim Decker (Aus) Subaru                            32.08
 
Sprints
 
Glenera North Building (20)
 
1 Robert McLachlan (Aus) Caravello                        3 pts
2 Jeremy Hunt (GBr) Malaysia Airlines                     2
3 Jamie Drew (Aus) Jayco                                  1
 
Lah-arum Primary School (27)
 
1 Kjell Carlstrom (Fin) Pelaco                            3 pts
2 Jamie Drew (Aus) Jayco                                  2
3 Matt Wilson (Aus) Malaysia Airlines                     1
 
Wartook General Store (32)
 
1 Jonas Ljungblad (Swe) City Of Melbourne                 3 pts
2 Robert McLachlan (Aus) Caravello                        2
3 Tony Mann (Aus) Caravello                               1
 
Zumsteins Picnic Area Entrance (37)
 
1 Adrian Laidler (Aus) Rio Coffee                         3 pts
2 Matt Wilson (Aus) Malaysia Airlines                     2
3 Trent Wilson (Aus) Jayco                                1
 
Halls Gap Centenary Hall (48)
 
1 Scott Guyton (NZl) Jayco                                3 pts
2 Kjell Carlstrom (Fin) Pelaco                            2
3 Jeremy Hunt (GBr) Malaysia Airlines                     1
 
Hill Climbs
 
Mocka No. (37)
 
1 Luke Roberts (Aus) Emu Spirit-Apsco                     7 pts
2 Matt Wilson (Aus) Malaysia Airlines                     5
3 Ivan Fanelli (Ita) Pelaco                               3
 
Mocka No. (60)
 
1 Tim Johnson (USA) Active For Life                      10 pts
2 Jonas Ljungblad (Swe) City Of Melbourne                 6
3 Kjell Carlstrom (Fin) Pelaco                            4
 
General classification after stage 9
 
1 Luke Roberts (Aus) Emu Spirit-Apsco              21.18.52
2 Jeremy Hunt (GBr) Malaysia Airlines                  0.09
3 Kjell Carlstrom (Fin) Pelaco                         0.10
4 Jonas Ljungblad (Swe) City Of Melbourne              0.11
5 Tim Johnson (USA) Active For Life                    0.18
6 Simon Gerrans (Aus) Malaysia Airlines                0.41
7 Matt Wilson (Aus) Malaysia Airlines                  0.51
8 Sean Sullivan (Aus) Barloworld                       0.57
9 Scott Guyton (NZl) Jayco                             1.08
10 Kristian House (GBr) Emu Spirit-Apsco               1.12
11 Jamie Drew (Aus) Jayco                              1.26
12 Brett Aitken (Aus) Rio Coffee                       2.11
13 Tony Mann (Aus) Caravello                           2.21
14 Eric Wohlberg (Can) Active For Life                 2.22
15 Tiaan Kannemeyer (RSA) Barloworld                   2.44
16 Ivan Fanelli (Ita) Pelaco                           3.11
17 Scott Moninger (USA) Ballarat*Eureka!               3.39
18 Stephen Cummings (GBr) Bendigo Building Industry    3.46
19 Russell Van Hout (Aus) Emu Spirit-Apsco             3.49
20 Robert McLachlan (Aus) Caravello                    4.52
21 Adrian Laidler (Aus) Rio Coffee                     5.33
22 Milton Wynants (Uru) Echuca-Moama                   6.10
23 Jorge Libonatti (Uru) Active For Life               6.45
24 Rhys Pollock (Aus) Vicroads                         7.39
25 Michal Precechtel (Cze) Team Warrnambool            9.15
26 Phillip Thuaux (Aus) Ballarat*Eureka!              10.23
27 Matthew Goold (Aus) Malaysia Airlines              13.34
28 Kieran Page (GBr) Bendigo Building Industry        16.14
29 Tomas Buchacek (Cze) Emu Spirit-Apsco              16.43
30 Jonathan Cantwell (Aus) Vicroads                   16.52
31 Peter Milostic (Aus) FRF Couriers                  18.46
32 Michael Sayers (USA) Ballarat*Eureka!              19.27
33 Garry Parsons (Aus) Malaysia Airlines              20.19
34 Mateusz Mroz (Pol) Pelaco                          20.24
35 Lubor Tesar (Cze) Team Warrnambool                 20.38
36 Hilton Clarke (Aus) Barloworld                     21.21
37 Domenic Gatto (Aus) Subaru                         21.41
38 Hector Morales (Uru) Active For Life               24.24
39 Paul Manning (GBr) Bendigo Building Industry       26.54
40 David McKenzie (Aus) Jayco                         27.50
41 Jaco de Witt (RSA) Barloworld                      28.58
42 Chris Bradford (Aus) Subaru                        29.24
43 Cameron Jennings (Aus) Caravello                   29.35
44 Alex Candelario (USA) Ballarat*Eureka!             30.24
45 Danny In't Ven (Bel) Carlton Midstrength           33.34
46 Joel Pearson (Aus) Subaru                          36.33
47 Dominique Perras (Can) Active For Life             38.13
48 George Vallins (Aus) Vicroads                      39.00
49 Andrew Graham (Aus) FRF Couriers                   42.37
50 Bart Heirewegh (Bel) Carlton Midstrength           44.05
51 Luis Fernando Sepulveda (Chi) City Of Melbourne    44.11
52 Gerado Castro (Uru) Echuca-Moama                   48.35
53 Chris Newton (GBr) Bendigo Building Industry       50.05
54 Shaun Higgerson (Aus) FRF Couriers                 50.22
55 Jose Medina (Chi) City Of Melbourne                51.00
56 Steve Cunningham (Aus) Rio Coffee                  51.17
57 Nigel Dunstone (Aus) Caravello                     52.14
58 Marek Wesoly (Pol) Pelaco                          52.48
59 Brian Steel (GBr) Bendigo Building Industry        54.41
60 James Hannam (Aus) Rio Coffee                      56.17
61 Trent Wilson (Aus) Jayco                           58.58
62 Jindrich Vana (Cze) Team Warrnambool               59.25
63 Anthony Challinor (Aus) FRF Couriers             1.05.47
64 Troy Glennan (Aus) FRF Couriers                  1.06.11
65 Jamie Burrow (GBr) Pelaco                        1.06.30
66 Colin Thornton (Aus) Emu Spirit-Apsco            1.07.56
67 Trent Stevenson (Aus) Vicroads                   1.09.04
68 Luke Weir (Aus) City Of Melbourne                1.13.52
69 Pavel Zerzan (Cze) Team Warrnambool              1.14.50
70 Alvaro Tardaguila (Uru) Echuca-Moama             1.16.38
71 Ashley Baines (Aus) Subaru                       1.18.28
72 Stephen Wooldridge (Aus) Carlton Midstrength     1.21.40
73 Alejandro Acton (Arg) Echuca-Moama               1.22.57
74 James Perry (RSA) Barloworld                     1.33.30
75 Tim Decker (Aus) Subaru                          1.33.52
 
SAVINGS AND LOANS Aggressive Rider Awards
 
1 Luke Roberts (Aus) Emu Spirit-Apsco                  $500
2 Robert McLachlan (Aus) Caravello                     $300
3 Russell Van Hout (Aus) Emu Spirit-Apsco              $300
4 Simon Gerrans (Aus) Malaysia Airlines                $200
5 Steve Cunningham (Aus) Rio Coffee                    $200
6 Kjell Carlstrom (Fin) Pelaco                         $200
7 Ivan Fanelli (Ita) Pelaco                            $200
8 Paul Manning (GBr) Bendigo Building Industry         $200
9 Hilton Clarke (Aus) Barloworld                       $200
10 Sean Sullivan (Aus) Barloworld                      $200
 
Team classification
 
1 Caravello                                        61.58.03
2 Malaysia Airlines                                 1.59.42
3 Emu Spirit / Apsco                                2.01.58
4 Active For Life                                   2.03.39
5 Jayco                                             2.16.20
6 Europcar / Pelaco                                 2.21.07
7 Barloworld                                        2.21.39
8 Ballarat Eureka                                   2.31.56
9 Bendigo Building Industry                         2.45.27
10 Rio Coffee                                       2.49.27
11 Vic Roads                                        3.00.17
12 Team Warrnambool                                 3.05.30
13 City Of Melbourne                                3.15.54
14 Subaru                                           3.18.04
15 FRF Couriers                                     3.38.08
16 Echuca - Moama                                   3.52.40
17 Carlton Midstrength                              3.56.04
 
Sprint classification
 
1 Kjell Carlstrom (Fin) Pelaco                           50 pts
2 Jonas Ljungblad (Swe) City Of Melbourne                32
3 Luke Roberts (Aus) Emu Spirit-Apsco                    31
4 Robert McLachlan (Aus) Caravello                       23
5 Simon Gerrans (Aus) Malaysia Airlines                  22
6 Brett Aitken (Aus) Rio Coffee                          22
7 Jeremy Hunt (GBr) Malaysia Airlines                    22
8 Ivan Fanelli (Ita) Pelaco                              18
9 Jamie Drew (Aus) Jayco                                 17
10 David McKenzie (Aus) Jayco                            15
11 Matthew Goold (Aus) Malaysia Airlines                 11
12 Kieran Page (GBr) Bendigo Building Industry           11
13 Lubor Tesar (Cze) Team Warrnambool                    10
14 Matt Wilson (Aus) Malaysia Airlines                   10
15 Michal Precechtel (Cze) Team Warrnambool               9
16 Sean Sullivan (Aus) Barloworld                         9
17 Luis Fernando Sepulveda (Chi) City Of Melbourne        9
18 Michael Sayers (USA) Ballarat*Eureka!                  9
19 Tony Mann (Aus) Caravello                              8
20 Paul Manning (GBr) Bendigo Building Industry           8
21 Hector Morales (Uru) Active For Life                   8
22 Scott Moninger (USA) Ballarat*Eureka!                  8
23 Russell Van Hout (Aus) Emu Spirit-Apsco                8
24 Steve Cunningham (Aus) Rio Coffee                      7
25 Troy Glennan (Aus) FRF Couriers                        7
26 Anthony Challinor (Aus) FRF Couriers                   6
27 Milton Wynants (Uru) Echuca-Moama                      6
 
Mountains classification
 
1 Ivan Fanelli (Ita) Pelaco                              51 pts
2 Luke Roberts (Aus) Emu Spirit-Apsco                    23
3 Jonas Ljungblad (Swe) City Of Melbourne                15
4 Scott Guyton (NZl) Jayco                               14
5 Steve Cunningham (Aus) Rio Coffee                      13
6 Tim Johnson (USA) Active For Life                      12
7 Lubor Tesar (Cze) Team Warrnambool                     10
8 Anthony Challinor (Aus) FRF Couriers                   10
9 Matt Wilson (Aus) Malaysia Airlines                     8
10 Jaco de Witt (RSA) Barloworld                          7
11 Jamie Drew (Aus) Jayco                                 6
12 Michal Precechtel (Cze) Team Warrnambool               5
13 Jorge Libonatti (Uru) Active For Life                  5
14 Kristian House (GBr) Emu Spirit-Apsco                  5
15 Kjell Carlstrom (Fin) Pelaco                           4
16 Chris Bradford (Aus) Subaru                            4
17 Brett Aitken (Aus) Rio Coffee                          4
18 Simon Gerrans (Aus) Malaysia Airlines                  4
19 Hilton Clarke (Aus) Barloworld                         3
20 Sean Sullivan (Aus) Barloworld                         3
21 Domenic Gatto (Aus) Subaru                             3
22 Kieran Page (GBr) Bendigo Building Industry            2
23 Cameron Jennings (Aus) Caravello                       2
24 Danny In't Ven (Bel) Carlton Midstrength               2
25 Tomas Buchacek (Cze) Emu Spirit-Apsco                  1
26 Phillip Thuaux (Aus) Ballarat*Eureka!                  1
27 Michael Sayers (USA) Ballarat*Eureka!                  1
 
Criterium Championship
 
1 Brett Aitken (Aus) Rio Coffee                          12 pts
2 Kieran Page (GBr) Bendigo Building Industry            10
3 David McKenzie (Aus) Jayco                             10
4 Michael Sayers (USA) Ballarat*Eureka!                  10
5 Tony Mann (Aus) Caravello                              10
6 Matthew Goold (Aus) Malaysia Airlines                   9
7 Jeremy Hunt (GBr) Malaysia Airlines                     9
8 Jamie Drew (Aus) Jayco                                  9
9 Hector Morales (Uru) Active For Life                    9
10 Ivan Fanelli (Ita) Pelaco                              9
11 Paul Manning (GBr) Bendigo Building Industry           8
12 Hilton Clarke (Aus) Barloworld                         7
13 Simon Gerrans (Aus) Malaysia Airlines                  7
14 Marek Wesoly (Pol) Pelaco                              6
15 Milton Wynants (Uru) Echuca-Moama                      6
16 Sean Sullivan (Aus) Barloworld                         6
17 Lubor Tesar (Cze) Team Warrnambool                     4
18 Tim Johnson (USA) Active For Life                      4
19 Jorge Libonatti (Uru) Active For Life                  3
20 Jonas Ljungblad (Swe) City Of Melbourne                3
21 Michal Precechtel (Cze) Team Warrnambool               2
22 Matt Wilson (Aus) Malaysia Airlines                    1
23 Robert McLachlan (Aus) Caravello                       1
 
Leading Australian Based Rider
 
1 Brett Aitken (Aus) Rio Coffee