Vic Roads Herald Sun Tour 2003 - 2.3
Australia, October 16-26, 2003
Main Page Results Previous Stage Next Stage
Stage 8 - October 22: Dunkeld To Horsham, 162.7 kms
British Bulldogs 1-2-3
Drew's lead down to 20 seconds
By Rod Morris in Horsham
Manning gets his nose in front
Photo: © Shane Goss/CN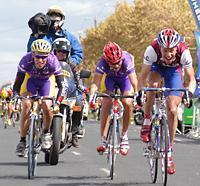 The fighting Bulldog spirit of the British continued for a third consecutive stage of the VicRoads Herald Sun Tour yesterday when Paul Manning claimed victory in the longest section of the race.
Manning, 28, riding for the Bendigo Building Industry team, won the 162.7 km stage from Dunkeld to Horsham in Victoria's Western District, whilst Warrnambool's Jamie Drew (Jayco) retained his hold on the "Golden Fleece" top that goes with leading the tour. Drew's lead, however, has dwindled from 42 seconds to just 20 seconds, and he now faces two days of tough climbing.
When quizzed on how he would fare over the mountains, he replied: "Let's just wait and see." Drew's biggest dangers now are volatile Englishman Jeremy Hunt (Malaysia Airlines) and South Australian Luke Roberts (Emu Spirit/Apsco), who is 26 seconds adrift.
How it unfolded
The leading break
Photo: © Shane Goss/CN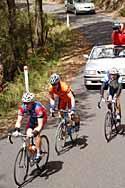 The eighth of 13 stages of the Herald Sun Tour was equally as exciting as the seven previous races and again full of drama.
One of the more dramatic moments was when Victorian rider Domenic Gatto (Subaru) crashed at 80 km/h on a steep descent when hurtling down the Grampians National Park. Gatto simply got up, brushed the gravel from his knicks and re-mounted... or at least he attempted to until he discovered there was more damage to his bike than his body.
At the time of Gatto's fall he was involved in a tenacious breakaway with Steve Cunningham (Rio Coffee), South African Jacobuf de Witt (Barloworld) and Anthony Challinor (FRF Couriers). With Gatto missing, the other trio stayed out in front of the peloton for more than 40 km before Challinor's FRF Courier team-mate Troy Glennon bridged the gap in a courageous solo ride.
That quartet then settled in for the remainder of the journey towards Horsham. Cunningham, de Witt, Challinor and Glennon pushed their advantage out to a little over two minutes before the peleton, sensing danger, closed the gap down to 30 seconds. It was then that the peloton went to sleep and the leading four kicked further ahead.
Heading up Silverband Falls in the Northern area of the Grampians, a group of 11 chasers closed the gap to the front quartet at exactly half way through the stage. The newly formed group of 15 riders established a solid work ethic and 40 km from home, the margin had increased to 4 minutes 15 seconds. Whether it was going to be enough remained the be seen.
As the tour entourage edged closer to Horsham, the strong breakaway group was working overtime to maintain their advantage and even though the gap was narrowed down to 90 seconds, the front bunch were in top gear.
Hunt attacks
Photo: © Shane Goss/CN

The momentum lifted even further when the field hit the Wimmera Highway and the sprinters had the peloton in sight. Englishman Jeremy Hunt (Malaysia Airlines) and Dominique Perras (Active For Life) made another bold move when the field reached the 10 km mark, getting clear by about 100 metres. The chase continued, but one-by-one, riders were found wanting in their legs. Perras remained in the lead, Hunt went by the side, American Tim Johnson (Active For Life) made his move and there was Cummings.
It was a desperate lunge to the line in front of a huge crowd in Horsham that saw Manning claim his first ever victory on Australian soil and capped a trifecta of wins for British riders, following Keiran Page and Kristian House the day prior.
"This is my fourth visit to Australia but first time in a big race like the Herald Sun Tour," Manning explained. "There wasn't the strong winds of the previous two days so when I saw the sunshine I thought it was time to do something. Sprinting is not my forte normally, so I think made my attack at exactly the right time." Manning is a member of the British Track Endurance squad, which is using the Australian summer as a valuable training camp.
Paul Manning
Photo: © Shane Goss/CN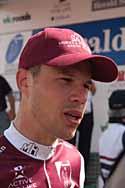 "You can't get any better training than racing in an event like this," added Manning. There are still five stages and of this 1195 km tour remaining and realistically any one of about 16 riders could still win."
However, it is highly likely that Drew, Hunt and Roberts and perhaps, Kjell Carlstrom (Europcar - Pelaco), who is 42 seconds behind, Simon Gerrans (Malaysia Airlines) at 47 seconds and Jonas Ljungblad (City of Melbourne), also 47 seconds, are the more serious chances. The tour continues tomorrow with dual stages, opening with a 99.4 km climb from Horsham to Mt William and then an afternoon sprint of 52.5 km from Hall's Gap to Ararat.
Photography
Images by Shane Goss/Cyclingnews.com/www.licoricegallery.com
Results

1 Paul Manning (GBr) Bendigo Building Industry       4.00.13 (40.64 km/h)
2 Dominique Perras (Can) Active For Life
3 Tim Johnson (USA) Active For Life
4 Anthony Challinor (Aus) FRF Couriers                  0.03
5 Michal Precechtel (Cze) Team Warrnambool
6 Luke Weir (Aus) City Of Melbourne
7 Russell Van Hout (Aus) Emu Spirit-Apsco
8 Luke Roberts (Aus) Emu Spirit-Apsco
9 Jeremy Hunt (GBr) Malaysia Airlines
10 Jamie Burrow (GBr) Pelaco
11 Steve Cunningham (Aus) Rio Coffee
12 Tiaan Kannemeyer (RSA) Barloworld
13 Jaco de Witt (RSA) Barloworld
14 Troy Glennan (Aus) FRF Couriers                      0.07
15 Tomas Buchacek (Cze) Emu Spirit-Apsco                0.25
16 Alex Candelario (USA) Ballarat*Eureka!               1.28
17 Hilton Clarke (Aus) Barloworld
18 Lubor Tesar (Cze) Team Warrnambool
19 Sean Sullivan (Aus) Barloworld
20 Michael Sayers (USA) Ballarat*Eureka!
21 Ivan Fanelli (Ita) Pelaco
22 Jonas Ljungblad (Swe) City Of Melbourne
23 Jonathan Cantwell (Aus) Vicroads
24 Kjell Carlstrom (Fin) Pelaco
25 Joel Pearson (Aus) Subaru
26 Bart Heirewegh (Bel) Carlton Midstrength
27 Kieran Page (GBr) Bendigo Building Industry
28 Jorge Libonatti (Uru) Active For Life
29 Jamie Drew (Aus) Jayco
30 Jindrich Vana (Cze) Team Warrnambool
31 Tony Mann (Aus) Caravello
32 Garry Parsons (Aus) Malaysia Airlines
33 Mateusz Mroz (Pol) Pelaco
34 Simon Gerrans (Aus) Malaysia Airlines
35 Chris Bradford (Aus) Subaru
36 Phillip Thuaux (Aus) Ballarat*Eureka!
37 George Vallins (Aus) Vicroads
38 Cameron Jennings (Aus) Caravello
39 Brett Aitken (Aus) Rio Coffee
40 Milton Wynants (Uru) Echuca-Moama
41 Stephen Cummings (GBr) Bendigo Building Industry
42 David McKenzie (Aus) Jayco
43 Marek Wesoly (Pol) Pelaco
44 Scott Moninger (USA) Ballarat*Eureka!
45 Robert McLachlan (Aus) Caravello
46 Kristian House (GBr) Emu Spirit-Apsco
47 Pavel Zerzan (Cze) Team Warrnambool
48 Alvaro Tardaguila (Uru) Echuca-Moama
49 Jose Medina (Chi) City Of Melbourne
50 Tim Decker (Aus) Subaru
51 Danny In't Ven (Bel) Carlton Midstrength
52 Gerado Castro (Uru) Echuca-Moama
53 Chris Newton (GBr) Bendigo Building Industry
54 Eric Wohlberg (Can) Active For Life
55 Brian Steel (GBr) Bendigo Building Industry
56 Adrian Laidler (Aus) Rio Coffee
57 Alejandro Acton (Arg) Echuca-Moama
58 Trent Stevenson (Aus) Vicroads
59 Rhys Pollock (Aus) Vicroads
60 Hector Morales (Uru) Active For Life
61 Matt Wilson (Aus) Malaysia Airlines
62 Scott Guyton (NZl) Jayco
63 Matthew Goold (Aus) Malaysia Airlines
64 Ashley Baines (Aus) Subaru
65 Luis Fernando Sepulveda (Chi) City Of Melbourne
66 Domenic Gatto (Aus) Subaru
67 Nigel Dunstone (Aus) Caravello                       2.06
68 Andrew Graham (Aus) FRF Couriers
69 Peter Milostic (Aus) FRF Couriers
70 Trent Wilson (Aus) Jayco
71 Shaun Higgerson (Aus) FRF Couriers
72 Colin Thornton (Aus) Emu Spirit-Apsco
73 Stephen Wooldridge (Aus) Carlton Midstrength
74 James Hannam (Aus) Rio Coffee
75 James Perry (RSA) Barloworld                         2.09
76 Chris Wherry (USA) Ballarat*Eureka!                  2.12

Sprints

Dunkeld Consolidated School
 
1 Jonas Ljungblad (Swe) City Of Melbourne                  3 pts
2 Nigel Dunstone (Aus) Caravello                           2
3 Marek Wesoly (Pol) Pelaco                                1
 
Grampians Golf Club
 
1 Tony Mann (Aus) Caravello                                3
2 Brett Aitken (Aus) Rio Coffee                            2
3 Robert McLachlan (Aus) Caravello                         1
 
Sierra Park Sign
 
1 Steve Cunningham (Aus) Rio Coffee                        3
2 Anthony Challinor (Aus) FRF Couriers                     2
3 Domenic Gatto (Aus) Subaru                               1
 
Great Dividing Range
 
1 Jaco de Witt (RSA) Barloworld                            3
2 Anthony Challinor (Aus) FRF Couriers                     2
3 Steve Cunningham (Aus) Rio Coffee                        1
 
Mt. William Turnoff
 
1 Steve Cunningham (Aus) Rio Coffee                        3
2 Anthony Challinor (Aus) FRF Couriers                     2
3 Jaco de Witt (RSA) Barloworld                            1
 
Kangaroo Viewing Area
 
1 Luke Roberts (Aus) Emu Spirit-Apsco                      3
2 Michal Precechtel (Cze) Team Warrnambool                 2
3 Tomas Buchacek (Cze) Emu Spirit-Apsco                    1
 
Wartook Town Sign & Pottery Tea Rooms
 
1 Michal Precechtel (Cze) Team Warrnambool                 3
2 Troy Glennan (Aus) FRF Couriers                          2
3 Tomas Buchacek (Cze) Emu Spirit-Apsco                    1
 
Lah-arum Primary School
 
1 Luke Roberts (Aus) Emu Spirit-Apsco                      3
2 Russell Van Hout (Aus) Emu Spirit-Apsco                  2
3 Troy Glennan (Aus) FRF Couriers                          1

Hill Climbs

Mocka No. 19
 
1 Steve Cunningham (Aus) Rio Coffee                        7 pts
2 Anthony Challinor (Aus) FRF Couriers                     5
3 Domenic Gatto (Aus) Subaru                               3
 
Mocka No. 34
 
1 Jaco de Witt (RSA) Barloworld                            7
2 Anthony Challinor (Aus) FRF Couriers                     5
3 Steve Cunningham (Aus) Rio Coffee                        3
 
Mocka No. 41
 
1 Michal Precechtel (Cze) Team Warrnambool                 5
2 Luke Roberts (Aus) Emu Spirit-Apsco                      3
3 Steve Cunningham (Aus) Rio Coffee                        2

General classification after stage 8

1 Jamie Drew (Aus) Jayco                            18.45.28
2 Jeremy Hunt (GBr) Malaysia Airlines                   0.20
3 Luke Roberts (Aus) Emu Spirit-Apsco                   0.28
4 Kjell Carlstrom (Fin) Pelaco                          0.42
5 Simon Gerrans (Aus) Malaysia Airlines                 0.47
6 Jonas Ljungblad (Swe) City Of Melbourne
7 David McKenzie (Aus) Jayco                            0.54
8 Kristian House (GBr) Emu Spirit-Apsco                 1.01
9 Matt Wilson (Aus) Malaysia Airlines
10 Michael Sayers (USA) Ballarat*Eureka!                1.03
11 Tim Johnson (USA) Active For Life                    1.12
12 Sean Sullivan (Aus) Barloworld                       1.13
13 Scott Guyton (NZl) Jayco                             1.24
14 Tony Mann (Aus) Caravello                            1.33
15 Brett Aitken (Aus) Rio Coffee                        1.47
16 Ivan Fanelli (Ita) Pelaco                            1.48
17 Jaco de Witt (RSA) Barloworld                        2.02
18 Eric Wohlberg (Can) Active For Life                  2.09
19 Tiaan Kannemeyer (RSA) Barloworld                    2.18
20 Russell Van Hout (Aus) Emu Spirit-Apsco              2.27
21 Milton Wynants (Uru) Echuca-Moama                    2.32
22 Robert McLachlan (Aus) Caravello                     2.55
23 Hilton Clarke (Aus) Barloworld                       2.57
24 Hector Morales (Uru) Active For Life                 3.07
25 Scott Moninger (USA) Ballarat*Eureka!                3.22
26 Stephen Cummings (GBr) Bendigo Building Industry
27 Alex Candelario (USA) Ballarat*Eureka!               3.28
28 Phillip Thuaux (Aus) Ballarat*Eureka!                3.37
29 Mateusz Mroz (Pol) Pelaco                            3.40
30 Adrian Laidler (Aus) Rio Coffee                      3.42
31 Domenic Gatto (Aus) Subaru                           3.54
32 Jorge Libonatti (Uru) Active For Life                4.48
33 Michal Precechtel (Cze) Team Warrnambool             6.26
34 Danny In't Ven (Bel) Carlton Midstrength             6.38
35 Matthew Goold (Aus) Malaysia Airlines                6.52
36 Rhys Pollock (Aus) Vicroads                          7.36
37 Joel Pearson (Aus) Subaru                            9.37
38 Kieran Page (GBr) Bendigo Building Industry         11.13
39 Dominique Perras (Can) Active For Life              11.17
40 Tomas Buchacek (Cze) Emu Spirit-Apsco               11.42
41 Lubor Tesar (Cze) Team Warrnambool                  12.23
42 Chris Bradford (Aus) Subaru                         12.40
43 Jonathan Cantwell (Aus) Vicroads                    13.37
44 Garry Parsons (Aus) Malaysia Airlines               13.37
45 Peter Milostic (Aus) FRF Couriers                   15.31
46 Cameron Jennings (Aus) Caravello                    18.38
47 Chris Wherry (USA) Ballarat*Eureka!                 19.39
48 George Vallins (Aus) Vicroads                       20.36
49 Gerado Castro (Uru) Echuca-Moama                    21.39
50 Shaun Higgerson (Aus) FRF Couriers                  23.26
51 Paul Manning (GBr) Bendigo Building Industry        24.33
52 Bart Heirewegh (Bel) Carlton Midstrength            25.41
53 Marek Wesoly (Pol) Pelaco                           25.52
54 Jose Medina (Chi) City Of Melbourne                 26.54
55 Chris Newton (GBr) Bendigo Building Industry        27.42
56 Brian Steel (GBr) Bendigo Building Industry         27.45
57 Andrew Graham (Aus) FRF Couriers                    28.19
58 Luis Fernando Sepulveda (Chi) City Of Melbourne     35.30
59 Troy Glennan (Aus) FRF Couriers                     36.01
60 Steve Cunningham (Aus) Rio Coffee                   36.59
61 Nigel Dunstone (Aus) Caravello                      37.56
62 Anthony Challinor (Aus) FRF Couriers                38.51
63 Jamie Burrow (GBr) Pelaco                           39.34
64 Jindrich Vana (Cze) Team Warrnambool                41.01
65 James Hannam (Aus) Rio Coffee                       41.59
66 Trent Stevenson (Aus) Vicroads                      43.36
67 Trent Wilson (Aus) Jayco                            44.41
68 Luke Weir (Aus) City Of Melbourne                   46.56
69 Pavel Zerzan (Cze) Team Warrnambool                 47.54
70 Colin Thornton (Aus) Emu Spirit-Apsco               51.12
71 Ashley Baines (Aus) Subaru                          54.22
72 Stephen Wooldridge (Aus) Carlton Midstrength        54.44
73 Alejandro Acton (Arg) Echuca-Moama                  56.01
74 Tim Decker (Aus) Subaru                           1.02.08
75 Alvaro Tardaguila (Uru) Echuca-Moama              1.02.20
76 James Perry (RSA) Barloworld                      1.06.34
 
Aggressive Rider Awards
 
1 Luke Roberts (Aus) Emu Spirit-Apsco                $500.00
2 Russell Van Hout (Aus) Emu Spirit-Apsco            $300.00
3 Simon Gerrans (Aus) Malaysia Airlines              $200.00
4 Steve Cunningham (Aus) Rio Coffee                  $200.00
5 Kjell Carlstrom (Fin) Pelaco                       $200.00
6 Ivan Fanelli (Ita) Pelaco                          $200.00
7 Paul Manning (GBr) Bendigo Building Industry       $200.00
8 Hilton Clarke (Aus) Barloworld                     $200.00
9 Sean Sullivan (Aus) Barloworld                     $200.00
 
Team classification
 
1 Matt Wilson (Aus) Malaysia Airlines               56.18.00
2 Steve Cunningham (Aus) Rio Coffee                     0.44
3 Simon Gerrans (Aus) Malaysia Airlines
4 Scott Guyton (NZl) Jayco                              2.14
5 Chris Wherry (USA) Ballarat*Eureka!                   2.56
6 Jeremy Hunt (GBr) Malaysia Airlines                   3.23
7 Matthew Goold (Aus) Malaysia Airlines                 6.20
8 Brett Aitken (Aus) Rio Coffee                        19.18
9 Alex Candelario (USA) Ballarat*Eureka!               21.30
10 Garry Parsons (Aus) Malaysia Airlines               32.45
11 Allan Iacuone (Aus) Jayco                           35.53
12 David McKenzie (Aus) Jayco                          37.32
13 Michael Sayers (USA) Ballarat*Eureka!               38.26
14 Scott Moninger (USA) Ballarat*Eureka!               43.34
15 Trent Wilson (Aus) Jayco                            43.39
16 Phillip Thuaux (Aus) Ballarat*Eureka!               53.30
17 Jamie Drew (Aus) Jayco                            1.07.39
 
Sprint classification
 
1 Kjell Carlstrom (Fin) Pelaco                            12 pts
2 Luke Roberts (Aus) Emu Spirit-Apsco                      9
3 Jonas Ljungblad (Swe) City Of Melbourne                  6
4 Simon Gerrans (Aus) Malaysia Airlines                    5
5 Brett Aitken (Aus) Rio Coffee                            5
6 Jeremy Hunt (GBr) Malaysia Airlines                      2
7 Robert McLachlan (Aus) Caravello                         4
8 Ivan Fanelli (Ita) Pelaco                                3
9 David McKenzie (Aus) Jayco                               2
10 Jamie Drew (Aus) Jayco                                  0
11 Kieran Page (GBr) Bendigo Building Industry             2
12 Matthew Goold (Aus) Malaysia Airlines                   2
13 Lubor Tesar (Cze) Team Warrnambool                      3
14 Michal Precechtel (Cze) Team Warrnambool                2
15 Michael Sayers (USA) Ballarat*Eureka!                   1
16 Sean Sullivan (Aus) Barloworld                          1
17 Luis Fernando Sepulveda (Chi) City Of Melbourne         1
18 Paul Manning (GBr) Bendigo Building Industry            2
19 Hector Morales (Uru) Active For Life                    1
20 Scott Moninger (USA) Ballarat*Eureka!                   0
21 Russell Van Hout (Aus) Emu Spirit-Apsco                 0
22 Steve Cunningham (Aus) Rio Coffee                       2
23 Tony Mann (Aus) Caravello                               1
24 Matt Wilson (Aus) Malaysia Airlines                     1
25 Troy Glennan (Aus) FRF Couriers                         0
26 Milton Wynants (Uru) Echuca-Moama                       0
27 Eric Wohlberg (Can) Active For Life                     0
28 Anthony Challinor (Aus) FRF Couriers                    0
29 Kristian House (GBr) Emu Spirit-Apsco                   1
30 Hilton Clarke (Aus) Barloworld                          0
31 Jaco de Witt (RSA) Barloworld                           1
32 Bart Heirewegh (Bel) Carlton Midstrength                1
33 Danny In't Ven (Bel) Carlton Midstrength                0
34 Chris Newton (GBr) Bendigo Building Industry            1
35 Mateusz Mroz (Pol) Pelaco                               1
36 Jose Medina (Chi) City Of Melbourne                     0
37 Nigel Dunstone (Aus) Caravello                          0
38 Marek Wesoly (Pol) Pelaco                               0
39 Tomas Buchacek (Cze) Emu Spirit-Apsco                   0
40 Chris Bradford (Aus) Subaru                             0
41 Alejandro Acton (Arg) Echuca-Moama                      0
42 Andrew Graham (Aus) FRF Couriers                        0
43 Domenic Gatto (Aus) Subaru                              0
44 Scott Guyton (NZl) Jayco                                0
45 Tim Johnson (USA) Active For Life                       0
46 Adrian Laidler (Aus) Rio Coffee                         0
47 Alex Candelario (USA) Ballarat*Eureka!                  0
 
Mountains classification
 
1 Ivan Fanelli (Ita) Pelaco                               48 pts
2 Luke Roberts (Aus) Emu Spirit-Apsco                     16
3 Scott Guyton (NZl) Jayco                                14
4 Steve Cunningham (Aus) Rio Coffee                       13
5 Lubor Tesar (Cze) Team Warrnambool                      10
6 Anthony Challinor (Aus) FRF Couriers                    10
7 Jonas Ljungblad (Swe) City Of Melbourne                  9
8 Jaco de Witt (RSA) Barloworld                            7
9 Jamie Drew (Aus) Jayco                                   6
10 Michal Precechtel (Cze) Team Warrnambool                5
11 Jorge Libonatti (Uru) Active For Life                   5
12 Kristian House (GBr) Emu Spirit-Apsco                   5
13 Chris Bradford (Aus) Subaru                             4
14 Brett Aitken (Aus) Rio Coffee                           4
15 Simon Gerrans (Aus) Malaysia Airlines                   4
16 Hilton Clarke (Aus) Barloworld                          3
17 Matt Wilson (Aus) Malaysia Airlines                     3
18 Sean Sullivan (Aus) Barloworld                          3
19 Domenic Gatto (Aus) Subaru                              3
20 Tim Johnson (USA) Active For Life                       2
21 Kieran Page (GBr) Bendigo Building Industry             2
22 Cameron Jennings (Aus) Caravello                        2
23 Danny In't Ven (Bel) Carlton Midstrength                2
24 Tomas Buchacek (Cze) Emu Spirit-Apsco                   1
25 Phillip Thuaux (Aus) Ballarat*Eureka!                   1
26 Michael Sayers (USA) Ballarat*Eureka!                   1
 
Criterium Championship
 
1 Brett Aitken (Aus) Rio Coffee                           12 pts
2 Kieran Page (GBr) Bendigo Building Industry             10
3 David McKenzie (Aus) Jayco                              10
4 Michael Sayers (USA) Ballarat*Eureka!                   10
5 Tony Mann (Aus) Caravello                               10
6 Matthew Goold (Aus) Malaysia Airlines                    9
7 Jeremy Hunt (GBr) Malaysia Airlines                      9
8 Jamie Drew (Aus) Jayco                                   9
9 Hector Morales (Uru) Active For Life                     9
10 Ivan Fanelli (Ita) Pelaco                               9
11 Paul Manning (GBr) Bendigo Building Industry            8
12 Hilton Clarke (Aus) Barloworld                          7
13 Simon Gerrans (Aus) Malaysia Airlines                   7
14 Marek Wesoly (Pol) Pelaco                               6
15 Milton Wynants (Uru) Echuca-Moama                       6
16 Sean Sullivan (Aus) Barloworld                          6
17 Lubor Tesar (Cze) Team Warrnambool                      4
18 Tim Johnson (USA) Active For Life                       4
19 Jorge Libonatti (Uru) Active For Life                   3
20 Jonas Ljungblad (Swe) City Of Melbourne                 3
21 Michal Precechtel (Cze) Team Warrnambool                2
22 Matt Wilson (Aus) Malaysia Airlines                     1
23 Robert McLachlan (Aus) Caravello                        1
 
Herald Sun Leading Australian Based Rider
 
1 Tony Mann (Aus) Caravello