Latest Cycling News, May 21, 2009
Edited by Laura Weislo
Phinney takes Flèche opener
By Daniel Benson
Taylor Phinney (Trek Livestrong) in Mexico earlier this year.
Photo ©: Wenceslao Rodriguez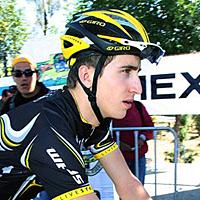 Taylor Phinney claimed his first European leader's jersey, winning the Flèche du Sud's 4.2km prologue in Luxembourg on Wednesday. The Trek-Livestrong rider finished three seconds ahead of his nearest challenger, while his US-based under-23 outfit took the lead in the team classification.
It was Phinney's first road win on European soil since moving up from the junior ranks, and it didn't go unnoticed. He received calls of congratulations from his parents and supporters at home, along with a text message from Lance Armstrong.
"To pull on my first leader's jersey in a European stage race is a really cool feeling, especially as this race has such a special history. Some really famous riders have won here in the past," Phinney told Cyclingnews prior to today's stage.
Phinney, the current world pursuit champion, had spent the last few days riding the course with his teammates and wanted to leave nothing to chance over the technical course. "Even when the roads weren't closed-off I was out there with my team studying the best lines to take."
Dedication paid off, and despite hitting the curb three times en route to victory, Phinney did enough to take the win. "When you're right on the edge you're going to clip the odd curb. Luckily I had that time to ride the course and I'm really happy it paid off."
"It was quite technical but that's even better for me and it made it more fun than a pursuit, but also a little more painful."
It was the team's first win since the start of the season and Phinney is confident that they have the tools to keep the jersey after today's 158km race from Kayl – Roeser, with strong back up from riders like Jesse Sergent and Bjorn Selander.
"Hopefully it's a relatively controllable day as the climbs come early on and if there's a break on the finishing circuit, we have the strength to bring it back." With no time bonuses for finishing places Phinney only needs to keep out of trouble and finish in the pack to retain the jersey.
Coming up on
Cyclingnews will cover the 60th edition of the Dauphiné Libéré live as of stage 4 on Wednesday, June 10, at approximately 15:00 local Europe time (CEST)/ 23:00 Australian time (CDT)/ 9:00 (USA East).

WAP-enabled mobile devices: http://live.cyclingnews.com/wap/
However with tougher, more demanding stages to come, Phinney will have to remain astute. Tomorrow's stage to Troisvierges has an uphill finish, while there are undulating stages before the races finishes in Alzette on Sunday.
"This is a big race for me. There are some experienced guys here so I'm wearing the jersey with pride, despite the fact the organisers gave a me jersey that's too small. If I keep it for another day, perhaps I'll get one that fits."
Cancellara drops out
Fabian Cancellara (Saxo Bank)
Photo ©: Sirotti

Team Saxo Bank's Fabian Cancellara called an early end to his participation in the Giro d'Italia. Ironically, the Olympic time trial champion pulled out the day before Thursday's 60.6km race against the clock.
"It has been our plan all along that I would be taking it day by day in the Giro," said the Swiss rider. "I'm very happy with the part of it that I have raced and the atmosphere here at the Giro is always really special. I'm very fond of this race and I've always felt extremely welcome here.
"I'd like to come back in one of the next seasons and, if it fits in my program, I would love to make a result here."
Cancellara, twice a time trial world champion and winner of the 2006 Paris-Roubaix, has had a difficult season. He took the prologue victory in the Tour of California before succumbing to the flu. He then suffered a crash which set him back during his training for the Spring Classics, but now feels he is on target for his main goal of the season, the Tour de France.
"My season this year has not been completely as planned, but I definitely feel that I'm on the right track and I'm looking forward to the next goals for me and the team. Now, I'll take it easy for the next couple of days, before I'm off to a very demanding training camp in the Alps with some of the other riders on the Tour team," he said.
Valverde extends Catalunya lead
Alejandro Valverde (Caisse d'Epargne)
Photo ©: AFP
Alejandro Valverde extended his overall lead at the Volta a Catalunya after winning the third stage from a breakaway of 10 riders. Fuji-Servetto's David de la Fuente was second and Daniel Martin of Garmin-Slipstream third. Valverde leads the race by 14 seconds over Astana's Haimar Zubeldia, but with four stages to go there are 13 riders within a minute of the lead.
The fact that Valverde is racing at all is controversial. He was suspended by the Italian antidoping tribunal earlier this month for alleged involvement in the Operación Puerto doping scandal. The UCI has yet to take action on extending the ban worldwide, but refused to comment for Cyclingnews on when it might make a decision on the matter.
Valverde, who has insisted that the Italian action is not legal, dedicated the victory to his family and "to the public of the Tour of Catalonia which applauded me every day and to all the persons who are at my side and support me in these difficult days. To know that the people like me helps me a lot and is a real motivation. I want also thank the people from Murcia who started a solidarity movement to support me."
Olympic champion Samuel Sanchez lent his support to his compatriot, telling EFE that Valverde never tested positive and that it is not right to skirt normal procedures as the Italians have done. He said Valverde has been the victim of "a great injustice".
Pozzato suffers bad luck
Filippo Pozzato (Team Katusha)
Photo ©: Sirotti
The eleventh stage of the Giro d'Italia was an unlucky one for Katusha's Filippo Pozzato. On a day where he should have been contending for the sprint finish, he struggled in alone more than five minutes behind stage winner Mark Cavendish.
Seen limping along with a huge hole in his shorts, it was not the crash which caused him to become detached but the additional ill fate of a puncture.
"Unfortunately lady luck had her blindfold on for me today," said Pozzato. "First, [Oscar] Gatto in a moment of inattention caused a crash which I was involved in, fortunately without consequences. After that on the descent toward Arenzano I punctured the rear wheel."
Pozzato, a winner of two Tour de France stages, is still looking for his first victory in his home tour.
Bos leading Olympia's Tour
Theo Bos at Tour of Turkey
Photo ©: JF Quenet
Rabobank Continental rider Theo Bos extended his lead in the Olympia's Tour with a sprint victory on stage 2. Thanks to a victory in the team time trial, the Rabobank squad occupies the top four spots in the overall rankings, with Van Vliet - EBH-Elshof's Bram Schmitz in fifth, 19 seconds behind.
Bos, a former track champion, has made a successful transition to road racing this season. The stage win in the Netherlands was his third individual win of the season after the Ronde van Noord Holland in April and the Omloop der Kempen earlier this month.
His season has not been without its problems, however. Bos was involved in a horrific crash in the final stage of the Presidential Tour of Turkey which brought down the race's leader Daryl Impey (Barloworld). Impey suffered a broken jaw and teeth and two fractured vertebrae. He placed the blame for the wreck squarely on Bos.
The South African's team called upon the UCI to punish Bos for unsafe riding. The governing body released a statement on May 1 which agreed that Bos' actions "undermined the image, reputation and interests of cycling and of the UCI", and referred the matter to the disciplinary commission.
Bos could face a one- to six-month suspension for the incident.
Horrillo continuing to improve
Spaniard Pedro Horrillo who suffered a dramatic crash in the Giro d'Italia last Saturday continues to improve. His Rabobank team said he was able to speak with his wife Lorena, but said it was still too early for him being transferred back to Spain because of his lung and breathing problems.
The Spaniard crashed and fell 60m in a ravine during Saturday's stage eight. He was placed in an induced coma for 24 hours, and is still heavily medicated.
The team said it was also far too early to speculate on whether Horrillo can continue his cycling career once he has recovered.
"We are being asked when Pedro will get back on the bike. But let's get him back to normal life first. Then we will see. Talk of resuming training or competition is out of place at this time."
"It is not impossible that Pedro will return to cycling, but right now that is absolutely not an issue," team doctor Geert Leinders said. (SW)
Americans vie for l'Aude lead
Amber Neben (Equipe Nurnberger) led the race for two stages.
Photo ©: CJ Farquharson
Olympic gold medallist Kristin Armstrong took the win on the Tour de l'Aude's stage five, but the story of the day was the rebound of her fellow American, Amber Neben (Equipe Nürnberger Versicherung). Neben lost the overall lead the day after she crashed in the finish on stage three after having taken the yellow jersey in the team time trial.
Neben lost more than two minutes on Tuesday's stage, but then attacked on the final climb the following day, drawing Armstrong along. The Cervélo TestTeam rider then faced some delicate team tactics. With teammate Regina Bruins in the overall lead, Armstrong had to be careful how much effort she put into the move.
"I didn't want to give full power in the break," said Armstrong, "because it is tricky to rein in Amber Neben."
Neben is now in sixth place, while the Cervélo team occupies three of the top six spots. Equipe Nürnberger has two former Tour de l'Aude champions in Neben and Trixi Worrack, who sit 1:25 and 2:02 behind Bruins in the general classification.
"We wanted to make the race fast today and to force the others to work," said Jochen Dornbusch, Nürnberger's Directeur Sportif. "We constantly attacked. In all the girls worked hard and put our tactics into effect."
Thursday's stage is the Queen Stage, 92km with start and finish in Osseja. It features two difficult climbs, the Col du Calvaire (1,836 metres) and the Col de la Quillane (1,713 metres). (SW)
US development camp heads to Northwest
Young riders in the Pacific Northwest will have an opportunity to gain experience from some of USA Cycling's top coaches next month. USA Cycling announced that it will hold its Athlete Development Camp at Pacific University in Forest Grove, Oregon on June 14-19th. The camp is open to male and female cyclists aged 14-22 with some race experience. It is one of ten such programs held in the US this year.
"Riders participating in this fantastic opportunity will be able to learn from the best ­ coaches, and expert staff," said camp manager Jim Anderson. "This camp is designed to give riders a chance to improve skills, learn new training techniques and jump to that next level."
Costs for the camp are $750.00 for the week, which includes room, board, and all instructional fees. All riders need to be current USA Cycling members. For more information see web site: www.nwcyclingcamp.com and for more information about USA Cycling Junior Programs: www.usacycling.org/juniors.
June issue of Procycling most explosive, ever!
The June issue of Procycling is on sale now!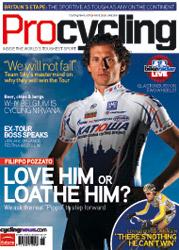 The June issue (126) of Procycling has gone on sale in the UK and will soon be available in the US and the rest of the world. Like every month, Procycling features the most explosive interviews, the most in-depth features, most spectacular photos and the best of everything else…
Top of the bill this month is a rider who could probably start controversy in an empty room. Over-hyped, overpaid and overly fond of his own reflection: is this an accurate portrait of Filippo Pozzato? Procycling travels to Italy to find out… and also discover which rider the Italian considers to be "a piece of s***".
PLUS: Is Shane Sutton the most powerful man in cycling that hardly anyone outside Britain or Australia has ever heard of? We investigate how Sutton and Team Sky are plotting world domination on the road.
Oft-forgotten by the fans, but not by the riders who brave its wind, cobbles and bergs, Ghent-Wevelgem is a Classic in every sense. We ride the route on the eve of this year's race.
ALSO: What is it about riders whose names begin with "Ed"? Eddy Merckx, Edvald Boasson Hagen, Eddy Seigneur… no, forget that last one. Anyway, we meet Hagen, cycling's new "cannibal".
Jean-Marie Leblanc's reign as Tour de France boss will forever be associated with Lance Armstrong's seven victories. In the last of its "Armstrong Years" features, Procycling visits Leblanc at home in France to reflect on his sometimes troubled time at the top.
The Lampre team's Wilier Triestina CENTO1 is one of the most eye-catching bikes in the pro peloton. Marcel Wüst finds out if it's also one of the quickest…
There's a whole lot more besides, including Mark Cavendish on the Theo Bos controversy in Turkey and Procycling's exclusive columns from Garmin's Dan Martin, Saxo Bank's Frank Hoj and Gianni "The Prince" Savio.
For details on subscriptions offers on Procycling to guarantee you get cycling's best mag as soon as it comes off the presses click here.
Celebrate with Cyclingnews' Giro Sweepstakes
The centenary edition of the Giro d'Italia has started off with exciting finishes, beautiful terrain and great performances by the superstars of cycling. We're celebrating the Giro in the best way we know how - working the race to bring you daily race reports, photos, features and live coverage.
Thanks to our friends at BMC, you can share in the celebration - simply enter our BMC-Cyclingnews Giro d'Italia Sweepstakes for a chance to win.
One lucky Grand Prize winner will receive a BMC SLC01 Pro Machine road bike frame - the same frame ridden by the riders on the US-based BMC Racing Team - as well as an Assos-made BMC team jersey, cap and socks.
Enter the contest at http://contests.cyclingnews.com/BMCGiroDItalia.php. All you have to do is answer two questions and complete the entry form - you don't have to buy anything! Please only enter once and good luck!
Entries close May 31, 2009 at 11:59PM Pacific time.
(All rights reserved/Copyright Future Publishing (Overseas) Limited 2009)