First Edition Cycling News, May 22, 2009
Edited by Peter Hymas
Menchov faces challenges as new race leader
By Gregor Brown in Riomaggiore, Italy
Denis Menchov (Rabobank) is the new leader
Photo ©: Roberto Bettini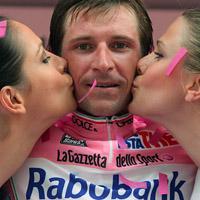 Denis Menchov proved that he came to win the Giro d'Italia Thursday with a dominant ride in stage 12's time trial through Cinque Terre. The Russian won the day with 20 seconds on Levi Leipheimer and took the leader's maglia rosa from Danilo Di Luca, but still has a fight ahead of him with nine days of racing and several challenging mountain stages in Italy's south.
"It is like all Grand Tours with its dangerous mountain stages. The stages like Petrano, Blockhaus and Vesuvio are the most important stages, and let's not forget the days to Bologna and Faeza," Menchov told Cyclingnews after the stage.
Those mountain days may not be so difficult for team Rabobank's Menchov based on how he handled the technical 60.6-kilometre time trial, which contained climbs up Passo del Bracco and Passo del Termine. Menchov was the fastest up both climbs and won the stage by 20 seconds over Leipheimer (Astana) and 1:54 over previous race leader Di Luca (LPR Brakes).
"I thought more or less that the fight would be like this, Danilo [Di Luca] showed that he had great condition and I knew it would be a fight of seconds. If I had to pick one name as the potential Giro winner I would say Di Luca because he is showing to be very motivated and has the grit," he told gathered press.
Coming up on
Cyclingnews will cover the 60th edition of the Dauphiné Libéré live as of stage 4 on Wednesday, June 10, at approximately 15:00 local Europe time (CEST)/ 23:00 Australian time (CDT)/ 9:00 (USA East).

WAP-enabled mobile devices: http://live.cyclingnews.com/wap/
Menchov, 31, looks prepared to add an Italian Grand Tour to his two Vuelta a España titles. His team, though suffering from the dramatic loss of Pedro Horrillo on Saturday, can rely on its climbers Laurens Ten Dam and Mauricio Ardila Cano.
"I think that we are more or less the level of Liquigas or LPR, we have a good team. Every year I have more and more experience and I know how to better manage races."
Menchov dedicated his win to Horrillo, who is still recovering in a Bergamo hospital following his fall from Culmine di San Pietro. "I hope to speak with him in the next few days."
Leipheimer closer to Giro lead, despite time trial near miss
By Gregor Brown in Riomaggiore, Italy
Levi Leipheimer (Astana) on the aero bars.
Photo ©: Sirotti
Levi Leipheimer moved closer to the Giro d'Italia's overall lead after a technical time trial Thursday in Clique Terre. The American finished 20 seconds shy of the stage win, but moved a minute closer to the prestigious race leader's maglia rosa.
"I know 'epic' is used a lot, but it truly deserves to be described that way," Astana's Leipheimer told Cyclingnews of the 60.6-kilometre time trial.
Leipheimer fought a tight battle with stage winner and new overall leader Denis Menchov (Rabobank) throughout the 12th stage. He was third and second at the top of the Bracco and Termine climbs, respectively, and finished second best in Riomaggiore.
"I had a good day, the other day [to Pinerolo] the guys got away from me and I made a few mistakes, but today I felt very confident on the downhills. I think I am better when I am alone, I don't trust the other guys so much!
"Menchov was clearly better than me with his 20-second margin, if it had been two or three seconds then that would have been hard to swallow. I took a lot of time on the others and that is good."
Leipheimer took 1:07 on Franco Pellizotti (Liquigas), 1:34 on former race leader Danilo Di Luca (LPR Brakes-Farnese Vini), 1:57 on Ivan Basso (Liquigas), 1:58 on Carlos Sastre (Cervélo TestTeam) and 2:26 on Michael Rogers (Team Columbia-Highroad). He moved from fourth to third overall, and is now 40 seconds back from race leader Menchov.
Leipheimer has nine days ahead to make up the difference on his Russian rival and defend himself from attacks from the other rivals. One hitch is the loss of Chris Horner, who left after a crash Tuesday, but he is confident with the support of his remaining teammates, including Lance Armstrong.
"We miss Horner, but as you can see Lance has gotten a lot better and we saw that Janez [Brajkovic] was strong. The entire team looks good, starting from the young guys like [Andrey] Zeits, who has impressed me this week."
Leipheimer 's confidence also comes from his overall wins in the Tour of California, Castilla y León and May's win in the Tour of Gila. He finished 18th overall last year in the Giro d'Italia.
This year's Giro d'Italia finished with a 14.4-kilometre time trial in Rome.
Armstrong enforces silence after time trial, but Bruyneel confident
By Gregor Brown in Riomaggiore, Italy
Lance Armstrong (Astana)
Photo ©: Sirotti
Johan Bruyneel explained that Lance Armstrong's form is improving in the right direction to help Levi Leipheimer win this year's Giro d'Italia. The seven-time Tour de France champion, who refused to speak to the media, finished just over two minutes behind his teammate in Thursday's 60.6-kilometre time trial stage in Cinque Terre.
"I am happy with the performance, it was a consistent performance," Bruyneel, Astana's team manager, told Cyclingnews. "It was more than one and a half hours of time trialling. After such a long time, I think he is on the right way."
Armstrong returned to professional cycling at the beginning of 2009 after a three and a half year absence. A fractured collarbone resulting from a crash in the Castilla y León delayed his preparations for the Giro d'Italia, but he still managed to start the the Italian Grand Tour and looks ahead to the Tour de France.
The Giro d'Italia's time trial was a big unknown for Armstrong, who had not raced such a long solo event since the 2005 Tour de France Saint-Étienne stage. He previewed the course in March and again Thursday morning.
"We had this idea not to go full gas in the beginning and try to accelerate on the last climb, and that was not possible. When he got to the bottom of the last climb he could maintain the rhythm, but not accelerate."
The result, 13th overall and 2:26 behind winner Denis Menchov, did not seem to please Armstrong. After his first major trial in four years, he avoided speaking to the gathered press. It was the seventh day in a row that Armstrong refused to comment, which many believe due to a dispute with race organiser RCS Sport over Sunday's Milan stage.
Armstrong's silence is intended to allow him to focus on winning the Giro d'Italia with Leipheimer, according to the team. Leipheimer is 40 seconds behind Menchov with nine days left to race.
Sastre satisfied with time trial performance
Carlos Sastre (Cervélo TestTeam)
Photo ©: Roberto Bettini

2008 Tour de France champion Carlos Sastre finished the 60.6-kilometre Cinque Terre time trial in 12th place, conceding 2:18 to stage winner and new maglia rosa holder Denis Menchov.
"The twelfth stage of the Giro d'Italia was really tough and I rode at my limit," Sastre said. "It was a time trial in which I rode well, I had good sensations which allowed me to suffer and to contest the stage at my maximum."
"I did not have any particular aim in this time trial. I gave as much as possible without thinking of the outcome. I feel satisfied and happy with the result. I think I'm among the best riders in this Giro d'Italia."
Sastre's directeur sportif, Jean Paul Van Poppel, was pleased with the Spaniard's performance on the challenging route along the Ligurian coast.
"The time trial today was a very special course. I think Carlos did a great job uphill, maybe one of the best, and on the downhill he was pretty good," said Van Poppel. "No mistakes overall, but he still lost a little time on the downhill. You could see in the last time check going uphill Carlos was 19 seconds ahead of Basso, and then after the downhill to the finish he's one second behind. It's a bit of a shame, but he's super good uphill. In the downhill he find his own way, maybe he can go faster if he's in the bunch. You saw that this week, but on his own, he lost some time."
Van Poppel is optimistic about Sastre's chances in the final week of the Giro d'Italia.
"With five really hard stages to come, what you don't want to have in the Grand Tour is a bad day and we know Carlos does not have bad days. If you have a bad day in the climbs, you can lose minutes. So no worries, we'll just keep focusing, and it's off to the next stage. Let's hope Carlos has his legs and comes back little by little or maybe one super day like he had last year in the Tour, that would also be fine."
Cervélo controls GC after Tour de l'Aude queen stage
Former Tour de l'Aude champion Trixi Worrack (Equipe Nurnberger Versicherung) won the queen stage of this year's edition, a mountainous 92-kilometre circuit which began and finished in Osseja. Worrack outsprinted her two Cervélo TestTeam breakaway companions, Claudia Häusler and Olympic time trial champion Kristin Armstrong, to take the stage honours.
The trio finished more than six minutes ahead of the first chase group and Häusler, Armstrong and Worrack now occupy the first three positions on general classification respectively by a comfortable margin. Häusler, second on GC at the start of the day, assumed the race lead after teammate and former race leader Regina Bruins was dropped on the arduous circuit and conceded 6:15 by the end of the stage. Armstrong moved from fourth to second and trails Häusler by 1:11 while Worrack jumped from seventh to third, 1:51 behind the race leader. Bruins fell to fourth on general classification, 6:16 off the lead.
"It was a fantastic but tough race today," said Häusler. "I was very happy with my performance and I hope that together with my team we can successfully defend the yellow jersey tomorrow."
"We are very happy about today's race," said Cervélo TestTeam Directeur Sportif Manel Lacambra. "We gave full gas from the beginning with Lieselot Decroix and Patricia Schwager, then Emma Pooley took it over after about 11 kilometres when we started in the first mountain. On the top of the mountain there were a group of six riders, four from Cervélo [Bruins, Armstrong, Häusler and Pooley] and two from Nürnberger [Worrack and Amber Neben].
"During their time on the mountain Bruins and Pooley were dropped after some great work for the team and some kilometres later Neben also needed to let the group go. The three remaining riders, Häusler, Armstrong and Worrack, stayed together through to the finish. The team is super strong and we grow day by day on the general classification. Over the next three days we need to control Trixi Worrack because we have enough minutes on the other riders, and they are not dangerous anymore for the GC. But the race is still not done, there is still a lot that can happen."
Cyclingnews podcast: Episode 12
Even more Italian antics
The Giro d'Italia just keeps getting better and more exciting, unlike the Cyclingnews podcast, which has miraculously made it to its 12th recording. Will it be unlucky 13? We'll find out next week.
But this week, Cyclingnews' Daniel Benson and BikeRadar's Jeff Jones are joined by a fly on the wall as they discuss relatively recent developments in the Giro d'Italia. Up until stage 10, that is. Danilo Di Luca's incredible form, the farce that was stage 9, our top three podium picks and looking forward to stage 12, which annoyingly has just been run. Were we right? You'll have to download 20 minutes of podcast to find out.
You can subscribe to the podcasts via iTunes (or just go to iTunes and search for 'cyclingnews') or via this XML feed: http://video.cyclingnews.com/podcasts/cn_podcast.xml
You can also download the podcasts directly by clicking on these links:
Celebrate with Cyclingnews' Giro Sweepstakes
The centenary edition of the Giro d'Italia has started off with exciting finishes, beautiful terrain and great performances by the superstars of cycling. We're celebrating the Giro in the best way we know how - working the race to bring you daily race reports, photos, features and live coverage.
Thanks to our friends at BMC, you can share in the celebration - simply enter our BMC-Cyclingnews Giro d'Italia Sweepstakes for a chance to win.
One lucky Grand Prize winner will receive a BMC SLC01 Pro Machine road bike frame - the same frame ridden by the riders on the US-based BMC Racing Team - as well as an Assos-made BMC team jersey, cap and socks.
Enter the contest at http://contests.cyclingnews.com/BMCGiroDItalia.php. All you have to do is answer two questions and complete the entry form - you don't have to buy anything! Please only enter once and good luck!
Entries close May 31, 2009 at 11:59PM Pacific time.
(All rights reserved/Copyright Future Publishing (Overseas) Limited 2009)