First Edition Cycling News, May 21, 2009
Edited by Peter Hymas
Giro: Cavendish takes two
By Gregor Brown in Arenzano, Italy
Mark Cavendish (Team Columbia - Highroad)
Photo ©: Roberto Bettini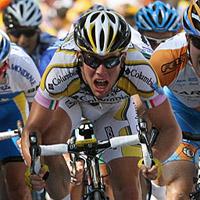 Mark Cavendish scored Giro d'Italia win number two in Wednesday's 214-kilometre stage to Arenzano despite several attacks in the key moments over and after the Passo del Turchino.
"I was a bit worried to be honest, I thought it was going to take my sting out," Columbia-Highroad's Brit told Cyclingnews in a post-race press conference. "I was in a good position to start the climb, to give me some sliding room, and though there were guys going backwards I was okay."
Cavendish faced the 532-metre pass after 186 kilometres of racing. Cavendish kept contact with the main group despite the strong efforts by Lance Armstrong and his Astana teammates. He still faced a technical downhill and 12 kilometres before he could fight for victory, though.
"I smelled the arrival and it helped. The team placed me in a perfect position. I was careful because I did not want to repeat the first stage, when I went early [to the front]. First, I thought, 'oh no,' but I was able to hold on for the following 270 metres."
Coming up on
Cyclingnews will cover the 60th edition of the Dauphiné Libéré live as of stage 4 on Wednesday, June 10, at approximately 15:00 local Europe time (CEST)/ 23:00 Australian time (CDT)/ 9:00 (USA East).

WAP-enabled mobile devices: http://live.cyclingnews.com/wap/
Giving Cavendish that extra edge was his remarkable win in this year's Milano-Sanremo one-day Classic. In his debut appearance, he defied many pundits to remain in contact with the favourites over the closing climbs and win at the age of 23 [tomorrow he will celebrate his birthday - ed.].
"Going through Ovada brought back memories, then Turchino, which was were the race started in Sanremo and today it was where the race finished," he said to the gathered press.
Cavendish is helping team Columbia make the 2009 Giro d'Italia a memorable race. His second stage win made for a total of five by the USA-based team, which does not count the three days it held the leader's maglia rosa.
Armstrong to fill Horner's role following crash
By Gregor Brown in Arenzano, Italy
Armstrong leads Leipheimer down the Turchino
Photo ©: Sirotti
Lance Armstrong will have to play the role of super teammate to Astana's Levi Leipheimer in the Giro d'Italia after Chris Horner left the race prior to Wednesday's stage to Arenzano.
"Lance is getting better and I expect him to be there now, instead of Chris," team manager Johan Bruyneel told Cyclingnews.
Chris Horner finished the Giro d'Italia's stage 10 to Pinerolo despite a crash early in the race.
"It's some kind of a muscle pull, strain, between the left calf and the left knee. I was in pain the whole race and it got worse over night," Horner told Cyclingnews.
"He seemed okay after the crash yesterday, but this morning it was different," Bruyneel explained. "He could hardly walk. He was going to start the race [today], he stood up, took his backpack and his leg just gave out."
Horner will travel home to Bend, Oregon, in the next days for a week of rest. The team expects he will start training soon for the Tour de France, July 4 to 26.
His absence in the Giro d'Italia leaves team leader Leipheimer, currently fourth overall at 1:40, in a dangerous situation given the mountain stages in the final week. The team is encouraged by Armstrong's performance given he broke his collarbone in the weeks prior to the Giro d'Italia.
"Lance was super strong yesterday," said Horner. "And Levi should be able to make up a lot of time in the TT."
Leipheimer will need the extra time on rivals like Danilo Di Luca (LPR Brakes-Farnese Vini), Carlos Sastre (Cervélo TestTeam) and Ivan Basso (Liquigas) with mountaintop finishes of Monte Petrano, Blockhaus and Vesuvio on the horizon.
"We still have some horsepower," continued Bruyneel. "In the final of a big mountain stage there are not so many teams with more than one rider. In the second mountain stage, Siusi, we had two when everyone else had one."
Leipheimer is a proven time trialist and he should challenge for the stage win and leader's maglia rosa in Cinque Terre's time trial Thursday. The riders face a technical 60.6-kilometre time trial from Sestri Levante to Riomaggiore.
Giro contenders face decisive Cinque Terre time trial
Stage 12's Cinque Terre time trial
Photo ©: RCS Sport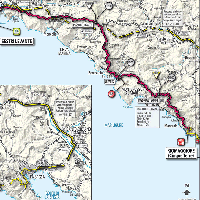 On Thursday, the Giro d'Italia GC hopefuls face an extraordinary challenge: the arduous 60.6-kilometre individual time trial along the Ligurian coast. The Cinque Terre is beautiful if challenging cycling country, but not the kind of terrain you'd expect to find a time trial. The roads twist tightly up and down - they simply don't do straight and flat in this region.
A few of the favorites, as well as knowledgeable insiders, have commented on this stage likely to upend the general classification.
Michael Rogers (Team Columbia-Highroad): "I am riding well and if it all goes well for me I will be in the ballpark. I can't say I will win it because I cannot control what the other riders will do. The descents are very difficult - it cannot be won on the descents, but it can be lost there. The difference will be made on the climbs. I would like to see time gaps in my favour and finish in the top three. But there are still a bunch of tough stages to come."
Levi Leipheimer (Astana): "If it were a normal Tour de France-style time trial or any other time trial, I would say the gaps would be bigger. It is a really technical time trial and probably a slower time trial than normal. It means a guy like [current race leader Danilo] Di Luca won't lose as much."
The sharp descent
Photo ©: Gregor Brown

Lance Armstrong (Astana): "The Giro TT is wicked hard. Never, ever flat and 62 kilometres. I'm doubtful for riding the TT bike as well. And the descents? Insane."
Carlos Sastre (Cervelo TestTeam): "We have two mountains, we have two technical descents. It's completely different than a normal time trial; I don't know if I'll be better or not, but it appears to be a different scenario for a climber. Everybody must remember Carlos Sastre is a climber, not a specialist in the time trial. I can improve my equipment, I can improve my position - I can improve many things - but the time trial will never be my specialty. I will try my best. I will fight for everything because I have the opportunity to win the Giro d'Italia. All my results in the Tour de France and other [Grand Tours], I am around fifteenth; sometimes ninth, sometimes tenth. I'm never the first."
Denis Menchov (Rabobank): "The most important stage is the time trial, then the stage to Monte Petrano, Blockhaus and Vesuvio. Those are the four most important stages. I will try to do my best in the time trial. I have to do my best, the best on that day. It will be really long: one hour and thirty minutes to one hour and forty minutes. You have to be in top condition for that one special day, even if it not really a day for specialists. I will use a normal bike on that stage, which seems like a normal stage really."
A view down from the course
Photo ©: Gregor Brown

Viatcheslav Ekimov, Astana directuer sportif: "To be sure he [Leipheimer] better take time gaps in the time trial, but that means taking the leader's jersey. I am counting on Rogers, Denis Menchov, Ivan Basso a little off the back. I think Levi is in great shape and holds a perfect position. For us, the Giro starts on the day of the TT. We have been in the race but have not pulled a metre yet."
Gianni Savio, Diquigiovanni-Androni directuer sportif: "The Cinque Terre time trial clearly favours riders like Lance Armstrong and Ivan Basso, but, attention, this time trial will not penalise riders like Cunego and Simoni. It would be a different story if it was all flat, Cunego and Simoni would be out of the game. This time trial is very abnormal, just like the Giro is an abnormal Giro. That first climb is very tricky, and then a technical decent... I only hope it does not rain that day. If it rains the stage will be come a nightmare. We will have to see what the differences are like afterwards to know if this stage changes the entire Giro. The classification men will hope to avoid any incidents, any mechanicals. I always tell my riders to follow their sensations. It is better to be safe and lose a few seconds than crash and lose it all."
View the full gallery of Cyclingnews' Gregor Brown's journey along the time trial route.
Retired pro Steve Larsen dies
By Gary Boulanger, BikeRadar
Steve Larsen lines up for a race in 2003.
Photo ©: Matthew Bronner

Former Motorola road pro racer and two-time National Off-Road Bicycle Association (NORBA) mountain bike champion Steve Larsen suffered a fatal heart attack during a running workout in Bend, Oregon May 19.
Larsen, 39, owned Steve Larsen Properties in Bend. A Davis, California native, the father of five transitioned from mountain bike racing to triathlons, winning an Xterra race and participating in the Ironman World Championships in Hawaii. He retired from professional competition in 2003.
Former all-rounder Joe Parkin has several memories of Larsen. The pair raced together as juniors in northern California in the mid 1980s.
"During the 1990 Milk Race, he was on the US national team and I was riding as a pro for ADR/Tulip," Parkin told BikeRadar. "I was riding tempo and he kept attacking. I kept upping the tempo. I remember asking [US team coach Chris] Carmichael to have Steve quit attacking!"
Parkin also recalls a NORBA race in Traverse City, Michigan in 1995.
"Pretty sure I got the better of him, but that would have been one of the FEW times," he said. "Steve was one of those guys I probably would never have hung out with but was always happy to see, either on the start line or at Interbike, Sea Otter, etc.
"He was a true competitor and I was happy for all his successes," Parkin added.
According to the Davis Wiki, Larsen began cycling in 1984 just as Greg LeMond was becoming a household name. He entered his first cyclo-cross race and bronzed in 1986 at the first Junior National Championship in Santa Cruz, California. Larsen went on to road race through the Junior National Team Program in Europe before moving up to the Amateur World Championships with the U.S. team.
Larsen got his first professional contract for the Motorola squad around 1991 and relocated to Italy where he raced professionally for almost four years and became a highly respected road racer, riding alongside teammate Lance Armstrong.
Cyclingnews passes on its condolences to Larsen's wife Carrie and his family.
Join the forum thread in memory of Larsen
Cunego: "cycling is going fast" - perhaps too fast...
By Gregor Brown in Arenzano, Italy
Damiano Cunego (Lampre - NGC)
Photo ©: Sirotti
Damiano Cunego programmed his 2009 season to be on target to win his second Giro d'Italia this month. But something isn't going quite right.
He trained specifically in Tenerife, Spain, and wrote off the Tour de France to be his best in Italy, though on general classification, he's more than five and a half minutes down on his compatriot and rival Danilo Di Luca. And there's still a week and a half to go. Why?
"I am right there, I did the best possible preparation and I always gave it my all, but cycling is truly going fast," Lampre-NGC's captain told Cyclingnews.
Cunego, the 2004 race winner, is currently 19th overall. He lost 1:34 of that time in the Alpine stage to Pinerolo on Tuesday's tenth stage, finishing behind the likes of Di Luca, Denis Menchov (Rabobank), Ivan Basso (Liquigas) and Lance Armstrong (Astana).
"Clearly there are others who are going stronger than me. I am giving 110 percent, and evidently it is not enough. But why do I need to worry, it is bicycle racing and there are other things in life."
Cunego's statements appear to suggest a "cycling at two speeds" - a phrase first used by Française des Jeux manager Marc Madiot.
Cunego is outspoken, he self-promotes his image by his I'm doping free campaign and in this year's Giro d'Italia, he said, "sometimes the classifications need to be re-written" - referring to the recent doping cases of Davide Rebellin and Riccardo Riccò - and "there are stage classifications and then there is life's classification."
The press has questioned Cunego's ability to win another Grand Tour. Many pundits suggest he should stick to racing week-long stages (he won the Coppi e Bartali this March) and one-day Classics, where he has taken three editions of the Giro di Lombardia and the 2008 Amstel Gold Race.
"You have to learn to not care about what they say because when you win you are great but when you don't they ask how and why."
Thursday, Cunego continues his Giro where he'll face a 60.6 kilometre technical time trial in Cinque Terre. He said that he will decide if he will race for stage wins or for the overall classification, depending on his results in the time trial.
"Nice guy" Farrar runner-up again
By Gregor Brown in Arenzano, Italy
Tyler Farrar (Garmin - Slipstream)
Photo ©: Sirotti
Tyler Farrar finished runner-up again to Mark Cavendish Wednesday in the Giro d'Italia stage to Arenzano. His third podium spot in this year's race shows he is nearing his first Grand Tour stage win, even if his British rival thinks he not yet a "super good sprinter".
"He is an incredibly nice guy and it is a shame to say he is not a super good sprinter," Cavendish told Cyclingnews after his win in Arenzano. "I don't think he is at the level of me or [Alessandro] Petacchi."
Farrar's Garmin-Slipstream team went to the front in the final 12 kilometres after the Passo del Turchino to keep the pace high. The 24-year-old from the state of Washington marked Cavendish's wheel and tried to come around on the left in the finale metres. While he failed to get past the Columbia-Highroad speedster, Farrar managed to beat sprinters Petacchi (LPR Brakes) and Allan Davis (Quick Step).
"It was frustrating, but Mark just flat-out beat me today. No way around it, he was the fastest guy today," Farrar told Cyclingnews.
Despite the frustrating miss to Cavendish, Farrar and his team are figuring out what it takes to win. Sunday in Milan, they used a long lead-out train, but Farrar said it was too soon before the sprint. Leading to the Ligurian costal town of Arenzano Wednesday, Bradley Wiggins and Julian Dean did the muscle work in the select finishing group.
"The guys took care of me over the climb and did all they could. We tried to hold it until a little later, when Julian did a good job in the last two kilometres."
Farrar faces what could be his final chance Friday in Florence, a 176-kilometre stage suited to sprinters. He will decide with the team after the stage if he will continue on to the Giro's finish in Rome on May 31 or take a break to prepare for other season objectives.
Celebrate with Cyclingnews' Giro Sweepstakes
The centenary edition of the Giro d'Italia has started off with exciting finishes, beautiful terrain and great performances by the superstars of cycling. We're celebrating the Giro in the best way we know how - working the race to bring you daily race reports, photos, features and live coverage.
Thanks to our friends at BMC, you can share in the celebration - simply enter our BMC-Cyclingnews Giro d'Italia Sweepstakes for a chance to win.
One lucky Grand Prize winner will receive a BMC SLC01 Pro Machine road bike frame - the same frame ridden by the riders on the US-based BMC Racing Team - as well as an Assos-made BMC team jersey, cap and socks.
Enter the contest at http://contests.cyclingnews.com/BMCGiroDItalia.php. All you have to do is answer two questions and complete the entry form - you don't have to buy anything! Please only enter once and good luck!
Entries close May 31, 2009 at 11:59PM Pacific time.
(All rights reserved/Copyright Future Publishing (Overseas) Limited 2009)