First Edition Cycling News, January 28, 2009
Edited by Greg Johnson
Landis homecoming at Tour of California
By Mark Zalewski with reporting from Peter Stothard in Temecula, California
Three of the core riders on the new OUCH squad: Floyd Landis, Rory Sutherland and Tim Johnson
Photo ©: Jon Devich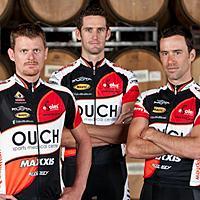 The first race back for Landis, and the first race for the new team OUCH, will be the Tour of California. Landis won the first edition of this race in 2006, so it is a little serendipitous that it hosts his comeback. The race also finishes close to his home near San Diego this year, potentially giving him a slight home-field advantage.
Starting on February 14th in Sacramento, the Tour of California will be the first race of the season for many teams, and Landis says the team will be prepared. "I don't know that it's the biggest goal for the season – it's certainly the biggest race we're going to do – so because of the size of it and the ProTour teams being there will make it the hardest so we certainly have to be ready for it."
The last time he raced (and won) this race, Landis had a ProTour team backing him. Even though the he has a good portion of the Health Net program which dominated the NRC in recent years at his side, there is still a difference in power levels with the new team, especially when trying to defend a jersey or control a race. Landis recognizes this, but still feels confident about this year's race.
Recalling his victory in 2006, Landis said the race could quite a bit different this year. "At that point it was the first Tour of California and it was decided in the time trial, so there were only a few days to control it. It may be the same way again, but there looks to be some good hard stages that may affect the general classification. It should be a little more of a dynamic race than just a time trial, but it could always come down to that again."
"And there are going to be a lot of big teams with guys who will want to do well in the race," he continued. "I don't think anyone expects us to take control of the race and keep it together. We will have to adjust our tactics to what the other teams do, like Astana, Garmin and Columbia. But it is generally easier to control with more guys trying to win."
"I'm excited it is coming down here and finishing in Escondidio. Mt. Palomar is a beautiful climb and hopefully we will get good weather. It will be a good, hard stage. It's a pretty straightforward climb, and I am certain the guys who are trying to win will have seen it, but it will feel like home."
But as for returning to the professional peloton after more than two years, Landis is not quite sure what to expect. "It's hard to say, I've had some contact with people along the way who remained friends everyone else...I've been disconnected from the sport, it's not as if I'm the sole person in this situation that's returning to the sport now or has in the past so I'm not some kind of anomaly so I don't think it'll be a huge hurdle I'll have to jump to get acceptance back in the peloton."
Missouri makes an about face
By Mark Zalewski, North American Editor
The bunch heads back for more Missouri
Photo ©: Jon Devich

The Tour of Missouri announced its general routing for the 2009 edition. Once again the race will bisect the state between its two major cities – Kansas City and St. Louis from September 7-13. But unlike the previous two years the race will begin in St. Louis and head westward to a finish in Kansas City, anchored by a stop in the capital Jefferson City.
"We had a record amount of cities inquire about the Tour of Missouri," Lt. Governor Pete Kinder said in a release. "It is a testament to the success of the race. We faced a very difficult process of eliminating some great cities. Our commitment, however, is to continue to route the course to all areas of the state. This year, for the first time, we will visit the southeast part of Missouri while spending a longer time north of Interstate 70."
The overall picture of the race is quite mirror-like. Not only is it running from east to west, but also touching the southeast and northwest portions of the state. The biggest difference in this change will be to the individual time trial, which was previously hosted in Branson, in the hilliest part of the state. Last year's winner Christian Vande Velde commented that it was the most difficult time trial he had ever done.
We do not have a route solidified yet but we have narrowed it down," Chuck Hodge, the race's technical director told Cyclingnews. It will not be as difficult of course, as far as the terrain goes. I would like to go a little longer – it is something we are definitely looking at to compensate for the terrain."
However, not all will be easier in 2009, according to Hodge. "The first couple of road stages definitely have tougher terrain than we have had in the past!"
Another change is that the tour will be bookended by circuit races, both in St. Louis and Kansas City.
The following cities will play host to the Tour: St. Louis, St. Genevieve, Cape Girardeau, Farmington, Rolla, St. James, Jefferson City, Sedalia, Chillicothe, St. Joseph, and Kansas City.
"In keeping with tradition, we will change the course from year to year to keep it fresh," said Chris Aronhaltof Medalist Sports. "There will be new drama on the race route and we expect a few more hills. Overall, we have some great and very excited host cities."
Quick Step, Lampre for Qatar
Tom Boonen (Quick Step)
Photo ©: Shane Stokes

ProTour teams Quick Step and Lampre-NGC have announced their squads for the Tour of Qatar, which starts this week. Quick Step's Tom Boonen dominated last year's race, but the Belgian will face stiff competition from Columbia rider Mark Cavendish at this year's event.
Wouter Weylandt will also contest the event with Quick Step, two weeks after withdrawing from the team camp due to pain. "I'm very happy," he said. "Now I feel better. On Saturday I trained five hours and on Sunday six hours without pain. I am ready to give my contribution to the team in the Tour of Qatar."
Lampre-NGC is hopeful Angelo Furlan and Micro Lorenzetto will bring the squad some success at the event. "We go to this race with the idea that we can catch good results in sprints with Furlan or Lorenzetto, because the races are suitable for this kind of riders," said sport director Fabrizio Bontempi.
Lampre-NGC roster for Qatar: Marco Bandiera, Mauro Da Dalto, Angelo Furlan, Micro Lorenzetto, Marcin Sapa, Simon Spilak, Daniele Righi, Mori Massimiliano.
Quick Step roster for Qatar: Tom Boonen, Steven De Jongh, Kevin Hulsmans, Kevin Van Impe, Sebastien Rosseler, Marco Velo, Wouter Weylandt and Maarten Wynants.
AG2R launched in France
AG2R was launched
Photo ©: Daniel Schamps

French ProTour squad AG2R la Mondiale has had its official launch in La Mondiale, Boulevard Haussmann in Paris. The squad has brought in several new big names this season, including Sébastien Hinault and Nicolas Roche.
"Sebastien is a rider experience that reinforces the group, in particular in terms of the Flanders classic," said Vincent Lavenu. "He will be a driving force behind the team, on which most young riders can build."
The seven new riders to AG2R this year are Alexander Efimkin, Sébastien Hinault, Guillaume Bonnafond, Blel Kadri, Gatis Smukulis, Nicolas Roche and Aurelien Clerc.
AG2R picked up Hinault and Roche from rival French squad Crédit Agricole, following the latter's closure at the end of 2008. The team has also hired Vladimir Efimkin's brother Alexander, who rode for Quick Step last season.
AG2R la Mondiale for 2009: Guillaume Bonnafond, Aurélien Clerc, Alexander Efimkin, Sébastien Hinault, Blel Kadri, Nicolas Roche, Gatis Smukulis, Jose Luis Arrieta, Cyril Dessel, Renaud Dion, Hubert Dupont, Vladimir Efimkin, Martin Elmiger, John Gadret, Stéphane Goubert, Tanel Kangert, Yuriy Krivtsov, Julien Loubet, René Mandri, Lloyd Mondory, Rinaldo Nocentini, Cédric Pineau, Alexandr Pliuschin, Stéphane Poulhies, Christophe Riblon, Nicolas Rousseau, Jean-Charles Senac, Blaise Sonnery, Ludovic Turpin and Tadej Valjavec.
Sutherland: Landis 'part of the family
By Mark Zalewski with reporting from Peter Stothard in Temecula, California
Rory Sutherland (L) and Tim Johnson (hiding) might have a surprise in store for Floyd Landis (C) after the sponsors leave...
Photo ©: Jon Devich

Having a rider that once wore the yellow jersey in the Tour de France come onto your team is not an every day occurrence for most domestic squads. For Rory Sutherland, who has won the individual US National Racing Calendar title for the past two years, and the other returning members of the top NRC team, the team dynamics will be shifting. Cyclingnews chose Sutherland as the de facto spokesman for the team on the subject of Landis joining the team – ironically on the day he received his 'media training' at team camp!
"He is not just the average racer but he still is a guy like any of us," Sutherland about Landis. "He wants to race and wants to train hard, but he hangs out with us and we treat him like every other teammate. The Health Net family was a close-knit group, but there aren't that many of us from last year – there is a good amount of change-out and fresh faces. All things considered they way the first four days of the year have gone it has been fantastic and Floyd is fitting in great."
On the fitness of Landis, Sutherland said frankly, "General consensus is that he is really, really good! He's a great addition to have to the team."
Sutherland does recognize that Landis' presence will shift the leadership of the team from the previous years, but says it will be for the better – for the team and himself. "I've been asked this question a lot, and it's one I asked myself. I kinda was the upper part of the team. Does this change what I am doing? Of course it is going to but it is all a good change. I'm not bored with having responsibility at all, but I think this is a good opportunity to ride with and under a guy who essentially won the Tour de France."
"At 26 years old and Floyd being 33, a couple of years with him learning, I can only say it should be a positive experience. I definitely have a lot to learn and if I am looking to step-up in terms of racing, little steps like California and Missouri, I have to keep learning along the way. Watching and playing a part in the way Floyd does it will teach me a lot of the lessons for me to make that next step for myself."
Sutherland and Landis have a unique common bond, as Sutherland had to serve a suspension in 2005 for a non-intentional positive test. "We do have a special connection, we can say that! With my particular history I don't go into it judging people by their history. I go with today and where we go from today. He is definitely a different guy and a lot of fun to be around. He is a teammate now and is part of our family."
As to Landis being the 'F-N-G', Sutherland said it has been an quiet welcome process, but mostly because of the presence of sponsors, VIP and the media. But all bets are off for the rest of the week as he and his usual roommate Tim Johnson prepare a proper welcome. "We've had a lot of sponsors around the last few days, so we've had to be on our best behavior. But the next few days we are just left with 12 riders and the staff, we'll get a chance to know each other... and who knows, TJ and I might have a few things up our sleeves to 'welcome' him back to the sport properly. But know that we are all hard-working, respectable athletes!"
Floyd Landis: Don't call it a comeback
Floyd Landis all ready to go
Photo ©: Jon Devich

The countdown to the end of the suspension of Floyd Landis is nearly over. After two-years, the American who once stood atop the Tour de France podium returns to a changed sport as a different person. Cyclingnews sat-down with him at his team's training camp in southern California to re-introduce Landis back to professional road cycling.
The saga of Floyd Landis will likely never be forgotten by cycling fans. The epic story of stage 17 alone was enough for the history books, even without the soap opera that followed. But it did follow. And the roller coaster ride that ensued overshadowed everything else.
Anything that could have happened in the aftermath, seemed to happen. Two-and-a-half years later, the 33-year-old man at the center of it all is stepping back up to the plate. All he asks is that we focus on him as he is today, not what he was before. But in order to do that, we need to know how he arrived at this place – for his future in the sport teetered between return and retirement.
No longer a Tour winner (that honor was passed on to Oscar Pereiro), Landis is set to rejoin the peloton with the remade top US domestic team, OUCH presented by Maxxis.
But there was a time when Landis was ready to hang up his wheels for good. Not only did he lose his appeal, but the US Anti-Doping Agency fought to begin his two-year suspension much later than originally scheduled because he participated in non-sanctioned mountain bike races. He said that if that had happened he would not have returned to professional racing.
"There was a period of time that I wasn't so interested in riding my bike... at all," Landis said frankly. "I guess during that time I didn't look too far ahead but I didn't think it was really something I wanted to do. More or less up to that point I'd accomplished and experienced everything in cycling I wanted, so along with everything else that happened I lost interest."
To read the full feature, click here.
An Post Sean Kelly announce 2009 team
The An Post Seán Kelly Cycling team has revealed its roster for 2009, with five new high-profile signings confirmed. Among these is Irish rider David O'Loughlin, recent winner of a bronze medal at the World Cup in Beijing.
The 2009 An Post Sean Kelly Team includes five Irish cyclists, with 2008 riders Páidi O'Brien, Stephen Gallagher, Mark Cassidy and Ronan McLaughlin all re-signed and the notable new addition David O'Loughlin.
"I'm really looking forward to racing with the An Post team and the race programme this year," O'Loughlin said. "I'm particularly excited about working with Sean Kelly, as that is a dream come true to be honest."
"I learnt a lot last year and I think combining the track and road racing this year will work well, as they can both compliment each other," he added.
Team manager Kurt Bogaerts has signed former Belgian champion Niko Eeckhout, with the 38-year-old Classics rider providing valuable experience and leadership for the Merchtem based squad. The team has also signed two Belgian riders, Steven Van Vooren from the American Cycling Centre team and Jeff Peters, who was part of the 2008 Profel Prorace team.
The An Post squad will return to Ireland for the nation's top races, the Rás, Tour of Ireland and national championships.
"We are finalising our racing calendar for the year but it looks like the team will be back in Ireland for the first time on May 17th for the Rás," said Sean Kelly. "We are already looking forward to it as it's always great to return home and showcase our success as a continental team. In 2008, Stephen Gallagher was the first Irish winner in four year's and he will be back to defend his title this year."
An Post Sean Kelly 2009 roster: Paidi O'Brien, Mark Cassidy, Stephen Gallagher, Ronan McLaughlin, David O'Loughlin, Benny De Schrooder, Kenny Lisabeth, Steven Van Vooren, Jef Peeters, Niko Eeckhout, and Matt Brammeier.
(All rights reserved/Copyright Future Publishing (Overseas) Limited 2009)