Latest Cycling News, January 20, 2009
Edited by Gregor Brown
Armstrong finding Down Under life tough
Tour winner feeling form return
By Greg Johnson in Adelaide, Australia
Lance Armstrong, 37, rides in stage one of the Tour Down Under
Photo ©: AFP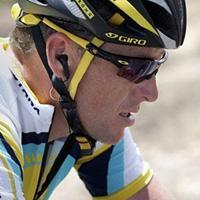 Lance Armstrong survived his first day at the Tour Down Under, although the American of Team Astana said it was a tough one. He finished back in 120th spot on the 140-kilometre stage, which was won by defending champion André Greipel.
"This was the day that they said was the easy day," he said. "The course, combined with the temperature in the 40s, it was tough. All in all, with the steep hills I feel pretty strong.
"When they get to those bunch sprints I get right out of the way and let those big guys do their thing and hope that they keep the rubber side down. It is nice to get one out of the way. Tomorrow is a hard day and I want to take it day by day, but the early indications are that I feel pretty good and strong. I will see how the recovery is, that is an important thing too."
Armstrong met Australian Prime Minister Kevin Rudd at today's stage. The rider is scheduled to meet with him again this evening to discuss Livestrong's global fight against cancer.
Coming up on
Cyclingnews will cover the 60th edition of the Dauphiné Libéré live as of stage 4 on Wednesday, June 10, at approximately 15:00 local Europe time (CEST)/ 23:00 Australian time (CDT)/ 9:00 (USA East).

WAP-enabled mobile devices: http://live.cyclingnews.com/wap/
"We have never met, so it is always an honour, not just for myself, but for the race to have him here," said Armstrong. "We talked a little bit about cycling. We talked a little about health care. We talked about the inauguration tonight [of the USA President] and we talked about the fight against cancer. But again I am just honoured that he is here to see this race, not just for myself but for all of us."
Armstrong admitted that the heat in South Australia is brutal on the peloton. The rider believes it will be a big issue on tomorrow's stage, where a difficult climb is expected to combine with high temperatures to take a toll on the peloton.
"It's hot, it is not just a dry heat, it affects performance a lot," he said. "There is no way to perform at a high level when it is 40 degrees. You just cope and drink as much as you can. We drank about 15 to 20 bottles each today.
"I don't know, it's still too early to say – tomorrow's big factor is going to be the heat," he said of his form. "If it's hot like this on a day like tomorrow, when it just rolls all day long, you'll lose 20 guys every lap. Then you'll have a smaller group and something will happen from there, I suspect."
Asked if he will stay up tonight to watch the inauguration of President-elect Barrack Obama, Armstrong said he'll catch it on YouTube in the morning. "But I'm excited and I think everyone in the United States is excited – I see he's polling at 80 per cent approval rating. I wish I had those approval numbers."
McEwen may be out of Down Under
By Greg Johnson in Adelaide, Australia
Robbie McEwen with the fans before stage one of the Tour Down Under
Photo ©: Mark Gunter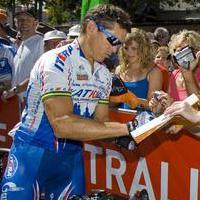 Robbie McEwen of Team Katusha will decide overnight if he will continue the Tour Down Under tomorrow. The Australian sprinter was struck by a spectator's camera in the sprint finish on today's stage one and suffered a bruised right forearm.
"I was not all that close to the barriers. I started my sprint and had just changed into the biggest gear to really make my final sprint for the line when some genius in the crowd decided they wanted to get an action photo and reached right out over the barriers with a really big camera," said McEwen.
"I saw it and I just couldn't do anything, it was impossible to avoid and it hit me straight on the forearm. It's broken the skin and I have a wound in the shape of the camera lens. [I am] really surprised it didn't take myself and all the others down, because I was in the lead and lucky I didn't crash because that would have been a disaster."
Stage winner André Greipel of Team Columbia was lucky to avoid the incident. The German was following McEwen's wheel on the run in to Mawson Lakes, but pulled out from behind him as the incident took place.
"I'd really like to see some sort of double barrier system in races, all races, in the last 200 metres or get the barriers much further back from the road edge," McEwen said.
He called for spectators to be more mindful of the riders' vulnerability. McEwen pointed out this isn't the first time he's had obstructions in a finish.
"I've been hit by one of those green PMU hands in the Tour [de France] before. The year before last, I actually got hit in the head in the finish of Paris-Tours when I was on the wheel of [Alessandro] Petacchi and someone waved an arm and hit me in the head. We are really, really vulnerable."
Race doctor Peter Barnes visited McEwen and cleared him of any broken bones. He is unsure if he'll still be able to ride, due to the muscular damage sustained from the incident.
"My arm is incredibly swollen and really, really sore and I'm not even sure I can hold the handlebars," he said. "We're trying to reduce the swelling and get the fluid out. [It's a] possible muscle tear and probably a burst blood vessel.
"When you get hit by something at 70km/h it's like a golf swing at 60 percent power hitting you in the arm like a baseball bat."
Hincapie faces Armstrong in Australia
By Les Clarke in Adelaide, Australia
American George Hincapie
Photo ©: Roberto Bettini

George Hincapie lined up with Lance Armstrong for the first time in three years this week at the Tour Down Under, but he is no longer on the same team as the rider he helped win seven editions of the Tour de France.
"We've been racing together for 20 years, we're friends and have been on the same team in the past," said Hincapie. "We have a lot of history together – being on a different team won't change that."
The Americans are riding the Tour Down Under for the first time, so there's no precedent to compare their experiences to; come July, however, Hincapie said racing against Armstrong will evoke different emotions.
Hincapie's old teammate, Lance Armstrong
Photo ©: Mark Gunter

"That will be strange, for sure. We haven't really discussed that, although we're both professionals and we'll do our job."
Another race the pair will ride as opponents is the Tour of California, February 15 to 22, which Hincapie agrees is similar in some ways to Australia's premier stage race. "Obviously there's a lot of hype, and it's certainly the biggest race in the US, and we've got American riders, so it's important for our team, which is American. It's going to be a big deal for us."
Later in the season the veteran will have another crack at the Tour of Flanders and Paris-Roubaix, and as a perennial challenger, he's hoping to finally get the win. He explained that part of the reason he began his season is Australia is so that he will have "more depth" in the April Classics.
Given his goals for the year, Hincapie added that he'll look to peak at least twice during the season. "Always in April and July, and actually, I want to be strong in the Tour of California as well. This is definitely possible, and I've done it before. ... I think I'll be even better this year."
Kaisen poised to succeed Vansevenant at Silence-Lotto
By Jean-François Quénet in Adelaide
Olivier Kaisen (Silence-Lotto)
Photo ©: Jean-François Quénet

We might hear more this year from the first attacker of the Tour Down Under as Silence-Lotto has plans to promote Olivier Kaisen as one of the team's high-profiled domestiques following the retirement of Wim Vansevenant at the end of last year.
The rider from the Wallonia region of Belgium spent most of stage one in an escape with with Andoni Lafuente of Team Euskaltel-Euskadi.
"At the start I spoke with my experienced teammate Glenn D'Hollander who said the first guy to attack would go far," Kaisen said. "I thought, 'Why not myself?' as I felt it's not bad at all to get a leader's jersey at a ProTour race.
"I made an agreement with the Spaniard: he went for the KOM [mountain points - ed.], I went for the [sprint] points. He did made some mistakes like riding too strongly at the beginning of our breakaway. We slowed down later in the climb of Checker Hill – it was so hot!"
For the second year in a row, Kaisen chose to start his season in Australia. He said it's been an "ideal preparation" for his year and that his teammates at the Portugal training camp faced rain every day.
It will be an interesting season for Kaisen as his Belgian team has a Walloon captain for the first time. "It's a really good thing that Philippe Gilbert has joined us for this year. He's got a good mentality and it's a pleasure to work for somebody who says 'thank you' at the end of the race. We'll speak a bit more French in the team, as well."
Kaisen is ready to give his all to help Gilbert when they'll race together. For now, his race programme remains uncertain and his scheduled races will depend on his form.
"I saw at the December training camp that Olivier was already in good shape," directeur sportif Hendrik Redant. "So, today, I suggested to him to try and go for something. For the rest of the season, we expect him to ride as well as he did at the Vuelta [a España] last year.
"He's got a good character. He's a hard worker with time trial skills. He's tall, so he can protect his captains from the wind, and he's an efficient lead-out man, as well. He can become a very good gregario at the same level as Vansevenant. I'm not talking of him being just one more domestique, but a high-profiled domestique."
Bobridge utilises local knowledge
By Greg Johnson in Adelaide, Australia
Jack Bobridge (Uni-SA)
Photo ©: Mark Gunter

Jack Bobridge of Team UniSA made the most of his local knowledge on today's Tour Down Under stage. The rider attacked the peloton heading out of Gawler, his home town, to pass the breakaway leader and gain a 1:30 margin over the group.
"If you don't give it a crack, you never know," said Bobridge. "That's sort of the way I ride, I'm pretty aggressive all the time so it was pretty hard to control early today. I got a bit excited a few times and got on the front but a few of the boys said 'nah, nothing's going', so I relaxed.
"Then coming back through the scenic route there I'm pretty familiar with it – I train through there nearly every day, so I knew the hill was coming and that it was pretty undulating until main road. I hit off and had a bit of a go, but unfortunately I was the only one to go, nobody else went. You're never going to hold off a peloton like that into a head wind on 15 kilometres of flat. But once I was committed, I was committed so I had to keep going."
Bobridge is contesting the Tour Down Under as a member of the UniSA/Australian National Team at just 19 years of age. The rider had a successful campaign at this month's Australian Open Road Championships where he claimed first in both the Under 23 time trial and road races.
He had also put in a strong showing at Sunday evening's Cancer Council Criterium, where he was one of the first to break away and played an important part in keeping the break away for the early sprints. The South Australian rider expects his squad will be looking to keep Baden Cooke's tour hopes alive, after the Vacansoleil rider finished second in today's sprint finish.
"We will see if we can get him over Willunga and a few other stages," said Bobridge. "He looks fit and he's pretty motivated at the moment, so I'm pretty sure he can go quite well.
"I definitely think we've got the people in the team to do it," said Bobridge when asked if the team could provide an upset race win. "Baden is no slouch, he's pretty keen and the rest of the team are – UniSA always comes out of here with a good result."
Soler starts season with win
Mauricio Soler (Barloworld)
Photo ©: Roberto Bettini

Mauricio Soler of Team Barloworld started his season off well thanks to a win on home soil in the Colombia's Circuito de Tuta. It was a welcomed victory for the winner of the 2007 Tour de France mountains competition after crashes marred last season.
The 26-year-old climber finished solo and 16 seconds ahead of teammate Félix Rafael Cárdenas. Jaime Chaparro of Team Elèctricos Duitama rounded out the podium.
The race consisted of 20 laps around a three-kilometre circuit. After the first few laps, Soler lifted the pace and got rid of most of his competitors.
Soler's last major win was in 2007. After his successful Tour de France, he won Spain's Vuelta a Burgos stage race in August.
Injuries send Weylandt home
Injuries continue to hamper Team Quick Step's Spanish training camp. Belgian Wouter Weylandt returned home after having problems with his foot, knee and hamstring.
"I may not ride again through Friday, but I hope to train again on Saturday," the 24-year-old told Sporza.be.. "Perhaps this forced rest is an advantage, because I already had a good training period. And I have had a good winter."
Weylandt plans to open his season at the Tour of Qatar on February 1.
Last week, his teammate Stijn Devolder returned to Belgium to rest his injured knee. (SW)
Holczer happy to sit out the season
Hans-Michel Holczer is not part of the professional cycling circuit for the first time in years. The German is happy to take a rest from the sport after a year that saw the end of the team he managed for 11 years.
"I simply had too many disappointments. I don't feel any interest when I hear about the Tour Down Under," he said to LaOla1.at.
Holczer had to leave the sport after he was unable to secure a sponsor to replace backer Gerolsteiner. The end of the season took a turn for the worse when his star riders, Stephen Schumacher and Bernard Kohl, tested positive for blood booster Erythropoietin (EPO) in controls examined after the Tour de France.
The 55-year-old criticised the internal testing programmes that some of the teams have introduced in the last year. "I see in these internal control systems nothing other than help in covering up. [A rider] is helped to avoid a positive sample."
He complemented Team Rabobank for its new team etiquette rules. "It's exactly right. Finally, someone was brave enough to bring a bit of discipline in the team. I can only say 'bravo.'"
Looking to his future, Holczer said that he would like to open an advisory firm even if he is worried Schumacher and Kohl have taken away from his credibility. He sees an eventual return to the sport, but only if "cycling develops the way I want it to." (SW)
Mallorca welcomes McEwen, Valverde and Sánchez
The Challenge Volta a Mallorca announced that it will have some of cycling's top athletes at its stage race, February 8 to 12, in Spain. Organisers expect Australian Robbie McEwen, Spaniards Oscar Pereiro, Alejandro Valverde and Olympic Champion Samuel Sánchez as part of the 20 participating teams.
Valverde won the overall race title in 2005 and 2003. The 2008 edition was won by Belgian Philippe Gilbert.
Palma hosts the first stage on Sunday, February 8. The riders will face a flat 100-kilometre day. Stage two is a 176.5-kilometre race around the city of Cala Millor and stage three is 180.8 kilometres long, starting and ending in Inca. The organisers will decide on the parcours of the fourth stage in the coming days. The fifth stage, 147.3 kilometres, will be the hardest thanks to its five categorised climbs before the finish in Palmanova.
The five-stage race is unique in cycling in that it allows for teams to switch out riders from day to day. (AS)
Kelly Benefit Strategies announces 2009 roster
American team Kelly Benefit Strategies announced its roster for the 2009 season. It adds seven new riders for the new year.
"We're extremely confident knowing that a very full race calendar and some key additions to our athlete line up will make the team even more competitive than last year," said President of Kelly Benefit Strategies, John Kelly.
The new riders are Ryan Anderson, Zachary Bell, Jacob Erker, Cheyne Hoag, Shane Kline, Neil Shirley and Scott Zwizanski. They join Andrew Bajadali, Dan Bowman, Alex Candelario, Jake Keough, Jonathan Reid Mumford, Clay Murfert, Jonathan Sundt and David Veilleux.
Performance director Jonas Carney is currently finalising the 2009 race schedule. The team plans to have a programme with an increased number of international races.
The team finished second overall last year in France's Tour des Pyrénées with Andrew Bajadali. At home, it claimed the Tour of Pennsylvania with David Veilleux.
Win an autographed Team Columbia jersey
Enter Cyclingnews' contest to win a unique piece of cycling history - a 2008 team-issue Team Columbia jersey signed by the entire 2009 men's team, gathered in Mallorca, Spain for its December 2008 training camp.
The Team Columbia jersey appeared on the top step of the podium 85 times in the 2008 season, more than any other professional team, with stage wins at the Giro d'Italia, Tour de France, Tour of California, Tour de Georgia, Dauphiné Libéré, Tour of Germany and Tour of Ireland plus victories in one-day events such as Flèche Wallonne and Scheldeprijs Vlaanderen.

Twenty five riders signed the jersey, including

- Mark Cavendish, four-time 2008 Tour de France stage winner, three-time 2008 Giro d'Italia stage winner
- Bert Grabsch, 2008 World TT Champion
- Marcus Burghardt, 2008 Tour de France stage winner
- Edvald Boasson Hagen, 2008 Critérium International stage winner, three-time 2008 Tour of Britain stage winner
- George Hincapie, 2008 Tour of California stage winner, two-time US national champion
- Kim Kirchen, 2008 Tour de France yellow jersey and green jersey wearer, 2008 Flèche Wallonne champion
- Marco Pinotti, 2008 Giro d'Italia stage winner, 2008 Tour of Ireland champion

The contest's winner will be selected at random from all correct answers to a Team Columbia trivia question.

Hurry now and enter to be in the draw. Good luck!
(Additional editorial assistance by Susan Westemeyer and Antonio J. Salmerón.)
(All rights reserved/Copyright Future Publishing (Overseas) Limited 2009)