Cyclo-cross News & Racing Round-up, January 21, 2009
Edited by Laura Weislo
Welcome to our regular roundup of what's happening in cyclo-cross. Feel free to send feedback, news and releases to mtb@cyclingnews.com.
Vervecken to seek fourth world championship
Erwin Vervecken (Revor) got a piece of Roubaix
Photo ©: Cyclingnews.com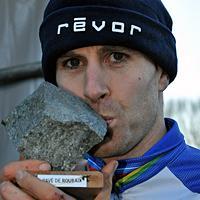 Three-time cyclo-cross world champion Erwin Vervecken will get a chance to vie for title number four after putting in a brilliant performance at the Roubaix World Cup this past weekend. Vervecken, 36, was relieved to secure his spot on the Belgian squad for the championships in Hoogerheide at the end of this month after hearing speculation last week that he might be left off the team .
"I was stung," Vervecken told Sportwereld about hearing the rumors. "I have been a professional for fifteen years, I won three world titles and my worst result at a World Cup was a 6th place [except for two races, ed.]. But apparently I suddenly had to prove myself. I read in the press that my selection was under discussion. But I have answered this with the pedals, not with the mouth."
Vervecken had an inconsistent season, with only a second place in the C2 race in Marle, France until he surged through three fourth-place finishes at the end of November (in Gavere, Hasselt and Hamme-Zogge) before taking a surprise win in the Koksijde World Cup. But his failure to finish the Belgian Championships last week led many to write Vervecken off. But he said it was all to plan. "I had a peak in December, but I knew I could not continue. So I backed off a little bit on purpose and am now building my top form again."
Vervecken's new threat has added to the confusion of who will lead the Belgian team toward the goal of recapturing the rainbow jersey from the Dutch phenom Lars Boom. Sven Nys clinched the World Cup with his third place in Roubaix, leads the Superprestige and GvA Trophy and renewed his term as Belgian champion, but after another season of domination the questions remain as to whether Nys will once more fall to the pressure of the championship and the stress of maintaining his form for so many months.
National coach Rudy de Bie will now have to convince Nys, Vervecken, Bart Wellens, Niels Albert as well as Kevin Pauwels, Sven Vanthourenhout and Klaas Vantornout, all of whom are in the top ten ranked riders in the world, to work together toward a common goal. "My job in the next two weeks is to keep the peace," said De Bie.
"The seven are all medal candidates. We will start with a very strong group as a whole." The course itself will determine to a large extent which rider will contend for the title, and De Bie acknowledged that a strategy cannot be formulated perfectly prior to the race but rather each rider will have to think for himself.
Belgium for the World Championships
Elite Men: Niels Albert, Sven Nys, Kevin Pauwels, Sven Vanthourenhout, Klaas Vantornout, Erwin Vervecken and Bart Wellens. Bart Aernouts, Rob Peeters and Dieter Vanthourenhout, reserves.
Elite Women: Sanne Cant, Veerle Ingels and Joyce Vanderbeken.
Under-23 Men: Jim Aernouts, Vincent Baestaens, Quentin Bertholet, Tom Meeusen and Kenneth Compernolle. Reserves: Joeri Adams, Stef Boden and Kevin Eeckhout.
Juniors: Wietse Bosmans, Vinnie Braet, Sean De Bie, Bart De Vocht and Gianni Vermeersch. Ruben Scheire, Matthias Bossuyt and Valentijn Van De Velde, reserves.
Compton on track in Roubaix
By Brecht Decaluwé in Roubaix, France
Katie Compton (Spike) solos to victory
Photo ©: Cyclingnews.com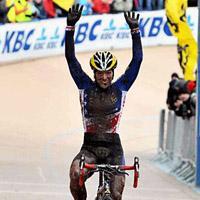 With only two weeks left until the cyclo-cross world championships, American Katie Compton left her mark at the legendary velodrome in Roubaix, France. The US national champion overcame what looked like a bad start, moved back to the front and out-classed the rest of the field in the mud.
World champion Hanka Kupfernagel finished second and wins the World Cup series. The German never finished worse than second place in World Cup events and with one more round to go her points lead is insurmountable. Dutch champion Daphny van den Brand struggled with the cold in Roubaix and finished third.
"I'm very happy with this win. It was so hard today as it was so muddy, making for a challenging course," Compton said. It is already the third World Cup victory of the season for Compton although winning a race on the velodrome of Roubaix surely is more special than the other two rounds she won. "It's very special to race here. I always saw Paris-Roubaix on TV. Now I actually got to see the track and I even won on it," Compton said.
Continue to the full coverage.
More worlds teams announced
As the World Championships in Hoogerheide, the Netherlands draw nearer, Spain, France, Italy and Denmark have finalized their rosters for the event. Newly crowned national champions Javier Ruiz (Spain), Francis Mourey (France), Enrico Franzoi (Italy) and Joachim Parbo (Denmark) will lead their countries in the race for the rainbow bands.
Spain for the World Championships
Men Elite Javier Ruiz de Larrinaga, Egoitz Murgoitio, Isaac Suárez, Tino Zaballa and José Antonio Hermida.
U23 Men: David Lozano and Mauro González.
Juniors: Josep Nadal, Iñigo Gómez and Ismael Félix Barba.
Denmark for the World Championships
Elite Men: Joachim Parbo
Juniors: Kenneth Hansen
Italy for the World Championships
Elite Men: Fabio Ursi, Rafael Visinelli, Luca Damiani, Marco Aurelio Fontana, Enrico Franzoi, Alessandro Gambino, Marco Bianco, Alessandro Fontana.
Elite Women: Eva Lechner, Veronica Alessio, Daniela Bresciani, Francesca Cucciniello, Evelin Staffler, Milena Cavani, Nicoletta Bresciani, Elisabetta Borgia.
Under-23 Men: Fabio Aru, Alessandro Calderan, Cristian Cominelli, Roberto De Patre, Marco Ponta, Elia Silvestri, Matteo Trentin, Mirco Tabacchi.
Juniors: Daniele Braidot, Luca Braidot, Bryan Falaschi, Michele Tatto, Daniele Dall'Oste, Mattia Marcelli, Rudy Lorenzon, Domenico Papaleo.
France for the World Championships
Elite Men: Francis Mourey, Steve Chainel, Julien Belgy, Nicolas Bazin, Jonathan Lopez. Reserve: Julien Roussel
Elite Women: Maryline Salvetat, Christel Ferrier-Bruneau, Caroline Mani, Nadia Triquet-Claude, Pauline Ferrand-Prevot
Under-23 Men: Aurélien Duval, Arnaud Jouffroy, Matthieu Boulo, Guillaume Perrot, Clément Bourgoin. Reserve: Thibaud Taboury
Juniors: Valentin Hadoux, Pierre Garson, Alexandre Billon, Jimmy Turgis, Emilien Viennet. Reserve: Irwin Gras
One opening left on USA team
USA Cycling announced the names of five rides this week who will contest the elite men's race at the UCI Cyclo-cross World Championships in Hoogerheide, The Netherlands on February 1. US champion Ryan Trebon (Kona), Tim Johnson and Jeremy Powers (Cannondale/Cyclocrossworld.com) earned automatic nominations to the team as the top three Americans in the UCI rankings.
Johnson, ranked 22nd in the world, declined his nomination and will not compete.
Discretionary picks were given to Brian Matter and Matt Shriver, "based on promising performances in international events this season" according to the organisation's press release.
The US has five spots for the men's race, but with only four having accepted, there is still a possibility that 2007 silver medallist Jonathan Page will be nominated. Page missed a doping control at the World Cup round in Koksijde in late November. According to his personal web site, thejonathanpage.com, he has asked for his disciplinary hearing with the US Anti-doping Agency to be expedited. Should he be cleared or his case be concluded with a warning, he would still be eligible to compete.
USA for the World Championships
Elite Men: Ryan Trebon, Jeremy Powers, Brian Matter, Matt Shriver.
Elite Women: Katie Compton, Georgia Gould, Rachel Lloyd, Laura Van Gilder and Sue Butler.
Under-23 Men: Nick Weighall, Nicholas Keough, Daniel Summerhill, Bjorn Selander and Will Dugan.
Juniors: Luke Keough, Zach McDonald, Gavin Mannion, Eric Emsky and Chris Wallace.
Crawforth confirms in Derby
By BikeRadar.com
Jody Crawforth wins a national title
Photo ©: Joolze Dymond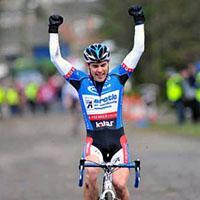 After winning the National Cyclo-Cross Championship last weekend, Jody Crawforth added the National Trophy Series to his list of wins after a strong performance in the final round, at Derby on Sunday.
Surrey-based Arctic-Premier RT rider Crawforth won the event at a muddy Markeaton Park comfortably, but had previously said he would need some luck to catch up with series leader Paul Oldham (Hope Factory Racing).
That luck came in the form of a strong ride by Picarsso Pulman's Stuart Wearmouth, who finished ahead of Oldham, leaving Crawforth tied on points with his rival. On count-back, Crawforth's victory on the day proved crucial and he was awarded the overall title.
Second across the line was Belgian Ben Berden, who chased hard but could not reel in Crawforth, who attacked on the opening lap and stayed clear of trouble throughout.
"I had a perfect race with no problems," said Crawforth afterwards. "It's great to win the series after winning the championship last week. I'm riding a local event next weekend, and then it's the Worlds the following week, so we'll have to see how long my form can hold up."
While Crawforth hit the front on the opening lap, a big pile-up left many of the top names struggling to untangle their bikes and get back on their way.
"I didn't know there was a crash," continued Crawforth. "I was just riding my own race. It was such a muddy course that you just had to ride as hard as you could, there was no real tactics as such.
"I changed my bike every lap and the pit crew did a fantastic job. It was really muddy, and a lot of people had problems with clogging up, but I just kept going. I had my tubs really flat to give me more traction, and it all worked out well."
Meanwhile, Science in Sport.com rider Suzanne Clarke made sure of the overall series win with victory in the Derby event by more than two minutes over Isla Rowntree (Stourbridge CC), with junior Ruby Miller third.
NACT expands into Canada
The North American Cyclocross Trophy will expand in its second season to take in ten events in the USA and Canada, organisers announced Tuesday. The 2009 series will add the Toronto International Cyclocross (October 17-18) to the eight races which made up this season's roster. The returning races will be the Star Crossed (September 19), RAD Racing Gran Prix (September 20), The Erdinger Gran Prix of Gloucester (October 3-4), Colorado races Blue Sky Velo Cup and the Boulder Cup (November 1) and the finale in New York at the Whitmore's Landscaping Super Cross Cup (November 21-22).
The expansion is part of the organisers' vision for the future, which includes turning the series into a "comprehensive pro tour". "We would love to see the sport get to a place where additional dates are supporting in the U.S. in the Southeast, Midwest and California and well as Western Canada," said Brook Watts, promoter of the Boulder Cup.
Complete information is available at: http://www.nacyclocross.com
MAC returns for 2009
The Mid-Atlantic Cyclo-cross series, MAC Powered by SRAM, will have a nearly identical schedule to this season, the promoters announced this week. With nine of ten races on the UCI calendar, director Mike Hebe promised to maintain a wide-ranging appeal. "Seeing top-flight Elite racers is an essential part of MAC, but it's not the only part. We have a very balanced program that caters to both elites and weekend warriors. We try to spoil our amateur riders by having superb UCI courses and a great atmosphere at each event. Our goal is to strive for great events were you can bring your friends and family and enjoy the whole MAC experience."
2009 MAC Powered by SRAM Cyclocross Series Schedule:
9/19 Nittany Lion Cross (UCI) - Fogelsville, Pennsylvania
9/20 Charm City Cross (UCI) - Baltimore, Maryland
10/17 Granogue Cross (UCI) - Granogue, Delaware
10/18 Wissahickon Cross (UCI) - Ludwig's Corner, Pennsylvania
10/31 Beacon Cross (UCI) - Bridgeton, New Jersey
11/1 HPCX (UCI) - Jamesburg, New Jersey
11/7 Fair Hill Cross - Fair Hill, Maryland
11/21 Super Cross Cup (UCI) - Southampton, New York
11/22 Super Cross Cup (UCI) - Southampton, New York
12/6 The 11th Annual Capital Cross Classic (UCI) - Reston, Virginia
Upcoming UCI races
January 24: Kasteelcross Zonnebeke, Zonnebeke (Bel) C2 ME
January 24: Championnats Masters Mondiaux / World Masters Championships, Mol (Bel) CMM ME/WE
January 25: Ispasterko Udala Sari Nagusia, Ispaster (Spa) C2 ME
January 25: Cyclo-cross international de Lanarvily, Lanarvily (Fra) C2 ME/MU/MJ/WE
January 25: Coupe du Monde UCI / UCI World Cup, Milan (Ita) CDM ME/WE
(All rights reserved/Copyright Future Publishing (Overseas) Limited 2009)