First Edition Cycling News, January 19, 2009
Edited by Peter Hymas
Cervélo Test Team launched in Portugal
By Shane Stokes in Portugal
Tour de France champion Carlos Sastre with Cervélo's Gerard Vroomen.
Photo ©: Shane Stokes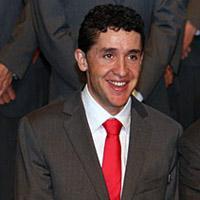 Tour de France champion Carlos Sastre, former Green Jersey Thor Hushovd and Olympic time trial champion Kristin Armstrong were amongst the men and women featured on Sunday at the official launch of the Cervélo Test Team in Portugal. A total of 25 men and 12 women make up the 2009 squads, which have the aim of targeting the biggest races in the sport.
Sastre told Cyclingnews after the launch that he expects the team to get an invite to the three Grand Tours, and that he will head to the Giro d'Italia, the Tour de France and the world championships thinking of the victory in each.
Thor Hushovd's wish list includes the Tour green jersey, a stage win in the Giro and success in either Milan-Sanremo or Paris-Roubaix, while Armstrong wants to reclaim the rainbow jersey in what she says will be her final season as a competitor.
"We have made a dream," said Sastre during the presentation. "To build a team, a nice team, an honest team. Everybody is really happy, everybody is part of this project, everybody adds their philosophy to the team.
"I knew before the Tour that it would be my last year with my previous team [CSC, now Saxo Bank]. I didn't know what I wanted to do, but as soon as I heard about this project, as soon as I heard from Gerard Vroomen what he wanted to do with other sponsors, I didn't need to think too much about it."
The Cervélo Test Team project follows the successful running of the women's team, which was itself re-launched one year ago and has become amongst the strongest in that side of the sport. Last summer Cervélo's Phil White and Gerard Vroomen discussed their involvement in the sport and, with their contract with CSC - Saxo Bank ending, decided to take things to the next level.
Both engineers had a very strong interest in developing their products, and the thoughts of having the chance to do so with close feedback from professional riders was hard to resist.
White summed up the partners' reasoning behind the development of the team at Sunday's presentation. "We did it because we feel that professional cycling is of extreme importance to the bike industry," he stated during the launch. "Rather than just criticize on the sidelines as a sponsor, we decided we should put our money where our mouth is and be proactive.
Vroomen echoed this."While race exposure is great, we need more than that. Our company is based on creating the best products, and to continue to offer that to our customers, we need assistance and feedback from pro riders during product development. The best way to ensure the team is focused on providing this feedback is to own the team."
Like Sastre, Hushovd was looking for a fresh start, a new environment. "I wanted to go to something new. When I heard about this project I really liked the philosophy of the team. I thought it was quite interesting and now that I see everything, I am very happy to be here. There is a good group of English speaking guys and will have a lot of fun out there. We will win a lot of races with the best material in the world."
The men's team also features riders of the caliber of 2008 Tour stage winner Simon Gerrans, Heinrich Haussler, Iñigo Cuesta López, Brett Lancaster, Roger Hammond and José Ángel Gomez Marchante, while the women's squad has Armstrong, Olympic silver medallist Emma Pooley, dual Australian champion Carla Ryan, Kirsten Wild and Christiane Soeder.
Cyclingnews will have more soon on the team launch, including an interview with Carlos Sastre.
See the photo gallery.
San Luis step one for Basso
By Kirsten Robbins in San Luis, Argentina
Ivan Basso (Liquigas)
Photo ©: Roberto Bettini

Italian Ivan Basso is set to start the first race of his 2009 season with Liquigas at the Tour de San Luis Argentina on January 19. The 2006 Giro d' Italia winner returns to the sport after completing a two year suspension for his implication in Operación Puerto in 2007. According to Basso, his sites are set on a second Giro d'Italia victory in May and the seven-day stage race in Argentina is the first step in his preparations to win pink jersey.
"I need to race now to get the feeling of racing back, to stay in the group, to do the finale of the races at the front, to meet my new teammates and because I miss racing," said Basso who took a lengthy off-season after competing in the Japan Cup last October. "Honestly I'm not ready to make a big come back this early. Of course I won't put on the brakes if I'm feeling good but people who know cycling know it's impossible to have fantastic form in January and keep it through May. I don't want to be the best now, or from now until the Giro. I want to be the best in the Giro."
The Tour de San Luis is the first step in Basso's training preparations and aims to be in peak condition for the Giro. According to Basso, he will take a short recovery period following the race and hopes to improve to the next step at the Tour of California in held in mid-February. He will step into the last training phase in March at the Tirreno-Adriatico held in Italy. " It is three different steps and each step I want to improve a little," Basso said. "I don't want to be the one who is always the strongest. I want to be the one who is the strongest at the Giro. All the other races are for the preparation."
According to Basso several of his teammates in Argentina will race in support of him at the Giro set to start May 9 in Lido di Venice. The Tour of San Luis will allow the riders to improve cohesiveness. "Every race I do we have pressure," Basso said. "We can't put a lot of pressure on the riders here. These riders are to be ready for the Giro so we cant kill them four months before. These guys need to see how I move in the group, how we go to the front and how to take control of the speed of the race. This is what I need."
The six-man team riding in support of Basso at the Tour of San Luis include Vincenzo Nibali, Kjell Carlström, Brian Vandborg, Alessandro Vanotti and Murilo Fischer.
Saxo 'banks' on sprinters in Argentina
By Kirsten Robbins in San Luis, Argentina
Kurt-Asle Arvesen will support Haedo
Photo ©: Roberto Bettini

Team Saxo-Bank used the week prior to the Tour of San Luis acclimating their bodies to the mid-thirty degree before the seven-day stage race to begin on January 19. According to Director Sportif Torsten Schmidt, the pre-race training was successful in bringing the six men together in support of their Argentinean sprint Juan Jose 'JJ' Haedo, a rider expected to bring home an early season victory –or two.
"Hopefully JJ is the best sprinter here but you never know," Schmidt said regarding the participating South American teams who are in mid racing season. "It's the start of the season for us and there are some guys from other countries that have many races in their legs now. We're going to try our best for him to win stages here. He will have the full support from the team and we hope to celebrate a victory here."
Haedo is Saxo Bank's most obvious card to play in a final sprint however, the young Dane Matti Breschel has proven to be a dark horse winning the last year's Philadelphia's Commerce Bank Classic and placing third at the Varese world championships. Furthermore, the event has become a race of attrition compared to the previous year's sprint heavy finishes. The addition of two stages and three hill top finishes will no doubt cater to climbers like Jason McCartney from America and Lasse Bochman from Denmark.
"We'll see how the GC goes for us with the climbs and the time trial," Schmidt said. "We're more focused on stage victories, that is our goal for us. We have other guys here too but we will have to wait and see how they come into rhythm. Jason has been training very well and he is very motivated. It may be a problem to come from a cold climate like Chicago to here. You need a couple of days to acclimate. The race will show us how he will perform."
Team Saxo Bank has taken advantage of the fair weather training locations around the world by splitting the team into three parts and sending them to a Mallorca training camp, the Tour Down Under in Australia and the Tour of San Luis in Argentina.
"I have to say that I was here nine years ago to race in the Vuelta a Argentina," Schmidt said. "The roads here are very good and it's not a bad place to train. We are lucky to race in good weather and prepare for the other races." Upon the completion of the Tour de San Luis the team will reunite in California for a training camp in preparation for the Tour of California."
Gerrans sees upside to missing Tour Down Under
By Shane Stokes
Simon Gerrans is one notable absentee from the Tour Down Under, the 28-year-old being one of the best-known Australian professionals and a winner of the event in 2006.
The race is often part of his programme but his move to the new Cervélo team sees a change in plan for 2008. The entire squad is together for their big pre-season training camp near Faro in Portugal, and today took in a long ride on the road bike plus a later session on their time trial machines.
Gerrans won a stage of the Tour de France last July and has moved to a new stage in his career. He's hoping that he'll be a contender in the Spring Classics, particularly Amstel Gold, and so views his new season layout as an opportunity, a plus rather than a minus.
"When I heard about the crowds, I guess there is a little bit of regret not being there at the Tour Down Under," he told Cyclingnews on Saturday. "But you have to try something new and I'm hoping that doing a different programme will really help me hit good form for the Classics. If the team does it next year, for sure I'll be there, but I'm happy to do things a different way this season and see how it works out.
"I want to give the Classics a good shot this year. I think the one that should suit me best is probably Amstel Gold. I was twelfth there last year and wasn't very far off making it into the front group."
His July victory was a big plus, but so too another factor. "Obviously winning a stage of the Tour was a big highlight for me, and the Olympic Games was a huge buzz," he said. "But what was a huge highlight for me last year was that every time I set an objective, I came up in really good shape for it. I think that is from experience and learning from the past. That was a real plus for me.
"In the Tour, the plan was all about helping out Thor in the first part of the race, and trying to get him up for a stage. Then come the transition stages and mountain stages, the goal then was to try to get into a breakaway and try to win one. That was the plan going in, but plans don't always work out. So it was great it happened."
Renshaw delighted with Lance chance
By Greg Johnson in Adelaide, South Australia
Mark Renshaw (Columbia-High Road)
Photo ©: Mark Gunter

Australia's Mark Renshaw (Team Columbia) is delighted to have the opportunity to race against Lance Armstrong on home soil, as the American makes his return this week.
"It means so much, I never though I would ever get a chance to race Lance," he said. "Just the hype, how real it is to be in a race with such professionals out there it is just unbelievable."
As a Tour Down Under stage winner from 2008, Renshaw is one of the most popular young Australians in the field. The New South Welshman's supporters were seen wearing "Lance with a chance, but Renshaw for sure" t-shirts at yesterday's criterium.
The rider is enjoying his first race with Columbia this week, having joined the outfit from the now defunct Crédit Agricole. Renshaw is expected to be one of the team's main lead-out riders this season, with the outfit carrying big-named sprinters like André Greipel and Mark Cavendish.
"It was great to have your first pro race at Tour Down Under in your home country, great fans and a lot of people who know me in the crowd, so that is really good and I am just so excited to be racing with my team for the first time," he said. "I have good legs at the moment, a couple of stages suite me so I plan to have a crack there and in some of the other stages I will try to help the rest of my team."
Renshaw led out Columbian teammate Andre Greipel in the Cancer Council Classic last night, but the defending champion could only manage fourth position.
Colavita ends successful camp in San Luis
By Kirsten Robbins in San Luis, Argentina
Davide Frattini
Photo ©: Roberto Bettini

Colavita-Sutter Home's twelve-man team met the end of a week-long training camp in San Luis, Argentina. The camp was held prior to the Tour of San Luis, which is set to begin Monday, January 19. According to team directeur sportif Sebastian Alexandre, half the team will compete in the seven-day stage race while the other half continues to train in the warm climate – all in preparation for the start of the North American season at the Tour of California in mid-February.
"Training and racing here for the two weeks is an advantage for us," said Alexandre. "We have four Argentinean riders and the benefit being invited to compete in this race. It works well for us to bring the rest of the team to Argentina for training in the nice weather because most of our American riders come from cold conditions. I believe the Tour of California will be the biggest race of the year for us. The whole world is going to be watching because of the level of riders attending. All our guys are proud to be a part of that and we want to show that we can be competitive at that level."
The US-based Continental team designed a similar program last year and reaped the rewards of the early season fitness gained in South America. "We had good results last year when we did this program," said Alexandre regarding their second-place ranking in the NRC. "We started with two podiums in this race last year and went on to have a good season in California. By the end of the year we hand nearly thirty wins in NRC and UCI races."
The Argentinean strong-men include brothers Alejandro and Anibal Borrajo along with Guido Palma and Sebastian Haedo, younger brother of Saxo Bank sprinter Juan Jose 'JJ' Haedo. Their American counterparts include Aaron Olson, Andy Guptill, Dan Villancourt, Kyle Wamsley, Anthony Colby and Tyler Wren, Italians Davide Frattini and Luca Damiani, and Cuban Luis Amaran.
"I believe it's important to have good off-season training if you want to have a good race season," said Alexandre. "I don't think it works anymore to spend too much time off the bike in the winter. I believe it's important for them to spend a couple of weeks training in good weather, ride a lot of miles and have the team all together. This year it was a good camp and I'm happy with the fitness the guys showed me for this time of the year."
According to Alexandre the team is focused on stage victories supporting their sprinters Haedo and Borrajo. "There's only one rider that I think will be the guy to beat in every sprint here and that is Juan Jose [Haedo]," said Alexandre revealing the team's plan to out-sprint the elder Haedo with friendly competition. "There are really only two stages for sprinters here and he won both of them last year. Right now the fastest sprinter on our team is Sebastian, his brother. I think Alejandro is also very fast so we have one of the fastest guys in the peloton leading out the other fastest guy in the peloton. This is the only way we can beat JJ."
The Tour de San Luis team includes Haedo and the two Borrajo brothers along with Tyler Wren, Andy Guptill, Davide Frattini, Aaron Olson, and Luis Amaran.
Breschel outlines season goals
By Kirsten Robbins in San Luis, Argentina
Matti Breschel (CSC Saxo Bank)
Photo ©: Roberto Bettini

Danish rider Matti Breschel ended the 2008 season on top of the podium at the world championships held in Varese, Italy last September. He is set to begin the 2009 season with his Saxo Bank teammates at the Tour de San Luis, held in Argentina January 19-25. According the young talent, he enjoyed the training days prior to the event and hopes to improve upon last year's breakout season in the spring classics.
"My expectations are very big this year," Breschel said. "It gave me some morale to finish the last season the way that I did, with a third place at the world championships. I've been working hard and I've been really motivated since then. My goals are the same as last year and to improve on them but they are more realistic for me this time."
Breschel will not be returning to America to defend his title in Philadelphia's Commerce Bank Classic. The 24-year-old Dane's schedule is packed with the European Classics from March through April. "It's hard to be in the same team as Fabian [Cancellara] and Stuart [O'Grady]," said Breschel regarding the double Paris-Roubaix champions. "For sure I'm aiming for all the Classics and I hope that I can take my chances when I get them."
Having Specialized as a sponsor boosts the importance of attending some American races for Saxo Bank. Breschel noted that both the Tour of California and the Commerce Bank, now TD Bank, Classic are not listed on his schedule this season. "It would be so cool to go over there and try to defend my title," said Breschel regarding his first American win in Philadelphia in June last year. "I know that I'm not going this year because at the moment I'm on the program for the Tour de France and some other stage races in Europe."
Breschel's Spring Classics campaign kicks off at Milan-Sanremo and continues with Tour of Flanders, Gent-Wevelgem, Paris-Roubaix, Amstel Gold, La Flèche Wallonne and Liège-Bastogne-Liège.
(All rights reserved/Copyright Future Publishing (Overseas) Limited 2009)