Tour Down Under Cycling News, January 18, 2009
Edited by Peter Hymas
Armstrong returns to the fast life
By Greg Johnson in Adelaide, Australia
Lance Armstrong has returned to the peloton
Photo ©: Roberto Bettini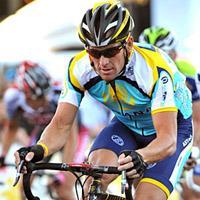 Astana's Lance Armstrong has enjoyed his return to professional racing, four months after announcing his return, after three and a half years on the sideline. The much-hyped event came at Tour Down Under's Cancer Council Classic, a criterium race on Sunday evening.
"That was fast. I think the last time I did that style of racing, that fast, was probably in 1990," he said. "It's fun to get back in there."
Armstrong had a good sniff at the front of the peloton early in the race. The American soon retreated well back into the peloton, before eventually finishing the Cancer Council Classic in 64th spot.
"I found it a little safer and a little easier in the back. In the first 50-60, there was a little bit of positioning," he said. "At that tempo, it would take a while [to rediscover my race legs] – the race stages, I would say it will slow down significantly, with more hills and using more power."
The seven-time Tour de France winner spent the entire race flanked by his Astana teammates. Whether at the head of the pack, or floating towards the rear – where he spent much of the race – Armstrong always had at least two Astana riders by his side.
"I was a little nervous in the corners. Honestly, the weirdest thing was the sun – the sun was going down here (points to a corner) you had the sun really in your eyes," he said. "But after that, it was fine."
The rider's preparation for the event has started to pay dividends. Armstrong spent some time in Hawaii adjusting to a warmer climate and training prior to arriving in Australia last week.
"I felt good, I've trained a lot for this comeback, I've trained a lot for this race," he said. "I'm glad the first day is over and now we can get into the race and maybe relax a little bit more. There was a lot of anxiety before today.
"It's a dry heat, so it's not so miserable, but on a hard effort for one hour at hot temperatures, it's good for a first day," he added.
Armstrong said the classic isn't his style of racing, but he still enjoyed it. He wouldn't predict how he might feel after the race's next leg, the first stage of Tour Down Under's ProTour event.
"I don't know, ask me after the second stage," he said.
O'Grady "a little behind the eight ball"
By Greg Johnson in Adelaide, South Australia
Stuart O'Grady (Saxo Bank),
Photo ©: Mark Gunter

Stuart O'Grady (Saxo Bank) has admitted to being a little off form heading into this week's Tour Down Under. The hometown hero, who has won the race on two occasions, will lead the Saxo Bank squad in this week's race.
"I am a little behind the eight ball from previous years. The season last year went a bit longer and with the Classics, the Tour de France and the Olympics and then coming back for the Sun Tour, the season was long and hard," said O'Grady. "I took a little bit more time off than usual. I have only been on the bike for a month. Hopefully I will be able to be competitive and be up there for sure, let's see what happens."
O'Grady, who hails from Australia's fifth largest town, has welcomed the presence of Tour de France legend Lance Armstrong. The focus on Armstrong has allowed O'Grady to focus on his own preparation, instead of being the usual centre of attention with the local media.
"It has been phenomenal having Lance come to Adelaide," he said. "Having him on the front of all of the newspapers has certainly taken the pressure off me. At the same time I don't think that anyone has any objections to it, everyone has a general interest in him coming back."
While O'Grady was cautious not to join those who believe Armstrong is in Adelaide to light the world on fire, he does believe the rider can still be a force in cycling. Armstrong has joked about possibly being dropped on Tuesday's opening ProTour stage, but O'Grady believes the peloton isn't going to shake off the rider.
"He is going to come here and be competitive. I can't see us dropping him on Willunga Hill. He is such a super freak athlete, you can't forget that. Even though he has been away for a few years, he is such a gifted athlete to have ever walked the planet. Obviously he has created a lot of hype and a lot of attention."
The Paris-Roubaix winner leads a team that includes big Jens Voigt, Nicki Sorensen and Matthew Goss. O'Grady was happy with the changes made to yesterday's Cancer Council Classic, which used the same roads as last year's closing stage.
"It was really fast. It is a really good circuit and with the hairpin taken out it made the circuit flow really well," he said.
O'Grady pointed to the Willunga stage as the race's most decisive for this year. "Last year was a hard race and with the big teams they were able to bring any break back," he said. "I am pretty happy with this course and it definitely gets a little harder each stage. With two times up Willunga Hill, it definitely will mean where there have been 20-25 blokes at the finish that it will be down to 5-10. Willunga is going to be a decisive stage."
Turtur already delighted with Tour Down Under success
By Greg Johnson in Adelaide, South Australia
Race Director Mike Turtur
Photo ©: Mark Gunter
This year's Tour Down Under has already been hailed a success by Race Director Mike Turtur. The former Olympian has overseen all 11 editions of the Australian race, which has been treated to a high profile since joining the ProTour in 2008.
Turtur pointed to defending champion André Greipel (Team Columbia), two time winner Stuart O'Grady (Team Saxo Bank) and Tour de France champion Oscar Pereiro (Caisse d'Epargne) as examples of the field's quality.
"I think it has been terrific for the race and for the future, but we have also got a better quality of riders across the board from the teams," he said. "It is the strongest field we have ever had without question."
The event has enjoyed high-profile guests in recent years, with Miguel Indurain attending last year's race, while this year sees Lance Armstrong make his professional return at the event.
The 1984 Los Angeles Olympic gold medallist believes the second lap of the Willunga climb, included in this year's race, will open up the playing field. Willunga has traditionally been known as the event's make or break section and with two laps of the climb this year will certainly make a difference.
"With the course changes it will make for an interesting race, especially the finish in Stirling and Willunga," he said. "There are also stages for the sprinters, so I think that maybe we have the balance right hopefully. I think also the most important aspect is that the second to last day, Willunga with the second lap, it means in my opinion that maybe you could be two minutes down on the general classification and still win, where as in the past that wasn't possible.
"I think it has opened the race up so I look forward to a great race," he added. "Certainly what has taken place in the run up to the event, especially in the last couple of months, is great for cycling, this region of Oceania and world wide. It will be great for the event leading into the future and can only do great things for us and put us on the map in the rest of the world."
Organizers had to include more climbing in this year's race, according to Turtur. In 2008 Greipel dominated the race with a bunch of sprint finish victories.
"With the quality of the ProTour across the board and the increased quality of riders, we saw in 2008 bunch finishes every day," he said. "That was a record for the race, never before had that happened and every break came back. It was obvious that we needed to make some changes and we looked at the stages and the intensity, bearing in mind it is an early season race we didn't want to go overboard.
"We haven't increased the distances but maybe the intensity to make it a little easier across the board," he added. "Certainly dealing with the better quality riders in the ProTour it was a question we had to address."
The possibility of including a time trial in future events was largely dismissed by Turtur. While many ProTour races include the one man against the clock format races, the timing in the season and the added logistical issues with bringing time trial bikes down to Australia mean it's unlikely to happen.
For a thumbnail gallery of these images, click here
Images by Mark Gunter
Tour Down Under pulls massive crowd
The peloton racing in Adelaide
Photo ©: Mark Gunter

Over 100,000 people reportedly flocked to Adelaide's Rymill Park to watch Lance Armstrong's (Astana) first professional race since announcing his return to cycling in September, 2008.
"It was amazing, people were 10 deep the whole way round the circuit, I have never seen a crowd like that at a bike race in Australia before, it's amazing," said hometown hero Stuart O'Grady. "It says so much for Australian cycling."
An initial official crowd figure reported the crowd to be some 121,000 people. The figure was, however, understated according to organizers who soon released the final official figure of 138,000 people – more than the original capacity of Sydney's Olympic Stadium.
"I love a crowd," said 36-year-old race winner Robbie McEwen (Katusha).
(All rights reserved/Copyright Future Publishing (Overseas) Limited 2009)