First Edition Cycling News, January 11, 2009
Edited by Laura Weislo
Columbia-High Road launched in Majorca
By Shane Stokes
Each were the most successful team in the world in 2008,
Photo ©: Shane Stokes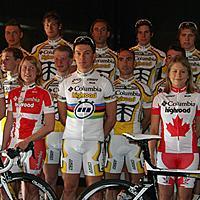 Focusing on a friendly, family-like approach rather than the glitzy presentations favoured by T-Mobile in years past, Columbia High Road introduced its 2009 team to the media on Saturday. As was the case with T-Mobile, the launch was held in the Club Robinson resort on the east side of Majorca. However this time the large theatre and charter-jet full of journalists was passed up in favour of that more intimate setup.
In truth, the team doesn't need that glitz; it's about substance rather than an excess of style. Last year both the men's and women's teams were the most successful in cycling, winning 85 and 68 races respectively. In fact, the women were victorious in more than half the races they entered; that's a staggering statistic in a sport with so many teams and so many riders.
Columbia High Road won from the start until the end of the season in 2008, and it is planning on doing the same again. Because of that, not all of its riders were present; for example, Michael Rogers has just taken the team's first victory of the year by winning the Australian time trial championships. He, Adam Hansen and Mark Renshaw will ride the road race on Sunday, while the German rider Judith Arndt took advantage of the open nature of those champs to compete in Saturday's women's race. Other riders such as George Hincapie are preparing for their own imminent start of competition.
"Cycling has changed a little bit and the season no longer begins in March and April. We have big races now in January and February," explained Bob Stapleton, team owner. "We have got an exciting group of athletes here but we also have a number who are already out and who are making final preparations for racing. We have got a very strong team in the Tour Down Under, and they are down in Australia right now. That includes George Hincapie, that includes André Greipel, who along with his team-mates dominated that race last year, winning five of the six stages, and also Adam Hansen and Michael Rogers."
Continue to the full feature.
First Euro 'cross champions crowned
The majority of European nations are holding their cyclo-cross national championships this weekend, and several titles have already been awarded on Saturday. In the Czech Republic, Zdenek Stybar took his second consecutive title, besting Radomir Simunek and four-time Czech champion Petr Dlask in the elite men's race.
In Germany, World Champion Hanka Kupfernagel added to her already dense palmares by piling on her sixth consecutive win in the elite women's cyclo-cross, bringing her record to eight in cyclo-cross and 23 total German championship gold medals. Sabina Schweizer and Claudia Seidel completed the women's podium. In men's Under 23 race, Sascha Weber took gold ahead of Marcel Meisen and Ole Quast.
In Ruddervoorde, Belgium, Wietse Bosman took the win in the junior men's race ahead of Bard de Vocht and Matthias Bossuyt. Pre-race favourite Sean De Bie, the nephew of the national team coach, was in the leading group on the last lap, but saw his aspirations of winning the championship vanish when he crashed on the washboard section before the finishing straight.
Arnoud Jouffroy proved to be the best in the espoirs event of the French Cyclo-cross Championships in Port Château, France. In the Netherlands, Daphny Van den Brand took back the title which she has owned for eight of the past ten years. Mirjam Melchers-van Poppel, who took second today, has been the only other rider able to claim the Dutch title (2008, 2004). Boy Van Poppel took home the Dutch espoirs jersey.
Follow the results of all the 'cross championships as they come in here, or view the list of champions in our summary page.
Rumpf calls for more ProTour racing in Germany
ProTour director Alain Rumpf
Photo ©: AFP

Alain Rumpf, the International Cycling Union's (UCI) ProTour manager, hopes to see more German races in the top level of the sport. German cycling has suffered numerous race cancellations in recent years, and currently, the one-day race Vattenfall Cyclassics is the only German race in the ProTour. In an interview this weekend, Rumpf said his organisation "would be happy to increase Germany's participation in the international racing calendar."
Interviewed on muax.de, Rumpf noted that Germany is a "very important country for cycling, from a sporting and financial point of view, for the team sponsors and for television."
Germany once boasted a number of high-level races, but doping scandals which hit prominent German riders like Jan Ullrich, Matthias Kessler, Jörg Jaksche and Patrick Sinkewitz as well as doctors of the T-Mobile and German national team have crushed the sport in that country in recent years. Races which had become a tradition, like the Rheinland-Pfalz Rundfahrt, the Niedersachsen Rundfahrt and the 3-Länder Tour were the first victims. Then the crisis hit the country's only other ProTour race, the Deutschland Tour, which was cancelled for 2009 after the recent doping cases at Team Gerolsteiner.
The sport of cycling as a whole suffered not just from doping, but from a political war between the UCI and the Grand Tour organisers. An agreement between the UCI and the organisers concerning the racing calendar was announced this week. Rumpf said that the details came together quickly. Thanks to help from the International Olympic Committee, the first contacts came about during last year's Tour de France, and shortly thereafter meetings began. "Both parties quickly agreed to the principles of working together, and in September 2008, an agreement was signed."
This is "a very important agreement, which ends a conflict which has lasted more than four years and which has done a lot of damage to our sport," Rumpf said. Now everyone is prepared to work together "to develop our sport in a time of a troubled financial situation and in which the competition from other sports is getting stronger."
Wauters returning to Lotto
Marc Wauters (Rabobank)
Photo ©: Brecht Decaluwé

Former Belgian professional Marc Wauters will return to his roots to work as a sport manager at Team Silence Lotto, the team announced this week. Wauters turned professional with the squad 18 years ago. He is best known for winning stage two of the 2001 Tour de France – a win which netted him a day in the yellow jersey and a $20,000 diamond for winning in front of Belgium's King Albert and Queen Paola.
"Marc will keep his main activity in the field of the cycling project at the Vlaamse Wielerschool," Lotto General Manager Geert Coeman said in a press release. The agreement covers about 80 racing days.
"His experience and his knowledge of cycling will certainly represent plus points for the team's management," Coeman noted.
Wauters, 39, turned pro with Lotto in 1991. He transferred to Team WordPerfect in 1994, and returned to Lotto for the 1996 and 1997 seasons. The Belgian finished out his career with nine seasons at Team Rabobank before retiring in 2006.
Omloop Het Volk changes name
The racing calendar's first spring Classic, the Omloop Het Volk will change its name to the Omloop Het Nieuwsblad for the 64th edition of the event this year. The name change came about after the daily Het Nieuwsblad took over the Het Volk newspaper. General Editor Peter Vandermeersch said, "The Omloop Het Volk is such a great monument, and we think cycling is so important for our newspaper that we wanted to continue running the opening Belgian classic in our name."
With the announcement of the name change came some details about a revamped parcours, which will include the Muur van Geraardsbergen after a year's absence. The muur or wall of Geraardsbergen was first featured in the race in 1950 and has since been included 47 times.
The 203 km race will feature 11 hillingen or climbs: Leberg (km 77), Berendries (km 81), Valkenberg (km 86), Tenbosse (km 93), Muur van Geraardsbergen (km 105), Pottelberg (km 127), Kruisberg (km 138), Taaienberg (km 147), Eikenberg (km 153), Wolvenberg (km 156) and Molenberg (km 165).
Valkenswaard 'cross canceled
The January 17 UCI C2 cyclo-cross event in the Netherlands, the Eurocyclocross Valkenswaard, has been canceled, the race organiser Koen Monu announced Saturday. Monu said he had ambitions to turn the event into a World Cup in several years, but that he did not get cooperation from the Dutch federation, and several agreements with top riders to appear had evaporated in recent days. He hopes to revive the race in 2010.
Ryan, Bobridge and Holt become double champions
Ryan doubles up with solo break
CarlaRyan (Cervélo Test Team) was overjoyed with her win
Photo ©: CJ Farquharson

Carla Ryan won her second 2009 Australian Championship title in the road race, after already taking out the gold in the time trial. Unlike her close one second margin of victory in the race against the clock, Ryan sailed across the line in the road race solo, 40 seconds ahead of Ruth Corset and Nikki Butterfield (nee Egyed). Ryan launched her decisive attack on the final climb up Mt Buninyong on the tenth and final lap of the 102 kilometre-race in which 69 riders started and 30 finished.
"To be honest, I had been a bit nervous today and didn't know what to expect," said Ryan. "Today I felt really strong and the other girls were tiring and I had to make my move and back myself, really."
Ryan is a former long distance runner who began cycling in 2005 through a Queensland Academy of Sport Talent ID program and this year will ride as a professional with the Cervélo Test Team, with she joined mid-season in 2008.
See the full coverage from the women's road race.
Bobridge repeats in road race
Jack Bobridge (Team AIS) wins his second title
Photo ©: CJ Farquharson

South Australia's Jack Bobridge collected his second gold medal of the week by adding a road race victory today to his time trial win at the Australian Open Road Championships in Buninyong. Bobridge (Team AIS) sprinted clear of his three breakaway companions to claim the win in a time of 3:12:48. Bobridge's teammate and time trial bronze medallist, Michael Matthews, and Victoria's Mark O'Brien (Drapac-Porsche) tied in a dead heat for second place while Tasmanian Nathan Earle (Praties) was fourth. Bobridge's win came in dramatic fashion after he recovered from a fall midway through the 122.4km U23 men's road race (12 laps).
"I have been waiting for this," said Bobridge. "To come out and get two on the road shows that I've still got the ability to ride the road as well as the track."
For Bobridge the win caps off a phenomenal six months that saw him debut at the Olympic Games in his first year out of the junior ranks. In Beijing he was a member of the pursuit team that finished fourth. In November he lined up for the Oceania Track Championships for a win in the individual pursuit. At the Track World Cup in Melbourne later the same month he claimed gold medals in both the individual and team pursuit event and has now added a road double to his already impressive resume.
Holt scores double double
New Zealand's Melissa Holt took home a repeat double win, equalling her feat in the 2008 road championships, when she won the elite women's road race in Te Awamutu Saturday. Holt followed up her victory in yesterday's time trial but out-sprinting a small but select field to claim the women's road title over 120kms circuit.
"I am naturally stoked," Holt said after her win today. "I don't know where the sprinting legs came from today. My Waikato team really worked hard for me today and did a great job."
Holt won in 3:36.26, outsprinting Nelson's Karen Fulton and Christchurch's Tracy Clark in the sprint into Te Awamutu after four laps of a circuit near Kihikihi.
Sunnyboy Blain focuses on Hell of the North
By Bjorn Haake in Paris
Alexandre Blain lives in Southern France
Photo ©: Bjorn Haake
Alexandre Blain is in his second year as a professional career, which he started with Cofidis in 2008. He is a native of Nice in southern France, where he still lives. But come spring time, Blain is drawn to the cold and rainy Classics in northern Europe. He has already laid a solid base for his main part of the season, which is in March and April.
As usual he took a month off after his final race, the Giro di Lombardia. "I started training again in mid-November, with most of my base kilometres coming in December." He attended the first Cofidis camp in December in Greoux-les-Bains, north of Aix en Provence. Blain enjoys a mix of workouts. "I have been riding my mountain bike, I went running and I do workouts in the gym."
But now comes the crucial part of his preparation. "In the last two weeks I did around 25 to 30 hours per week, with a few rides of about 180 to 200 kilometres. It adds up and I think I will start the season with about the same kilometres as usual - almost 6,000."
Blain admits that his love for the Belgian races seems out of place, considering his upbringing in the sunny south. "I am a bit atypical - I don't even have the typical cyclist's haircut!"
A second training camp is currently underway (January 9-16), also in southern France. "In this camp we will do more specific workouts, then we will have two more weeks before the season starts with la Marseillaise [February 1]." Blain emphasises the importance of this period "With regards to the first races, you have to invest a little more in terms of intensity and quality."
The worse the weather the better for Blain. "I am used to the sun, but it is Flanders that really suits me well - in the rain, the wind the cold and over the cobbles - and if they are muddy it is all the better!"
"The race I dream about is Paris-Roubaix. I would like to develop into a rider who can one day win it. It will take some time – you can't do that in a year or two." A true l'enfer du nord (hell of the north) would suit him just fine. "In my opinion, if it is a Paris-Roubaix with rain and wind, it will give me a bit of an advantage."
This year will be his first taste of the big Classics. In 2008, his first year as a professional, he was a replacement rider and was able to ride a few of the second category races, like Dwars door Vlaanderen, E3 Prijs Vlaanderen or Gent-Wevelgem. "I learned a lot in those races," Blain said.
Enter the new Cyclingnews contest: Win an autographed Team CSC jersey
Team CSC jersey
Photo ©: Cyclingnews

Enter Cyclingnews' contest to win a piece of recent cycling history - a Spring 2008 team-issue Team CSC jersey signed by all eight team members from the squad's 2008 Ronde van Vlaanderen lineup.
Victory eluded the team on this day, but CSC played an important role in the race with Karsten Kroon positioning himself in a threatening five-man break which was caught with only 25 kilometers to go. Kurt-Asle Arvesen and Allan Johansen both finished the Ronde in the top-ten, crossing the line in seventh and tenth respectively.
The contest's winner will be selected at random from all correct answers to a Team CSC trivia question received through next Wednesday, January 14. To find out more about the jersey and its signers and to enter, click here.
(Additional editorial assistance by Susan Westemeyer.)
(All rights reserved/Copyright Future Publishing (Overseas) Limited 2009)