First Edition Cycling News, January 9, 2009
Edited by Laura Weislo
UCI finds peace with 'World Calendar'
UCI president Pat McQuaid
Photo ©: AFP

The International Cycling Union (UCI) presented the regulations for its new 'World Calendar' at a meeting in Geneva, Switzerland on Thursday. The calendar, which allows the UCI's ProTour events to co-exist with the other major European races, was conceived as a solution to the political battle between the organisers of the three Grand Tours and the UCI over the ProTour series.
Cycling's governing body also revealed the formula it will use for calculating the 'world ranking' for individuals, teams and nations under the new scheme.
The new calendar smoothes over years of conflict between the Grand Tour organisers, which also promote some of the sport's most prestigious events like Paris-Roubaix and Milan-Sanremo, and the UCI. The organisers had waged a bitter war with the UCI over ProTour regulations, specifically those requiring all ProTour teams to be invited to their events.
The situation came to a head last year when Tour de France organiser, Amaury Sport Organisation, decided to hold Paris-Nice and the Tour under the French Cycling Federation rather than under the command of the UCI.
"The tensions that affected cycling peaked during the 2008 Tour de France and we found ourselves in a rather sad situation for our sport," UCI president Pat McQuaid said in an address. "Fortunately, these difficulties were the catalyst for us all to realise that it was no longer possible to continue in this way.
McQuaid indicated that, while the calendar had been agreed upon, there is still some work to be done. "There are still points of disagreement, that is clear, but these are of a completely different nature to those that were tearing cycling apart just a few months ago."
The regulations were drawn up by a 'working group' which included Jean-Francois Pescheux of the Amaury Sport Organisation (ASO), Cedric Vasseur, the Association of Professional Cyclists (CPA) president, Tour of Romandie director Richard Chassot, International Professional Cycling Teams (IPCT) president Patrick Lefevere, UCI road coordinator Philippe Chevallier and ProTour manager Alain Rumpf.
Grand Tours not required
ProTour director Alain Rumpf
Photo ©: AFP

The UCI envisioned its ProTour in the same vein as Formula 1, where one calendar of major events would see all of the same top teams competing for the overall title. But that met with resistance from organisers who wanted to maintain control over the list of invited teams.
In 2007, the ASO refused to invite the Unibet.com team despite its having a ProTour license – a move which crippled the ProTour. Under the new world calendar, teams are neither required to take part in the Grand Tours, nor are organisers required to accept all ProTour squads.
The quality of the field in the Grand Tours will be maintained by restrictions allowing only ProTour teams and Professional Continental squads which have been granted "wild card" status into the events. Participation in the biological passport anti-doping programme is one of the requirements for all ProTour and wild card teams.
The Professional Continental teams are still invited at the discretion of the organisers, but will be awarded with their own teams classification – something which had not existed since the creation of the ProTour. Teams which have not agreed to participate in the biological passport programme will not be eligible for this classification.
Races on the World Calendar include the Tour de France, which carries the maximum points, the Giro d'Italia and Vuelta a España which are the next most heavily weighted events, and a mix of Classics and major stage races in a third class: Tour Down Under, Paris-Nice, Tirreno-Adriatico, Milano-Sanremo, Tour of Flanders, Vuelta Ciclista al Pais Vasco.
Also included in the third class are Paris-Roubaix, Liège-Bastogne-Liège, Tour de Romandie, Volta Ciclista a Catalunya, Critérium du Dauphiné Libéré, Tour de Suisse, Tour de Pologne, Eneco Tour, the newest ProTour event, the Tour of Sochi and the Giro di Lombardia.
A fourth class with the least points includes Gent – Wevelgem, Amstel Gold Race La Flèche Wallonne, San Sebastian, Vattenfall Cyclassics and the GP Ouest France - Plouay.
"Neither component of the World Calendar will dominate the other," McQuaid said. "The UCI ProTour is not in competition with the Monuments Calendar. The UCI ProTour is rather a vision that has won over the teams and organisers because they realise that it is good for cycling. "
Teams arrive Down Under, Armstrong's touchdown date secret
Lance Armstrong is keeping his travel plans to himself
Photo ©: Pete Goding Photography

The first of the ProTour squads have arrived in Australia for the upcoming Tour Down Under, which begins January 20, but the date of the much anticipated arrival of seven-time Tour de France champion Lance Armstrong has been kept a secret. Race organisers are hoping to avoid a crush of media and fans at the airport.
Armstrong's Astana team is due to arrive this Sunday to begin adjusting to the time change and training in the warm temperatures, but Armstrong, who has been preparing in Hawaii, will not come until later in the week, according to The Age.
Silence Lotto's Mario Aerts was one of the first to arrive along with Glenn D'Hollander, Pieter Jacobs, Oliver Kaisen, Jonas Ljungblad and Tom Stubbe. GC hopeful Matthew Lloyd is currently competing in the Australian open road championships in Ballarat. Aerts said the presence of Armstrong will add some pressure for the racers. "Definitely it's going to be more pressure on everybody because he is here."
Team Columbia's defending champion André Greipel arrived Thursday with fellow German Bernard Eisel, and the summer weather was a welcome contrast to the subzero temperatures and snow they left behind in Europe. "We came without the team because we want to get used to the conditions and time difference. Bernard and me are the only two training here, but it's perfect for us.," Greipel said to Adelaide Now.
The Tour Down Under grew last year when it was added to the ProTour calendar, but its prestige was buoyed when Armstrong announced he would make his return to the sport after a three-year hiatus beginning in the Australian event. 'Armstrong fever' has begun to grip the nation, and broadcaster SBS is hoping to garner a worldwide audience of 150 million thanks to agreements with Sky Sports and USA's Versus.
Versus commentator Phil Liggett arrived in Australia last week to call the Jayco Bay Classic, and will continue in that role for the Tour Down Under. According to Fox News, Liggett will also be recording daily "Armstrong updates" during the Tour.
Millar prepares for 2009
By Peter Hymas
David Millar (Team Garmin-Chipotle p/b H30)
Photo ©: John Pierce

David Millar has spent quiet, quality time preparing for the 2009 season at Garmin-Slipstream's European base in Girona, Spain, benefiting from the team's uniquely timed initial training camp and a more traditional start to his racing campaign.
"It's been more relaxed this winter, a lot different than last year. We don't have the pressure that we had at the start of year with a lot to prove," said Millar to Cyclingnews. "The fact that we're ProTour and have guaranteed selection to races, we can kind of get back to the sporting aspect of it all.
"One of the nice things with this team is that we have an early winter get together in November which leaves us an almost two-month uninterrupted period after that to settle down at home and just get into a routine and train well," continued Millar. "I made the most of that and stayed in Girona the whole time. Most other teams have their camps in the middle of December or the beginning of January so it all kind of gets disrupted."
A factor contributing to Millar's relaxed demeanor is a reversion to his traditional race schedule with an initial mid-March peak rather than 2008's blazing form unleashed much earlier in January's Tour of Qatar and February's Tour of California. "For the moment my first race is the Tour Méditerranéen starting February 11, then Vuelta a la Comunidad Valenciana, Paris-Nice, Milano-Sanremo and then Criterium International. That's the first wave and then I'll take almost the whole of April off racing. I'll start my Tour build-up which will be [Tour de] Romandie, [Volta Ciclista a] Catalunya, [Critérium du] Dauphiné Libéré, my national championships and then the Tour de France. Later on in the year I'll be doing the Tour of Spain."
Millar and his coach Adrie van Diemen have applied the physiological data acquired during 2008 to Millar's current training regimen. "What we learned is that I get fit very quickly which means I have to relax and choose the moments very carefully when I'm on a very strict training program," said Millar. "I do tend to nail them and not miss a session and before I know it I'm way ahead of schedule with my fitness which isn't a good situation since it's such a long season. This year I haven't started my real strict training, my interval program, until only two days ago on January 6."
Millar pointed out the races which are most important to him in 2009. "There are those three weeks for Paris-Nice and the Criterium International where I want to be good and then it's going to be the Dauphiné and the Tour de France. I'd love to win that first stage of the Tour but we've also got the team time trial.
"I'm no longer in a position on a Tour team where I can just do what I want. We have Christian [Vande Velde] who's become such a player when it comes to GC in the Grand Tours that I'll actually have very few opportunities to seize the day, if you like. For me, more than likely it will be the first day and possibly a transition stage later on in the race. It's actually very calculated because the rest of the time I'll be looking after Christian."
Milram: "Everything new – Everything different"
By Susan Westemeyer in Dortmund, Germany
The 2009 Milram squad
Photo ©: Patrick Reed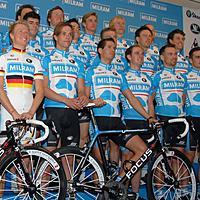 Everything is new and different at Team Milram for the 2009 season: with a revamped roster and redesigned jerseys, the squad aims to get back to winning with its two new captains, Gerald Ciolek and Linus Gerdemann. The sole remaining German ProTour team presented its squad on Wednesday in Dortmund, Germany.
"I am happy to present a German Team Milram, in which we have riders for every discipline," said General Manager Gerry van Gerwen. "From Spring Classics specialists to sprinters, GC riders and climbers, as well as all-rounders – the team is much more versatile than in the past years."
Continue to the full feature.
Dean chases hat-trick in New Zealand
Julian Dean (Crédit Agricole)
Photo ©: Cyclingnews.com

Kiwi sprinter Julian Dean will seek his third straight national title this weekend at the RaboPlus New Zealand Road Championship in Te Awamutu. Dean, who races for the Garmin-Slipstream squad, is intent on donning the black and white national jersey during the upcoming road season. He's been tailoring his training toward the 180km event rather than focusing on preparations for the six-day Tour Down Under.
"This race means a lot to me. It's great to be able to wear the New Zealand jersey in the major races in Europe and I think it's also helped give our country and our sport some profile with the coverage we get," Dean said. "It brings some kudos and identity in the peloton in the major tours."
After the championships, Dean will join his Garmin teammates in Adelaide for the Tour Down Under before heading back to his base in Spain with his family in February to prepare for the main part of the season.
The championships begin on Friday with the time trial for elite men, under-23 and elite women, with the women's road race over 120kms on Saturday and the men's and under-23 road race over 180kms from 10am on Sunday.
O'Neill ready to fly with V Australia
The new Australian professional team Fly V Australia presented by Successful Living announced the signing of eight-time Australian time trial champion Nathan O'Neill to its roster on Thursday. The 34-year-old from Queensland is returning to racing after serving a 15-month ban for using the appetite suppressant phenteramine.
O'Neill said he is fit, motivated and "raring to go", and pleased to be riding for a team from his home country after years spent in top teams in Europe and North America. "It's quite surreal to finally be riding for an Australian-registered professional cycling team. I am very appreciative of the team's confidence in my abilities and their decision to take me on. It's long been a dream of mine to race for an Aussie team – I didn't think I would get this opportunity. This is a great day for me personally and for Australian cycling."
Speaking about his role in the team O'Neill said, "I look forward to contributing to the establishment of a winning team culture as we embark on our first season together. We've put together a team that can contend for podium places in any race we enter. There are a number of young guys on our roster who are looking to step up – I'm looking forward to sharing my experience with them and helping them to make that step."
O'Neill is particularly excited by the prospect of racing with long time adversary and fellow Australian Time Trial Champion Ben Day. O'Neill said, "I think it's amazing to have two former Australian TT Champions on the same team. Ben will be an invaluable member of the team, both in the time trial and road races. I know he will be a threat for the GC all season long and I hope that together we can help bring some of the other guys along in the time trials, so everyone is a threat when we are racing for GC."
Fly V Australia p/b Successful Living (Australia unless otherwise noted): Alessandro Bazzana (Ita), Hayden Brooks, Jonathan Cantwell, Scott Davis, Benjanin Day, Charles Dionne (Can), Steven George, Michael Grabinger (USA), Curtis Gunn (USA), David Kemp, Benjamin King, Nathan O'Neill, Bernard Sulzberger, Phillip Zajicek (USA)
Sastre, Armstrong in February's Procycling
Lance Armstrong is back on the cover of Procycling
Photo ©: Procycling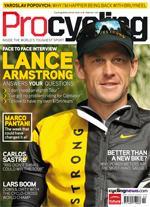 The February 2009 edition of our sister magazine, Procycling (issue 121), has gone on sale in the UK and will soon be available in the US and the rest of the world. The cover star is Lance Armstrong, who Procycling were given exclusive access to during Astana's December training camp in Tenerife. Rather than asking the questions everyone else has been asking the seven-time Tour champion, Procycling gave their readers the chance to put their own questions to Armstrong, it resulted in an illuminating exchange – and one that's fired up debate on the message boards at bikeradar.com
Also in the February edition of Procycling, 2008 Tour champ Carlos Sastre reveals the story behind the breakdown of his relationship with CSC-Saxo Bank boss Bjarne Riis before his move to the Cervélo Test Team for 2009. Cyclo-cross's man of the moment, world champion Lars Boom, talks to us about his plans to dominate the road scene in future. Procycling also meets SRM power meter founder Ulrich Schoberer and examines how measuring power output has transformed the sport.
Procycling's series of articles covering Armstrong's seven Tour wins turns to the 2000 race and focuses on the epic stage to Mont Ventoux and the epic struggle the Texan had that year with Marco Pantani. Procycling talks to those close to the Italian climber and the American champion to find out why the relationship between the pair degenerated into accusation and acrimony. Procycling also remembers another of the Tour's great climbers by retracing the route of Robert Millar's classy 1984 Tour ride to Guzet Neige in the Classic Climbs feature. Plus, Frankie Andreu tests Independent Fabrication's custom-built XS.
Also featured are interviews with Yaroslav Popovych and John-Lee Augustyn, plus the regular columns Gianni "The Prince" Savio and Garmin's Dan Martin.
Enter the new Cyclingnews contest: Win an autographed Team CSC jersey
Team CSC jersey
Photo ©: Cyclingnews

Enter Cyclingnews' contest to win a piece of recent cycling history - a Spring 2008 team-issue Team CSC jersey signed by all eight team members from the squad's 2008 Ronde van Vlaanderen lineup.
Victory eluded the team on this day, but CSC played an important role in the race with Karsten Kroon positioning himself in a threatening five-man break which was caught with only 25 kilometers to go. Kurt-Asle Arvesen and Allan Johansen both finished the Ronde in the top-ten, crossing the line in seventh and tenth respectively.
The contest's winner will be selected at random from all correct answers to a Team CSC trivia question received through next Wednesday, January 14. To find out more about the jersey and its signers and to enter, click here.
(All rights reserved/Copyright Future Publishing (Overseas) Limited 2009)