Latest Edition Cycling News, January 9, 2009
Edited by Laura Weislo and Bjorn Haake
Cofidis ready for marvellous season
By Bjorn Haake in Paris
The 2009 Cofidis jerseys are ready
Photo ©: Bjorn Haake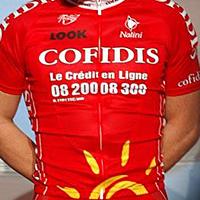 The French Cofidis team used the marvellous Théâtre Merveilleux in Paris for its 2009 presentation on Thursday. The elaborate event in the old theater in Bercy was a far cry from the low-key event in the previous year. Most riders were present this time and followed the entertaining presentation that mixed speeches with short, entertaining video clips. Well known Tour de France announcer Daniel Mangeas led the 90-minute long official part of the programme.
The French ProTour team lost a few of its major players, such as Sylvain Chavanel (Quick Step), Nick Nuyens (Rabobank) or Maxime Monfort (Team Columbia), who had contributed to a very successful 2008 campaign. Team Manager Eric Boyer realised the difficulty of repeating such a successful year. "If I could sign to have the same successes as last year, I'd do it immediately."
Boyer added that the team already brought in the first win of the season. "Jean Eudes Demaret won a cyclo-cross race last Sunday." Mangeas was quick to point out that it was fitting Demaret won the first race for the team (the French word demarrer means 'to start').
A review of the 2008 season highlighted the team's performance in the Tour de France, which was a success with two stage wins (Samuel Dumoulin, Sylvain Chavanel) and a 15th place overall by Amaël Moinard.
Riders such as David Moncoutié dream of La Grande Boucle. "The Tour de France is certainly an important objective for me," Moncoutié said. He doesn't rule out challenging for the maillot blanc à pois rouge of best climber. "But I tackle the coming season with the goal of simply winning races," said Moncoutié about the year that could be his last as a professional. Winning the climber's jersey at last year's Vuelta a España has visibly given confidence to the Frenchman.
ProTour after all
The mighty Cofidis wants to be ahead of the competitors in 2009
Photo ©: Bjorn Haake

The fact that the team can quietly plan on riding in the Tour de France stems from a change of mind. In July 2008 Cofidis decided it was not going to renew its ProTour license. But after further discussions between the sponsor and the team, Cofidis decided to extend the license in September. Team Manager Eric Boyer was a key figure in the negotiations with the sponsor. "We got together and looked at the advantages and disadvantages of each approach and eventually decided to renew the ProTour license."
The team is a mix of road racers and track riders, like it has been in the past. There will be 24 roadies and four pistards. Multiple track World Champion Arnaud Tournant retired, but stays with the team as the track coach. "I will have a different role, but it is still in cycling, still with Cofidis. I am proud of this."
Eric Boyer has full confidence in the other directeurs sportifs for the road (Francis van Londersele, Alain Deloeuil and Bernard Quilfen). "All of them have at least ten years of experience. This is very important," Boyer said.
Thierry Vittu, the president of Cofidis competition, announced a new name for the team, based on evolving market in the credit business. "We will be known as 'Cofidis - le Crédit en Ligne'." The ever-growing internet triggered the change from its previous 'Cofidis - le Crédit par Téléphone'. Vittu had no regrets about supporting cycling, which the company has done since 1997. "Before, Cofidis was not very well known, but now we are represented in many countries." Vittu was very satisfied with the last year of racing. "It may have been the best year ever for Cofidis."
Boyer thanked Cofidis for the ongoing support in return. "We had a difficult 2007 [Moreni's doping case and the team's withdrawal from the Tour - ed.] but the sponsor trusted us and stayed with us. Thank you very much!"
Five riders joined the road race faction: sprinter Alexandre Usov (AG2R La Mondiale), Christophe Kern and Rémi Pauriol (Crédit Agricole) and Nico Sijmens (Landbouwkrediet - Tönissteiner). The fifth rider, Guillaume Blot, moves up from the French amateur ranks.
After the official part of the event riders and media gathered in the hallway of the theatre, where anyone could try out the games. After the nicely presented snacks were taken care of, the riders packed up and headed down to Southern France, where the second training camp will start soon. For some, it is already time to think about racing, too. Moncoutié will once again head Down Under. "I like starting the season there, it allows me to get some good training kilometres."
For a photo gallery of the event, click here.
Snow forces Basso off-road prior to Argentina
By Gregor Brown
Ivan Basso was forced off-road due to the temperatures
Photo ©: Roberto Bettini

Snow forced Ivan Basso to train off-road as he builds form prior to his 2009 debut in Argentina. The Team Liquigas leader starts his first full season since 2005 at the Tour de San Luis, January 19 to 25.
"Cannondale gave me a mountain bike with profiled tyres, so I used it to my benefit. I rode two hours on my mountain bike and then in the afternoon one hour on the trainer," Basso said to Cyclingnews.
Basso is a favourite to win the Giro d'Italia this May and won the three-week Italian stage race in 2006. This season will be his first attempt at the race since his suspension for his links to the Operación Puerto doping investigation.
Basso made his return at the end of last year with the Japan Cup where he finished second to Damiano Cunego. Over the winter he has improved his form and he will race the Tour de San Luis, Tour of California and Tirreno-Adriatico as part of his lead-up to the Giro, May 9 to 31.
"I don't want to go over my limit racing in Argentina as it is too early in the season but I'm looking forward to the training. My condition needs to build slowly in Argentina, then to California and Tirreno."
The Tour de San Luis is a seven-stage race. Five other European teams – ISD, Andalucía Cajasur, Diquigiovanni, Fuji-Servetto and Saxo Bank – will join team Liquigas.
Cunego eyes Giro's key time trial
By Gregor Brown
Cunego eyes the long Giro time trial
Photo ©: Roberto Bettini

Damiano Cunego will preview the Giro d'Italia's key time trial stage in Liguria, Italy, in the coming days. The 2004 winner of the Italian stage race is currently training in Tuscany with teammates as he aims to escape the bad weather at home in Verona.
"We are here until Tuesday, doing motor-pacing and distance riding. We will go and see the time trial course in Liguria as well," Directeur Sportif, Brent Copeland said to Cyclingnews.
The 12th stage of the Giro d'Italia, May 9 to 31, is expected to help decide the race overall. The 61.7-kilometre long time trial will suit race favourites Ivan Basso and Lance Armstrong.
South African Copeland is back with Lampre after taking time out to open a bicycle shop in Como, Italy. He will look after Cunego in key races this year, which will include the Giro d'Italia, and possibly the Tour de France.
Cunego has not fully committed on which three-week event he will race this year. Last year, he raced the Tour de France as part of a successful season that included wins in the Amstel Gold andGiro di Lombardia.
"We did a ride of 160 kilometres today [Thursday - ed.]. It was a good five and a half hour ride," said Copeland.
"It is like heaven for them to get on their bikes down here for five hours. In the day it is 12 to 13°C, whereas it is -2° in Milano."
Copeland confirmed Cunego will open his season at the GP Etruschi, February 7, in Italy. Cunego will race the Volta ao Algarve, February 18 to 22, as his second race.
Menchov to Giro
Russian Denis Menchov has confirmed that he will once again ride the Giro d'Italia. The Rabobank rider made his intentions to participate clear to organiser RCS, according to La Gazzetta dello Sport. Menchov finished fifth last year, 3:37 behind the winner.
Menchov won the Vuelta a España twice, in 2005 after Roberto Heras was caught for doping and in 2007.
Menchov acknowledged that participating in the Giro last year totally changed his mind about the race. "I like the race as it is never dull and the weather is optimal for me and the spectators."
Menchov hopes to better his result from last year. "I was in good shape then, but not at my very top." His 2008 results made him realise that he can race two Grand Tours at the highest level. "It appear others think so, too.
Saxo Bank optimistic for Tour Down Under
Stuart O'Grady gets ready for the home race
Photo ©: Rick Robson

Team Saxo Bank thinks it has good chances in the premiere ProTour race of the 2009 season, the Tour Down Under. Directeur Sportif Kim Andersen said the team offers several contenders for the overall win.
"The riders we've chosen for the line-up have all been training specifically for this race and several of them are at a level where they could easily be contenders for the victory," he said on the team's website, riis-cycling.com.
The Danish team will be led by two Australians, Stuart O'Grady and Matt Goss, who "have an obvious advantage because they've been able to train down here." They will be joined by Jens Voigt, who is known for his aggressive riding and frequent escape attempts. "I know that Jens Voigt has worked really hard as well and that means anything can happen really," Andersen noted.
The six-stage race, which runs from January 20 – 25, is normally one for the sprinters. "This particular race often gets decided via bonus seconds or because a break is allowed off on one of the tougher stages," Andersen said. "Regardless, the recipe is the same for us: We need to be where the action is!"(SW)
Boom at Nationals after all
Lars Boom will ride the Dutch cyclo-cross championship on Sunday to defend his national title, even through his left elbow still isn't fully healed from injuries suffered last month..
The Rabobank rider injured his elbow in a crash at a race in Loenhout on December 30. It subsequently became infected and he was in hospital last weekend to have the wound cleaned and to undergo an antibiotics treatment.
Things are getting better, but he still doesn't have full use of the arm. "For example, I can't pull well, but I still want to defend my title," he said on the team's website, rabosport.nl.(SW)
Final questions for Steve Johnson
Steve Johnson explained why the media was excluded
Photo ©: USOC

Cyclingnews recently posted a two-part feature interview with the current CEO of USA Cycling Steve Johnson, looking back at his tenure at the helm of the organisation. The interview was conducted back in October and since then our North American Editor Mark Zalewski spoke with him about some more issues — number one of which was the perception of a lack of transparency.
Johnson said he was well aware of this perception and was actively trying to turn it around. He even went so far as to invite us to the then upcoming NRC promoter summit. Unfortunately, when Cyclingnews asked to be included in the NRC summit, USA Cycling representatives denied media access — not exactly a step towards increasing transparency.
When asked about this Johnson said this was not a case for hiding information but an attempt to allow for more of it.
"We wanted to have a frank dialog with the stakeholders and not have it affected by [a media presence,]" said Johnson. "It was a work in progress at that point... talking about things in the rough form that they were in." In other words, people might not be as likely to discuss ideas if they were worried it would show up in the media.
"I'm probably the most sensitive to that of anybody. So I ask people to just bear with us with this one and there was a lot of great dialog and without the media there we were able to have a franker discussion."
"It wasn't closed doors in all respects as it was open to all promoters and really anyone else."
The Olympics were also a major point of our discussion with Johnson, particularly the up-and-down nature of the US results. As Johnson admitted, the Olympics are an important event for sports like cycling, trying to gain awareness and get noticed above the fray amongst all the other sports, usually via medals.
Unfortunately, US cycling got awareness from a different method with what the main-stream media was quick to dub 'Maskgate' — when three American track cyclists arrived in Beijing wearing their officially approved USOC breathing masks to combat pollution. And soon after, US cycling got a lesson in how politically charged the Olympics really are.
"I think it gives us all pause, to never forget that the political umbrella hangs over the Olympic Games. But the reality for us is that on August 8 it becomes the Olympic team and is no longer USA Cycling's team. The coaches and staff go to work for the US Olympic Committee. So it is an environment where obligations of organisations may be a little grey, but in the end the USOC manages and is responsible for the Olympic team."
"That said everyone went into the Games very nervous about pollution and how it would affect performance. I take my hat off to the USOC, they were very proactive in trying to find remedies to that. But the Chinese did a great job of shutting down factories and getting cars off the road. The air was fine, it was the most amazing transformation in air quality I have ever seen."
Unfortunately, the arrival at the airport was the only news the track team garnered. Only weeks after the Olympics were finished, the athletes revealed the treatment they received and demanded an apology from the USOC. Then it was realised how deeply they could have been affected in their events — though Johnson admitted he cannot fathom the impact himself.
"I think only those athletes can answer that question, I don't pretend to understand how they were impacted by that or how it affected their performance. I think it highlights the differences between the sporting environment of the Olympics and the political environment there, it's always a balance. The USOC has cleared the deck on that and apologized to the athletes — they admitted they could have been more sensitive to the athlete's needs, but again it is a tough environment with the world's attention focused."
Cyclingnews continues team training camp coverage
As road pros assemble for their traditional pre-season training camps around the world, Cyclingnews has compiled all relevant feature articles, news briefs, tech information, video and photographs in a single destination to keep you informed of their 2009 season preparations.
There's no doubt that the pro peloton is being fitted with new equipment, meeting new teammates, planning the season's racing schedules and putting in the miles. We've provided coverage of 21 different UCI ProTour, Professional Continental and Continental teams in the previous three weeks via 44 news briefs, 14 photo galleries, and five feature articles.
Check back often throughout the coming weeks as the training camp page receives a steady influx of information about the pre-season activities of your favourite riders and teams.
For complete training camp coverage, click here.
Enter the new Cyclingnews contest: Win an autographed Team CSC jersey
Team CSC jersey
Photo ©: Cyclingnews

Enter Cyclingnews' contest to win a piece of recent cycling history - a Spring 2008 team-issue Team CSC jersey signed by all eight team members from the squad's 2008 Ronde van Vlaanderen lineup.
Victory eluded the team on this day, but CSC played an important role in the race with Karsten Kroon positioning himself in a threatening five-man break which was caught with only 25 kilometers to go. Kurt-Asle Arvesen and Allan Johansen both finished the Ronde in the top-ten, crossing the line in seventh and tenth respectively.
The contest's winner will be selected at random from all correct answers to a Team CSC trivia question received through next Wednesday, January 14. To find out more about the jersey and its signers and to enter, click here.
(All rights reserved/Copyright Future Publishing (Overseas) Limited 2009)