Australian Open Road Championships - NE
Ballarat, Victoria, Australia, January 7-11, 2009
Main Page Results Previous Stage Next Stage
Stage 5 - January 10: Elite/Under 23 Women's Road Race, 102 km
Ryan doubles up with solo break
CarlaRyan (Cervélo Test Team) was overjoyed with her win
Photo ©: CJ Farquharson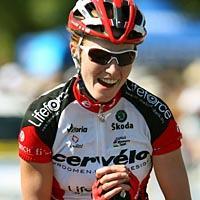 Carla Ryan won her second Australian Championship title in the road race, after already taking out the gold in the time trial. Unlike her close one-second win in the race against the clock, Ryan sailed across the line in the road race solo, 40 seconds ahead of Ruth Corset and Nikki Butterfield (nee Egyed). Ryan launched her decisive attack on the final climb up Mt Buninyong on the tenth and final lap of the 102 kilometre-race in which 69 riders started and 30 finished.
"To be honest, I had been a bit nervous today and didn't know what to expect," said Ryan. "Today I felt really strong and the other girls were tiring and I had to make my move and back myself, really."
Ryan is a former long distance runner who began cycling in 2005 through a Queensland Academy of Sport Talent ID program and this year will ride as a professional with the Cervélo Test Team, with she joined mid-season in 2008.
Numerous breakaway attempts were quashed in the early stages of the race before the first significant move on lap seven formed. It was time trial silver medallist Alexis Rhodes who rode clear of the peloton. She gained a maximum advantage of almost a minute before she was caught. Then Ryan launched her first attack.
Ruth Corset (QAS) and Nikki Butterfield (Webcor) sprint for second place.
Photo ©: CJ Farquharson

She was joined by Corset, Butterfield, Canberra's Vicki Whitelaw and Great Britain's Beijing Olympian Sharon Laws. Ryan tried to escape from the small group, but did not get the liberty from the others.
The leading five had a narrow margin on the bunch at the bell lap but were caught soon after. Then the race hit the climb up Mt Buninyong for the final time and the third time was a charm for Ryan, who found no-one with her as she headed for home.
"When I [first] attacked, they came back, [but] I felt confident and strong that I could have another go on the next lap," said Ryan. "I knew from the time trial that I was riding strongly."
Butterfield, the silver medallist two years ago, also contested the women's road race the 2008 World Championships in Varese, Italy last September.
"I think I rode better in the Worlds in Varese but I am happy with this result and looking forward to the rest of the season," said Butterfield. "Carla really deserves it and it is good to see a Queenslander on the top step of the dais."
Having only entered cycling three years ago, former triathlete Corset, who rides with US based team Jazz-Apple, was surprised by her silver medal.
"I have worked hard for it and can't wait to go back and tell my family," said the 31-year-old mother of two. "I would like to go to the Worlds this year and maybe even the Commonwealth Games, but I am taking it one step at a time."
The peloton descends towards Yankee Flat Road.
Photo ©: CJ Farquharson

After finishing fourth in Wednesday's time trial, three time rowing World Champion Amber Halliday continued to impress at her debut Championships, putting in a solid block of work on the front during the race before fading to 19th place at the finish.
"I just wanted to have a go and test myself out and stay out of trouble and I found the best way to do that was to stay on front of the peloton and help out my teammates," said the 29-year-old.
Mullens prevails in sprint for U23 crown
Peta Mullens (VIS)
Photo ©: CJ Farquharson

Within the elite women's race an U23 women's division was decided with Victoria's Peta Mullens narrowly edging out West Australia's Sarah Kent and South Australia's Tiffany Cromwell across the line.
"I am a little bit surprised, I didn't think I would have the endurance to last the day, I didn't really have the kilometres in my legs that I would have liked, but I guess I should have more confidence in myself," said 20-year-old Mullens. "This is my first road gold medal, I have one from the track, so no one really understands just how much this means to me."
Kent added to her bronze in Wednesday's time trial with a second medal of the Championships, this time silver. "This is a huge result for me, I don't usually consider myself a road rider, so it's pretty unbelievable," said Kent.
Cromwell was also excited with the result. "I am happy with any sort of medal, it was a tough day out there, and such a quality field, I just could not get rid of anyone out there."
Photography
For a thumbnail gallery of these images, click here
Images by CJ Farquharson/WomensCycling.net
Results
1 Carla Ryan (QLD)           3.03.37 (33.33 km/h)
2 Ruth Corset (QLD)             0.40
3 Nikki Butterfield (QLD)           
4 Vicki Whitelaw (ACT)              
5 Sharon Laws (VIC)                 
6 Kirsty Broun (QLD)            1.24
7 Peta Mullens** (VIC)               gold U23
8 Sarah Kent** (WA)                  silver U23
9 Tiffany Cromwell** (SA)            bronze U23
10 Carlee Taylor** (SA)             
11 Shara Gillow** (QLD)             
12 Judith Arndt (GER)               
13 Kathryn Watt (VIC)               
14 Myfanwy Galloway** (ACT)         
15 Rachel Neylan (SA)               
16 Angela Mcclure (VIC)             
17 Simone Grounds (QLD)         1.41
18 Joanne Hogan (VIC)               
19 Amber Halliday (SA)              
20 Myra Moller (VIC)            2.31
21 Katherine O'shea (MTB)       3.41
22 Emma Mackie (QLD)                
23 Lisa Jacobs (VIC)                
24 Lauren Kitchen** (NSW)       8.04
25 Jemma O'brien (NSW)              
26 Jenny Mcpherson (VIC)       11.05
27 Gracie Elvin** (ACT)        11.25
28 Zoe Appel** (QLD)                
29 Chloe Mcconville** (VIC)    11.42
30 Marilyn Mcdonald (VIC)      13.17
DNF Alexis Rhodes (SA)              
DNF Jane Despas (USA)               
DNF Kate Ross (USA)                 
DNF Rachel Heal (GBR)               
DNF Kerry Knowler (ACT)             
DNF Megan Ross (ACT)                
DNF Bronwyn Ryan (ACT)              
DNF Rowena Fry (MTB)                
DNF Jodie Willett (MTB)             
DNF Kate Finegan (NSW)              
DNF Sue Forsyth (NSW)               
DNF Rochelle Gilmore (NSW)          
DNF Danielle Goddard (NSW)          
DNF Amber Jenkins (NSW)             
DNF Tanya Newton (NSW)              
DNF Sarah Roy (NSW)                 
DNF Liz Young (QLD)                 
DNF Kate Warren (TAS)               
DNF Delphine Astier (VIC)           
DNF Radele Berriman (VIC)           
DNF Rebecca Domange (VIC)           
DNF Rebecca Locke (VIC)             
DNF Rachel Rayner (VIC)             
DNF Maryam Rogers (VIC)             
DNF Fiona Spargo (VIC)              
DNF Simone Spykers (VIC)            
DNF Clare Vlahopoulos (VIC)         
DNF Nicole Whitburn (VIC)           
DNF Claire Mclean (WA)              
DNF Sally Robbins (WA)              
DNF Davina Summers (WA)             
DNF Nicole Keily (QLD)              
DNF Chloe Hosking** (ACT)           
DNF Veronica Dudderidge** (ACT)     
DNF Rebecca Thyne** (NT)            
DNF Tahlia Paskin** (QLD)           
DNF Beth Canny** (VIC)              
DNF Lisa Friend** (VIC)             
DNF Chloe Mcintosh** (VIC)          
DNS Bridie O'donnell (VIC)          
DNS Stephanie Mcgrath (VIC)         
DNS Kristen Bell** (ACT)            

** - U23