First Edition Cycling News, January 6, 2009
Edited by Greg Johnson & Les Clarke
Cavendish, Hincapie lead Columbia squad in California
Mark Cavendish (Team Columbia)
Photo ©: AFP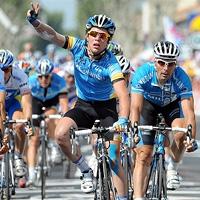 Team Columbia-Highroad has announced its squad of riders for the 2009 Tour of California, led by British sprinting sensation Mark Cavendish and American George Hincapie, who won the final stage of 2008 Tour of California.
The roster includes former World time trial Champion Michael Rogers, Tour de France yellow jersey wearer Kim Kirchen, Tour de France best young rider jersey wearer Thomas Lövkvist, Australian national time trial champion Adam Hansen, Mark Renshaw, and Canadian Michael Barry, Tour of Missouri stage winner in 2008. Cavendish, multiple stage winner in the Giro d'Italia, Tour de France, Tour of Missouri and Tour of Ireland, had a breakout season including 18 wins in 2008.
"The Tour of California is rapidly becoming a top-three worldwide cycling event," says team owner Bob Stapleton. "It showcases the world's best cyclists and the innovation and beauty that is California. As the only California-based elite professional cycling team, we are delighted to bring such a strong team to this year's Tour."
The 2009 Tour of California runs nearly 800 miles from Sacramento to Los Angeles, February 14 - 22.
Another bad break for Page
By Brecht Decaluwé
Jonathan Page's cyclo-cross season has been dealt another blow, with the American finding out he has broken three ribs. The broken ribs are a souvenir from Page's heavy fall at Superprestige 6 in Diegem, Belgium last month.
Despite the heavy fall in Diegem on December 28, Page had been racing in Belgium and Switzerland in recent days with the breaks going undiagnosed. Page was determined to fight on, but wife Cori advised him to pull out of the Swiss event and seek medical opinion.
"More bad news," said Page. "I still had lots of pain from the Diegem crash [and] finally went to a doctor in Switzerland. Three broken ribs [and I've] been racing like that. No wonder I couldn't breathe or pull up on the bars."
The news follows on from revelations Page missed anti-doping controls at the World Cup round in Koksijde in November. The rider is still awaiting the outcomes from the United States Anti-Doping Agency's enquiries to see if it will hold a hearing into the matter. Should USADA decide to hold a hearing, Page will return to the United States when required.
Rabobank looking to be more aggressive in 2009
Denis Menchov
Photo ©: Bert Geerts

Team Rabobank is looking for more aggressiveness from its riders in 2009, after an unsatisfactory 2008 season. "In the coming year we want to attack more, take more initiative," team manager Harold Knebel said at the team's presentation in Rotterdam.
Team captain Denis Menchov will this year again ride the Giro d'Italia as preparation for the Tour de France. Between the two Grand Tours the Russian will pre-ride some of the Tour's climbs, he announced.
Last year's sensation, Robert Gesink, 22, who finished seventh overall in the Vuelta a España, is scheduled to make his Tour de France debut this year. He is also expected to scout out the Tour climbs, although not necessarily with Menchov.
The team features six newcomers, four of whom are Dutch, as the team continues to strive for its Dutch image. It has a total of 30 riders, 18 of whom are Dutch. The new riders this year are Nick Nuyens (Belgium) and Juan Manuel Garate (Spain), and Dutch riders Lars Boom, Stef Clement, Tom Stamsnijder and Maarten Tjallingii.
Australia's Graeme Brown believes the new faces around Rabobank will give returning riders like himself a boost for the season.
"We've got a lot of new faces," he noted. "I've said before that it feels like a new team – we've got a lot of new riders, new bikes, a few new staff members.
"They told me that the two things they're going for are riding the races aggressively – to win – and purity," he added. "They're the two words that they're going to run the season by."
Sprinter Oscar Freire's priorities are Milano-Sanremo and the Tour de France, but at the top of his wish list is a fourth World championship title. "The triumph in the World Championships is the most important title," he told sportweek.nl.
The Spaniard is also the driving force behind a new initiative. The team will publish on its website how often its racers undergo doping controls. The team's riders' council requested the publication, according to Knebel. "There are many rumours about riders and team about how often they are or are not controlled," he said. "We want to give clarity and hope that others will follow our example."
The Rabobank ProTour team for 2009: Mauricio Ardila (Col), Lars Boom (Ned), Graeme Brown (Aus), Stef Clement (Ned), Bram de Groot (Ned), Marc de Maar (Ned), Juan Antonio Flecha (Spa), Rick Flens (Ned), Oscar Freire (Spa), Juan Manuel Garate (Spa), Robert Gesink (Ned), Mathew Hayman (Aus), Pedro Horrillo (Spa), Dmitriy Kozontchouk (Rus), Sebastian Langeveld (Ned), Tom Leezer (Ned), Paul Martens (Ger), Denis Menchov (Rus), Koos Moerenhout (Ned), Bauke Mollema (Ned), Grischa Niermann (Ger), Nick Nuyens (Bel), Joost Posthuma (Ned), Kai Reus (Ned), Tom Stamsnijder (Ned), Bram Tankink (Ned), Laurens ten Dam (Ned), Maarten Tjallingii (Ned), Jos van Emden (Ned) and Pieter Weening (Ned).
Team management and Directeurs Sportifs: Harold Knebel (Ned), Erik Breukink (Ned), Frans Maasen (Ned), Jan Boven (Ned), Adri van Houwelingen (Ned) and Erik Dekker (Ned).
Photography
For a thumbnail gallery of these images, click here
Images by DCP/Bert Geerts
Images by Roberto Bettini/www.bettiniphoto.net
Brown ready to tackle Down Under
By Les Clarke
Graeme Brown gives a victory salute.
Photo ©: CJ Farquharson

After wearing the leader's jersey at last year's Tour Down Under, Graeme Brown heads into this year's event with the form and results which should see him again challenge in the fast finishes. Brown currently leads the Jayco Bay Cycling Classic by a point following his victory in the Eastern Park criterium.
"We actually went to the Bay Crits to find that last couple of percent heading into Down Under – it's been preparation for Down Under, really," he said. "I may have found that little bit extra earlier than I thought, but hopefully it gives me what I need for Down Under."
Brown has had the measure of both Mark Renshaw (Team Columbia) and Robbie McEwen (Katusha) during this year's Bay Series, but Rabobank's accomplished sprinter isn't writing off either rider's chances of performing in a race they have both historically enjoyed, with results to match.
Asked if he thinks McEwen has slowed down, Brown said: "You can never say that about him because he'll come out and do something amazing at Tour Down Under. A one-hour criterium is different to a four-hour road race. In criteriums he's not the Robbie McEwen of five years ago but in five-hour road races it's a completely different story."
But before Australia's ProTour kicks off with the Down Under Classic on January 18, there's the matter of who will be wearing the national champion's jersey to be decided. Brown said that his pick was Simon Gerrans, but, "He told me yesterday that he's not riding! I don't know... If [Bernard] Sulzberger keeps up this form I don't see why he can't take out the title to go with his criterium title."
Brown remains focused on the task of securing the Bay Series title in today's final round in Geelong, however, and praised the efforts of his composite team, Urban Hotels. "The guys with the Urban Hotels team have been great," said Brown. "I got a start with them at the last minute, and they have basically sacrificed any chances they had to ride for me.
"They don't have to [work for me]; it's not a pro team and they're not getting paid to do it, but yesterday the guys basically ripped the race apart by chasing the breaks and going with attacks," he added. "I think 11 people finished, and although attacks near the end broke it up a bit, my guys were on the front for about 40-45 minutes. Kristian House was unbelievable. If he can do anything like he did yesterday, nobody will get past him today, including me!"
Billed by some quarters as 'The Showdown,' Brown knows he'll have a tough task ahead of him if he's to hold on for the series crown, which continues to be a popular start to the year for Australian cycling fans. "It's going to be a challenge today – I think there are eight guys within reach of winning," he said. "If the eighth-placed guy wins and none of us score points, he can take it. Sulzberger's one point behind, Robbie's three points and Gerro's five points.
"I've got to watch eight guys this afternoon," he added. "I'm pretty sure McEwen, Gerrans, Sulzberger and Windsor will be firing bullets. Two days ago Dean Windsor was firing off bullets left, right and centre... if he does that again today it might hurt!"
See Cyclingnews' full coverage of the Jayco Bay Cycling Classic.
Hansen wants Aussie double
Adam Hansen wants to be doing this again tomorrow
Photo ©: Shane Goss

Adam Hansen is hoping to take a second consecutive Australian Open Road Cycling Championship in tomorrow's time trial, before going on to win Sunday's road race. Hansen surprised the cycling purists at his inaugural appearance in the championships last year by winning the 39 km individual time trial, then finishing runner-up to hill-climbing specialist Matt Lloyd in the 163km road race.
Cairns-based Hansen was previously best known for twice winning the gruelling 14-day Crocodile Trophy mountain bike race in Northern Australia. The former triathlete recently signed a two-year extension of his contract with Team Columbia where his team mates include three-times time trial World Champion, Michael Rogers and another Aussie Tour de France rider, Mark Renshaw.
Riding for Columbia in the 2008 Tour de France he acted as lead-out man for British speed sensation Mark Cavendish who won four stages.
"The Tour de France was a pretty unbelievable experience," Hansen said. "It was a bit of a shock to the system, really.
"I felt a lot of pressure going into the race as a domestique, but that's what I am," said Hansen. "I want to be the best domestique that I can be."
Hansen's role as a lead-out man for other riders will take a back seat this week in Buninyong where he hopes to retain his time trial title on Thursday, then claim victory in Sunday's road race.
"My goal is to win both races," he said. "I know nobody has ever won the double before, but there's a first time for everything and I am a lot better prepared this year."
The six-event championships have attracted a staggering 407 entries. A record field of 134 will contest the men's road race over 16 laps of the acclaimed Buninyong circuit which last year attracted 17,000 spectators.
The field includes seven Tour de France riders, plus former Buninyong road race winners Darren Lapthorne, Matt Wilson and Lloyd.
Petacchi to ride Flanders?
LPR Brakes' veteran sprinter Alessandro Petacchi is hopeful of a busy Spring program, according to La Gazzetta dello Sport. Petacchi, who turned 35 last Saturday, could ride the Tour of Flanders and the Three Days of De Panne-Koksijde if his team is granted a wildcard entry to the event.
Petacchi also added to speculation that Michele Bartoli will actually make a comeback to racing, just weeks after the Italian expressed his desire to make a return to professional competition. It could be with the LPR Brakes squad, too, judging by Petacchi's comments.
Vanhuffel joins queue for a new team
Former Silence-Lotto stalwart Wim Vanhuffel is on the hunt for a new team after the proposed H20-Telteck squad failed to materialise. Sporza has reported that H20 had no license, because there was no bank guarantee.
Vanhuffel said that there are rumours the team had no sponsors, and despite wanting to hire riders such as himself and Jan Kuyckx – both committed themselves in the hope that the necessary funds would become available – there was no security over the team's future.
"On Boxing Day, we received an e-mail from the team. It didn't say much, except that the team wouldn't happen," said Vanhuffel. "It's finished. We are free, our contract is worth nothing," he added.
Vanhuffel explained that his own future isn't much more secure than that of the failed team, and he isn't alone in his predicament. "I still have a few issues and I've contacted some people," he said. "But I'm not alone. There are 50 Spanish riders 'on the street'. It doesn't look good. Maybe one day I'll just say that it's over."
(Additional editorial assistance by Susan Westemeyer)
(All rights reserved/Copyright Future Publishing (Overseas) Limited 2009)