Jayco Bay Cycling Classic - NE
Geelong, Australia, January 2-6, 2009
Main Page Results Overall standings Previous Stage Next Stage
Stage 2 - January 3: Geelong - Eastern Park - Elite men
Brown times it perfectly
By Malcolm Sawford in Eastern Park
Graeme Brown (Urban Hotel) gives a victory salute.
Photo ©: CJ Farquharson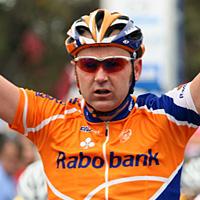 The Jayco Bay Cycling Classic stage two ended in a bunch sprint after a dangerous late break containing two former Australian road champions, Darren Lapthorne (Urban Hotel) and Matt Wilson (O2 Reflections Group), concluded with just three laps remaining. Three-time Tour de France green jersey winner Robbie McEwen (Bike Hub/Ridley) opened the sprint, but couldn't hold off the well-timed burst from Graeme Brown (Urban Hotel).
Overnight leader Simon Gerrans finished eighth, but slipped to third behind new leader Joel Pearson (Savings & Loans) and Brown.
Pearson, who won the support event at the Bay Classic in 2008, finished third on day one from a break of four, but felt that the longer course would make it much tougher for riders to stay clear of the bunch. "I just took the attitude to save myself for the finish. I was lucky enough that it came down to a bunch sprint and I had good legs."
Stuart O'Grady (Skilled) tipped a similar style of race for the men as had just unfolded in the women's. "A lot of attacks, but I think it'll come down to a big bunch sprint," said he Australian
The opening laps saw just that, with Jeremy Hunt (O2 Reflections Group), Rhys Pollock (Mazda) and Charles Howlett (Trevorrow/Chifley/Sally's Paddock) briefly clear two laps in, and Jame Carney (Total Rush), Pat Lane (2XU) and Chris Tymms (O2 Reflections Group) on the attack after ten minutes. However, the bunch had reformed by the first sprint.
Brown took the points ahead of Windsor and Rock Racing's Rahsaan Bahati. It was "a little practice sprint, just to test the legs, and I was pretty happy with it so I was hoping it was going to be a good day," said Brown.
Simon Gerrans (O2 Relfections) in the bunch.
Photo ©: CJ Farquharson

Mark Renshaw (Mazda) was next to stretch his legs with Jonny Clarke (2XU), but the pair were caught before the second sprint. Kris Koke (Trevorrow/Chifley/Sally's Paddock), Nathan Wise (Degani/CBD) and Mark O'Brien (Bike Hub/Ridley) snuck away to steal the points. An acceleration following the sprint saw 15 riders, including Renshaw and Brown, escape, but Matt Wilson closed the gap to keep his teammate Gerrans in contention.
The bunch re-formed with 20 minutes remaining, only to see Rory Sutherland (Total Rush) and Clarke launch a counter attack, followed by Wilson and Urban Hotels pair Darren Lapthorne and Kristian House. The five strong men combined well, and forced the biggest lead of the day at 13 seconds. Their escape lasted five laps.
The chasers finally shut down them down with a little over three laps remaining.
The last, and ultimately futile attack came from Michael Hepburn (Virgin Blue), Carney and Cameron Jennings (Budget Forklifts/Sofitel Mansion). Misfortunes caused two of the fastest sprinters to miss their chances for the win; Renshaw punctured on the penultimate lap and Bahati fell heavily on the final lap, but the final charge up the straight proved straight forward for the clinical looking Brown.
A breakaway in the men's bunch
Photo ©: CJ Farquharson

"I was fairly sure it was going to be a full bunch sprint – and it was. I knew that with the slight cross wind everyone would want to drift to the right hand side, so I wanted to go left. I was happy with the way I sprinted. What I've been trying to aim towards is not so much a win here, but the way I've training has been specific to trying to win all the time, and it's working I guess," said Brown.
For McEwen, it was a case of "going a little bit early. It was all lined out coming into the sprint, but just before the 200-metre mark it sort of propped, and I thought 'instead of getting swamped from behind I'll just go.' It turned out to be a bit too early, into a slight headwind and uphill and Brownie ended up getting into my slipstream and came over me."
The popular sprinter also had words of warning heading into day three. "I've just changed teams, and it would be great to get a win nice and early. The climbers will just have to wait until Port Arlington."
Bahati was initially thought to have sustained a broken collar bone, but doctors later gave him the all clear and he vowed to be on the start line on Sunday.
The support race was well won by young South Australian rider Matthew Benson, from Shaun McCarthy and Patrick Drapac. Overnight leader Jacob Sutherland finished in fourth place and retained his leader's jersey.
Photography
For a thumbnail gallery of these images, click here
Images by CJ Farquharson/WomensCycling.net
Results
Elite Men
 
1 Graeme Brown (Urban Hotel)                                     
2 Joel Pearson (Savings & Loans)                                 
3 Robbie McEwen (Bike Hub/Ridley)                                
4 Leigh Howard (Jayco VIS)                                       
5 Bernie Sulzberger (Virgin Blue)                                
6 Michael Stallard (Savings & Loans)                             
7 Baden Cooke (O2 Networks - Reflections Group)                  
8 Simon Gerrans (O2 Networks - Reflections Group)                
9 Cody Stevenson (Budget Forklifts)                              
10 Nic Sanderson (Rock Racing)                                   
 
Points
 
Sprint 1
1 Graeme Brown (Urban Hotel)                                     
2 Dean Windsor (Mazda)                                           
3 Rahsaan Bahati (Rock Racing)                                   

Sprint 2
1 Kris Koke (Trevorrow/Chifley/Sally's Paddock)                     
2 Nathan Wise (Degani/CBD)
3 Mark O'Brien (Bike Hub/Ridley)                                 

Sprint 3
1 Rory Sutherland (Total Rush)                                   
2 Darren Lapthorne (Urban Hotel)                                 
3 Jonny Clarke (2XU)                                             
 
General classification after stage 2
 
1 Joel Pearson (Savings & Loans)                               18 pts
2 Graeme Brown (Urban Hotel)                                   16
3 Simon Gerrans (O2 Networks - Reflections Group)              15
4 Robbie McEwen (Bike Hub/Ridley)                              13
5 Bernie Sulzberger (Virgin Blue)                              13
6 Dean Windsor (Mazda)                                         10
7 Baden Cooke (O2 Networks - Reflections Group)                10
8 Leigh Howard Jayco (VIS)                                      7
9 Michael Stallard (Savings & Loans)                            5
10 Mark Renshaw (Mazda)                                         3
11 Cody Stevenson (Budget Forklifts)                            2
12 Jono Cantwell (Virgin Blue)                                  2
13 Nic Sanderson (Rock Racing)                                  1
14 Brett Aitken (Savings & Loans)                               1
 
Points classification
 
1 Dean Windsor (Mazda)                                          9 pts
2 Joel Pearson (Savings & Loans)                                6
3 Bernie Sulzberger (Virgin Blue)                               5
4 Rory Sutherland (Total Rush)                                  3
5 Kris Koke (Trevorrow/Chifley/Sally's Paddock)                 3
6 Graeme Brown (Urban Hotel)                                    3
7 Darren Lapthorne (Urban Hotel)                                2
8 Nathan Wise (Degani/CBD)                                      3
9 Jonny Clarke (2XU)                                            1
10 Mark O'Brien (Bike Hub/Ridley)                               1
11 Rahsaan Bahati (Rock Racing)                                 1
 
Teams classification
 
1 O2 Networks - Reflections Group                              25 pts
2 Savings & Loans                                              24
3 Urban Hotel                                                  16
4 Virgin Blue                                                  15
5 Bike Hub/Ridley                                              13
6 Mazda                                                        13
7 Jayco VIS                                                     7
8 Budget Forklifts                                              2
9 Rock Racing                                                   1
 
Support men
 
1 Matthew Benson                                                 
2 Shaun McCarthy                                                 
3 Patrick Drapac                                                 
4 Jacob Sutherland                                               
5 Marc Williams                                                  
6 Luke Mackenzie                                                 
7 Stuart Grimsey                                                 
8 Luke Ockerby                                                   
9 Angus Tobin                                                    
10 Jarrod Moroni                                                 
 
Points
 
Sprint 1
1 Shaun McCarthy                                                 
2 Jacob Sutherland                                               
3 Xavier Gstrein                                                 
Sprint 2
1 Stuart Grimsey                                                 
2 John Cornish                                                   
3 Thomas Pritchard                                               
 
General classification after stage 2
 
1 Jacob Sutherland                                             19 pts
2 Shaun McCarthy                                               18
3 Matthew Benson                                               16
4 Cameron Carlyle                                              10
5 Patrick Drapac                                                8
6 Shaun Lewis                                                   7
7 Marc Williams                                                 6
8 Scott Liston                                                  6
9 Luke Mackenzie                                                5
10 Samuel Spokes                                                5
11 Stuart Grimsey                                               4
12 Luke Ockerby                                                 3
13 Adam Trewin                                                  3
14 Angus Tobin                                                  2
15 Lachlan Morton                                               2
16 Jarrod Moroni                                                1
17 Dale Parker                                                  1