Jayco Bay Cycling Classic - NE
Geelong, Australia, January 2-6, 2009
Main Page Results Overall standings Previous Stage Next Stage
Stage 3 - January 4: Geelong - Eastern Park - Elite women
A Fry surprise
By Malcolm Sawford in Eastern Park
Rowena Fry (TIS)
Photo ©: CJ Farquharson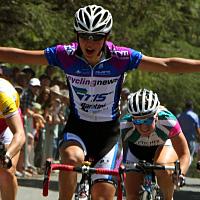 Tasmanian mountain biker Rowena Fry took a surprise win on day three of the 2009 Jayco Bay Cycling Classic. It was a race marred by crashes that put defending champion Megan Dunn out of the race.
"I'm a bit shocked!" the dual Australian MTB champion said. "This is only about my third crit, I'm just here for a training block. I was waiting for people to come past me and they never did. The photo in the paper tomorrow could be pretty funny, I think I'll look pretty shocked."
The 40-minute women's race had to be drastically shortened after a serious crash involving 2008 series winner Megan Dunn (NSWIS), Kate Finegan, Gina Grain (MB Cycles) and Jenny Macpherson (G Force/Body Torque). Officials had to suspended the race for well over ten minutes while medics assessed Finegan and Dunn's injuries.
The medics took both to Geelong Hospital later; Finegan with suspected back injuries and concussion, and Dunn with a fractured collar bone. Officials don't expect either to continue in the series.
Under event rules, the race clock continued to run, and a little over 18 minutes remained when racing finally resumed. Officials also ruled that a dangerous looking break away containing Peta Mullens (Jayco VIS), Belinda Goss (Pitcher Partners) and Kirsty Broun (MB Cycles) did not have a big enough advantage to be recreated, and started the entire bunch together. A sprint to the finish ensued, with the bunch dwindling on each lap and only 13 riders surviving to contest the final lap.
Megan Dunn (NSWIS) hits the street furniture
Photo ©: CJ Farquharson

With four laps remaining, Belinda Goss (Pitcher Partners) and Tiffany Cromwell (Skilled) jumped clear. It took a huge effort by Tahlia Paskin to shut things down for the MB Cycles team.
Joint points leader overall Rochelle Gilmore (NSWIS) was one of the casualties and acknowledged having a "super bad day." She left Broun and Josie Tomic (Plan B) battle for outright ownership of the yellow jersey. Both were surprised by Fry's acceleration at the base of the final climb.
Fry is not riding the series as part of a team, but entered as part of her return to full fitness after contracting glandular fever in 2008.
Mullens held off Broun in a photo finish for second, with Tomic back in sixth place, which gave Broun a three point buffer in the leader's jersey. Mullens was a little disappointed the shortened format hadn't allowed her to to show her strength, but promised to make amends at Portarlington. "I'm really going to hurt some legs tomorrow," she said.
Photography
For a thumbnail gallery of these images, click here
Images by CJ Farquharson/WomensCycling.net
Results
1 Rowena Fry (Tasmania)                                          
2 Peta Mullens (Jayco VIS)                                       
3 Kirsty Broun (MB Cycles)                                       
4 Belinda Goss (Pitcher Partners)                                
5 Chloe Hoskins (Mazda)                                          
6 Josie Tomic (Plan B)                                           
7 Emma Mackie (Pitcher Partners)                                 
8 Tiffany Cromwell (Skilled)                                     
9 Lauren Kitchen (NSWIS)                                         
10 Amy Cure (Pitcher Partners)                                   
 
Points
 
Sprint 1
1 Kirsty Broun (MB Cycles)                                       
2 Gilmore (NSWIS)                                                
3 Josie Tomic (Plan B)                                           
 
Sprint 2
1 Nikki Butterfield (Skilled)                                    
2 Rochelle Gilmore (NSWIS)                                       
3 Melissa Hoskins (Plan B)                                       
 
General classification after stage 3
 
1 Kirsty Broun (MB Cycles)                                     28 pts
2 Josie Tomic (Plan B)                                         25
3 Peta Mullens (Jayco VIS)                                     22
4 Rochelle Gilmore (NSWIS)                                     20
5 Chloe Hoskins (Mazda)                                        19
6 Belinda Goss (Pitcher Partners)                              18
7 Rowena Fry (Tasmania)                                        12
8 Emma Mackie (Pitcher Partners)                                8
9 Nikki Butterfield (Skilled)                                   5
10 Isabella King (Urban Hotel)                                  4
11 Tiffany Cromwell (Skilled)                                   3
12 Megan Dunn (NSWIS)                                           3
13 Lauren Kitchen (NSWIS)                                       2
14 Laura McCaughey (Urban Hotel)                                2
15 Amy Cure (Pitcher Partners)                                  1
16 Melissa Hoskins (Plan B)                                     1
17 Jenny Macpherson (G Force/Body Torque)                       1
 
Points classification
 
1 Rochelle Gilmore (NSWIS)                                     13 pts
2 Kirsty Broun (MB Cycles)                                      8
3 Nikki Butterfield (Skilled)                                   3
4 Belinda Goss (Pitcher Partners)                               3
5 Peta Mullens (Jayco VIS)                                      3
6 Megan Dunn (NSWIS)                                            3
7 Melissa Hoskins (Plan B)                                      1
8 Josie Tomic (Plan B)                                          1
9 Lauren Kitchen (NSWIS)                                        1
 
Teams classification
 
1 MB Cycles                                                    28 pts
2 Pitcher Partners                                             27
3 Plan B                                                       26
4 NSWIS                                                        25
5 Jayco VIS                                                    22
6 Mazda                                                        19
7 Skilled                                                       8
8 Urban Hotel                                                   6
9 G Force/Body Torque                                           1