Mountain Bike World Championships - CM
Fort William, Scotland, September 4-9, 2007
Main Page Results Overall standings Previous Race Next Race
Race 11 - September 8: Elite men cross country
Absalon takes a fourth title
By Rob Jones in Fort William
Julien Absalon (France) celebrates on his way
Photo ©: Didier Weemaels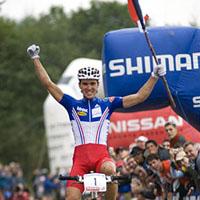 France's Julien Absalon won his fourth world title on Saturday, breaking the 13-year old record of Dane, Henk Djernis. As usual, and even predicted, he made it look almost effortless, finishing the sixth lap in front of two Swiss riders - Ralph Näf and Florian Vogel.
The action started on the first climb, with Florian Vogel attacking to open things up. "To attack is the best defence. Everyone was watching Julien, Christoph (Sauser - Switzerland) and Hermida (Spain), and they weren't watching me so I was able to open a gap. This let me go at my own speed and not have to fight for positions," Vogel said.
Behind, all the favourites were content to set a high tempo and wait for someone to make a move. Vogel was still in front by 10 seconds at the top of the climb on lap two, but a chase was beginning to get organized, led by Roel Paulissen (Belgium). Also in the group were Absalon, Hermida, Sauser, Frederic Kessiakoff (Sweden), Näf, Christoph Soukup (Austria), Cedric Ravanel (France), the brothers Fumic (Germany), Jean-Christophe Peraud (France) and Marek Galinsky (Poland).
The top North Americans were sitting about 15 spots and a minute behind this group, led by Adam Craig (USA) and Geoff Kabush (Canada). Along the flat section at the bottom of the climb Hermida, Absalon, Paulissen and Manuel Fumic had caught Vogel, and the five riders were 10 seconds ahead of Kessiakoff and Peraud. Ravanel was out with a mechanical; the first of a few for the top riders. Kessiakoff jumped up to the leaders on the next climb and went straight by to take the lead, until he was caught at the end of the lap, for the start of lap four.
Meanwhile, Hermida had stopped at the tech zone to deal with a cracked fork that had resulted from a crash, while Sauser's right shoe ripped open and he had resort to duct tape to hold it together. Both riders fell back into the teens before climbing back among the leading chasers. Hermida faded after chasing back up to fifth on the fourth lap, while Sauser had a long rearward chase to get as high as fifth on lap five before dropping one spot on the last lap.
At the front, Absalon made his move on the trusted Orbea in lap four, immediately opening a 30-second lead within a kilometre on the climb. By the bottom of the descent he was up to 45 seconds, and early in the fifth lap nearing a minute. "My main goal this season was to keep this beautiful jersey," said Absalon, explaining his ongoing motivation to win. "I made a special preparation for the world championships, with the national team coming here in April and video taped the circuit, and I trained all season with this in mind."
"On the beginning of the third lap I attacked on the downhill, and Hermida and Florian both crashed behind me, so I was able to get a 15 second gap right away." The chase splintered under the effort, and this is when Näf decided to make his move. The Swiss rider put in the fastest ride of the lap to cut Absalon's lead to 38 seconds, with Vogel moving into third, a minute down on Absalon, and just ahead of Fumic.
Flags on big sticks were the flavour of the day
Photo ©: Didier Weemaels

Fumic and Kessiakoff would battle for fourth through the last lap, with the Swede nipping the German after posting the fastest lap of the race in the final lap. "I wanted to start fast and be at the front on the downhill," said Näf, "but it was too fast for me. I lost contact in the first laps but I got back on, on the third lap and I knew that I had to make an attack. Everyone was hesitating in chasing Julien, so I went on the fifth lap to be in the front for the downhill."
The final finishing order was set, as Absalon cruised home to his fourth title, with Näf and Vogel adding two more medals to the impressive Swiss haul. Craig was the top North American finisher, in 22nd place, followed by Seamus McGrath in 31st.
"The goal is always to beat Julien," agreed Näf. "But he is the best. He is so steady and consistent that I am proud have been able to win silver."
Race Notes
- When told he had broken Djernis' record, Absalon commented, "I am very happy and proud to get the record, but it was not my major motivation to win. I love this jersey. I was looking at it last night on my bed, and I knew that I wanted to keep it again."
Recently crowned marathon world champion Christoph Sauser (Switzerland)
Photo ©: Didier Weemaels
- Norba series leader Geoff Kabush started strong, but eventually his arm injury caught up with him and he finished 50th. "I started on the front line and put myself in a good position. But after the first half lap I realized that I'd have to settle into my own rhythm; I just couldn't ride with the top guys today. My arm was good enough to race, but I just felt blocked. I was well prepped, but last week it all came unravelled. It is so frustrating." Kabush crashed at home on a training ride, gashing his right arm deeply. He wasn't able to train after that for most of the week, and then had a "trip from hell" getting to Fort William: his flight out of Toronto had to turn back after an onboard fire, so he spent a night at the airport. Then the next day the flight was delayed and he had to detour along way around to Fort William after the road from Glasgow was closed overnight for construction - arriving at his hotel at 3:30 am two days before his race. To add insult to injury, his luggage (including his bike) were lost by the airline and only showed up shortly before the race. You can read more about his interesting adventures here.
- Australia had three entries: Chris Jongewaard, Sid Taberlay and Dylan Cooper. Jongewaard at ranked rider number 15 started in the second grid line while Taberlay and Cooper started mid-pack at 50 and 62 respectively. Jongewaard finished in 38th place, at 9.31 behind; Taberly was in 58th, at 12.29 behind after a flat tyre on lap one, Cooper in 74th place, at 17.43 behind.
- Ride of the day must have been from Liam Killeen (GBR) who, although being struck down by a virus most the season, still managed to take his 112th starting position and finished 44th.
Photography
For a thumbnail gallery of these images, click here
Images by Didier Weemaels/www.pixstream.eu
Images by Rob Jones/www.canadiancyclist.com
Results
Elite Men - 51.4km
1 Julien Absalon (France)                            2.17.06
2 Ralph Näf (Switzerland)                               0.25
3 Florian Vogel (Switzerland)                           0.54
4 Fredrik Kessiakoff (Sweden)                           1.01
5 Manuel Fumic (Germany)                                1.04
6 Christoph Sauser (Switzerland)                        1.08
7 Jean-Christophe Peraud (France)                       1.19
8 Roel Paulissen (Belgium)                              2.03
9 Lukas Flückiger (Switzerland)                         2.06
10 José Antonio Hermida Ramos (Spain)                   2.09
11 Christoph Soukup (Austria)                           3.10
12 Carlos Coloma Nicolas (Spain)                        3.14
13 Ivan Alvarez Gutierrez (Spain)                       3.24
14 Peter Riis Andersen (Denmark)                        3.30
15 Milan Spesny (Czech Republic)                        3.34
16 Sven Nys (Belgium)                                   3.36
17 Moritz Milatz (Germany)                              3.45
18 Rudi Van Houts (Netherlands)                         3.48
19 Lado Fumic (Germany)                                 4.03
20 Marek Galinski (Poland)                              4.08
21 Ruben Ruzafa Cueto (Spain)                           4.14
22 Adam Craig (United States Of America)                4.51
23 Jürg Graf (Switzerland)                              5.07
24 Yury Trofimov (Russian Federation)                   5.17
25 Filip Meirhaeghe (Belgium)                           5.23
26 Marco Aurelio Fontana (Italy)                        5.24
27 Jochen Kass (Germany)                                    
28 Inaki Lejarreta Errasti (Spain)                      6.12
29 Wolfram Kurschat (Germany)                           6.23
30 Thomas Frischknecht (Switzerland)                    6.42
31 Seamus McGrath (Canada)                                  
32 Martin Gujan (Switzerland)                           6.46
33 Jeremiah Bishop (United States Of America)           6.47
34 Stefan Sahm (Germany)                                7.20
35 Oliver Beckingsale (Great Britain)                   7.26
36 Bart Brentjens (Netherlands)                         7.31
37 Karl Markt (Austria)                                     
38 Tony Longo (Italy)                                   7.40
39 Jeremy Horgan-Kobelski (United States Of America)    8.18
40 Bas Peters (Netherlands)                             8.36
41 Hannes Metzler (Austria)                             8.39
42 Ian Wilkinson (Great Britain)                        8.43
43 Massimo De Bertolis (Italy)                          8.51
44 Liam Killeen (Great Britain)                         9.01
45 Hector Leonardo Paez Leon (Colombia)                 9.16
46 Todd Wells (United States Of America)                9.25
47 Chris Jongewaard (Australia)                         9.31
48 Mirko Pirazzoli (Italy)                              9.45
49 Martino Fruet (Italy)                               10.12
50 Geoff Kabush (Canada)                               10.21
51 Igor Bogdan (Ukraine)                               10.40
52 Jelmer Pietersma (Netherlands)                      10.46
53 Johann Pallhuber (Italy)                            10.58
54 Karl Platt (Germany)                                11.21
55 Paul Oldham (Great Britain)                         11.45
56 Kenji Takeya (Japan)                                11.46
57 Miha Solar (Slovenia)                               12.10
58 Sid Taberlay (Australia)                            12.29
59 Yader Zoli (Italy)                                  12.39
60 Michael Broderick (United States Of America)        12.47
61 Nicholas Craig (Great Britain)                      12.59
62 Ricky Federau (Canada)                              13.13
63 Julio Humberto Caro Silva (Colombia)                13.33
64 Cristobal Silva (Chile)                             13.47
65 Luciano Caraccioli (Argentina)                      13.50
66 Marcus Roy (New Zealand)                            14.04
67 Klaus Nielsen (Denmark)                             15.03
68 Sergiy Rysenko (Ukraine)                            15.43
69 Carl Decker (United States Of America)              16.54
70 Marc Bassingthwaighte (Namibia)                     17.02
71 Filip Eberl (Czech Republic)                        17.15
72 Taavi Selder (Estonia)                              17.28
73 John Paul Pearton (South Africa)                    17.38
74 Dylan Cooper (Australia)                            17.43
75 Valeriano Rubens Donizeti (Brazil)                  18.00
76 Bilal Akgul (Turkey)                                18.08
77 Maxim Gogolev (Russian Federation)                  18.20
78 Andras Parti (Hungary)                              20.45
79 Keiichi Tsujiura (Japan)                            21.21
80 Johan Van Zyl (South Africa)                        21.27
81 Barry Wicks (United States Of America)              21.56
82 Eero Jappinen (Finland)                             23.04
83 Alexey Medvedev (Russian Federation)                25.30

One lap behind
84 Lenart Noc (Slovenia)                                    
85 John Jairo Botero Salazar (Colombia)                     
86 Stuart Houltham (New Zealand)                            
87 Martin Kraler (Austria)                                  
88 Javier Puschel (Chile)                                   
89 Caspar Austa (Estonia)                                   
90 Michael Northcott (New Zealand)                          
91 Muammer Yildiz (Turkey)                                  
92 David Leiman (South Africa)                              

Two laps behind
93 Milan Barenyi (Slovakia)                                 
94 Justice Makhale (South Africa)                           
95 Yilmaz Kanat (Turkey)                                    
96 Dzintars Ozolins (Latvia)                                
97 Dror Pekatch (Israel)                                    

Three laps behind
98 Ivica Mesaric (Croatia)                                  
99 Pavao Roset (Croatia)                                    
DNF Cédric Ravanel (France)                                 
DNF Kashi Leuchs (New Zealand)                              
DNF Robin Seymour (Ireland)                                 
DNF Marti Gispert Labarta (Spain)                           
DNF Mannie Heymans (Namibia)                                
DNF Kevin Evans (South Africa)                              
DNF Marcin Karczynski (Poland)                              
DNF Simon Richardson (Great Britain)                        
DNF Eric Drower (New Zealand)