MTB index page for all MTB content
Australian National MTB Championships - CN
Canberra, Australia, January 23-26, 2009
Main Page Results Overall standings Previous Race Next Race
Race 8 - January 25: Cross country: Elite/U23 men
Olympics far from mind of national champ
Defending national champion Chris Jongewaard rides consistently
Photo ©: Evan Jeffery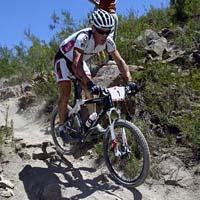 Missing out on the Beijing Olympics was far from Chris Jongewaard's mind as he claimed his fourth Australian national cross country title in Canberra on Sunday. Jongewaard's win makes it his third consecutive title.
The Adelaide rider dominated from the start. Jongewaard posted an impressive finishing time of one hour and 57.08 seconds over the five-lap event.
The 28-year-old annihilated his opposition from the start, and the race for second became a tussle between two Canberra riders Ben Henderson and Dylan Cooper. Henderson claimed second place at 2'01 with Cooper just five more seconds behind.
Daniel McConnell (Torq Nutrition) and Sid Taberlay (Sho-Air SRAM TIS) finished out the top five while Victorian Lachlan Norris was the top U23 finisher, in sixth place overall. Local U23 racer Nathan Haas set the pace for the younger racers, although he finished second behind Haas among the U23s.
Photography
For a thumbnail gallery of these images, click here
Images by Evan Jeffery / www.evanjeffery.com.au
Images by Dave Bateman Photography / www.davebatemanphoto.com
Results

Elite and Under 23 men

1 Chris Jongewaard (Aus) Avanti Bikes                                       1.57.09
2 Ben Henderson (Aus) Mongoose SRAM Maxxis                                     2.01
3 Dylan Cooper (Aus) Trek-Conceptis                                            2.06
4 Daniel McConnell (Aus) Torq Nutrition                                        4.02
5 Sid Taberlay (Aus) Sho-Air SRAM TIS                                          5.07
6 Lachlan Norris (Aus) *                                                       5.23
7 Nathan Haas (Aus) *                                                          6.15
8 Charlton Durie (Aus) *                                                       7.05
9 Perren Delacour (Aus) Yeti Gu Factory Race Team                              7.29
10 Cal Britten (Aus) Torq Nutrition / VIS *                                    7.57
11 Andrew Blair (Aus) Redshift Racing                                          8.39
12 Neil Van Der Ploeg (Aus) Felt bicycles *                                    9.07
13 Adrian Jackson (Aus) Merida, Flight Centre, Schwalbe                        9.36
14 Shaun Lewis (Aus) Mongoose, SRAM, Maxxis                                    9.56
15 David Whitney (Aus) Merida flight centre *                                  9.58
16 Glenn Stewart (Aus) Cannondale, SRAM, RLC *                                10.24
17 Hamish Elliot (Aus) Rockstar Racing                                        10.37
18 Aiden Lefmann (Aus) Cannondale KOM SRAM                                    10.45
19 Jason English (Aus) BMC, Gordon Street Cycles                              10.51
20 Paul Van Der Ploeg (Aus) *                                                 10.51
21 Mark Frendo (Aus)                                                          12.13
22 James Williamson (Aus) Giant                                               12.17
23 Matthew Fleming (Aus) Clarence St. Cyclery Trek Bikes                      13.10
24 Tim Bennett (Aus) Merida Flight Centre                                     13.54
25 Nick Both (Aus) Merida, Flightcentre                                       14.07
26 Matthew Potter (Aus) Yeti Gu TWE                                           14.36
27 Russell Collett (Aus) Yeti Cycles GU TWE                                   14.39
28 Andrew Arthur (Aus) Clarence Street Cyclery Trek                           15.52
29 Joshua Carlson (Aus) Spearman Cycles Giant bicycles                        16.27
30 James Maebus (Aus)                                                         17.36
31 Ben Grieve-johnson (Aus) Praties Cycling *                                 18.14
32 Michael Skroblin (Aus) Nerang MTB centre                                   18.25
33 Travis Frisby (Aus) South Australian Sports Institute *                    18.30
34 Angus Harding (Aus)                                                        19.39
35 Scott Green (Aus) *                                                        19.59
36 Brian Price (Aus) BMC Bicycles, Penrith Physiotherapy                      20.06
37 Ivan Rybarik (Cze)                                                         20.13
38 Sam Bach (Aus)                                                             20.21
39 Troy Glennan (Aus) Rockstar Racing                                         20.47
40 Luke Fetch (Aus) Torq Nutrition *                                          21.38
41 Mark Fenner (Aus) Specialized Total Rush, Skins                            22.34
42 Alexander Pung (Aus) None *                                                22.46
43 James Kennedy (Aus) Merida / Flight Centre / Schwalbe                      24.20
44 Andrew Lumley (Aus) BMC Australia, Panther Cycles, Garmin                  26.40
45 David Wood (Aus)                                                           28.10
46 James Walker (Aus) Scott Bikes Rapido Cycles Camelbak                      28.34
47 Paul Traynor (Aus) Merida Flight centre, Bike sports, Schwalbe             31.06

Behind two laps

48 Joseph Cram (Aus)                                                               
DNF Scott Liston (Aus) Felt SRAM Pinnacle Cycles *                                 
DNF Ashley Hough (Aus) *                                                           
DNF Joshua Fleming (Aus) Felt racing high5 SRAM                                    
DNF Paul Weymouth (Aus) Torq Nutrition *                                           
DNF Euan Adams (Aus) Bike Culture                                                  
DNF Brent Miller (Aus)                                                             
DNF Joel Ryan (Aus) Bike Culture                                                   
DNF Benjamin Dyball (Aus) Carravelo                                                
DNF James Brassington (Aus) *                                                      
DNF Jason Chalker (Aus) Bike shed                                                  
DNF Manfred Reis (Ger) German National Team *                                      
DNS Brad Cox (Aus) Bike Addiction                                                  
DNS John Waddell (Aus) Santa Cruz Syndicate/Red Bull                               
 
* indicates U23