2009 Cyclo-cross World Championships - CM
Hoogerheide, The Netherlands, January 31-February 1, 2009
Main Page Results Overall standings Live report Previous Stage Next Stage
Stage 3 - February 1: Elite Women, 40 minutes
Speedy Vos repeats Zeddam performance
Compton's solo neutralized by World Champion
By Brecht Decaluwé and Bjorn Haake in Hoogerheide, Netherlands
Marianne Vos (Netherlands) wins at home
Photo ©: Riccardo Scanferla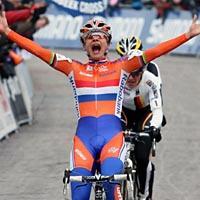 After a glorious Saturday, Marianne Vos gave the hometown Dutch crowd something more to cheer by winning the women's cyclo-cross World Championships. Vos won the sprint royale against German Hanka Kupfernagel and American Katie Compton.
"I hope the Worlds will be held in Holland again soon," said Vos, happy with her track record. It was her second cyclo-cross world title on home soil. Her first 'cross rainbow jersey came in 2006 in Zeddam, The Netherlands, in 2006.
"There were a lot of similarities, although back then I was more of an outsider. The top-two were the same back then. I told myself not to think about it, but I did it anyway," Vos said.
Compton started the action from the gun, taking a lead of up to 17 seconds. Kupfernagel chased hard, with Vos in tow. In contrast, Vos declined to take the lead until the final 200 metres, when she made her move decisively and left behind Compton and Kupfernagel, who had been relentlessly, futilely trying to get rid of the Dutch sprint specialist. Vos hung tough over the frozen, hard-packed ground.
The early attack from Compton came close to being the decisive move. In all three other events during the weekend, the early attack proved to be the most successful weapon in Hoogerheide. "I hadn't planned a fast start. When I had a gap I thought that I might as well go for it," Compton said.
Katie Compton (USA) shot out in the beginning but was later caught...
Photo ©: Dave McElwaine

Halfway the second lap Compton had seventeen seconds, but then Kupfernagel started nibbling away at the gap. "I wanted to make the race hard. I nearly gave up when the gap was really big, but then I rode one more time trial," Kupfernagel said.
During Kupfernagel's one-woman time trial, Vos was the only woman able to hold on. "First I had to get back to Hanka, and then I was happy that I was able to follow her. One moment I was on the verge of breaking down," Vos said. But she made it and never again lost contact with Kupfernagel's wheel.
After Compton was caught, she led the group of three during the third lap, even though Kupfernagel had just shown that she was faster. "I wanted to keep the race fast," Compton said. During the fourth lap, Kupfernagel took command. She forced the others to give everything to keep up with her, and by the end of that lap, Compton was yielding, trailing by a couple of seconds.
Vos held on to Kupfernagel and eventually the storm calmed. Compton returned to the front going into the last lap – the three women passed through the finish line together. Second-positioned Vos exploited her track skills (which brought her gold in Beijing last summer) as she kept close tabs on the third positioned Kupfernagel.
Compton was clearly suffering. Kupfernagel moved to the front and kept the pace high. Halfway through the final lap, Compton was dropped once more. Approaching the road towards the finish, Kupfernagel slowed her speed as the group set up for a sprint that would decide the winner.
... by Hanka Kupfernagel (Germany) and Marianne Vos (Netherlands)
Photo ©: Dave McElwaine

Vos, a sprint specialist, had set herself up in third position. Compton led out. Vos started the slightly uphill sprint early on and surprised the two others to create a good gap. "I was confident when we entered the road with the three of us, even though the finish is always a little further than you would think at first," Vos said.
Kupfernagel grabbed silver ahead of Compton with a one-second advantage. "It was a battle between Compton and me and the other way around. Vos had Van den Brand in the group behind us and she didn't have to work," explained Kupfernagel. "If I didn't chase, Compton would've won, and I could've finished sixth. This was my only option although I knew I couldn't beat her in the sprint," Kupfernagel said at the post-race press conference.
Vos seemed to want more of a challenge in the future. She said "at least try next time" to encourage Kupfernagel.
The Dutch woman wasn't the top favorite going into the race, but the circumstances were ideal for her even though after one lap, it seemed that Compton might bring the rainbow jersey home to the United States. "Katie has ridden a very strong season, and she came close to the win today. I was afraid that she was gone," said Vos. "I thought about yesterday and the successful early attacks. Then Hanka had a fast lap and I was able to hang onto her wheel."
Behind the three leaders, Sanne Van Paassen (Netherlands) won the big group sprint for fourth place. Pre-race favorite Daphny van den Brand (Netherlands) finished fourth in this sprint, for seventh overall, after suffering a crash immediately at the start of the race. Saskia Elemans (Netherlands) had gone down and literally took out Maryline Salvetat (France) as well as the courage of local rider Van den Brand.
Proud medal winners Hanka Kupfernagel (left) and Marianne Vos
Photo ©: Dave McElwaine

"I felt good at the start, but that crash got into my legs. I was frightened and I had trouble to keeping hold of my handlebars. I did all I could but it just didn't go for me," a disappointed Van den Brand said before heading off to her camper.
American Rachel Lloyd finished at the back of this group in 11th place. "Miscalculated," Lloyd said, disappointed. "I thought there was only one lap to go, and I was moving up to the front of our group. When heading to the finish line I was sprinting and nobody came around me. After the line, they just continued and I realized what mistake I had made," Lloyd said of her ruined race. "Of course I tried my best to recover, but actually I was only getting gapped. This is a bummer."
Half a minute later, American Georgia Gould finished 13th, and she didn't know what to make from her performance. "There were two crashes at the start. It came to a stop, and we walked through the middle," Gould said.
By then Compton was far away and for Gould, the glory was over. "I had no interest in battling for top-15 and just kept working to get closer to the front. When you finish third in a World Cup, you have higher expectations." To make further progress, Gould will have to work on improving her starting position, maybe by doing more World Cups, but there was another factor as the mountain biker explained, "The start definitely makes a difference, but I'm also lacking experience in this type of racing; this was more like a road race."
Photography
For a thumbnail gallery of these images, click here
Images by Riccardo Scanferla
Images by Cyclingnews.com
Images by Dave McElwaine/www.trailwatch.net
Images by Mitch Clinton/www.clintonphoto.com
Images by Tom de Meyer/www.TomDeMeyer.be
Results
1 Marianne Vos (Netherlands)                     42.39
2 Hanka Kupfernagel (Germany)                     0.01
3 Katherine Compton (United States Of America)    0.02
4 Sanne Van Paassen (Netherlands)                 0.29
5 Caroline Mani (France)                              
6 Sanne Cant (Belgium)                                
7 Daphny Van Den Brand (Netherlands)              0.30
8 Mirjam Melchers-Van Poppel (Netherlands)            
9 Eva Lechner (Italy)                             0.31
10 Maryline Salvetat (France)                         
11 Rachel Lloyd (United States Of America)        0.32
12 Christel Ferrier-Bruneau (France)              0.37
13 Georgia Gould (United States Of America)       1.02
14 Nikki Harris (Great Britain)                   1.13
15 Joyce Vanderbeken (Belgium)                    1.34
16 Helen Wyman (Great Britain)                    2.03
17 Susan Butler (United States Of America)        2.04
18 Wendy Simms (Canada)                           2.30
19 Laura Van Gilder (United States Of America)    2.57
20 Pauline Ferrand Prevot (France)                2.58
21 Natasha Elliott (Canada)                           
22 Mika Ogishima (Japan)                          3.29
23 Sabrina Schweizer (Germany)                    3.38
24 Gabriella Day (Great Britain)                  3.39
25 Veronica Alessio (Italy)                       4.04
26 Ayako Toyooka (Japan)                          4.05
27 Daniela Bresciani (Italy)                      4.06
28 Milena Cavani (Italy)                              
29 Elke Riedl (Austria)                           5.10
30 Francesca Cucciniello (Italy)                  5.11
31 Pepper Harlton (Canada)                        5.24
32 Jana Kyptova (Czech Republic)                  5.43
33 Nadia Triquet-Claude (France)                  6.09
34 Lise Müller (Switzerland)                      6.20
35 Katrin Leumann (Switzerland)                   7.25
DNF Pavla Havlikova (Czech Republic)
DNF Gesa Brüchmann (Germany)
DNF Saskia Elemans (Netherlands)