2009 Cyclo-cross World Championships - CM
Hoogerheide, The Netherlands, January 31-February 1, 2009
Main Page Results Overall standings Live report Previous Stage
Stage 4 - February 1: Elite Men, 65 minutes
Albert leads Belgians to victory
Defending champion Boom disappoints Dutch fans with 20th
By Brecht Decaluwé and Bjorn Haake in Hoogerheide, Netherlands
Niels Albert won solo
Photo ©: Riccardo Scanferla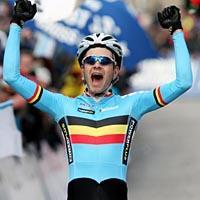 Niels Albert gave the best indication yet of his potential for cyclo-cross greatness with an emphatic win in the elite men's world championship race today in Hoogerheide. Last year's Under 23 world champion finished 22 seconds ahead of Czech national champion Zdenek Stybar, after title favourite, Belgium's Sven Nys, had launched a counter attack late in the race but could only hold on for the bronze medal, 40 seconds behind his countryman.
Going into the race, most observers were anticipating the 'David and Goliath' battle between the Belgian armada and defending world champion Lars Boom (Netherlands). However, Boom's jours sans allowed Stybar to step into the fray, and he proved to be the toughest rider for the Belgians to crack. After several attacks during the first lap, fellow young gun Niels Albert (Belgium) escaped during the second lap, and the 22-year-old built up a 15-second lead that proved to be insurmountable.
Having endured a tough recovery following a serious accident earlier in the season, Albert was understandably elated with his title. "This is the biggest moment in my career. Hopefully many more moments like this will follow," said Albert, explaining that, "This morning I decided that I would attack early on; that's my style of racing." In all three men's events at these world championships early solo attacks have proved to be successful, resulting in wins for Tijmen Eising, Philipp Walsleben and now Albert.
"I had a super day, and for the first time in my life, I got away well. The course was perfect for me," Albert said about the super fast, frozen course in Hoogerheide.
Albert spoke of the motivation he enjoyed during today's race, the pinnacle of a tough season heavily punctuated by a ruptured spleen suffered during a bad crash late last year. He was forced to sit out a number of races as a result, so the world titles took on added meaning for the young Belgian.
"After my crash in Asper, I had two goals remaining. I was good at the Belgian Championships where I finished second, and now I'm winning the biggest race of the season. Not much wrong with that," said Albert. "During the last two laps I was saying to myself, 'You've got a chance to save your season, you can't mess it up now'. The last lap was very special. I live less than an hour away from Hoogerheide, and it felt like riding at home."
Nys didn't appear too disappointed with bronze, although he must be smarting, having proven his dominance in this season's world cup series. "Last year we also had a winner of the new generation and then I finished third as well," said Nys. "During the season, overall, I was the strongest rider. I feel good with the outcome of this race. During the last lap I felt really strong but by then the gap with the two guys in front was too big," he added. "The best rider of the team was in the front and behind him there was a perfect team."
Albert makes move early
The podium with Stybar, Albert and Nys
Photo ©: Riccardo Scanferla

When Steve Chainel (France) was unable to close the gap Albert had created on lap two, it was left to Stybar to make up the deficit, and he launched a stinging counter attack. His move was marked by Nys and Sven Vanthourenhout, but the Czech was able to drop the two Belgians. Halfway through the third lap Stybar had bridged up to Albert but he was thrown back again. "I unclipped from my pedal and lost 10 metres... otherwise I would've been on his wheel," explained Stybar. "It cost me a lot of power. During the last three laps I was cramping. Mentally, Albert was stronger."
Defending champion Boom couldn't live up to expectations. The current Dutch champion had predicted another rainbow jersey and played mind games with his Belgian rivals during the week leading up to the title race. Boom looked strong early in the race, but from the second lap on the young Dutch talent dropped back. Multiple bike changes didn't help, and eventually Boom finished 20th. "I wasn't very good today, and I lost a lot of time because I had to change my bike," said Boom after the finish.
Strong riders like Boom or Danish champion Joachim Parbo weren't suited to the conditions that prevailed in Hoogerheide; an absence of mud, that would've made the race more selective, was more conducive to a punchy rider such as Albert, and the result told the story. "On another course, maybe I would have been able to win," Boom conceded.
Other riders were thrilled by the state of the course, however. The long, fast-sloped stretches had few technical obstacles. Adding frost and dry weather made this particular cyclo-cross race look and feel more like a criterium. Consequently, mountain biker Marco Aurelio Fontana (Italy) and road racer Francis Mourey (France) came into calculations for the title.
Mourey featured in the main chase group, but he was never able to move up and really contest the rainbow jersey. The Frenchman eventually won the sprint of the 10-man chasing group but admitted that, "I didn't have the best legs. Despite that, I managed to finish fifth so I can't complain about the result."
Fontana finished further back in this group in 11th place, but the slightly built Italian wasn't too happy. "The problem was that our team decided not to work early on. When Albert and Stybar went, I looked around, figuring that it wasn't up to me to close that gap. That way I was without a chance for the win. Maybe next year," he said.
Americans living a bad day
Jeremy Powers (USA)
Photo ©: Dave McElwaine

US National Champion Ryan Trebon had a good start and was riding in about 20th position when he crashed hard during the first lap. The tall Kona racer continued for another lap but then pulled out.
Jeremy Powers was the top American. He had a decent run on the fast Dutch track. "It's not the result that I wanted, but being at this point of the season, it's something I can build upon. I'm 25 years old and I've got plenty of chances left. Today I was racing in a group with Richard Groenendaal and this was his last race," said Powers. "It's the coming of a new wave."
Jonathan Page, silver medalist at the 2007 World Championships, received a late notice that he would be allowed to start for the Americans this year, despite missing a doping control earlier this season. "There was too much emotion for me. People worked so hard to get me here, and I wanted to give something back. I never gave up but my body... I felt like a skeleton on a bike," Page said.
On Saturday only about 5,000 people showed up in Hoogerheide, but for the elite men's decider on Sunday more than 30,000 people attended. The huge crowds forced organisers to close all the passages along the course after the first lap of the elite men's race in order to guarantee public safety.
Next year the World Championships will be held in Tabor, Czech Republic. "Next year there will be two extremely motivated Czech riders," said Albert, referring to Zdenek Stybar and Radomir Simunek Jr. "Tabor is still far away though. Before tomorrow morning, you shouldn't expect me to be back home."
"I'll be sober in three weeks," Albert predicted before heading off for a long night of partying in Baal, Tremelo.
Photography
For a thumbnail gallery of these images, click here
Images by Cyclingnews.com
Images by Riccardo Scanferla
Images by Dave McElwaine/www.trailwatch.net
Images by Mitch Clinton/www.clintonphoto.com
Images by Tom de Meyer/www.TomDeMeyer.be
Results
1 Niels Albert (Belgium)                    1.02.24
2 Zdenek Stybar (Czech Republic)               0.22
3 Sven Nys (Belgium)                           0.38
4 Bart Wellens (Belgium)                       1.10
5 Francis Mourey (France)                      1.23
6 Kevin Pauwels (Belgium)                          
7 Sven Vanthourenhout (Belgium)                1.24
8 Simon Zahner (Switzerland)                       
9 Steve Chainel (France)                           
10 Klaas Vantornout (Belgium)                      
11 Marco Aurelio Fontana (Italy)                   
12 Thijs Al (Netherlands)                          
13 Enrico Franzoi (Italy)                      1.25
14 Jonathan Lopez (France)                     1.26
15 Christian Heule (Switzerland)               1.29
16 Gerben De Knegt (Netherlands)               1.50
17 Petr Dlask (Czech Republic)                 1.51
18 Kamil Ausbuher (Czech Republic)                 
19 Erwin Vervecken (Belgium)                       
20 Lars Boom (Netherlands)                         
21 Eddy Van Ijzendoorn (Netherlands)               
22 Marcel Wildhaber (Switzerland)              1.52
23 José Antonio Hermida Ramos (Spain)              
24 Nicolas Bazin (France)                      1.56
25 Wilant Van Gils (Netherlands)               2.01
26 Radomir Simunek (Czech Republic)            2.45
27 Marco Bianco (Italy)                        2.46
28 René Birkenfeld (Germany)                   2.47
29 Constantino Zaballa Gutierrez (Spain)       2.48
30 Egoitz Murgoitio Rekalde (Spain)            2.51
31 Jody Crawforth (Great Britain)              2.53
32 Isaac Suarez Fernandez (Spain)                  
33 Fabio Ursi (Italy)                              
34 Mariusz Gil (Poland)                            
35 Jeremy Powers (United States Of America)    2.54
36 Marek Cichosz (Poland)                      2.59
37 Milan Barenyi (Slovakia)                    3.11
38 Richard Groenendaal (Netherlands)           3.25
39 Ian Field (Great Britain)                   4.01
40 Joachim Parbo (Denmark)                     4.17
41 Javier Ruiz De Larrinaga Ibanez (Spain)     4.26
42 Peter Presslauer (Austria)                  4.35
43 Rafael Visinelli (Italy)                    4.36
44 Matt Shriver (United States Of America)     4.44
45 Gusty Bausch (Luxembourg)                   4.47
46 Martin Haring (Slovakia)                    4.48
47 Magnus Darvell (Sweden)                     4.49
48 Paul Oldham (Great Britain)                 4.56
49 Brian Matter (United States Of America)     5.12
50 Martin Zlamalik (Czech Republic)            5.19
51 Masanori Kosaka (Japan)                     5.24
52 Jonathan Page (United States Of America)    5.47
53 Maros Kovac (Slovakia)                      6.26

One lap behind
54 Derrick St John (Canada)                        
55 Jens Westergren (Sweden)                        

Two laps behind
56 Aaron Schooler (Canada)                         

Three laps behind
57 Thijs Van Amerongen (Netherlands)               
58 Zoltan Tisza (Hungary)                          
59 Evgeny Pechenin (Russian Federation)            
60 Marios Athanasiades (Cyprus)                    

Four laps behind
61 Martin Vestby (Norway)                          

Five laps behind
62 Keiichi Tsujiura (Japan)                        
63 Boris Vasilyev (Russian Federation)             
64 Alexey Belokrylov (Russian Federation) 
DNF Paul Voss (Germany)
DNF Martin Bina (Czech Republic)
DNF Ryan Trebon (USA)
DNF Vaclav Metlicka (Slovakia)
DNF Rodger Aiken (Ireland)