Recently on Cyclingnews.com
2004-05 Cyclo-cross World Cup
The podium
Photo ©: Delphine Page

Round 1 - October 10, 2004: Wortegem-Petegem, Belgium
Czech rider Zdenek Mlynar upset the Belgians on their home ground to win the first round of the Cyclo-cross World Cup in Wortegem-Petegem. At the end of a fast and dry race, Mlynar led out the sprint with a powerful jump to hold off Belgians Sven Vanthourenhout (Quickstep-Davitamon) and home town hero Mario de Clercq (MrBookmaker.com-Palmans) for the surprise victory. Mlynar was certainly among the strongest riders on the day, and recovered from a mid-race crash to rejoin the front group.
Round 2 - October 28, 2004: Tabor, Czech Republic
Kamil Ausbuher continued the Czech Republic's run of success in the Cyclo-cross World Cup by winning the second round in Tabor, in his home country. Ausbuher finished solo ahead of Belgians Sven Vanthourenhout (Quick.Step) and Erwin Vervecken (Fidea), which meant that Vanthourenhout took over the lead in the World Cup.
Round 3 - November 14, 2004: Pijnacker, Netherlands
Sven Nys (Rabobank)
Photo ©: Dick Soepenberg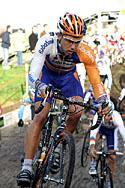 A bit of luck and a lot of strength got Belgian Sven Nys his first World Cup race victory this season, beating his Rabobank teammate Richard Groenendaal by 25 seconds, with Sven Vanthourenhout (Quick.Step) finishing third. Nys benefited from a crash by Groenendaal whilst the Dutchman was leading, and after Nys caught him, he opened up a gap.
Round 4 - November 27, 2004: Koksijde, Belgium
Belgian Erwin Vervecken has won the fourth Cyclo-Cross World Cup race in the North Belgian town of Koksijde in an exciting sprint finish in front of his fellow countryman and favourite Sven Nys. Vervecken's fourth victory in Koksijde after 1993, 1995 and 2000 is also his eighth podium's placing at this race.
Round 5 - December 5, 2004: Wetzikon, Switzerland
World Cup leader Nys extended his top position by winning his 15th World Cup race in Switzerland. In an impressive solo ride, Nys distances his chasers Dlask and Vervecken, as well as his teammate Groenendaal during the final lap.
Round 6 - December 8, 2004: Milano, Italy
Nys' streak continued three days later in Italy as he powered away from his rivals on the final lap to put himself well in the lead in the series as it passes its halfway point.
Round 7 - December 28, 2004: Hofstade, Belgium
Sven Nys (Rabobank) continues to dominate in the major cyclo-cross races, taking his 15th win of the season in round seven of the World Cup in Hofstade, Belgium. Nys reversed the result of the Superprestige race two days ago when he beat Erwin Vervecken (Fidea) by a handy 17 seconds. Italian Enrico Franzoi (Saeco) took third.
Round 8 - January 2, 2005: Aigle, Switzerland
It was a Rabobank/Sven 1-2 in the eighth round of the World Cup in Aigle, Switzerland, as new recruit Sven Vanthourenhout beat the irrepressible Sven Nys after attacking in the final kilometre. The consistent Erwin Vervecken (Fidea) finished third.
Round 9 - January 16, 2005: Nommay, France
The seemingly unstoppable Sven Nys (Rabobank) has won his fifth World Cup race of the season in Nommay, leading home a Belgian avalanche that saw five Belgians claim the first five places. It was also Nys' 19th win of the season, as he beat Tom Vannoppen (Palmans), Sven Vanthourenhout (Rabobank), Erwin Vervecken (Fidea) and Davy Commeyne (Palmans-Sapim). Swiss rider Christian Heule was the first non-Belgian home in sixth place.
Sven Nys (Rabobank)
Photo ©: www.cyclocrossprosport.be
Round 10 - January 23, 2005: Hoogerheide, Netherlands
Belgian Sven Nys has shown once more that he is the number one this season, winning his 20th race at the Hoogerheide World Cup event today. Davy Commeyne achieved the second place, and Nys' teammate at Rabobank, Sven Vanthourenthout got third.
Round 11 - February 13, 2005: Lanarvily, France
World Champion Sven Nys (Rabobank) has sealed his overall victory in the World Cup series by winning the 11th and final round in Lanarvily, France. On a cold and windy day, Nys put half a minute into his trade teammate Richard Groenendaal, with Italian Enrico Franzoi (Lampre) finishing third.
Unofficial World Cup standings after round 9
Elite Women

1 Daphny van den Brand (Ned) Ton van Bemmelen-AA Drink
2 Hanka Kupfernagel (Ger)
  
U23 Men
 
1 Martin Bina                178 pts
2 Simon Zahner               162
3 Zdenek Stybar              158
4 Kevin Pauwels              130
5 Geert Wellens              117
6 Julien Belgy               106
7 Radomir Simunek            100
8 Lukas Flückiger             96
9 Frantisek Kloucek           88
10 Rob Peeters                87
11 Dieter Vanthourenhout      78
12 Tom Vandenbosch            74
13 Romain Villa               68
14 Niels Albert               60
15 Marco Aurelio Fontana      48
16 Yves Corminboeuf           48
17 Pirmin Lang                47
18 Thijs Van Amerongen        41
19 Sebastiaan Langeveld       40
20 Derik Zampedri             40
21 Clément Lhotellerie        38
22 Jempy Drucker              35
23 Jochen Uhrig               31
24 Flavio Alex Longhi         29
25 Erik Miorini               28
26 Steve Chainel              26
27 Luca Damiani               26
28 Jan Soetens                24
29 Guus Magielse              22
30 Bart Dirkx                 21
31 Nicolas Bazin              20
32 Eddy Van Ijzendoorn        18
33 Rafael Visinelli           16
34 Bart Verschueren           16
35 Jeremy Powers              16
36 Paul Voss                  15
37 Mike Thielemans            13
38 Anthony Colas              11
39 Karl Schoknecht            10
40 René Lang                  10
41 Lukas Keller               10
42 Matthew White               9
43 Rikke Dijkxhoorn            8
44 Daan De Jonge               7
45 Jesse Anthony               6
46 Joeri Kouwenhoven           6
47 Jeroen Dingemans            5
48 Simon Richardson            4
49 Till Schaltegger            4
50 Laurent Didier              3
51 Daniel Schütz               3
52 Van Kessel Jr Egon          3
53 Robin Schmuda               2
54 Marco Wesseling             2
55 Martin Müller               1
56 Frank Van Grootel           1
 
Junior Men
 
1 Davide Malacarne           210 pts
2 Ricardo Van De Velde       158
3 Julien Taramarcaz          155
4 Christoph Pfingsten        104
5 Jan Van Dael                95
6 Ondrej Bambula              86
7 Robert Gavenda              79
8 Martin Nemecek              75
9 Rik Van Ijzendoorn          73
10 Wim Leemans                72
11 Lucas Kloucek              71
12 Yannick Martinez           60
13 Romain Lejeune             58
14 Pieter Vanspeybroeck       50
15 Jo Pirotte                 46
16 Jan Arnouts                39
17 Romain Beney               38
18 Julien Berard              37
19 Cristian Cominelli         35
20 Geoffrey Lorrain           34
21 Boy Van Poppel             34
22 Guillaume Perrot           32
23 Philip Walsleben           30
24 Quentin Bertholet          30
25 Sascha Wagner              28
26 Johim Ariesen              26
27 Ondrej Zelinka             26
28 David Menger               24
29 Matthias Flückiger         24
30 Loris Rudj Bompieri        23
31 Bart Senders               22
32 Tom Last                   22
33 Pascal Meyer               19
34 Denolf Gianni              18
35 Patrick Vliegen            17
36 Michal Kohoutek            17
37 Simone Pavan               16
38 Stijn Joseph               16
39 Coen Vermeltfoort          16
40 Patrick Nuber              16
41 Djuri Van Rijbroek         15
42 Jan Verhaegh               14
43 Robert Bachraty            14
44 Jules Chabanon             13
45 Alex Atkins                13
46 Savie Van Horik            13
47 David Claerebout           12
48 Remco Broers               11
49 Kenneth Van Compernolle    11
50 Richard Van Loon           11
51 Clément Bourgoin           10
52 Thomas Vernaeckt           10
53 Nathanael Rother           10
54 Christopher Janssens       10
55 Bjorn Selander              9
56 Kim Michely                 8
57 Jeroen Dekkers              8
58 Benoit Roten                8
59 Omar Sottocornola           7
60 Ivar Hartogs                7
61 Jiri Hajec                  6
62 Jan Mikkers                 6
63 Geert Van Der Sande         5
64 Dawid Romanowski            4
65 Mark Smit                   3
66 Dennis Vanendert            2
67 Steven Van Bael             2
68 Nicolas Schnyder            2
69 Jorn Van Veen               2
70 Jannick Hyldtoft Hansen     1
71 Thomas Frei                 1